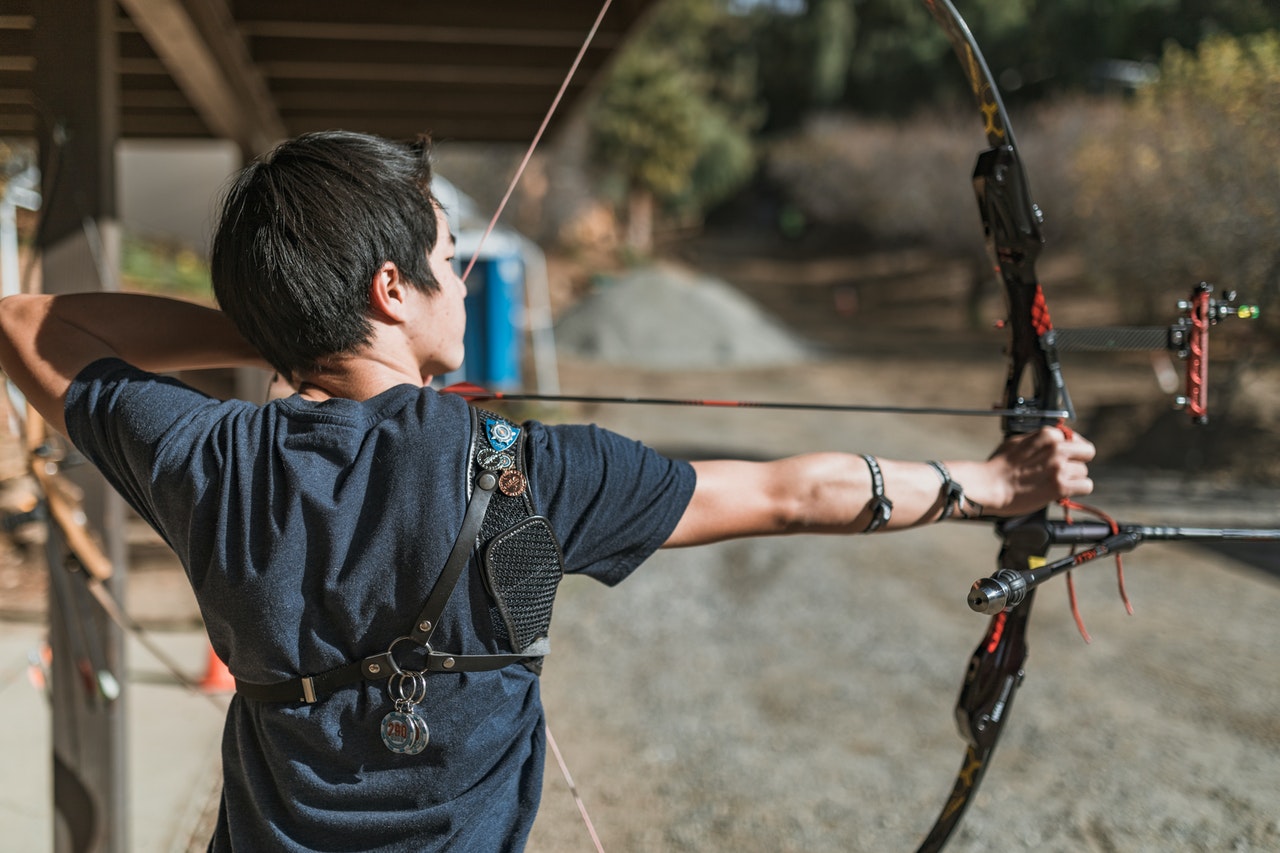 As a general rule, expensive arrows are high-quality arrows and tend to be more consistent. However, the shooter has to have the right skill and mastery to get what you pay for. Otherwise, it is not worth the money.
Some archers find it necessary to buy expensive arrows, especially for known brands, because they have already proven their quality. However, you must remember that expensive archery arrows may not make up for their price tags if you don't have enough experience in shooting them.
So, it is better to practice more often until you get to familiarize the performance of different arrows. And before buying an expensive archery arrow, make sure to examine its quality. This point is because you might get discouraged if you cannot handle it well.
Here are some factors that you need to consider:
Expensive arrows fly straight and fast. However, a cheap archery arrow can also fly straight and fast if used properly.
You don't need to replace expensive arrows as frequently, though this is subjective and depends on what type of arrow and how often you use it.
They are easy to use and maintain, though this is an essential quality that an arrow should have.
They don't easily break because they are most likely to be durable, but this differs from one brand to another.
They come with a warranty so the company can replace them for free if something goes wrong. However, most reputable brands have money-back guarantees that you can use if you are not satisfied with their product, even if they are inexpensive.
They fly better than cheap arrows and can be more accurate, but this is subjective and depends on the archer's skills.
Using expensive arrows for your first arrow might not be a good idea because you may end up wasting money or get discouraged if they do not perform well for you.
In the end, it is best to buy expensive arrows if you are a professional archer or in competitions. They can help you save money in the long run because they last longer.
However, it is vital to assess their quality first before buying them. If you are not an expert in using good arrows for your bow, then it's better to purchase cheaper ones that you can easily replace when they get damaged.
Common attributes of an expensive arrow should have:
Quality Materials

Expensive arrows usually have aluminum or carbon alloy materials. They are durable and have high resistance to damage.

Aerodynamic Design

With good aerodynamics, an arrow can fly straight at a target with little drag force, thus increasing the accuracy.

Accuracy

Expensive arrows are usually more accurate than cheap ones because of their design and the materials used to create them.

Longer duration time

Expensive arrows may last longer, but this depends on how often you use them and their materials.

The ability to maintain balance

Expensive arrows usually have a better balance, making them fly straight and accurately at longer distances than cheap ones.

Faster Shot Speed

Expensive arrows are usually faster because of the materials. This attribute is beneficial for hunting specific prey that requires speed to catch.
Expensive arrows are high quality, and worth the price, but not all costly arrows are the same. So, it is best if you know what kind of arrow you need before buying them; otherwise, it would be useless.
While only a few people can afford expensive arrows, it is still worth saving up for them because they are more durable and have better qualities that cheap archery arrows don't have.
However, it is all about optimizing your skills and knowing what you need for your arrow to perform well, and not how much it costs.
Do expensive arrows make a difference?
An expensive archery arrow is not much better than a cheaper one. The performance of an archery arrow would still depend on the archer's skill and how well you shoot. The ability to choose different weights and fletching can help improve shooting accuracy.
An expensive set of arrows might not be a priority for a beginner. But it may seem more appealing once you have been shooting for a while and can decide how serious of a shooter you are.
Common Arrows Used by Archers
Aluminum arrows
One of the most common types of arrows available today is aluminum arrows. Aluminum arrows will be one of the cheapest targets to hit, and if you shoot aluminum arrows with a traditional bow, it is unlikely that they will break or warp.
However, aluminum can be more prone to bending than some other materials. Therefore, it may not be easy to return aluminum to its original shape if you bend it.
Carbon fiber
Carbon fiber arrows will cost more than aluminum and will also perform better. In addition, these arrows will likely not bend and are sturdy enough to last a long time.
However, they may still break or warp if you shoot them with enough force. They also require additional accessories such as fletching and nocks. These items add to the overall cost of an arrow set, and beginners should be aware that these arrows may not always come pre-fletched or nocked.
Wooden arrows
Wooden arrows are the traditional option for many archers. They are typically more expensive than aluminum arrows, but they can be very sturdy. In addition, wooden arrows are less susceptible to bending than aluminum and carbon fiber alternatives.
These traditional hunting tools may need additional accessories such as fletching or nocks, so new archers should consider the cost of these items when thinking about how much their new bow might cost.
Hybrid hunting arrows
Hybrid hunting arrows are also available to archers. These arrows are usually from aluminum, carbon fiber, or wood. They will typically be more expensive than any materials but cheaper than a wooden arrow with a carbon-fiber core.
The aluminum or carbon fiber used in this arrow type is lighter and has less drag than a wooden arrow. As a result, these arrows tend to be more durable and expected to last for years with proper use and care.
Bowhunters and traditional archers primarily focus on three factors: draw weight, arrow weight, and the price of their equipment. The materials used will play a role in how well your bow performs, especially in terms of cost. The more expensive your bow, the higher your expectations should be when it comes to performance.
Archery is an expensive sport overall, but hunters don't necessarily need to purchase an arrow that matches their bow. However, if you pay for high-quality bows, it may be worth the extra money to pay for high-quality archery arrows.
On average, an expensive arrow may cost around $150-$200 per dozen, depending on its brand, length, weight, and material. In comparison, the budget practice arrow can be around $40-$50 a dozen.
If you are looking for a better arrow without breaking your budget, aluminum arrows are best suited if you are just getting started.
An alternative option would be fiberglass arrows which are relatively inexpensive and can take more of a beating than carbon fiber or aluminum shafts. However, you will likely see decreased performance when using fiberglass arrows.
When thinking about expensive arrows, don't necessarily think that expensive ones are better. However, it is essential to keep your expectations high for the equipment you purchase and decide what arrow material best fits your needs.
Does arrow brand matter?
Arrow brand does not matter as long as you master archery's proper form and technique. A carefully crafted arrow may produce a high spine and straightness, but it is your skills and posture that determine whether you will win or lose during archery.
There are many different brands of arrows on the market today. The most common expensive arrows brands are Carbon Express and Easton Archery.
Carbon Express has been the gold standard in arrow technology for decades, with all their products built to exacting standards from the finest materials available. Their broad range of arrows is sure to cover any need a bowhunter or target archer could have.
Easton Archery is another company with a long history in arrow making. Their focus on technology and innovation has produced some of the most advanced arrows used by hunters and target archers alike.
Some people think that their arrow brand makes a difference and should always use it. Others think it doesn't make a difference as long as the arrows have good quality.
You should pay attention to the weight and spine of each arrow. In addition, you must be sure that you select the matched bow and the archery arrow for best performance.
The most popular brands of arrows don't necessarily mean they are better than other brands. However, quality control and good manufacturing practices will produce a better projectile regardless of the brand.
You have to consider many factors when determining the right arrow for you. However, whether or not an exclusive brand makes an arrow or it's generic, as long as you have a good form and technique, you should do just fine.
What spine should my arrows be?
The recommended spine of an arrow should be based on the specifications of the bow and arrows. For example, a longbow with a draw weight of 45 lbs. should use 30 or 31-inch archery arrows. If you select the one that is too stiff for your bow, it will lack the flex needed to propel and straighten itself.
Arrow spine is the stiffness of an arrow shaft. A stiffer arrow will generally fly faster and with more energy than a more flexible one of the same designs since it resists deformation during shooting, particularly useful when shooting at higher draw weight.
However, this point also means that it requires more energy to draw back the string fully, resulting in a greater chance of the archer's aim being disturbed. Thus, while a faster and more powerful arrow may be desirable, it must also present some degree of flex to allow for consistent and accurate flight.
You can measure the arrow spine by the material's thickness or 'diameter' at some given distance from one end of the arrow. This measurement is usually taken as a reference diameter. You can also measure the arrow spine in pounds per square inch.
Advantages of Arrows with a good Spine
It improves accuracy

Arrow spine contributes to the arrow's accuracy because it affects the shaft's flex while propelled. When an arrow flexes, its flight path changes and makes it harder to hit a target.

If an arrow has too much spine for the draw weight, all of its energy is used up flexing and will not fly very far. Conversely, when it doesn't flex enough, not all of its potential energy is transferred to the target, and it will travel shorter distances.

It helps to stabilize the trajectory

If you have ever seen an arrow hit a target, then it probably flexed just enough to go where you were aiming. This is because the flex helps the archery arrow to have a more accurate shot.

On the other hand, the too stiff or too flexible one will most likely veer off-course because a stiffer shaft provides a straighter flight path.

They have a longer effective range

Because stiffer arrows can hold their speed and energy for a more extended period, they also have an effective range than more flexible arrows. This fact is the reason why target shooters want an arrow that flies straight and fast because it would be easier to hit the center of the target.

They are less susceptible to crosswinds

Stiffer shafts that are not very flexible are more resistant to crosswinds, making it easier for them to hit the target even in windy conditions. When you have a stiffer arrow, the shaft will have a straighter flight path rather than push by the wind.
Disadvantages of arrows with too much spine
It is more likely to cause injuries

Stiffer shafts can increase the safety risks because it is easier for them to break bones when they hit someone. Therefore, they are more rigid and harder to flex, which means they transfer most of their energy into the target.

This point also means that they can cause more damage than a flexible shaft because it will not have the chance to flex and dissipate its energy before it hits the target.

It is likely to have a shorter lifespan

Arrows with too much spine are less durable because, over time, they tend to break down faster than flexible ones. This is because flexible shafts are less likely to be pushed beyond their limits and continue to fly straight.

A well-made arrow has a spine that balances its material's weight, toughness, stiffness, and durability. The best way to determine your arrow's ideal spine is for you to go out with your bow and arrows and test which one flies the straightest.
Check out these +100 high-quality arrows to use on your next archery shooting.