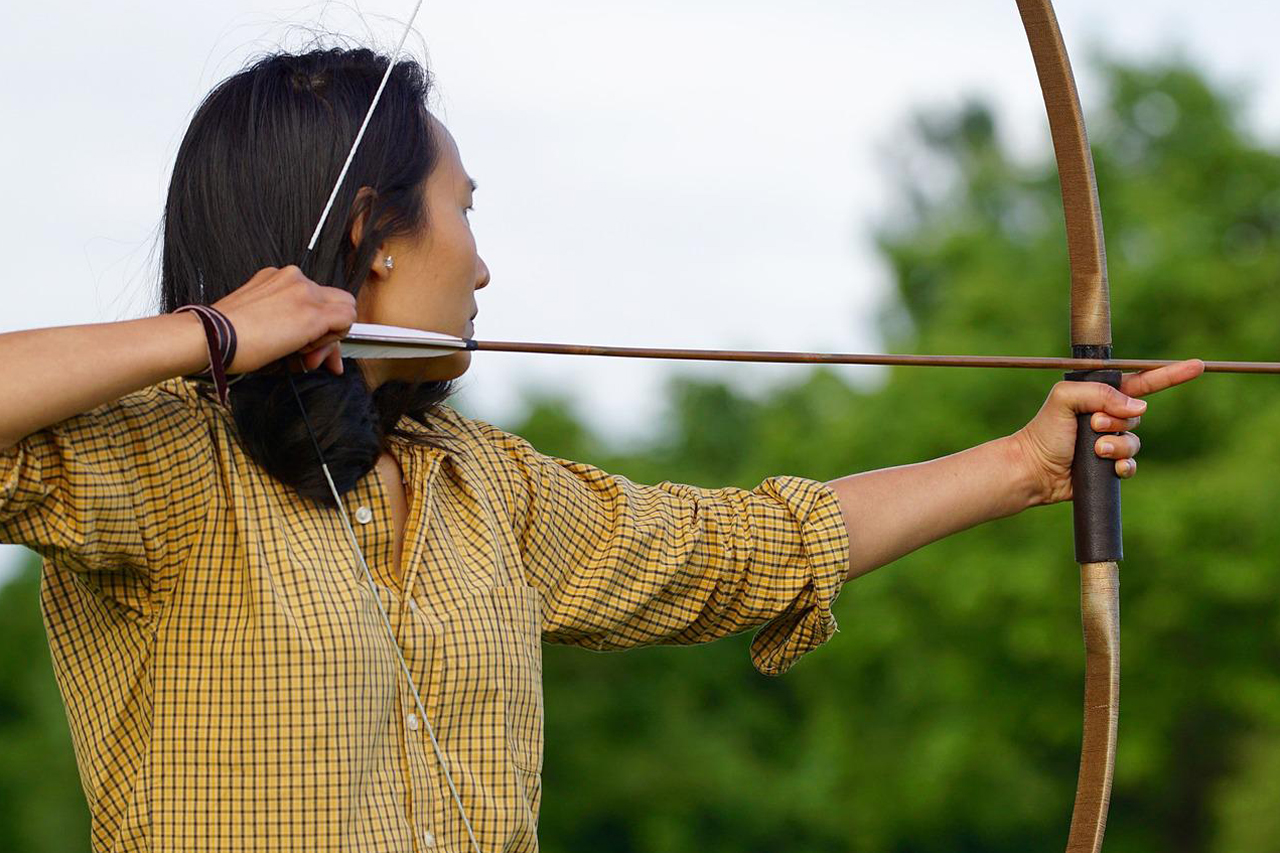 Wood arrows can last a long time. However, it gets more easily twisted, scratched, chipped, or broken than carbon and aluminum arrows.
The use of wood arrows originated in the Middle Ages. In modern times, arrow material has evolved, and wood arrows have become a traditional material to use.
Many archers prefer shooting using aluminum, carbon, or full metal jacket arrows. Despite this, there are still those that prefer to use wood arrows. However, you might be wondering if they last long or not.
Wood arrows can have a long lifespan. However, arrows made out of robust material aren't as fragile as wood arrows.
Another perspective to look at is the archer's care for the equipment. With the right proper care, your arrow can last for an extended period than what you expected.
Compared to aluminum, carbon, and other newly built arrow materials, wood arrows are more prone to easily scratched, broken, chipped, or cracked. There is also a higher tendency for wood arrows to get twisted.
Therefore, wood arrows don't last long compared to other arrow materials, but they can last for an extended period if given the proper care.
Are wood arrows durable?
Wood arrows are relatively durable. However, if you shoot them beyond their limits, wood arrows may break quickly, such as shooting at trees or stone walls.
Robinhood may appear to be an expert at shooting trees with wood arrows, but this is not the case. In reality, a wood arrow is relatively durable, yet it has its limits.
Traditional archers use wood arrows, and many prefer to do so. Wood arrows have the medieval and magical feel that you can not feel with robust material arrows.
Nevertheless, durability is not the wood arrow's main advantage. The wood arrow is the least durable compared to its other arrow counterparts like fiberglass, carbon, and aluminum.
Despite this, wood arrows are not as fragile as we think. It doesn't break easily after just a few shots.
To avoid damaging your wood arrows, avoid shooting at stone walls or trees. These challenging targets are unsuitable for them.
Another one is using a wood arrow with a compound bow will cause it to splinter, which can hurt you and the people around you. Wood arrows are better with traditional bows or recurve bows.
Which arrow material is best?
There are four primary arrow materials used in archery: wood, aluminum, carbon, and fiberglass. Among these four, carbon is the best arrow material and the most favored by archers.
Arrow has transformed into different material compositions. As opposed to the past, when wood was the only material they could make, arrow now comes in different types.
In archery, four primary arrow materials these days: wood, aluminum, carbon, and fiberglass.
You may have difficulty deciding which arrow to use for archery. When it comes to choosing which one is the best, there are several vital distinctions you need to know.
Below are the different distinctions between arrow materials that will help you in your query:
Wood

Wood arrows are generally popular with traditional archers and the original arrow material. It has been around since Medieval times, which is more than a century ago.

People used them for hunting mammoths and even during wars in the past. Some of the archers use it for fashion-purpose, as well. It embodies the mystique of archery that no other arrow material can take over.

Aside from its traditional and historical feel, it is also the most inexpensive among the arrow materials. They are also relatively durable if you give them proper care and do not shoot at things beyond their limit.

Wood arrows easily break, twist, chipped, and scratch because they are natural materials. However, wood arrows have their drawbacks. Although inexpensive, it doesn't last longer than its counterparts.

There are also minor inconsistencies between arrows. Wood arrows often don't have the same quality as each other. You need to check them for straightness to see if the arrowhead wobbles or not or if there are any cracks.

If you fail to prevent them, you may later notice that each arrow flies differently.

Moreover, wood arrows are less consistent than other arrow materials. You cannot use wood arrows with compound bows to avoid splinters. It is best with recurve bows and longbows only.

Aluminum

Aluminum can come in various sizes and uses screw-in tips. It is an excellent choice for beginners and experienced archers. It is also a superb arrow material for target archery and hunting.

Besides being more durable than wood arrows, aluminum arrows are lightweight and precise. They are more costly than wood and fiberglass arrows but cheaper than carbon.

Moreover, you can have them customized in the nearest archery shop. You can use them with bows like compound and recurve.

Nevertheless, they, too, have their drawbacks. Aluminum arrows aren't as durable as compound arrows. They can also bend or dent from mishandling or hard impacts because aluminum is relatively soft.

It is essential to physically feel and inspect them for scratches, dents, or bends. You can also quickly straighten them but keep in mind that it is hard to predict the direction a bent arrow flies.

Carbon

The most favored among archers is the carbon arrow. It is lightweight and the most durable. It is incredibly durable and returns to its original shape even when bent. Moreover, it is more lethal than any other material. These characteristics make carbon arrows the best choice.

A carbon arrow is stiff, which makes it the perfect match for heavier compound bows. It is also the ideal bow commonly used for recreational use, tournaments, and hunting.

Unlike wood arrows, its carbon shafts are straight and uniform. You don't need to wonder if you got all the arrows in suitable sizes and shapes.

Carbon arrow also has its cons. Because of its desirable traits, perfect for any archers, it comes with a price. It is the most expensive among the arrow materials. Some people opt for aluminum instead of carbon arrows because of the issue with the price.

Like aluminum, carbon arrows may bend, but it takes a hard impact or several faults. In the case of hard impact, carbon arrows may sustain cracks that call for an inspection. Cracks in carbon arrows may cause splinters which is dangerous, so you need to throw them out once you confirm any damages.

Fiberglass

Fiberglass arrows are inexpensive and typically ready-made at archery retail shops. They are also sturdy and can pierce through the body of animals.

If you want to get started in archery, fiberglass arrows are an excellent arrow of choice. It is the ideal arrow material for archery youth programs. Furthermore, it comes in various lengths and works well for target practice.

Despite its advantages, it is not better than carbon arrows. Fiberglass arrows are heavy, so they can't reach far distance targets. It also tends to splinter and is for recurve bows only.

Additionally, they are difficult to custom-size and hard to repair when damaged.

Each arrow material has its pros and cons. When compared, the carbon arrow is overall the most favored by archers and is the best.
What wood is best for making arrows?
Port Orford Cedar has since been the best wood for making arrows. Archers prefer Port Orford Cedar among other wood types because of its light to moderate weight and relatively straight grain.
There are various types of wood used to make wood arrows for archery. However, not all wood types are the same. Some wood type easily breaks, and some are heavy to shoot long-distance targets.
When choosing wood for arrows, you need to consider the ideal weight and grain straightness. Your chosen wood arrow's grain should be as straight as possible, without twists or knots.
On the other hand, weight is a personal preference; however, you need a lightweight arrow to shoot at distant targets.
Currently, arrow shafts are now available in three sizes: 5/16″, 11/32″, and 23/64″.
To carefully select the type of wood arrow we want, here is the list of the following wood types to consider:
Port Orford Cedar

Of all the wood arrows, it is among the most eager to stay straight, which is a big deal in archery. Archers' traditional favorite wood choice for arrows is Port Orford Center. It is ideal for first-time wood arrow buyers, as well.

Curved or unstraight arrows are hard to shoot. It is tough to predict their direction, unlike straight arrows. Nonetheless, this is not the case with Port Orford Cedar arrows.

Port Orford Cedar is light to moderate in weight. Despite not having the same durability as other woods, it has a very desirable and reasonably straight grain. It also takes stain well and is relatively easy to straighten.

No one wants a wood arrow that is very hard to straighten, too heavy and has lots of grain.

Douglas Fir

The other desirable wood after Port Orford Cedar is Douglas Fir. Douglas Fir is hard to straighten and less straight. Unlike Port Orford Cedar, it is heavier and has lots of grain.

Despite these cons, it is moderately durable, giving it an upper hand against Port Orford Cedar. Moreover, it takes stains well.

The reason why other archers prefer Douglas Fir is its weight and durability. Douglas Fir is perfect for traditional archers who prefer heavier arrows.

Ramin

Ramin is a hardwood that originated in Malaysia. Some wood dowels you find in the hardware stores are Ramin wood.

In terms of archery, Ramin is moderately heavier than Port Orford Cedar and is relatively durable. However, there are complaints about Ramin's inability to stay straight.

In addition, it is hard to stain and straighten.

Maple

Maple is an American hardwood heavyweight yet durable when made into an arrow.

Unlike Ramin, it has no issue staying straight. Nonetheless, it is difficult to stain and takes time to straighten.

On the bright side, Maple arrows are also good, smooth, and uniform. If you don't mind an arrow's heaviness, you should try maple wood arrows.

Ash

Like Maple, Ash is heavy and very durable. It is mainly for making military or war arrows weighing between 1000 to 1500 grains. However, they are not very straight, hard to stain, and difficult to straighten.

Laminated Cedar or Pine

Laminated Cedar or Pine is a homogenous material composed of pieces of pine or cedar laminated together. Although it is very durable and stays straight, it is cumbersome and difficult to straighten.

The good thing about Laminated Cedar or Pine is it takes stain well.

Those are the primary wood types that are commonly available in the market. Yet, there are still other wood types you can try that are not on the list, and you can even make your wood arrow.

Overall, numerous archers agree that Port Orford Cedar is the best wood for arrow-making because it is lightweight, easy to straighten, fairly straight-grained, and takes stain well.
How do you care for wooden arrows?
The most crucial rule to caring for your wooden arrows is to keep them dry and away from extreme temperatures. Humidity damages wooden arrows making their tips, fletching, feathers, and shaft deteriorate.
Even though wood arrows are relatively durable, they are still more fragile than other arrow materials. Keeping them long-lasting requires proper care.
Wood arrows are very sensitive to extreme weather, so you need to store them in a dry place that is not too cold or hot. As a result of humidity, the tips, fletching, feathers, and shaft deteriorate.
Using an arrow box or arrow case is the best way to ensure the safety of wooden arrows rather than relying on the manual method.
The following are the best practices for caring for wooden arrows:
Rub the heads of arrows precisely with engineering oil before storing them to prevent rust.
Dry the wet arrows slowly and carefully before and after use; Arrow feathers bend very quickly in moist conditions and permanently retain their form.
Avoid exposure to intense heat or humidity.
Don't forget to infuse the arrows with appropriate oil or paints for protection in unfavorable weather.
Even though wood arrows are pretty fragile, your capability to keep them in good condition will help them last longer, which also certainly applies to other arrow materials.