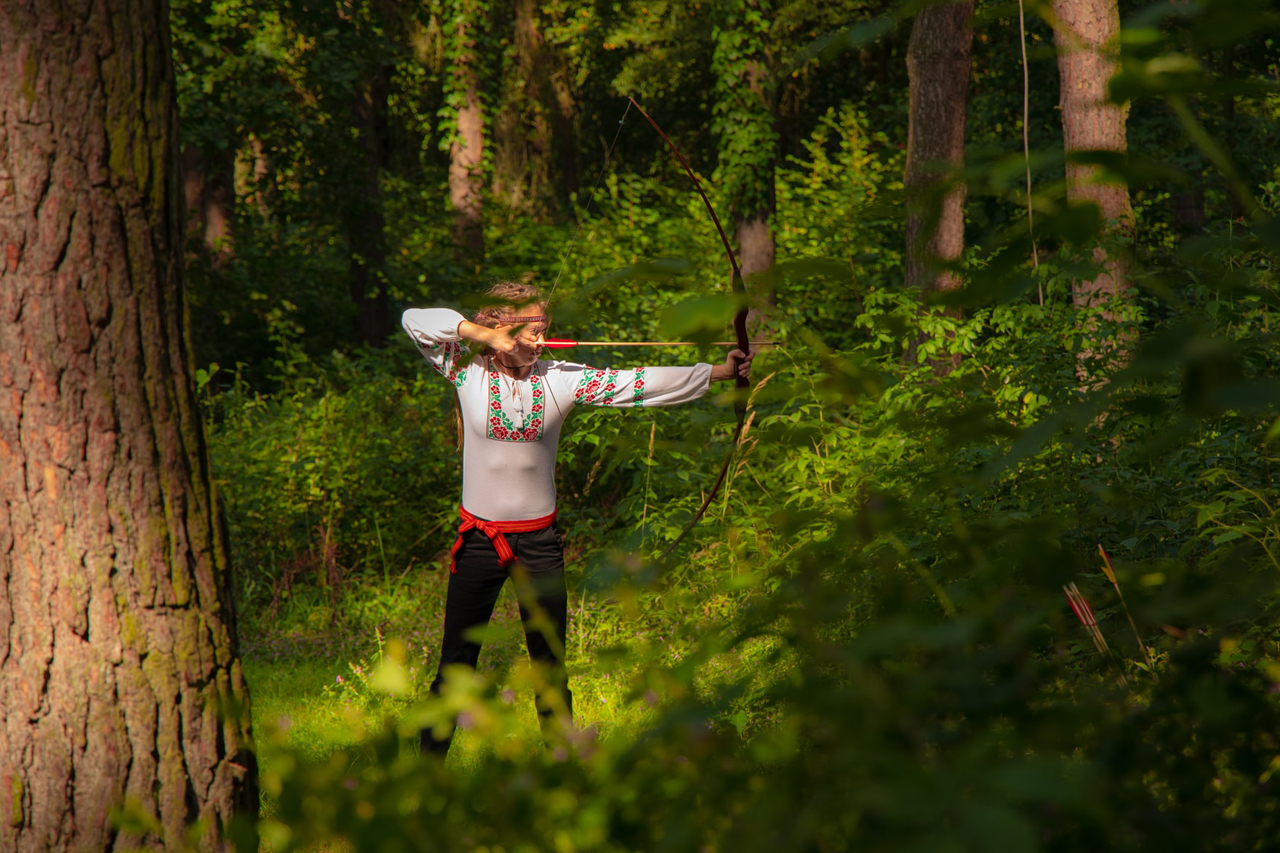 It is natural for bowstrings to stretch over time. However, once they wear out too much or get too stretchy, it won't be easy to tune them properly.
Bowstrings aren't just the strings you pull in archery to shoot your arrow. They also play a big part in your arrow's trajectory and energy transfer to reach the target bullseye.
If you are new to archery and trying to figure out the equipment, you may be wondering if it is normal or expected for bowstrings to stretch.
It is natural for all bowstrings to stretch over time. Bowstrings will slightly stretch whenever you load the bow or rebound, regardless if they are new or used.
A slight stretch is acceptable and beneficial since it allows the bowstring to absorb excess kinetic energy and softens the vibration caused by loading and reloading the bow.
Be sure to monitor your bowstring. Too many stretches might be harmful rather than beneficial because strings consume energy with every stretch, and longer strings consume more power.
Stretching the strings too long may result in either issue: "string stretch" or "creep." Of the two cases, creep is the worst one to encounter. It is a non-recoverable elongation that requires you to replace your bowstring as soon as possible.
Below are the two most important factors that affect string stretch:
String material

Among the bowstring materials available in the market, Dacron is the worst. You may have noticed that Dacron is typical in the majority of the off-the-shelf bows.

Dacron string materials are cheap but highly elastic and heavy, which is not an excellent choice for a bowstring. A highly flexible string material gets easily torn or worn out, resulting in creeping, which is dangerous.

Instead, you can opt for other bowstring brands like Vapor Trail, Winners Choice, and Trad Gear.

Production issue

Another to look out for is the production of the bowstring. There are two methods for making it: the endless loop method or the flemish splice method.

The flemish splice method twists two or more string materials and then splices them to generate end loops.

In contrast, the endless loop method repeatedly wraps the string material around pegs, ties the ends, and uses serving threads to create end loops.

Thus, the endless loop method is marginally better than the flemish splice method. However, the flemish splice method is ideal for bows made of wood, horn, and sinew materials.

Before choosing your bowstring, these factors help decide the best string for you to use.
How long does it take to break in bowstrings?
It takes about 200 shots to break in, especially for new bowstrings. After the break-in period, you could notice a difference in your shooting. You may need to visit your archery shop for a final tuneup and timing inspection.
Bowstring has an impact on the outcome of your shoot. Since strings stretch with time, it may significantly influence your bow's timing.
If you have a new bowstring, it takes approximately 200 shots to break in. Every bow string has a break-in period. Although some stretch or settle more than others, some do not.
Counting your shots isn't the only way to know if your bowstring break-in period has ended. Another sign to watch is the peep sight rotation. Once this happens, it is an initial sign that your bowstring is stretching or has stretched.
After confirming, you may need to return to the archery shop for a final tuneup and timing inspection before buying new bowstrings.
Besides the break-in period, other causes may lead to your bowstrings breaking. The following are the other causes you need to watch out for:
Mechanical stress

The elements used to make bowstrings in the current times are different from what they used to be ages before, like linen thread, steel wire, Dacron, and Nylon.

The higher the material's tensile strength, the more draw weight or mechanical stress the string can withstand. If you exceed the borderline draw weight a bowstring can fight, it may break.

Below is the corresponding tensile strength per bowstring material:
Linen: 5.5-6.5 gm/den
Wire steel: 3.96556*104 g/den(approx.)
Dacron: 1.5*104 g/den(approx.)
Thus, linen has the highest tensile strength among the three and is ideal for wooden longbows. On the other hand, wire steel is best for compound bows. Whereas Dacron is perfect for recurve bows.
Frequent shooting
The more frequent you shoot, the higher chances your bowstring may be unstrung in no time. In general, you have about 200 shots before the end of the break-in period.
When you exceed the estimated expected amount, you'll most likely notice a change in your shooting. Maybe your bowstring got stretched because of shooting frequently and needs a new replacement as soon as possible.
Not waxing
Like violin strings, bowstrings need waxing too. You can expect that newly bought bowstrings have wax in them. However, resin wears out over time as soon as you start using the bowstring.
If moisture gets into the fibers over time, it might tear them down, and the wax fixes it by holding them together.
Applying wax on your bowstring will penetrate the area between them and provide lubrication. The wax allows the strands to move with little friction: the less friction, the less fraying.
Therefore, not waxing your bowstring encourages more friction and leads to fraying.
Other bowstrings may last for an estimated three years for some. In the end, the life span of your bowstring also highly depends on the proper care done.
How often should I restring my bow?
There is a need to restring your bow every two to three years on average. Nevertheless, how often you shoot still plays a role, and bowstrings that show indications of creeping or snapping should be replaced.
No one wants a poorly maintained bow since it significantly affects how archers shoot and the dangers it represents once it snaps. It may lead to injuries to the archer and the people surrounding it.
Other people change their bowstrings to beautify their bows but replace them with new, colorful, fancy accents. Nonetheless, the primary reason for restringing is to keep danger out of the way.
You may be wondering when is the perfect time to restring your bow. Although generally, the need to restring spans for every two to three years.
On average, hunting bows require restringing every two years. Meanwhile, target bows need restringing every year since they shoot more often than hunting bows.
However, this is not always the case. You should note several signs to determine how soon your need to restring your bow.
Even if your bow doesn't show these signs, you need to replace your bowstring after a year or two of usage.
After finding out when to restring your bow, you may be thinking if you need to go to the nearest archery shop for restringing. If you own a longbow or recurve bow, you can restring it at home by yourself. Various youtube videos on the internet can serve as your guide.
Compared to a crossbow or compound bow, restringing a longbow or recurve bow is easier. If you own a crossbow or compound bow, it is best to have it restrung at a nearby archery shop.
Let the professionals restring your bow since restringing a crossbow or compound bow requires professional know-how.
Keep in mind that restringing your bow can be pretty dangerous. Stringing attempts by non-experts may result in irreplaceable damage to your bow.
Since the bowstring is under a lot of tension, it needs a bow press that can be pretty expensive. Nonetheless, restringing your bow at a local archery shop does not cost much compared to the possible damage caused by the incorrect procedure.
How do I know if my bowstring is bad?
There are six signs of knowing if your bowstring is terrible: dry, longtime use, broken, server separation, fraying, and stretchy. When any of these signs show, you have to restring your bow immediately.
It is problematic to notice that you have difficulty hitting your target as an archer. Skillset is a factor, but your bowstring condition is an essential factor, too.
Below are the six signs to help you tell if your bowstring condition is terrible:
Dry bowstring

Infrequent waxing or not waxing your bowstring at all rapidly decreases its lifespan. The wax helps maintain the flexibility of the bowstring and helps it retain its moisture.

Sometimes dry bowstrings don't mean immediate replacement. Once you notice your bowstring went dry, you can apply wax to smooth down the fibers that stand out as a short-term solution to the problem.

However, if your bowstring is dry more frequently than usual, it is your cue that it is on its way out. Ignoring this sign may result in fraying and breakage, which can be harmful.

Longtime use

You may not notice any damage or wear on your bowstring, but frequent shooting and age are big signs you can not ignore. Sooner or later, replacing your bowstrings would help, mainly when you use them frequently.

No matter how fine it looks, if it exceeds its expected lifespan, you need to replace it.

Broken

Nowadays, archers use synthetic bowstrings compared to plant fibers in the past. A synthetic bowstring is more durable and less likely to snap after a few shots. However, this does not mean that it won't break.

Once your bowstring breaks, your bow will need a new one so you can use it to shoot once again. A compound bow with more than one string is no exception.

Server separation

Every bowstring has a server, a tightly twisted thread around the main string. Look for any separations in the bowstring, no matter what type of bow you own.

Check your serving from time to time because it gradually separates in certain bowstrings. Once you realize the server split, you may need to replace your bowstring even though it appears fine.

Fraying

A frayed bowstring is a common significant issue for every archer. Fraying happens when the bowstrings frequently unwind after using it for constant practice.

Fraying at times can eventually lead to the snapping of the entire bowstring, which can cause serious injury to the archer and any person near the bow. The impact depends on the force used and the direction it was aiming.

A temporary solution is by applying wax to the strained area; however, it does not guarantee that it will hold off much longer. Thus, when your bowstring starts to fray, you must replace it as soon as possible.

Stretchy

Every bowstring has a break-in period. Nonetheless, it affects your performance when your bowstring gets too stretchy because of prolonged use or too much pulling.

If you rarely use your bow, you may think that there is no possibility that your bowstring gets stretchy. Extreme temperatures affect the bowstring's durability and reduce accuracy when shooting.

Even if you haven't used it for some time, storing it in extreme temperatures will make it elastic.

Those are the signs you need to look out for to help you identify when it's the right time to replace your bowstring.
Do bowstrings go bad if not used?
Not using your bowstrings does not guarantee it won't get worse. Bowstrings constantly undergo extreme tension even when not used, and storing them in high temperatures affects their durability.
Since frequent shooting affects the longevity of your bowstring, you may think that not using it for a long time will prolong its life span. However, this is not how bowstrings work.
The situation is comparable to that of changing the oil in a car. You have to change the oil every required mile to keep your vehicle running. The bow has parts that need changing, too, like its bowstring.
Regardless of how often you use it, you can not avoid the moment you need to replace it.
For those who don't use their shoot often, several factors cause your bowstring to go wrong, such as:
Storing your bowstring in extreme temperatures
Extreme tension even when not in use.
To properly maintain the durability of your bowstring, you need to store your bow indoors. Extreme temperatures will make your bowstring stretch fast. A stretchy bowstring means a cue for replacement.
Another factor that makes your bowstring terrible even when not in use is the constant extreme tension that the bowstring undergoes. With continuous excessive pressure, the bowstring material breaks down, which causes it to wear out, fray, and stretch.
Therefore, not using your bow does not mean there is no need for a bowstring replacement. Time has a significant impact; you need to restring your bow at least once or twice a year.
All bowstrings stretch over time and need timely replacement. Ignoring the signs may lead to expensive and irreplaceable damage to your bow and, worse, unforeseen accidents.