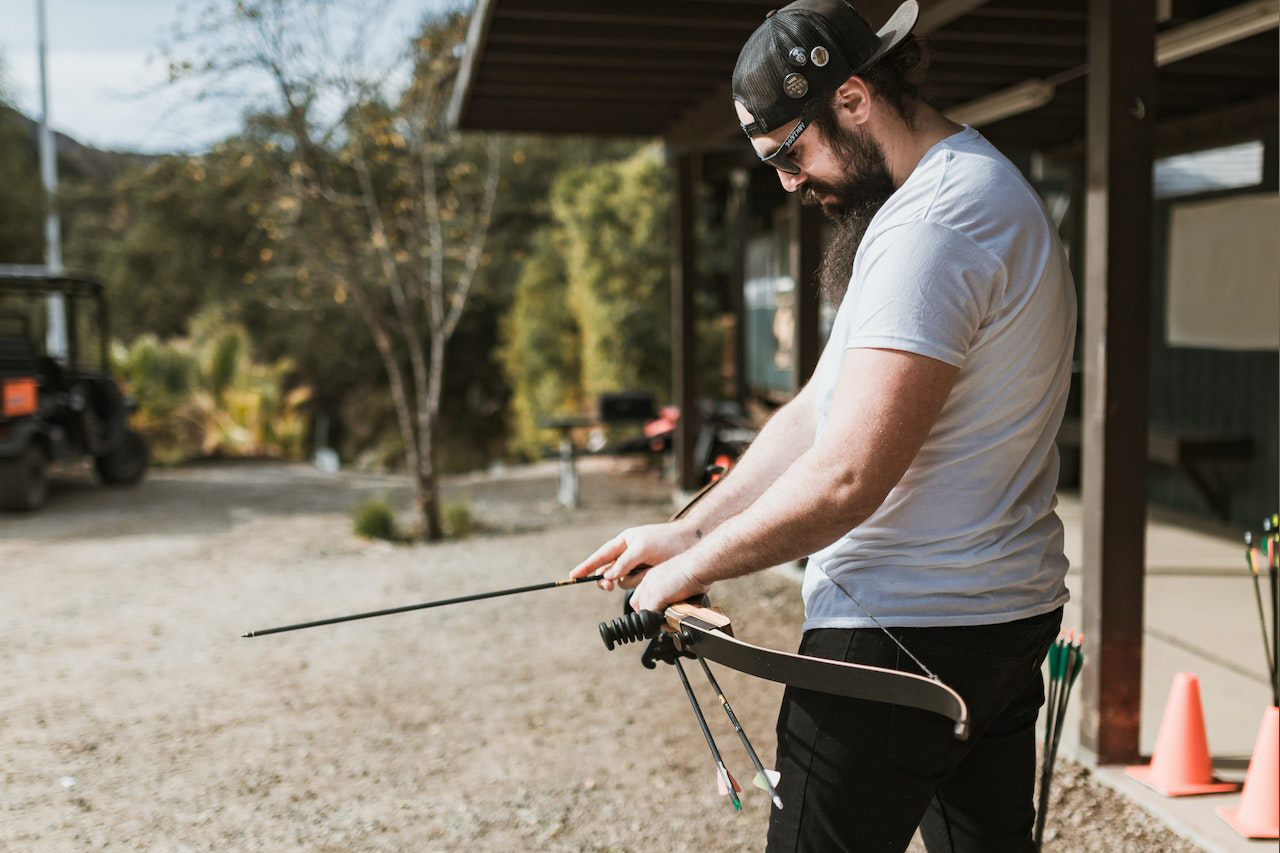 You can refinish your recurve bow. Doing so is not very complicated as long as you plan and ensure that your bow is in good condition for a refinish. The process could also take a while, so you need to be patient before and during the whole process.
Before we refinish your recurve bow, let's first define refinishing. Refinishing means giving a new surface to something, which would sometimes entail repairing any prior imperfections.
You can consider refinishing a maintenance procedure if you have worn out your bow after using it for years. For instance, your recurve bow may obtain cracks, holes, or cavities.
You can remedy this kind of minor imperfections by filling the holes, cracks, or cavities with putty or other filling material. Before sanding your bow, you must ensure that the filling material is completely dry.
If you want to preserve any decoration or essential information on your bow, you should cover them with masking tape before refinishing. You would not want these decorations and data to be wiped away or erased when you sand or coat your bow.
What do you need to refinish a recurve bow?
To refinish a bow, you need sandpaper, safety equipment, masking tape, filling material, and other coating materials. Refinishing a bow can be tedious, so ensure you have all materials ready before you start to avoid the hassle of returning to the store to get missing materials.
During the planning phase, you must ensure that all your materials are ready, especially the right sandpaper and coating. Refinishing a bow can get very technical, so it would also be a great advantage if you have a basic understanding of carpentry.
Here is a list of materials that you need to refinish your bow:
Safety gloves
Safety goggles
Paintbrushes
The masking tape that you can use for painting purposes
Sandpaper for stripping and finishing
Tack cloth
Epoxy sealer
Steel wool
Toothpicks (optional)
Putty or other filling materials (optional)
Toothpicks and putty or other filler materials are optional because you only need them if your bow has cracks, holes, or cavities you need to cover. You must cover these imperfections before the sanding process to ensure that your bow is adequately leveled.
Before, during, and after the whole refinishing process, you must ensure that your workstation is clean. Dust and grime can adhere to your materials, especially your coating materials, which would not produce good results.
Furthermore, you also need to ensure good lighting in your workstation. With proper lighting, you can see what you are working on, and it is easier to spot and correct mistakes as they happen.
Remember, a workstation with bad lighting or an untidy workstation with materials scattered around is like an accident waiting to happen. Do not risk getting injured or doing a lousy job refinishing your bow.
How do you refinish a recurve bow?
After preparing all your materials, the refinishing project officially begins. To refinish a bow, you need to fill any imperfection in your bow. Next, you will proceed to sand and then coat it with varnish.
Read more to know the step-by-step process on how to refinish your bow.
Visual Inspection

Look at your bow closely. Do you see any cracks or holes? Imperfections like these need to be fixed before you start sanding your equipment. Not only does your bow look better without any breaks, but it also prevents your bow from wearing out faster, prolonging its lifespan.

To fill the cracks, holes, or cavities, you can use putty or other filling material that works best with the material of your bow. After applying the filling material, please wait for it to dry before you proceed entirely to the next step.

If the filling material is not completely dry when you sand your bow, it will make a mess. Also, it will not be able to do one of its purposes, which is to prolong the lifespan of the bow. If the putty is not completely dry, the cracks can worsen in the long run.

Cover essential details

If you want to preserve a decoration, the manufacturer's logo, and other important information about your bow, don't forget to cover them with masking tape. You may need to show these details to your manufacturer when you need to get your gear checked for warranty.

Protect yourself

Before you start sanding, make sure to be adequately protected by wearing safety gloves and goggles. You do not want to put on line any injury caused by any part of your bow that may come flying as you sand it.

Moreover, the dust brought from the sanding process may go to your eye. You can prevent that from happening by wearing safety goggles.

If you have very long hair, it is best to tie it to prevent accidents such as your hair getting into the gear of the sanding machine. However, if you are planning to sand your bow manually, it is still recommended to tie your hair to get them out of the way as you work.

Sanding

For the sanding part, you should pay attention to the grit of the sandpaper you will use. Start sanding your bow with the lowest grit and slowly switch to a higher one as you go further.
With your sandpaper, sand the wooden parts of your bow.

Pay attention to the direction of the wood grain and ensure that you are sanding only in that direction. If there are any glass or fiberglass parts on your bow, do not sand them. You can even go further as to masking them to avoid any scratches.

In your first round of sanding, you may want to start with a #80 grit sandpaper. Make sure to only sand moderately at this phase, only enough to remove the surface of the shiny parts of the bow. During this part, your gloves will also come in handy as they prevent any oil from your fingertips from coming in contact with your bow.

If the material used to create your bow is fiberglass, take note of the following tips during sanding:
For your recurve, bow's limb area, shift to using a #320 grit sandpaper than the normal one to preserve your gear. #320 grit sandpaper can result in an attractive fiberglass overlay of your recurve bow.
Check for any missed or shiny sorts on your recurve bow, then re-sand it if necessary.
The #320 grit sandpaper will help you scuff the recurve bow's surface to keep your bow smooth.
Apply varnish for coating
Inspect your recurve bow; if there are any remaining shiny spots, re-sand those parts with a #320 grit sandpaper until the shiny spots disappear. You are almost there with refinishing your recurve bow. All you need to do is do one more last round of checking before applying the varnish or coating.
For the best result, you can use a tack cloth to wipe or remove any dust that has settled on your recurve bow. You can also include the bow's sight screw hole when refinishing your bow. All you have to do is to fill these holes with a toothpick coated with putty.
After removing all the putty, use the #320 grit sandpaper to sand over the screw holes. Let it dry for some time, and remove any excess toothpick material once it dries. Once done sanding and you are already satisfied with the dull finish, apply the varnish or epoxy sealer to finish the refinishing of your recurve bow.
Can you paint a recurve bow?
You can paint a recurve bow regardless of its material. You first need to know which part of the recurve bow you can paint, such as the handles, shelf plate, and tips. These parts are the best to coat in color for increased visibility during target practice or hunting.
When choosing the paint for your recurve bow, you should also consider how you use your bow. Some paints cannot last long because you frequently use your bow. For example, primers for plastics and automotive paints are what archers prefer because of their ability to withstand regular flexing and bending when you are using your bow.
Choosing the color of the paint also matters. Hunters usually want a dull finish over natural colors, so their bows blend just right with the environment and can easily camouflage from the animals.
For archery competitions and target practices, you can go with flashier and lighter colors with glossier finish because you do not need camouflage for matches compared to hunters.
Aside from choosing the paint, you can buy and add stickers to your recurve if you want a more customized look. All this personalization of recurve bows seems too much work, but you will not regret the end product.
Once you have pinpointed the parts you want to paint, prepare the following materials: sandpaper, adhesion promoter, primer, paint, the clearcoat, or finish. After preparing your materials, follow the step-by-step guide below on how you can paint your recurve bow.
First, prepare the limbs and riser by sanding any coatings already on the bow's surfaces. You can use the #80 grit sandpaper for the sanding. The paint and finish applied by your bow manufacturer will make it difficult for you to add a new color, so make sure to remove all the paint with sanding.
Second, apply the adhesion promoter. The adhesion promoter will help you to keep the primer and the paint sticking to the hard surfaces of the bow.
The third part is to apply the primer coat. A good tip is to choose a primer that suits the surfaces of your recurve bow, like flexible plastic, because the limbs of your bow will flex and bend as you use them.
Since bows undergo a lot of strain and stress when you use them, apply more coats than usual. You can apply around four or five coats of primer and light sanding between each layer.
After applying the primer coat, it is time to use the paint. Apply around four to five coats of paint. Do not forget to do a light sanding between each layer of the paint. It is so that the color of the paint stick to the surface of the recurve bow.
Finally, apply the finish coating to protect your recurve from the bow's custom paint job. The final process of applying the coating depends on your product. Some layers need more than two applications, so follow the manufacturer's guidelines.
There are also many how-to videos you can watch while painting your recurve bow. If you are unsure if you are doing the right thing, go over these how-to videos to see how to do it properly.