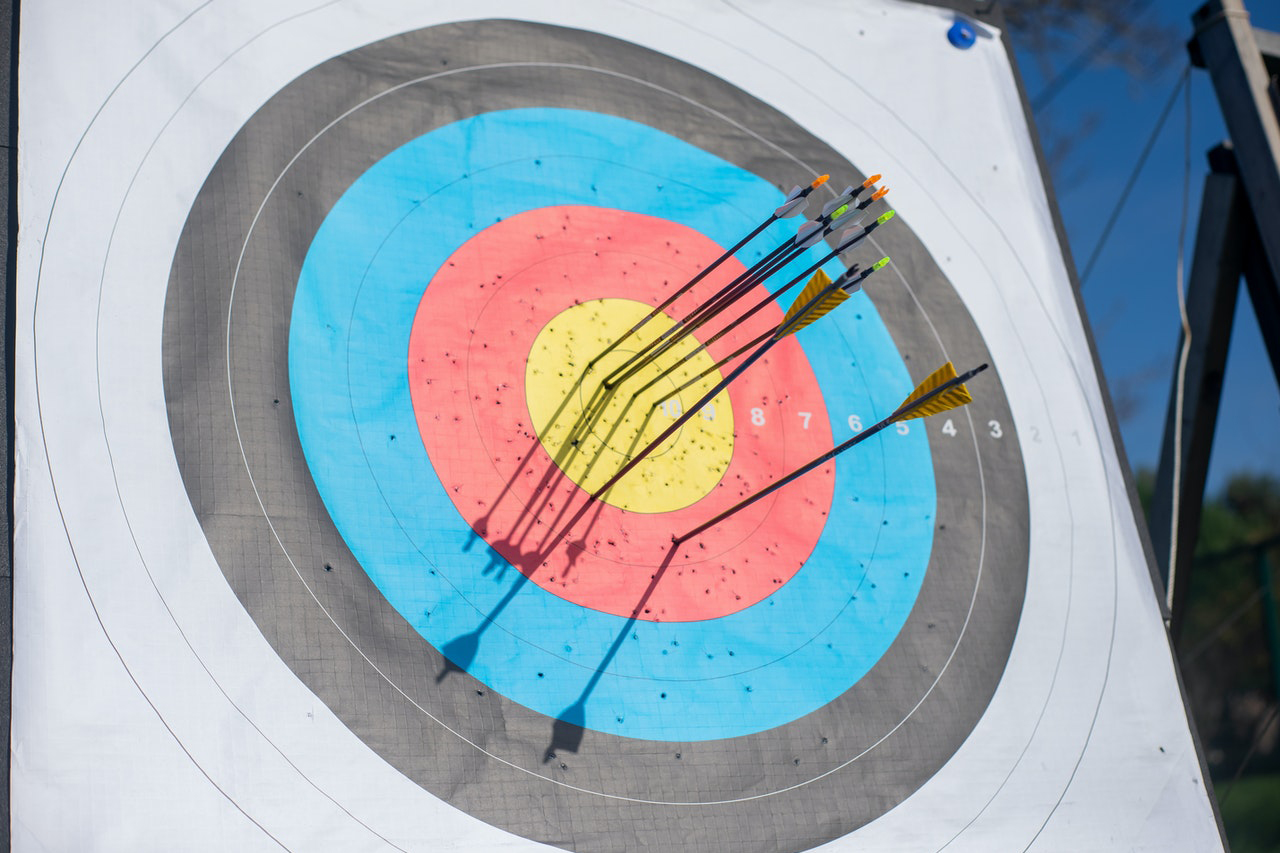 Archery targets can get wet if you leave them out in the rain. Depending on their material and construction compositions, some archery targets are acceptable to get wet except those composed of soft materials.
Target archery is the most well-known type of archery, proliferating in international athletic events like Olympic Games and Paralympic Games. It is the discipline of shooting at specific circular targets at predetermined distances.
Additionally, target archery is available for indoor or outdoor play.
For a change of scenery, some archers tend to hone their skills outdoors. Traveling to and from the archery ranges can be quite a hassle; that's why others opt to install backyard ranges in their homes instead.
You might be wondering whether it is wise to try doing it outdoors, considering the risk it may imply not just for your safety but also for the maintenance of your equipment.
Unlike indoors, outdoor archery can be more challenging due to unpredictable weather. Several archery tournaments happen in an outdoor setting where wind, rain, and sunlight may affect performance.
If you want to challenge yourself, check if you have the necessary accessories and permission you need before proceeding.
Regarding archery targets, they can get wet. However, sunbeams and heavy rains have a significant impact, so you need to pick the suitable materials and target type designed to last long in these conditions.
Some are fine to leave outside in the rain except those composed of soft materials like paper, cotton, and cardboard. These materials are not suitable for outdoor use since rain and sun will cause severe damage.
Can archery targets stay outside?
Archery targets can stay outside. Keeping your archery targets out is convenient. However, it can be costly, and you need to protect them from extreme weather to extend their life.
As you prepare your outdoor target archery equipment, you may wonder if it is okay to store your archery targets outside. Generally, archery targets can stay out; however, it is not always a good idea.
To help you weigh in on what is best, below is a list of advantages and disadvantages of keeping archery targets outside:
Advantages of keeping archery targets outside
Convenient and accessible

Traveling to do archery might be inconvenient when backyard archery is an option, where anyone may set up an archery range within the property.

Backyard archery is more convenient and lessens your transportation expenses. Playing archery is more accessible, and you don't have to wait in line at the archery range if you forget to book a reservation.

Nonetheless, you should first verify with your city to see if it is legal and properly research the necessary arrangements before shooting your arrows.

You can cover them or keep them in a shelter

Keeping your archery targets outside doesn't require much effort, and you don't even need to move them inside to protect them. Instead, you can cover them with a simple tarp or keep them in a shelter when not in use.
Disadvantages of keeping archery targets outside
It can be costly

Despite the convenience, keeping your archery targets outside can be costly. You need to buy the correct type of archery target designed for outdoor use, which comes with a price.

Not all archery targets are fit for outdoors, such as compacted paper targets. You may be thinking of using paper targets since they are cheaper.

Although compacted paper targets are okay to be left outside, they are not as highly effective as
archery targets intended for outdoor use.

Extreme weather and other factors can wear out your archery targets fast

Archery targets designed for outdoor use are mostly waterproof or can handle rain well. However, rain isn't the only factor that affects the durability of the targets.

Besides the rain, ultraviolet rays cause severe damage to the targets, and getting them out from the sun may help them last longer.

If you plan to keep them outside, you need to cover them or keep them in a shelter when not in use.

Whatever the material used, if your archery targets aren't covered safely and well-maintained, they may not last long if you keep them outside compared to when they are always stored indoors.
What are the types of archery targets for outside use?
There are several types of archery targets available. However, not all are suitable for outdoor use. 3D targets, bag targets, and foam layer & block targets are the best choice.
Not all targets are the same nor created for the same purpose, and others are fine to use outside, while some are better indoors. With so many external factors impacting the targets' durability, it's critical to know which ones are right for you.
Paper, old clothing, foam, towel, and sheets are some materials used to make archery targets. You can also do a DIY or purchase it from the store.
Below are the type of targets for outdoor use:
Foam Layer and Block Targets

Popularly used among target archers and bowhunters, block targets are durable and can withstand weather conditions. Polyethylene foam, the material used, is exceptionally resistant to weather elements and is available as layered or solid targets.

Several layers of polyethylene foam crushed together composes the layered targets. On the other hand, solid targets contain inflated self-healing foam.

Both types serve the same purpose and work well against the weather, may it be rain, snow, or sleet. Getting these targets wet is not going to be one of your worries.

However, keep in mind that it would help if you kept them out of direct sunlight. The ultraviolet and heat will damage the foam making it less effective, and repeated exposure to sunlight will crumble it down and will be of no use sooner than you expect.

It mostly comes in surfaces between 18 to 24 inches square and provides the best stopping power possible for broadheads and field points.

Pros:
Available in different sizes, colors, shapes, etc.
It is lightweight and portable.
Affordable
Long-lasting
Cons:
Lacks realism compared to 3-Dimensional targets
Not best for prolonged exposure to sunlight
It mostly has a small target surface.
3D Targets
3-Dimensional target, or 3D target in shorter terms, is the most exciting type of target to shoot. It all comes in different replicas, such as deers, moose, elk, turkey, dinosaurs, and even zombies!
It is primarily ideal for hunting and used for contests, as well. If you can afford a lot of it, it will be more fun. Multiple 3D targets in an outdoor setting make it feel more realistic.
3D targets made of self-healing expanded foam are ideal for outdoor archery. Using them, you can shoot all day without being concerned about the rain and other weather conditions.
However, like any other targets made up of foam, the sunlight is the most destructive factor for the object, and leaving it for a more extended period under direct sunlight will crumble down the foam. Thus, if you plan to store it outside, cover it up when not in use.
Manufacturers that produce high-quality 3D targets offer replaceable death zones.
3D targets remain unmatched because of the closer depiction and significant difference from shooting on a plain target.
Pros:
Provide an accurate depiction
Improve understanding of appropriate shot placement
Durable high-density foam
Cons:
Expensive
May result in unintentional target misses
Not best for prolonged exposure to sunlight
Bag Targets
Bag targets are the trendiest, cheapest, and easy to find. Braided polypropylene and foam scraps within the bag target make it an ideal target type for outdoor use.
Mild winters, wind, and rain won't degrade the bag targets. However, ultraviolet rays leave more significant damage similar to what it does to foam targets and 3D targets.
You can pair it with a target stand that it can hang from to work best.
Pros:
Portable
Lightweight
It has a large surface area.
Cons:
Discouraged for broadhead use
You may need to buy a hanging target stand.
It may not last long and is less durable than other targets.
Each target has its pros and cons. Depending on which suits your needs the most, these three target types work well outdoors. As long as you keep them away from direct sunlight as much as possible, you don't need to replace them sooner than intended.
How to keep archery targets outside without ruining them?
There are archery targets designed to withstand the elements outside. However, even these targets need protection to minimize damage and prolong their usefulness. You can use a tarp as a cover or build a shelter to extend its lifespan.
Before enumerating how you can keep your archery targets outside without ruining them, it is also essential to identify the factors that significantly affect the product's durability.
Every object has its limits. You will inevitably have to replace the things you bought or built, and archery targets are not an exemption to this rule.
Considering weather elements, the foam layer and block targets, 3D targets, and bag targets are mainly for outdoor use. These types will last for an extended time unless they are not well-maintained or protected.
The following are the factors that have a direct effect on how long your targets can last outside:
Climate

Not all places around the world share the same climate. Some cities or countries experience colder temperatures, and at the same time, some experience hotter climates like tropical countries.

Since heat is a significant factor, people who live in hotter climates will notice that their targets wear off quickly. The hotter the temperature, the more damaging it is to the archery targets.

Sunlight

If you think rain is the most horrifying factor to worry about, you may not know that ultraviolet rays from the sun are the most damaging.

The foam's number one enemy is the sun. Since the primary material used for outdoor archery targets are foams, thus, you need to keep them away to avoid the acceleration of wear and tear.

Even the high-quality targets are not safe from the damage the sunlight causes.

Water

Although most archery targets are water-resistant and built to combat the damage provided by rain, it is still better to limit the possibility of them wearing out from too much wetness.

There are times that heavy rains occur, so it is best to keep the targets inside or cover them.

Fog and snow

Like water, some targets don't get too much affected by the snow. However, the moisture brought by fog and snow may cause rust or gouges.

Frequent shooting

No exact amount of shoots can tell if the targets are fit for disposal. Supposedly, studies show that quality archery targets may endure up to 2000 arrows with regular use. Nevertheless, the more frequent you shoot arrows, the faster your targets will wear and tear.

After identifying the elements affecting your target's longevity, listed below are the ways how you can keep your targets outside without ruining them:
A. Use cover
The easiest method is to cover your archery targets with a tarp or other materials that do not hold water. A cheap tarp will do since it is only for protecting your targets from weather elements, especially sunlight.
Allow the tarp to take the beating and replace it once worn out.
B. Build shelter
Although this might be quite a hassle, you may consider building a simple shelter where you can keep your targets, especially during extreme weather. Building a shelter works if you frequently shoot with your archery target in the same spot.
All you need is only a few poles and a roof to keep the sun rays off from your target and to keep it dry. It doesn't need to be extravagant as long as it is sturdy, so you have more space to hang your bag targets if required.
Can you do archery in the rain?
You can do archery in the rain. However, it can be challenging, mainly if you are used to shooting under the sun or indoors. Overall, the rain impacts the performance and bow rather than the archery target.
Compared to shooting outdoors, indoor target archery is less complicated. You won't have to be concerned about the weather and, most notably, the rain.
Shooting in the rain isn't as easy as doing it under the sun. When shooting in the shower, you must be extra careful to strike with the same consistency.
The rain complicates the whole process since your bow can get slippery and destroy your shot. You have to hold the bow tightly and use archery glubs if necessary.
Aside from bow issues, rain can also affect your aim precision. Blurry targets naturally happen in the rain because the raindrops can change the path of your arrow, and it doesn't help when it is wet.
It does not directly affect archery targets as long as you use those designed for outdoor use. The archery targets listed above are the ones you should be using since they do not wear off quickly when wet.
Hence, if you are up for the challenge, doing archery in the rain is okay. Exposing yourself to the various factors that affect outdoor archery can help you refine your abilities and learn how to utilize and modify your gear.