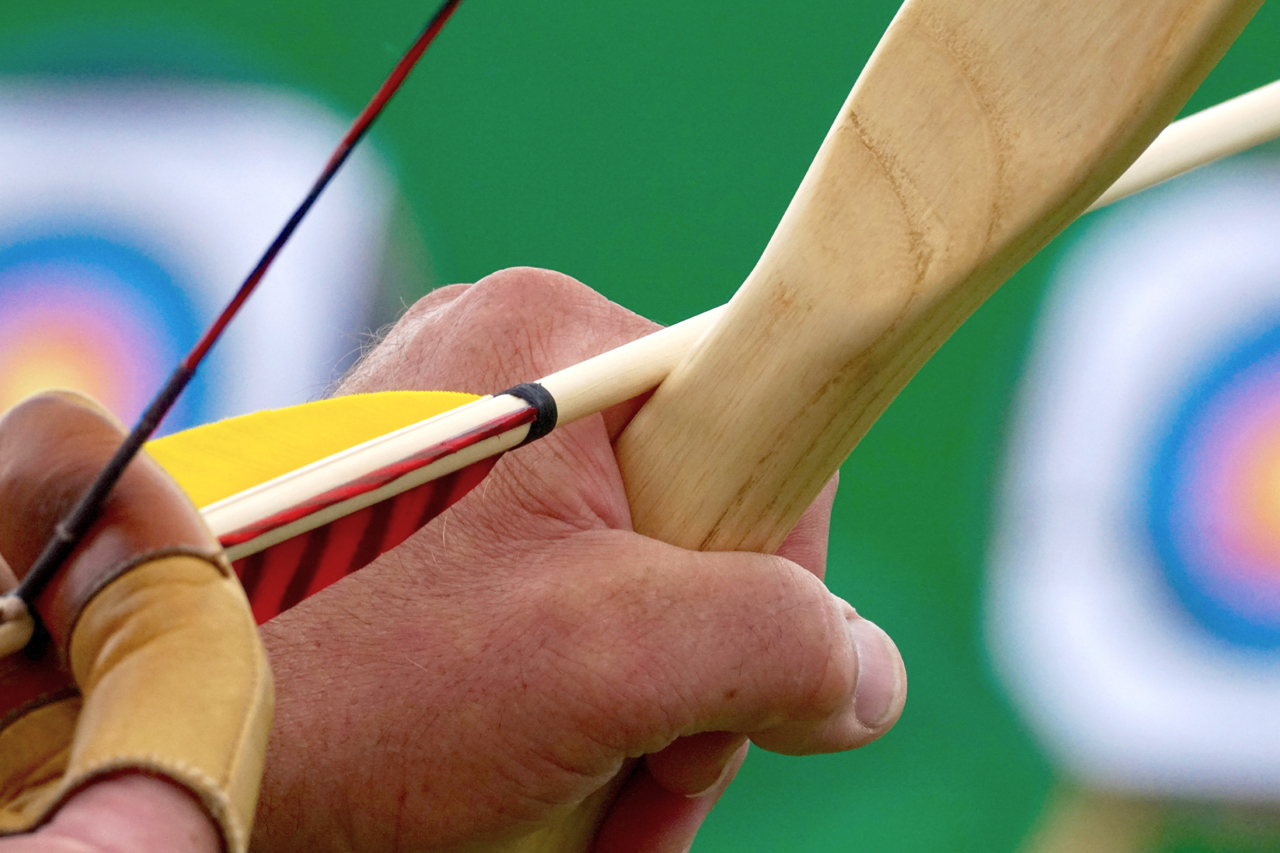 Earl Hoyt Sr. and his son founded Hoyt bow in 1931. They started producing bows made of cedars and wood. Later, a California-based sporting equipment manufacturer bought the brand.
Hoyt bows are one of the top compound bow brands most archers prefer. They are best in terms of accuracy, design, and durability. And they offer several features that make them an excellent option for any archer.
The bows come with various draw lengths and weights, making them suitable for beginner and experienced archers. They are also well-made, featuring high-quality materials that ensure durability and accuracy.
In addition, Hoyt compound bows offer a comfortable fit, with an adjustable wrist strap for added control and comfort.
Known Strong Features of Hoyt Bows
Hoyt bows are known for their accuracy and high-end construction. The company made the bows with advanced materials designed to provide optimum performance for the archer.
The bows have an efficient limb system, a comfortable grip, and stabilizers for greater accuracy. Hoyt also uses their cam technology which provides smoother draws and less shock on release.
These features made the bow popular with hunters. Hoyt also produces archery bows for different levels of archers and activities. They design bows for target practice, hunting, and even 3D shooting.
Their wide range of options ensures that there's something available to fit any shooter's needs.
Which Hoyt bow is the best?
The RX-4 Ultra model has become the best Hoyt bow produced. The company redesigned this Hoyt bow model to give you more stability and unparalleled accuracy. It is fast, quiet, and smooth, with a high let-off.
The Hoyt RX-4 Ultra is a 2020 design intended for bow hunters. It features various adjustable components to ensure the bow comfortably fits any shooter.
Its weight ranges from 60-70 pounds, and its draw length is around 30 "-32". It offers a maximum speed of up to 332 fps.
The RX-4 Ultra has parallel split limb technology, FUSE Strings and cables, and ZTR Cam. It also has an extended axle-to-axle length of 34 inches and provides 85% let-off. However, it is only available for right-handed archers.
The Hoyt RX-4 Ultra is perfect for versatile hunting trips and long-distance shooting. Its adjustable draw weight, length, speed, and power give archers exceptional control over their performance.
With its top-of-the-line technologies and customizable features, the RX-4 Ultra will surely be a reliable companion for any bow hunter.
Other Best Hoyt Compound Bows Models
Here are some of the Hoyt compound bow models that offer equal performance, like the RX-4 Ultra.
Hoyt Axius Ultra

The Hoyt Axius Ultra is a compound bow for hunters. It offers an IBO speed of up to 334 fps.

It is available in a draw weight of 60-70 lbs, but they are adjustable by 10 lbs. It makes it easy to adjust the draw length and weight to provide a personalized fit for any archer.

Features such as FUSE strings and cables and the parallel split limb technology make the Hoyt Axius Ultra one of the most efficient and accurate bows. The bow is also lightweight at 4.6 lbs and comfortable to shoot, with a well-balanced design that prevents fatigue.

With its innovative technology and adjustable settings, the Hoyt Axius Ultra is ideal for experienced archers who want a reliable hunting and target shooting bow.

Hoyt Axius Alpha

The Hoyt Axius Alpha is a compact bow with outstanding features. It has a new machined riser design utilizes an integrated rest for ultimate consistency and reliability.

It also has super efficient ZTR cams with 5-layer laminated limbs for a silky smooth draw cycle and vibration-free shot.

The model offers an outstanding speed of 342 fps with a brace height of 6.125 inches. It gives the bow an incredibly flat trajectory and allows it to shoot farther than most bows.

It is also tranquil, making it an excellent choice for hunting and target shooting. Additionally, the Axius Ultra comes in three different draw lengths (25 ", 28″, and 30") to accommodate all sizes of archers.

The Hoyt Axius Alpha is a hard-hitting bow that offers exceptional performance at an affordable price point. With its lightweight design, smooth draw cycle, and fast arrow speeds, the Axius Ultra is an excellent choice for any archer looking to upgrade their bow.

Hoyt Carbon RX-4

The Hoyt Carbon RX-4 is an advanced, lightweight hunting bow that performs at extreme precision. It features a single-piece, ultra-rigid carbon construction for superior accuracy and stability and integrated vibration-dampening technology that minimizes noise and shock for the ultimate stealth performance.

The Carbon RX-4 also has a longer axle-to-axle length at 29.5″ for improved balance and stability, and its 6 1/8″ brace height results in a faster shot for increased accuracy.

The model features the ZTR Cam system, allowing for a more leisurely draw cycle and smooth release offering a speed of up to 342 fps.

With its superior design and advanced features, the Hoyt Carbon RX-4 will make a great impression on any hunter who takes it out in the field.

Hoyt Helix Turbo

The Hoyt Helix Turbo is a 2020 model that offers an IBO speed of up to 350 fps. The Hoyt team constructed it from its lightest, stiffest, and most durable aluminum series riser technology.

The Turbo Cam System provides an adjustable draw length range of 26″ to 30″, with a smooth, comfortable draw cycle.

The Zero Torque Turbo Pro Cam design is engineered for maximum speed and accuracy while ensuring the bow remains forgiving and accurate even during long shots.

It is available with a draw Weight ranges from 30 lbs to 70 lbs. Its limbs extend Axle to Axle at 31″, with a 5.875 inches brace height and a Mass Weight of 4.4 lbs.

The Hoyt Helix Turbo has the latest sound-dampening and vibration-reduction technology, which provides a quiet and comfortable shooting experience. The dual-side grip design ensures proper hand placement for consistent form and accuracy.
Why are Hoyt's bows so good?
The Hoyt archery made their bows with advanced technology. This state-of-the-art bow technology by Hoyt made their products so good. Most archers prefer to get Hoyt bow for shooting and hunting.
Hoyt's commitment to quality craftsmanship is evident in every aspect of their bows, from the materials used to the construction and attention to detail. Another big selling point for Hoyt's bows is its advanced engineering and technology.
Quality and Materials
Combining Hoyt's high-quality materials and craftsmanship produce a durable and reliable product, perfect for the avid archer. The company takes pride in using the most advanced materials to ensure that its bows perform better and last longer than anything else.
With these outstanding features, any archer can easily trust a Hoyt bow to take them through their hunting or competition shooting adventures. No wonder many turn to Hoyt for performance and durability when needed.
Cutting-Edge Technology
Thanks to their superior design and cutting-edge technology, Hoyt's bows are the pinnacle of modern archery. This technology allows the company to craft more efficient and effective bows than its competitors and will provide a better experience for archers.
They use custom shapes, modular designs, and advanced materials that all contribute to a higher-quality product overall. The attention to detail embedded in every bow is why Hoyt bow owners can confidently know they are getting a quality product that will last for years.
Hoyt's Team of Expert Boymakers
Hoyt's team is constantly innovating and improving the design of their bows, so you can be sure you're getting the best possible product.
Hoyt's commitment to quality is what sets them apart from its competition. They have bowmakers dedicated to constantly innovating and honing their design, so you can be sure you're getting the best possible product when you purchase a Hoyt bow.
With features like the patented parallel split limbs and ultra grip technology handle, you know that your bow will perform at its peak while still being comfortable in your hands.
Flexibility of Choice
Hoyt has been crafting quality bows since 1931, and they take great pride in their wide range of bow models. Whether hunting or target practice is your intended purpose, you will find the right bow among their selection.
You can choose from various features, including draw weight, axle-to-axle length, brace height, and grip shape – making each custom-fitted for your personal needs.
With their decades of experience crafting bows and consistently setting the bar for the industry, you can be confident that you get the best archery bows available on the market when you choose Hoyt.
What is the fastest Hoyt bow?
The fastest Hoyt bow is Hoyt Carbon RX Twin Turbo. It offers a speed of approximately 350 fps, giving the archer a smooth draw and shooting because of its vibration-absorbing features.
The bow also features a shorter axle-to-axle length and is lightweight, making it easy to carry around. It also has an adjustable draw weight range of 5–70 pounds, so you can tailor it to your needs.
With the Hoyt Carbon RX Twin Turbo bow, you'll have all the power you need for a successful hunt. It's an excellent choice for those seeking a powerful, accurate bow to help them reach their goals.
So if you're looking for the fastest Hoyt bow available, the Hoyt Carbon RX Twin Turbo will surely deliver.
How far can a Hoyt bow shoot?
The Hoyt bows can shoot effectively as far as 40 yards. Generally, most Hoyt bows can fire between 20-40 yards. However, this may vary depending on the bow's draw weight, arrow type, and other factors.
Remember that shooting at longer distances will require more practice and shooting skills. Shooting at full draw from 40 yards can be pretty challenging.
If you want to shoot further than 40 yards, you may want to consider getting a compound bow, as they are typically more capable of longer distances.
Whether getting Hoyt bow for shooting or hunting, you must select the model that fits your skills.
Buying Guide for Hoyt Bow Products
When selecting the best Hoyt bow model, there are a few key points to consider.
Quality

When choosing a Hoyt Bow, it's critical to consider the quality of the product. Quality is vital because it ensures superior performance and reliability for years.

Hoyt Bows are designed with the highest standards and manufactured using premium materials, so you can be confident that your bow will last through whatever adventures you take it on.

A quality Hoyt bow also comes with added features like the famous Shoot Thru Riser technology and Parallel Limb Technology to give you an edge while shooting.

Draw weight

Draw weight is an essential factor when selecting a Hoyt Bow. It determines the force required to pull back on the bow and can affect the performance of your shot. Choosing the optimal draw weight will help ensure you get the best performance possible from your Hoyt bow.

Hoyt offers a variety of bows with different draw weights, so it is sure to work best for you! So when choosing the Hoyt bow model, look for the optimal draw weight for your size, strength, and ability level.

Bow Length

The bow length improves your accuracy and shooting form and provides a more comfortable shooting experience. A bow that is too long or too short can be difficult to shoot accurately and comfortably, so ensuring that you get the right size is essential.

Fortunately, Hoyt offers several different bow lengths. Depending on your height and draw length, an ideal bow length may range from 48 to 70 inches.

Consult a professional archer or Hoyt expert to help you choose the right size for your body.

Accessories

When choosing the right Hoyt bow for you, it's crucial to consider the accessories that come with it. Accessories are essential for the proper set-up and performance of your Hoyt bow.

They help ensure optimal shooting accuracy and power, so they should be considered as carefully as the model selection.

Accessories like a quiver, stabilizer, arrow rest, and sight are all essential components of your bow set-up and can significantly enhance your shooting experience. You'll be confident to take on any target with the right Hoyt accessories.

Price

Hoyt bows are more expensive than other bow brands. However, the quality is worth the price. With higher-end Hoyt bows, you can expect top-of-the-line craftsmanship and precision that will last years.

It means archer can maximize your investment by enjoying consistent accuracy, smoother handling, and better performance.

And since Hoyt bows can last for years, you can still ensure to save in the long run. Not to mention, you can also find some great deals for Hoyt bows.

Do your research and compare prices before making the purchase. That way, you can select the best model for your budget.