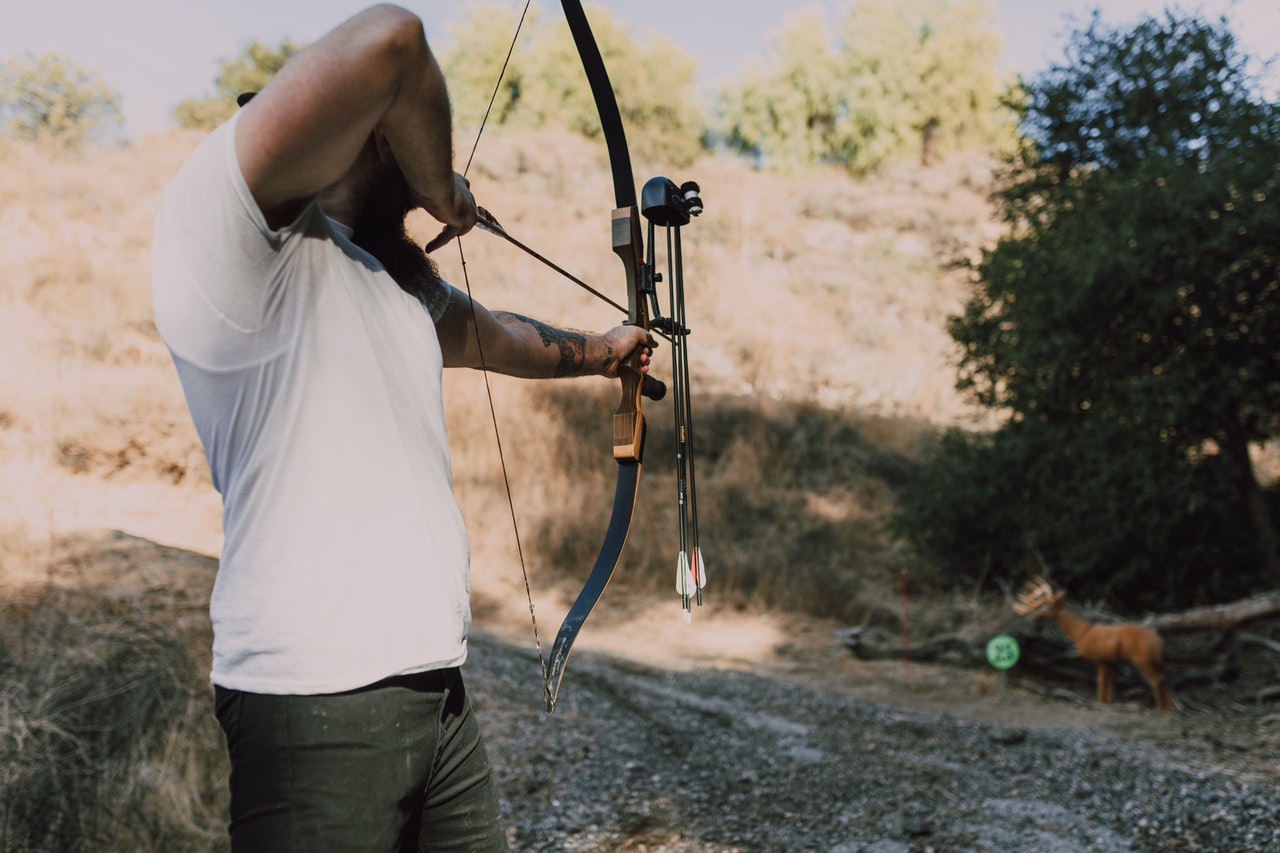 The state of California doesn't prevent you from shooting a bow in your backyard.
California law is more particular with the use of archery in bowhunting.
The California Code of Regulations defines a bow as a device made of flexible material.
It has a string connecting its two ends. The string is for propelling an arrow in a firing position by hand alone.
Professional archery ranges are still the best options for you to learn archery. But due to travel, costs, and availability, going there can be inconvenient.
Good thing you have the freedom to practice the archery craft in your home.
Convenience plays an essential role here. You can find comfort in practicing archery in your backyard.
Unlike outdoor shooting ranges, any homemade indoor facility provides your privacy too.
Here are tips to get you started with practicing archery at home:
Practicing archery at home can be handy. But you have to be aware of the legality and responsibility of your activities.
If you are unsure, consult local law enforcement, such as the police or the government.
Focus on safety for you and your neighbors too. Be mindful of safety precautions. Experts suggest fencing your backyards to provide extra protection for your neighbors.
Take care of your belongings too by clearing them off. You don't want to destroy your kitchenware, frames, or personal stuff due to firing arrows.
Assess the space of your backyard too. Providing an adequate area for your archery equipment is essential.
Young and beginner archers need proper supervision too. Never leave them alone while they're practicing.
Only aim at specific archery targets. Don't do any sky-draws – aiming at the sky rather than hitting the target. Avoiding this avoids accidents.
Don't forget to build a catch-up to prevent arrows from hitting outside your backyard. Experts consider this a critical part of your range to make sure you are practicing archery.
These tips should help you get ideas on what to consider when doing archery at home. After all, the sport provides you enjoyment and fun. Facility constraints shouldn't stop you from doing it.
Getting good equipment is a start. But looking for a comfortable place to shoot your arrows is a big thing too.
Do you need a license for a bow in California?
California doesn't need you to get a license for a bow and arrow for the sport of archery.
But the California Department of Fish and Wildlife requires hunting licenses.
In 2020, California had 260,000 paid licensed hunters. The state issued over 990,000 resident licenses, stamps, and tags combined. About 23,000 non-residents own one. The state generated over $21 million in revenue.
The entire United States has now issued over 15 million hunting licenses.
California also needs all first-time hunters to complete a hunter education course. The department and the International Hunter Education Association-USA have an approved list.
Getting a hunter education certificate in California is valid in other US states too.
Here are examples of hunting licenses in the state:
California Residents. Any resident hunter living in the state for more than six months requires a license. The state considers active-duty military personnel as residents too.
You need another tag license when you wish to pursue a big game. Visit the California Department of Fish and Wildlife website to get more details too.
Non-Residents. Any non-resident hunter needs a license.
Youth Hunting License. All hunters under age 18, who hunt animals, must have a Junior Hunting license.
Hunters, Age 12 and above, who pursue big games have to get extra tag licenses too.
A Special Service Member Hunting License. This license is available for a servicemember recovering from an illness or injury. They can also apply for one if they are undergoing medical treatment.
Veterans with Disabilities who have 50% disability may apply for a hunting license. They can get it with a reduced fee. They must have an honorable discharge status too.
California doesn't have a hunting license for senior citizens at the moment.
California residents can buy a lifetime hunting license. Other hunting licenses are only valid from July 1 until June 30 the following year.
A resident hunting license costs $52.66. A non-resident spends $183.60.
A Junior Hunting License costs $14.04.
Can you bow hunt in California?
California law allows you to bow hunt. You have to follow the guidelines set by the California Department of Fish and Wildlife.
The California Code of Regulations is also strict with the use of bowhunting.
You need to have a license to hunt in the state. But California doesn't need you to enroll in bow hunting courses.
Here are some things you should remember when bowhunting:
Only licensed hunters can engage in bowhunting.
In archery and general hunting season, archers should only carry bows. The law doesn't allow the possession of firearms while bow hunting.
Archers can't hunt while inside a vehicle.
Draw weights shouldn't be more than 30 pounds for a regular bow.
Shooting arrows across a highway, road or any access to vehicular traffic is unlawful.
Don't forget to get an archery hunt tag too. State law requires you to get one during archery and general seasons in hunting. Look out for area-specific archery hunt tags in different Californian areas too.
Can you night hunt in California?
Only certain areas allow night hunting in California. If there are areas that let hunters hunt at night, you can only take non-game animals like coyotes and pigeons.
Take note that night hunting in California is legal in some areas. Some don't allow it.
Make sure that you check with the California Department of Fish and Wildlife on safe zones. Some zones don't allow you to hunt with artificial light.
Can you bow hunt coyotes in California?
Coyotes are non-game animals in California. Hunters can hunt all year long. California law allows a no-bag limit policy on how many coyotes you catch.
But the state law finds poisoning coyotes or holding them in a leg-hold trap illegal.
Here are other things to know when hunting coyotes:
Using bait to hunt coyotes is illegal. State law bans the use of it with all non-game animals.
The law also bans the use of weapons that contain more than one percent lead. Examples of weapons are bullets, buckshot, and balls.
Shooting a coyote in your backyard is also illegal.
You can't get paid to hunt coyotes anymore. The state outlawed coyote hunts with prizes in 2014.
Coyotes are violent animals. California has over 250,000 to 750,000 coyotes in the wild and some cities. They carry diseases such as rabies. They are also dangerous during the breeding season.
The hunter helps lessen the coyote population by hunting.
Do I have to wear an orange blazer while deer hunting in California?
California law doesn't need you to wear an orange blazer. But wearing one is good for visibility from all sides.
Safety for you and your equipment should begin before you hunt. You avoid damage or harm when you prepare for it.
Like competitive archery, bow hunting has similar precautions. But this activity is more challenging because you're hitting moving targets.
Equipment safety tips:
Make sure arrows match the bow's draw weight.
Repair damaged equipment right away.
Handle with care when sharpening a broadhead. These are sharp as razors.
Don't release the trigger if you're unsure of your target.
Grab a pair of hunting boots. Choose a kind that makes you comfortable. They should be waterproof too.
Archer safety tips:
Bring a bright vest and pack extra water and food. Take what you need. The smaller the backpack, the lighter you go.
Wear an armguard and chest guard.
Don't shoot at areas for trekking or hiking.
Never drink alcohol while hunting.
You may get excited when you hit your target. But try to keep your emotions in control. You may injure yourself when too excited. Bring a first-aid kit. It can come in handy.
If a target escapes, don't chase it right away. A spooked animal may run away or run at you.
Ask help from other hunters if you caught a moving target. Big games like deers and elk can weigh 400-700 pounds or more.
When is archery hunting season in California?
The state has a diverse ecosystem. It has high mountain ranges, forests, and coastlines. California also has ecological reserves from the cities of Santa Cruz to San Diego.
Here are the hunting seasons for archers in 2021:
Deer – General Season is on Aug 10 – Nov 10. Archery season is from Jul 11 – Sep 27.
Bear – Archery: Aug 15 to Sep 6
Pronghorn – General Season: Aug 8 – Sep 14. Apprentice Hunts: Aug 22-30
Elk – General Season: Jul 25 – Nov 1
Bighorn Sheep – General Season: Aug 15 – Sept 27 and Dec 5 to Feb 7.
Tree squirrel – General Season: Sept 12 to Jan 1. Archery: Aug 1 – Sep 11.
Jackrabbit – Open Season
Take note that season dates vary by zone for deer, pronghorn, elk, and bighorn hunting.
California is a good state for hunting. It ranks third in the US with 176 million acres of public land for fish and wildlife habitat. Going in the hunting season is an opportunity for enthusiasts to experience hunting.
What are the most common animals to hunt in California?
California is home to lots of animals roaming in the wild.
Here are the top animals to hunt in the state:
Deer. California has hills that have a large deer population. General deer season allows you to hunt mules, blacktails, and fallows. Have a valid license first. Deers are big game, so you have to get an applicable deer tag too.
Elk. You can hunt three species of elk: Tule, Roosevelt, and Rock Mountain. The state allows lots of short seasons for elk hunting within the year. Also, get an elk tag drawing application per year.
Wild Turkey. The state has three species: the Rio Grande, Easterns, and Merriam's. Hunting is a great way to control growing populations. Turkeys take up to 18% of the California population. Along with a license, hunters need an upland game bird validation.
You can also hunt waterfowls, wild pigs, hares, and small animals.
Can you shoot a deer on private property in California?
You can hunt a deer on private property. But you must have proper deer tags. But you also have to ask permission from the landowner first.
You can only shoot within 150 yards of an occupied building if you ask permission from the owner.
If you're shooting in your land, the same law applies. You need to have a hunting license regardless if you're hunting on public or private property.
The state prohibits killing a deer without a license and proper tag. The state considers killing deer poaching.
Deers are abundant. They are also eating summertime food. Hunters find it easier to hunt during the early season.
Here are tips when hunting in deer season:
Planning. Plan out an effective solid hunting strategy a week or month before the hunting day starts. Get familiar with the terrain and common deer hideouts.
Get familiar with deers. Try not to scare them early. Don't go out too often to practice shooting too. Other hunters are scouting on their own too. But if you spend less time in the wild, deers can move to your spot.
Create feeding routes. Anything high in sugar is every deer's favorite food. Before the event starts, familiarize yourself with the areas where they get food like acorns, nuts, and fruits.
Look out for spots with does. Hunting for bucks is a top priority for hunters. But bucks lookout for does. When does are in the area, the bucks are nearby too.
Look out for deer signs too. Be aware of scat, bedding sites, and trails. The fresher they are, the close you are to the targets.
You must report whether you harvested a deer or not. You have 30 days from the time of the catch to tell the California Department of Fish and Wildlife website. Non-reporting costs you a $22 fine.
Bowhunting deer can be an intimate experience. Short ranges are best. Bowhunting is an opportunity to challenge yourself with accuracy and patience.