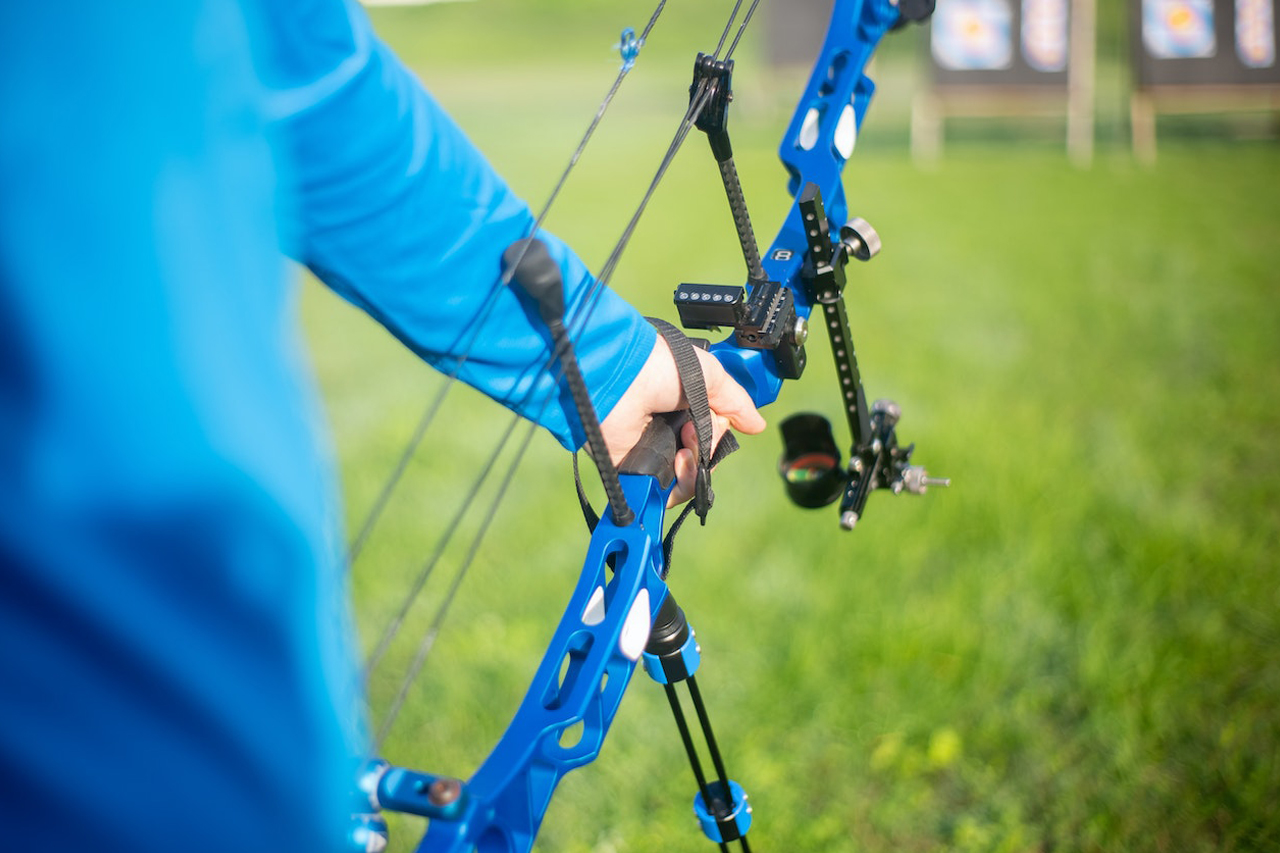 Using the cam or idler, you can hang a compound bow using your index finger. Almost all archers and bow shops hang their bows by the cam. Worrying about getting your bow damaged when hanging by the cam is nothing.
The cams of a compound bow can take specific forces without getting scratches or damage. However, if the amount of gravity in a bow by hanging damaged the cam, it would go off like a grenade on your first shot.
Apart from anything else, zero stress or strength is inserted on the cam when hanging your bow. If there is any additional stress, it is on the cable anchoring the cam, and a five pounds brace is nothing to something that got built at 300 pounds.
Should you hang a bow by cam?
It is not a requirement to hang your bow by cam. You can also hang your compound bow using the riser, limb, or idler, whichever is more convenient for you.
The cams of compound bows are generally not built as structural parts but as a structure that takes some external forces to support the bows, like the vertical ones. The strings and cables of your bow that go around the bow's cam or idler put pressure on it.
If your compound bow is hanging by the cam, there should be no way for the cam to get damaged by bending, especially if it is due to the opposing force of the string.
Moreover, when hanging your bow, you can use the following as a bow hanger:
Bike hooks – These hooks can securely hang your bows. It can be hung either by the string or by the limbs. Using a bike hook, you won't misplace your compound bow during storage.
Guitar hangers – Most archers use this as a hanger because of its durability.
Deerhorn hanger– You can use this if you want a more decorative hanger for your bow.
Rifle rack– These hooks are strong and durable enough to carry many pounds.
Surfboard wall hanger– This might be the most expensive among the rest of the hangers, but it is also the most durable. The surfboard wall hanger is best for those sensitive to their products.
However, some archers noticed that cams of compound bows are not that durable when it comes to twisting or horizontal forces. Although your bow will not collapse if you hang it by cams, the vinyl-coated cup hooks that you hang it on might ruin the tune of your bow. That is why most archers prefer to hang their bows from the structural parts, such as the riser.
While hanging your bow by cam is okay, here are the parts you should not use to hang your compound bow.
Hanging the bow by string– This is one of the most, not suggested, ways of turning your compound bow. It would be best never to hang your compound bow with the string because the contact area will cause a problem depending on the weight of your bow.
If you continually hang your compound bow by string, it will wear on the string or will create a weak point in your bow. However, if you are willing to replace the bowstring frequently, you can hang your bow by string, but it will cost you a lot.
Rather than hanging it by string, you can hang it by the frame instead. It is because the frame has a more prominent and higher strength to carry the bow, making your bow slower to fatigue.
Hanging the bow by one limb– If you hang your compound bow with just one limb, it will carry all the weight to that limb and might cause you to twist the limb in long-term storage. The limbs of your compound bow might also get loaded and bent differently.
Additionally, storing or hanging your compound bow in a vertical position can put stress on its bottom limb, causing the bow's tune to get out of order. However, if you prefer to hang your compound bow by one limb, you can put support on the bottom limb. That way, it becomes more durable to hold the weight of your compound bow.
How to hang a compound bow properly?
You can hang your bow on a bow rack horizontally, or you can also hang it unstrung. These are the most convenient ways to hang your compound bow properly and safely.
With your compound bow's beautiful and intricate design, you can display it in these four ways to ensure it is safe and damage-free.
Unstrung – The safest way to hang your compound bow is to unstring it before hanging. Over time, the bowstring tends to put tension on the frame, and this can cause damage to the quality of the bow. That is why it is better to hang it unstrung to keep its quality in good shape.
Hang your bow on a bow rack – You can head to the nearest local archery shop and buy a bow rack to store and hang your compound bow. You can also order online if you are far from any local archery shop.
Storing compound bows on a bow rack allows you to store bows on top of each other. Not only that it will look beautiful and organized, but it will also keep your bow in good condition.
Hanging the bow horizontally – This is one of the most suggested ways of storing your compound bow while it's strung. To do this, you must install two pegs on each side of the limbs. That way, you can equally distribute the weight throughout the bow and avoid any possible strains on the string.
Remember that you must install the pegs evenly in line so that your compound bow can rest evenly. Putting it in an uneven resting position can cause damage to the limbs and might cause them to twist.
You can choose which way you prefer when hanging your compound bow as long as it is the most convenient way for you.
What are compound bow hanging mistakes you should avoid?
The most important thing to avoid when hanging your compound bow is not to leave it if you are not going to use it for a couple of days—hanging it while strung is only possible and advisable when hanging it only for a day or two.
Here are other bow-hanging mistakes you need to avoid to keep your compound bow in good condition.
Compound bows are agitated when you leave them strung. It can cause damage when you leave it in that state for a long time, both the string and the bow. Do not leave your bow hanging while strung for a long time.
Never hang your compound bow vertically because it will place the entire weight of the bow on one limb only, making it fragile and causing them to break easily.
Avoid rooms that are very humid and those rooms with cold drafts like garages and sheds in winter. The moisture will damage the bow severely and might cause the compound bow to rust over time.
Lastly, do not lean the bow against a wall. The bottom limb will have to support the weight of the whole bow, which can cause the bow to break under too much weight and stress.
Aside from the usual hanging mistakes, you must avoid keeping your bow in good condition; there are also some points to note before hanging your recurve bow.
Do not hang your bow in a room with a lot of moisture and humidity. It is because the moisture will rust the metals of your bow. Please keep it in a room with less moisture to keep it in good shape even without using it for a long time.
Always keep in mind the room temperature before hanging your bow. Remember that the room should not be too hot or too cold. It must always be a room temperature.
Hanging your compound bows on walls and bow racks is one of the best options when storing your bow. It is also an excellent pick to consider if you want to aesthetically display your bow and let your friends and guests know about your fantastic collection.
What happens when you do not unstring your recurve bow?
When you do not unstring your compound bow, it may cause loss of power, draw weight, and damage. When you keep recurves strung, the limbs are under pressure and tension that causes them to curve. The limbs provide the energy to let the arrow propel forward.
However, if you are planning to hang your compound for a long time, it is advisable to hang it unstrung because it may cause damage to your bow. The material of your bow plays an essential role in determining how long you can keep your compound bow in strung condition.
Most of the time, archers unstring their bow only when they do not plan to use it for a long time and keep it hung on the wall or bow rack. Leaving a compound bow unstrung when hung can cause damage to the strings and the bow over time. However, compound bows made of synthetic materials are less vulnerable to stress and can remain strung longer when hung.
Compound bows usually have fiberglass-based composite materials as their limbs. These fiberglass-based composite materials allow the compound bow to take compressive forces and high tensile. That condition will enable you to let your bow in strung condition without losses.
Gone are the days of compound bows made of laminated wood, giving you a lot to worry about the condition of your string. These days, modern compound bows already have limbs sufficient to surpass any condition while strung—all you need to worry about in your string.
When hanging your compound bow for a long time, keep your strings properly waxed and stored in a dark, cool, and dry place, especially when you prefer to hang your compound bow.
Compound bows can remain unstrung for a few days to a few weeks, depending on the materials of your bow. You can keep a typical synthetic bow strung for up to one month and bows made of different materials for up to a week.
Unstringing your compound can be beneficial, but there are consequences when you overdo it. With some bows, constant stringing and unstringing cause damage and do not easily justify the minor loss of poundage you may experience over the lifespan of your bow.
If you wish to prolong the lifespan of your compound bow, is it wise to unstring it only when you are not using it for more than one to two weeks? Keeping it under tension for a longer time will lead to a reduction in bow durability and power.
Although the lifespan of every compound bow varies from one archer to another, its lifespan depends on how often you use it for shooting, how well you store them, or how well you take care of your strings and cables. According to most archers, the best practice is to replace your bowstring every two to three years.