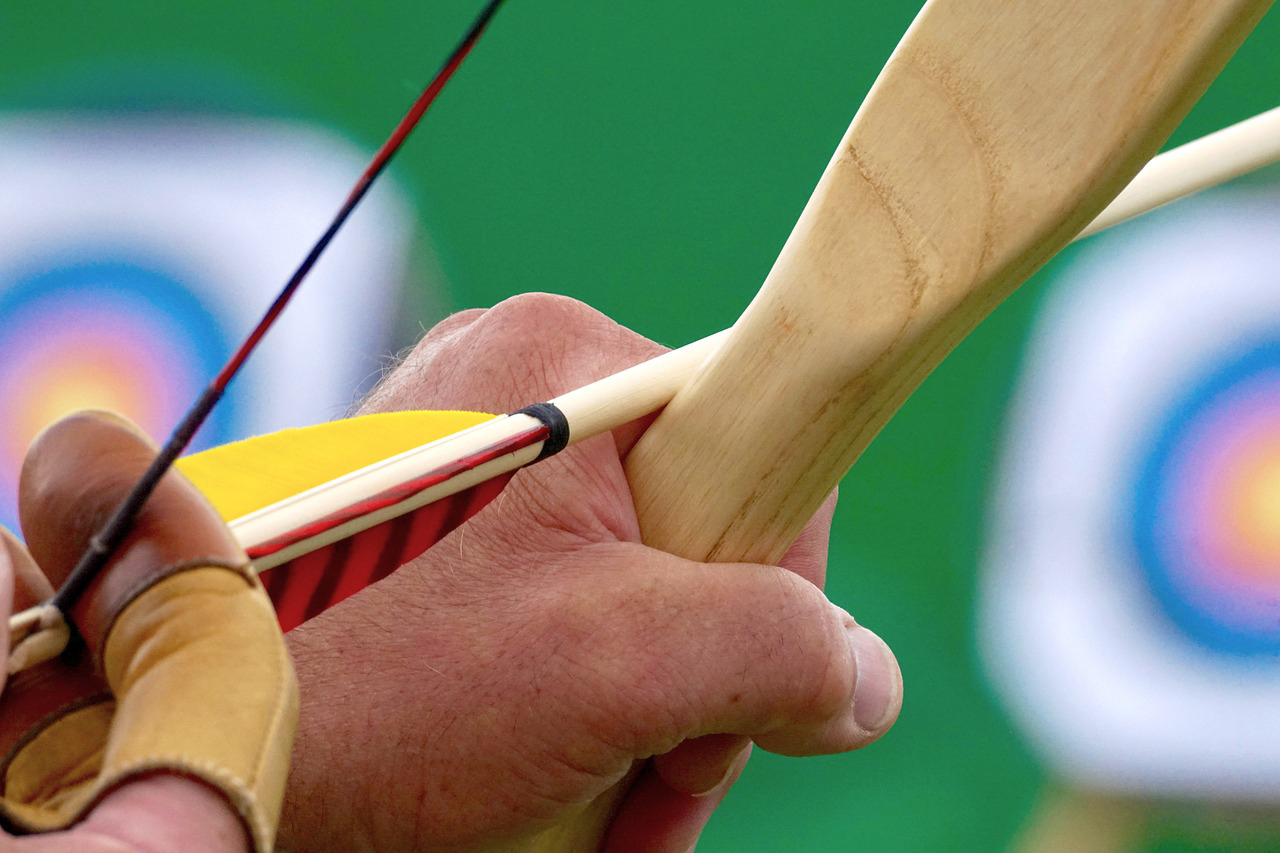 The sting from a bowstring slapping your arm after a shoot can deter beginner archers from picking up a bow again. To prevent this, you must keep your arm away from the bowstring's path to improve your archery form and build a stronger bow arm.
The perfect way to shoot an arrow is to shoot it with no hurdles. You can achieve it by shooting the arrow without hitting your arm. Although it is considered a hobby or leisure nowadays, it is still incredibly crucial to do it appropriately.
The bow and arrow were used by humans thousands of years ago. At that time, it was for a survival purpose. Men used the bow and arrow for hunting and warfare.
However, you can easily access bow and arrow. It is no longer for survival but more for recreational activity. You can purchase bows along with devices that will help you aim precisely.
The modern way of archery and the ancient type of bow and arrow might have a lot of differences. Still, they have one thing that makes them the same—it requires proper skill that you can get through practice. For instance, you can have a guide to help you hit those bullseyes.
What is a bowstring slap?
String slap is when you hit your forearm with the bowstring during release. It is frequent among beginner archers and sometimes among experienced archers, too. One of the main reasons for bowstring slap is a form problem, but sometimes it is also because of bow tuning.
Luckily, it is easy to fix, and nothing serious will stop you from playing.
First of all, if you have not experienced a bowstring slap yet, it is highly recommended to get an armed guard. It is helpful to protect your arm in case of an occasional or unintentional string slap. It is also essential to correct your form by proper gripping, elbow rotation, opening your stance, and checking your brace height.
In addition, you do not only take extra measures in staying safe, but it also gives other archery-related benefits. This position enhances your form and develops a firmer bow arm. Keep reading as we look at the necessary steps to achieve the desired result.
Secure your grip on the bow

A sensible kind of grip is relatively narrow in shape. You can constantly and reliably put your hand at the same point every time.

When you grip the bow inaccurately, it will cause inner rotation of your arm instead of rotating it outward.

Next, slide your hand upward. You have to loosen up and relax your hand, then correctly put it on the bow's grip. Do not hesitate when doing this technique. Just slide it as far as it can and as far as your arm can handle.

Be sure to place the web of your hand in the grip of the bow—the throat—which is the deepest part. Set your hand accurately to ensure that only the space between your thumb and your palm's lifelines contact the grip.

Examine your hand. Look at it deliberately. Ensure that your knuckles are set back and angled at a 45- degree to the riser. With this approach, your elbow is in the correct position.

Rotate your elbow accurately

Beginners commit a common mistake in this step. They tend to overdo the rotation. To avoid this, you have to adhere to specific measures.

Fully but not overly extend your arm; rotate your elbow outwards. Make sure that you do not rotate your shoulders or wrist to achieve the right and proper position.

As a recommendation, you should constantly practice avoiding committing such mistakes. There is an exercise that you may follow. First, place your hand on a wall. In doing this, place your palms straight, flatly against the wall.

After that, slowly and gently rotate your elbow, excluding the palm of your hand and your shoulder. Suppose you regularly and continuously follow this exercise. In that case, you will achieve the correct rotation of the elbow in archery.

These are just a few steps on how you could shoot an arrow without hitting your arm, whether you are an amateur or a veteran. To avoid and prevent acquiring some bruises on your inner elbow and forearm, always remember to keep those body parts away from the bowstring path.
Is string slap common?
A string slap is a common phenomenon that nearly all archers can relate to when playing. Again, this can happen to anyone—rookies and experts alike. For most people, especially beginners, the bruise or scar they get is a keepsake and a reminder of their hardship in this craft.
For archery hobbyists, it can become an annoying, recurring phenomenon. Here are the reasons why string slap happens:
What is a death grip? You hold the bow in a death grip. A death grip is an exceptionally tight grip frequently caused by fear or anxiety. Due to this, you are unable to hold the grip most adequately.
Incorrect use of your upper body parts and how you hold your bow affects the kind of grip you exhibit.
The draw length is exceedingly long. When your draw length is overly long, getting hit by the bowstring is also high. To ascertain the measurement of your draw length, you may visit the nearest archery shop.
Faulty body stance. Generally, most archery coaches and veterans would recommend that you shoot in a proper body position, which is a slightly open stance. It can open up your body and eventually allow your bow arm to a slightly distanced position from the bowstring's path. To do this, you have to bring your lead foot back or out.
Inaccurate brace height. Apart from your form, the brace height can affect your performance in archery. Moreover, it can contribute to the sport, as mentioned earlier- related injury.
The result of an over-rotated and hyperextended bow arm is typical, but it can sometimes be painful. If you accidentally slap yourself with a bowstring, it will hurt. There are a lot of archers that have injured themselves and ended up with red marks, sometimes bruises, and rarely scars because of string slaps.
What do I need to do to prevent the bowstring slap from happening?
Your arms need to be in a proper angle and position to avoid a bowstring slap. You also need to correctly position your body in a comfortable stance before shooting. Adjust your position until you can find a stable angle.
Although bow string slap can become frustrating and bothering, several solutions could help you prevent it from happening. Here are some of them:
Shift your body to a position that can make it better for you to prevent bowstring slaps

Marginally step your front foot—either left or right, whichever foot you're comfortable placing in front—away from the target. By doing this, you can adopt a safer body stance.

If you are a right arm archer, your left foot will be placed going left, and the same logic applies to it if you are a left-arm archer. Always remember that it is not necessary to take a big step. One tiny step is enough, good enough to open yourself to a broader space, for you not to get hit by the bowstring.

Hence, this allows a much bigger space between your forearm and the bowstring, mainly because your shoulder should be in a position wherein it mirrors the position of your feet.

Nock the arrow

Put the shaft of the arrow on the rest of your bow. Next, make sure to attach the arrow's nock to the bowstring. A bowstring is assumed to have around one or two nock locators, which indicates where the arrow should be.

After that, regularly nock your arrow at the same place every time you shoot your target. Every bow is different. Hence, if your string only consists of one locator, nock it beneath the bead. But, if it has two, you can nock the arrow between the two dots.

Remember that you might have to change the center serving of a bowstring to either thinner or thicker diameter thread. You may also attempt to fit out your arrows with nocks that have a much bigger string groove to get the nocks to fit right.

Relax your grip on the bow

It is best if you do not hold the bow in a death grip, as this is the wrong way. Instead, loosen your grip on it but not in that it becomes unsecured.

Security always comes first. It would be best to have light contact with the bow, as holding it too tightly can affect your elbow's angle. A way to ensure that you are correctly holding the bow is to think of the "OK" sign and position your fingers that way.

Thus, if you become relaxed with this position, your accuracy will increase and lessen the probability of a bowstring slap.

You can try alternative or minor adjustments

You can modify and adjust your shoulders. It should not be stiff and relaxed, as doing too much might cause fatigue.

However, no matter how much you do things carefully, there are just several circumstances that are hard to avoid. It is also essential to have protective gear—an armed guard.

It is very much advisable that you purchase and use an armed guard. This gear is reasonably priced yet provides extra protection while enjoying your hobby. This additional accessory can save you and your beautiful skin from having bruises and scars.

Even veteran archers still need and use an armed guard to protect their forearms. An armed guard, even if small, can still help prevent you from acquiring bruises and scars during your practice. Thus, preventing that will eventually help you shoot your target comfortably.
How does string slap affect accuracy?
In archery, you need to be accurate when shooting your target. Your bowstring plays a tremendous and vital role in the accuracy of shooting your target in archery. The bowstring might be minute detail in an arrow, but it can change the impact when you hit.
It is important to remember that the more string slap you experience, the more your shots will be off. When you get a pretty decent string slap, your aim will go down by 3 ½ inches. But you can correct this by adjusting your grip and making sure your stance is in a proper position.
A simple way is to get back to your good accuracy after a string slap. Get your brace height at 5.5 inches from your grip and about 2.5 to 3 inches in front of your string. This way, you can avoid touching the bruises caused by string slaps and feel more comfortable when shooting.
How to treat bow string slap?
Most minor injuries like string slaps will go away in a few days or a week. However, you can do a few things to heal the bruises, swelling, and pain caused by a string slap. Here are some of the steps you can take.
Apply heat

You can apply heat the next day right away to help boost the blood circulation in your arms and lingering pain. It also helps your muscles relax and heal any damaged tissues caused by the injury.

Using heat on a bruise helps clear any blood clot or trapped blood underneath the skin. You can use either a hot water bottle or a heating pad that is good enough to apply heat without burning your skin.

Apply heat for only 20 to 30 minutes up to 3 times a day for one week.

Do the R.I.C.E method

The acronym stands for Rest, Ice, Compress, and Elevate. Rest the injured area and then use ice to reduce swelling or pain. Then compress the injured area to help decrease the swelling.

Lastly, elevate your arm above the heart to minimize swelling. You can do this treatment at home for 2 to 3 days to assist in healing.

After three days, visit your doctor and seek medical advice if your condition does not get better.

Apply aloe vera

It is a natural treatment option that contains anti-inflammatory chemicals perfect for healing the injured areas caused by string slaps. It helps reduce inflammation and reduce pain.

You can apply a generous amount 2 to 3 times a day until the bruises heal.

As a beginner archer, you need to learn how to prevent possible injuries. Although archery is a safe sport, it is still best to know how to avoid injuries to enjoy the game comfortably.