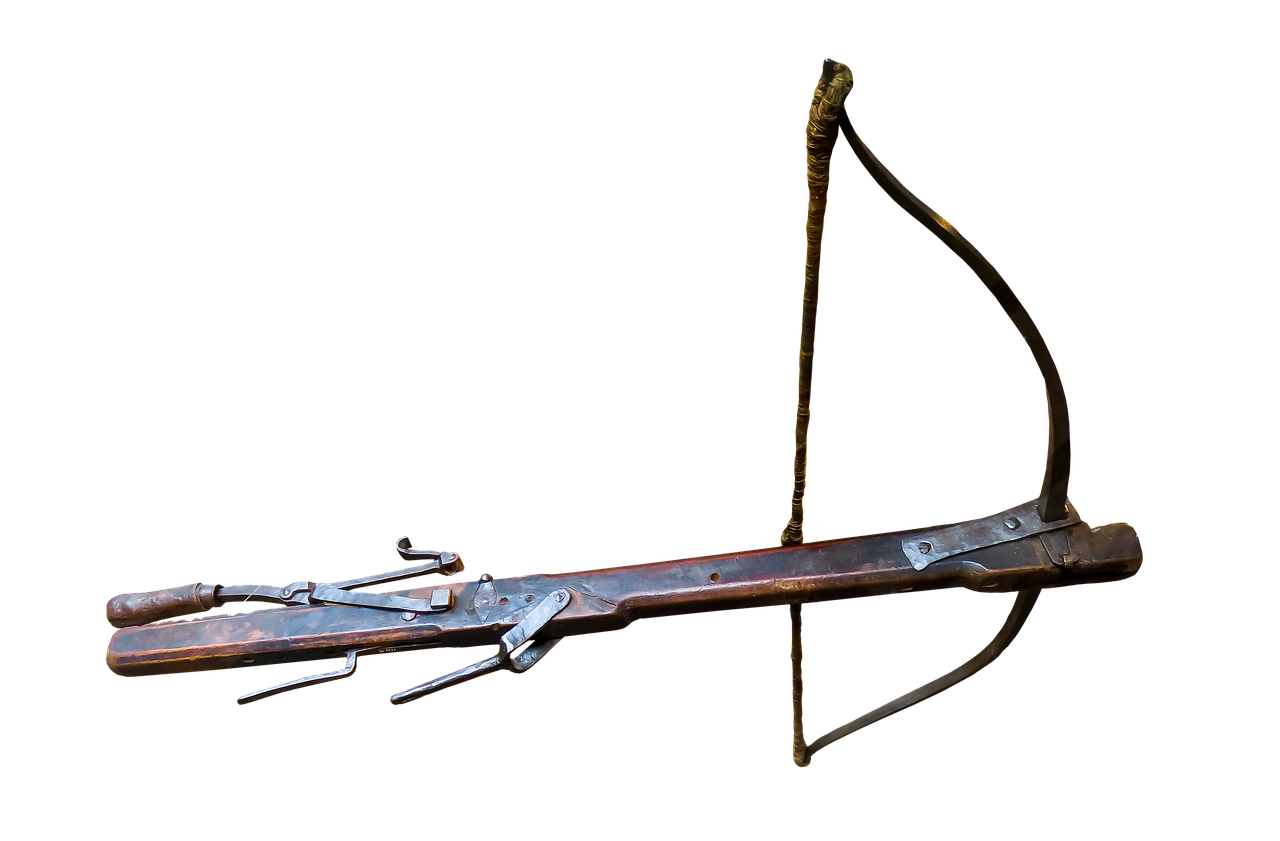 Fletching refers to the fins or vanes attached near the back of the nock or crossbow bolt. These fins or vanes are spaced around their perimeter. Each fin or vane is called a fletch, also known as feather or flight.
You can refletch crossbow bolts. Remember to follow the recommended specification for the bolt weight from the manufacturer to ensure the accuracy of the bolts when fired.
In your process of fletching, make sure to use the compatible type of nock of the crossbow bolt as well.
Fletching acts as a device that helps stabilize the trajectory of the crossbow bolt during flight and decreases the chance of it straying from the proper direction. It also helps prevent the bolt from pitching and yawing, also known as the swaying movement from left to right.
There are three types of fletching orientation, including Straight Fletching, Offset Fletching, and Helical Fletching.
Straight Fletching
For Straight Fletching, the feathers or vanes parallel or are straight with the bolt shaft. It is good to use for closer range shots because it creates the fastest arrows in flight.
The drawback is that Straight Fletching produces a higher risk of the crossbow bolt being affected by the wind during the flight. It also makes the bolts are less stable when fired at a long distance because this type of fletching doesn't provide additional spin.
Sustainable spinning is an essential factor for a crossbow bolt, as spinning helps keep the bolt stable as it slices through the air.
Offset Fletching
Offset Fletching has parallel/straight feathers or vanes on the bolt shaft but is turned or veered off (right or left side) from the front of the fletch to the back without twisting the feathers of vanes.
This type of fletching creates appropriate spinning, which helps keep the bolt in the proper direction during mid-flight and increases the stability of the bolts, especially when shooting broadheads.
Offset fletched shafts are less affected by the wind, and this rotation mechanism makes it ideal fletching for longer-range shots, target shooting, or hunting.
The only drawback of Offset Fletching is its slight resistance to air during flight, which creates a little more drag and a significant loss of bolt speed.
Helical Fletching
Helical Fletching has feathers or vanes fletched with a slight curve (right or left side) using a helical clamp. It provides stability during flight and improves the accuracy of bolts when fired at long distances due to the rotation created.
This type of fletching can be used for target shooting and hunting and is a good choice when shooting broadheads. The only downside of Helical Fletching is it catches a lot of wind, which decreases an ample amount of bolt speed in mid-flight.
What can you use for fletching?
There are two types of fletching materials you can use, namely plastic vanes and feathers. Plastic vanes are commonly made of vinyl or soft plastic. For feather fletching, the most commonly used are goose feathers, turkey feathers, or chicken feathers.
Plastic vanes are available in a myriad of size and shape options than feathers. They are also durable, less expensive, quieter, weather and water-resistant, making them a good fletching material for target shooting or hunting.
Plastic vanes are also resilient to bending and provide flexibility as they can be straight-fletched or fletched with a helical twist or slight curve in either direction. The only downside of using plastic vanes for fletching is their weight.
Compared to feathers, vanes are heavier, and they don't offer much resistance to wind.
Feathers weigh lighter and fly much faster than plastic vanes as they create less friction in travel during flight. They also have a natural curve, which stabilizes a crossbow bolt by helping it spin in flight.
The surface of a feather is slightly rough, which helps grasp the airflow and provides the most drag, preventing fishtailing and yawning of the bolts. The grip of the feather helps realign the crossbow bolt and keeps it steady in mid-flight.
They are also more forgiving than plastic vanes upon release as they can collapse and pass by when hitting an obstruction.
The most popular types of feathers used are the wing and tail feathers, as they are more rigid and durable.
How do you fletch a crossbow bolt?
There are a lot of advantages of fletching your crossbow bolts. You can save money, especially if you shoot a lot, and fletching lets you control all the essential variables for your crossbow bolt.
You also have the freedom to experiment and figure which fletching configuration shoots best for your crossbow.
Before starting, make sure you have all necessary tools and materials such as:
Crossbow bolt shaft
Fletching (vanes or feathers)
Fletching jig
Fletch Tite or superglue
Acetone or rubbing alcohol,
Knife or scissors
Clean rag or paper towel
Fletching your crossbow bolts can be broken down into comprehensive steps.
Prepare the Shaft

The first step is to remove the fletching (feathers or vane), the wrap on the shaft, and clean it. You can use a slightly sharp knife, but ensure that you don't cut the shaft or damage it while removing or stripping away the vane or feathers off it.

Rub the shaft using a clean rag or paper towel to get rid of any residual material on the shaft. You can also clean the shaft using acetone on a paper towel and gently wipe it on the surface of the shaft to remove glue, dirt, films, oils, or any adhesive residue. This will prevent the glue from hardening.

Choose the type of Fletching.

Decide whether you want to use straight fletching, helical fletching, or off-set fletching.

The perfect type of fletching configuration you will use may vary, depending on your shooting style, the equipment, and what you prioritize in the performance of your crossbow performance.

Set up the Fletching Jig

Before starting, make sure to check first with the manufacturer of the fletching jig you will use if there is a compatible adapter with your crossbow bolts. This will help make the fletching process easier.

A fletching jig is a device with a base that is used to hold an arrow/crossbow shaft in place and enables you to glue the feathers or vanes to the shaft accurately.

It also has a clamp, which is available in helical or straight, that holds and helps you attach and align your chosen fletching in a consistent, precise location.

To properly set it up, you have to follow the provided instructions from the manufacturer of the fletching jig you purchased.

You can buy the fletching jig here.

Prepare the Feathers

This step is for those who will use feathers for fletching. Disregard if you are going to use vane instead for fletching.

The first thing you need to do when making fletching from feathers (turkey, goose, or chicken) is to get feathers from the same side—either use all right-wing feathers or left-wing feathers.

Next is to pick a feather and do the strip and grind method, which is done by splitting the feathers in half. You can slice down the quill right in the middle with a sharp knife or a razor blade. Make sure to keep everything centered up and be careful not to cause any damage once you're splitting it.

After splitting, cut or shorten the quill to 4 or 5 inches and then sand the quill from the bottom flat and the sides with sandpaper. Don't forget to trim the outside edge of the feathers through a traditional, parabolic, shield, or custom cut.

Fletch the crossbow bolts

Place a crossbow bolt shaft into the fletching jig, grab the clamp and insert the feather or vane into the predetermined point. Before putting on super glue, make sure that the base of the feather or vane is clean.

Next is to apply only a thin coat of superglue down the length of the fletching and adjust the direction of your glue line, depending on the configuration you chose. Don't use too much glue because it can spill out and affect the bolt's flight afterward.

Press the fletching against the shaft and make sure it is seated properly on the shaft. You don't want any gaps or space between the shaft and the feather.

If there are any gaps in between, you can look on the side of the fletching jig and adjust from left or right until it's perfectly seated on the crossbow shaft.

Apply a slight pressure to ensure the seat of the fletching is against the shaft and allow the glue to dry. Once dry, you can now carefully remove the clamp. You can now repeat the process with your other fletchings.

Once done, don't forget to add a small drop of super glue or Fletch Tite to the front end and the end towards the tip of the feather or vane.

You can buy the superglue here. For the Fletch Tite, you can buy it here.

You can also fletch a crossbow bolt without any gear or a fletching jig if you want to save money or don't have enough budget to buy one.

The first step is to get a piece of tape (masking tape) and mark out every two-eight of an inch using a ruler and a pen six times. You will then get a tape with all the marks two-eight inches apart.

Next is to get the marked tape and roll it nice and neat around the base of the crossbow bolt shaft. It will serve as the measurement of the spacing for each fletching you're going to put.

Moreover, take a vane or feather and put a fletching tape on the base of it. You can now attach it onto the shaft and make sure to apply slight pressure to ensure that the fletching is properly seated.

Remember to follow the markings that you did earlier for the proper spacing for each fletch.
How do you care for feather fletching?
If you are using feathers, you have to properly store your fletchings in a suitable case, especially if you're traveling, so they won't ruffle or grind against each other. If you are to hunt during the wet season, you can also use a feather-dry powder if you want to waterproof your fletching.
For bolts soaked with blood, you can clean it by rinsing it with water until it is clean and free of any blood residue. Then squeeze the fletching by using a paper towel to soak up excess water.
After that, boil some water and hold the feather fletchings over the steam while rotating it for a few seconds.
You can also use the steam method if you notice that your feather fletching is a bit ruffled, flat, or crankled. The feathers will retain their shape after doing this method.
You can buy the feather-dry powder here.
Knowing the telltale signs of when to replace your fletching is also important. Here are the things you need to look out for if you need to refletch your crossbow bolts or buy a new one.
If you're using a plastic vane, one telltale sign that you need to refletch your crossbow bolt is seeing tears on your fletching and also hearing a fluttering sound in flight.
If you notice that the fletching is loose or one end has been separated now from the shaft, it's also time to refletch your crossbow bolts. Loose fletching can make the bolt fly differently and can cause drag on your bolt.
You can also know if you have loose fletching by hearing a fluttering noise once fired.
For feather fletchings, you need to refletch if you see there's a missing section on your shaft. You can still use your bolt if there portion missing is small, but it can affect the flight of your crossbow bolt.
The last sign to look out for is when your crossbow bolt is missing an entire fletch, which can happen due to extreme heat or when a bolt comes into contact with a hard surface or target and breaks the bond.
Fletching is a crucial component of crossbow bolts. It creates enough drag, stabilizes the bolts mid-flight, and keeps them in the proper direction when fired.
Learning how to refletch your crossbow bolts will aid your shooting experience, as it can improve the accuracy of your bolts.