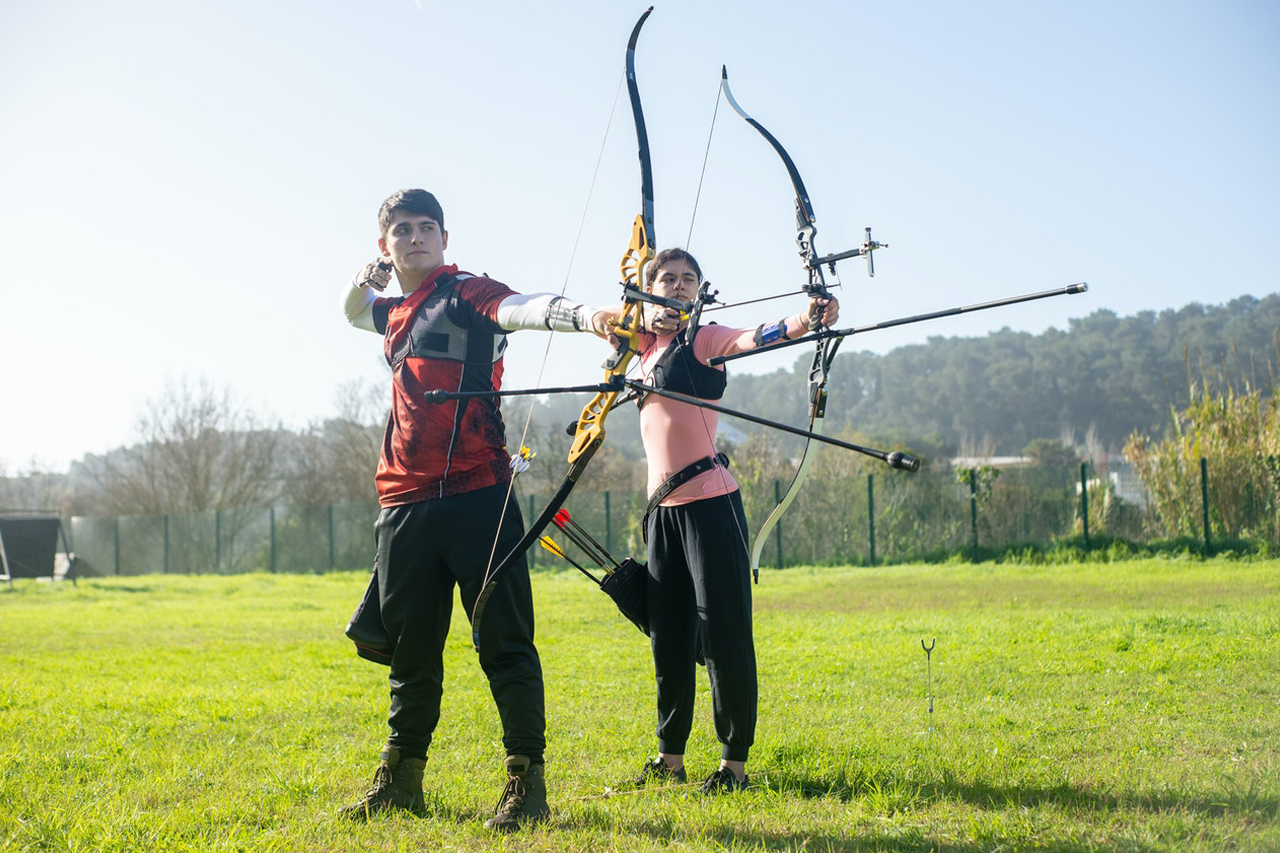 The disadvantages of a longbow are its size, simplicity, less speed, not easily adjustable, hand shock, less portability, and not widely used.
Longbow's history traces back to the Middle Ages, famously used for war and hunting. In the hands of Welsh and English archers, the longbow reached its peak of perfection, which sadly didn't last long enough for the modern world.
Among the various selection of bows, the longbow is the legendary one. You may consider choosing the longbow as your first step into archery, or maybe you want to shift to using longbows and want to know its disadvantages first.
These longbow disadvantages will assist you in your research:
Size

If size matters to you, you have to understand that a longbow has the most significant disadvantage when it comes to sizes. A longbow's standard size is six feet or 1.8 meters tall.

Based on its expected length, the longbow can be nearly as tall or taller than the archer. Indeed, it is known as a longbow for a reason. Thus, the longbow is the most extended bow from tip to tip.

Others may prefer longbows because of their size. However, it will be difficult for those who want to go bow hunting with a longbow. Even though they don't restrict the use of longbows, they are not the easiest ones to hunt with, and they are not as precise compared to other bows.

Especially when you're ground-hunting, the longbow length will be an inconvenience since there is a high chance of hitting branches, causing noise that may alert the target. Additionally, you will clamber over rocks, trees, roots, and tight holes.

Aside from hunting, longbows are also inconvenient to carry around. You can't easily have it on your back without assurance that you will not end up accidentally hitting someone or something.

Furthermore, if you think of putting it in your car, it will be pretty tricky because it is not portable enough, unlike modern bow types like recurve bows. Besides transporting, longbows are hard to store too.

Simplicity

Some do not find this disadvantage a problem, while others think otherwise. The longbow's design is straightforward with less complexity and a clear structure.

Other modern bow types recurve with sights, tips, or sets of pulleys for compound bows, which are pretty fancy compared to the longbow's composition, which only typically consists of:
Longbows have little fanciness, and because of their simplicity, it is not as accurate and robust as their advanced counterparts.
Less speed
Due to its size, shooting with a longbow means less speed. Although it has heavy tips that produce most of its energy, it is incomparable to the energy and power created by its counterparts.
Longbows, in general, are not flexible and much stiffer; therefore, it limits their capacity to shoot at higher speeds. Its energy spreads along its length, reducing gathered energy resulting in a less speedy shot.
Even though longbows are easier to prepare and shoot than other bows, you won't be able to fire at a speed according to your liking. Because of this, you are much more disadvantaged in a bow hunting competition because you are racing against a short window of time.
Not easily adjustable
The single-piece construction of a longbow won't give you the luxury of being able to adjust the draw weight. There is a limit to a longbow's string adjustment, thus, resulting in minimal changes in the draw weight.
As you improve, you may want to increase your draw weight, but with a longbow, you are stuck with the current draw weight. Thus, it's either you continue with the draw weight, or you may have to upgrade or buy a new longbow.
To avoid further costs, you must know your correct draw weight before buying a longbow.
Hand shock
With their heaviness and thickness, longbows create better stability and precision when shooting. Because of this, it is ideal for those who lack strength or correct shooting form. On the negative side, it causes hand shock to its users.
After losing an arrow, the bow's residual energy causes hand shock. The energy for a shot stored in the bow will most likely transfer into the arrow when the tip is heavy, causing it to propel forward. Hand shock from shooting a longbow surprises archers or discourages some.
It will lead to the excess energy hitting back and into the longbow sending vibration throughout your body. You can compare it to a kickback from shooting a gun which can be painful when you aren't prepared or properly holding it to your body.
Less portability
Some bows nowadays are takedown which means you can disassemble the limbs and break them into pieces to transport them easily. It is also available with longbows, but you can't find much about it in the market.
Traditional longbows are generally a one-piece bow design, and taking them down into pieces is impossible for more accessible transportation.
Due to this disadvantage, it is more challenging to travel with a longbow.
Not widely used
Longbows have been in existence for a thousand years. However, not many people use it any more than they used to in the past. Due to rapid technological advancements in archery, longbows aren't as flexible as their counterparts.
In other archery competitions, longbows are not that preferable for most archers because of their disadvantages, making them not ideal for modern times.
Nevertheless, there are competitions exclusively for longbows. In terms of popularity, it has declined because archers prefer to use recurve and compound bows which offer better performance and convenience, especially in Olympics and bow hunting competitions.
Despite the longbow's disadvantages, there are still a lot of archers who prefer to use longbows because of their historical feel. Using longbows won't make you uncool or anything. It always depends on you if the longbow's advantages heavily outweigh its disadvantages.
What is a longbow good for?
Longbows were a good warfare weapon during the Middle Ages. Since more potent warfare weapons emerged, longbows are now suitable for recreational use such as target shooting and hunting.
It is common knowledge that longbows were popular warfare weapons in the Middle Ages, wherein they attained their pinnacle of excellence in the hands of English and Welsh archers.
They were the most used long-range weapon to take down enemies during this period. Before recurve bows, compound bows, and crossbows emerged, longbows were the second oldest invented bow, next to the self bow.
Thus, no wonder some archers prefer using longbows despite the disadvantages, mainly because of the nostalgia it gives that no other bow type can make them feel.
However, due to the emergence of more potent warfare weapons, longbows are no longer used for battles. Instead, nowadays, archers use them for recreational purposes enumerated below:
Target shooting

One of the recreational purposes that archers use the longbow for is target shooting. They are excellent for traditional archery and casual backyard shooting. You can also use the longbow for the field, target, and 3D archery.

The usage of longbows is not as common as that of recurve bows, but many archers still love the unique enjoyment they feel when shooting longbows.

Most archers that use the longbow adore its simplicity because it makes them feel connected to the rich history of archery and the purest form of bows.

Therefore, if you love target shooting, you may consider using longbows to get a first-hand experience of the nostalgic feeling.

Hunting

Aside from target shooting, you can also use the longbow for hunting purposes. Longbows are ideal for hunting because it is quieter than other bows.

Most archers nowadays prefer to hunt with compound bows and crossbows. The most common reason is that hunting with a longbow is more challenging because of its disadvantage in size.

However, longbows also have charms that the other bow types do not. The longbows give off that authentic hunting experience because of their lesser advanced specs and more straightforward design.

As a result, it feels like you are hunting with a simple bow and arrow making it more real.

Longbows also have a range of about 200 yards and pack a powerful punch, thanks to their size. Therefore, using the longbow, you can shoot at a great distance, which is a great advantage in hunting.

One of 2022's best longbow models you can purchase in the market that is perfect for both target shooting and hunting is the Bear Archery Montana Long Bow.

It earned 4.7 out of 5 stars customer reviews on Amazon for a price range of about $399.99 to $577.90. Moreover, it allows you to experience hand shock-free, smooth, and accurate shooting with great design and feel.

Whether you plan to hunt or target shoot, longbows are a great choice.
Are longbows more powerful?
The longbow's basic design and draw weight hinder it from producing more powerful shots. As a result, longbows are less powerful compared to their counterparts.
Wondering about a bow's power is a joint inquiry among newbies and archers who plan to switch to a particular bow type. It is essential to take note that not all bows have the same power and speed. Each is unique on its own, and that includes the longbows.
In general, longbows emit less power than other bow types. However, you may wonder what makes it less potent than the others. The answer to this question lies in the factors explained below:
Basic design

Its basic design is the most crucial factor that tells how powerful a bow can be. Each bow has a different design, and the longbow holds the most popular design, making it the face of archery.

With its long D-shaped wood design, it, unfortunately, results in a less powerful shot because its limbs don't hold as much energy. Longbows lack the energy storage to fire powerful shots due to their design.

Draw weight

A bow's draw weight, which describes how hard it takes to pull the string, influences its shooting power. Archers can't fire powerful arrows if they cannot draw the string with enough strength.

Since longbows have long limbs considering that it is the most extended bow measuring a standard size of six feet tall, it will take a lot of energy for the archer to draw the string.

As a result, it will lead to less powerful shots if you don't have enough strength to pull the string.

Moreover, longbows do not have replaceable parts like recurve bows, so it will be challenging to change your draw weight to a lighter one when it gets too heavy.

Therefore, because of a longbow's basic design and non-changeable draw weight, its shooting power is lesser than others.

Although longbows are less powerful, others prefer them because they offer great accuracy in hunting and target shooting. Also, longbows provide more silent shots, which is ideal when hunting.

The disadvantages of longbows may be worth considering before making the purchase. Nevertheless, no bow is perfect and heavily depends on your preference.

Overall, using a longbow for target shooting and hunting is quite an excellent experience as long as you can maximize its potential and advantages, even though it is pretty lacking in the power stroke category.