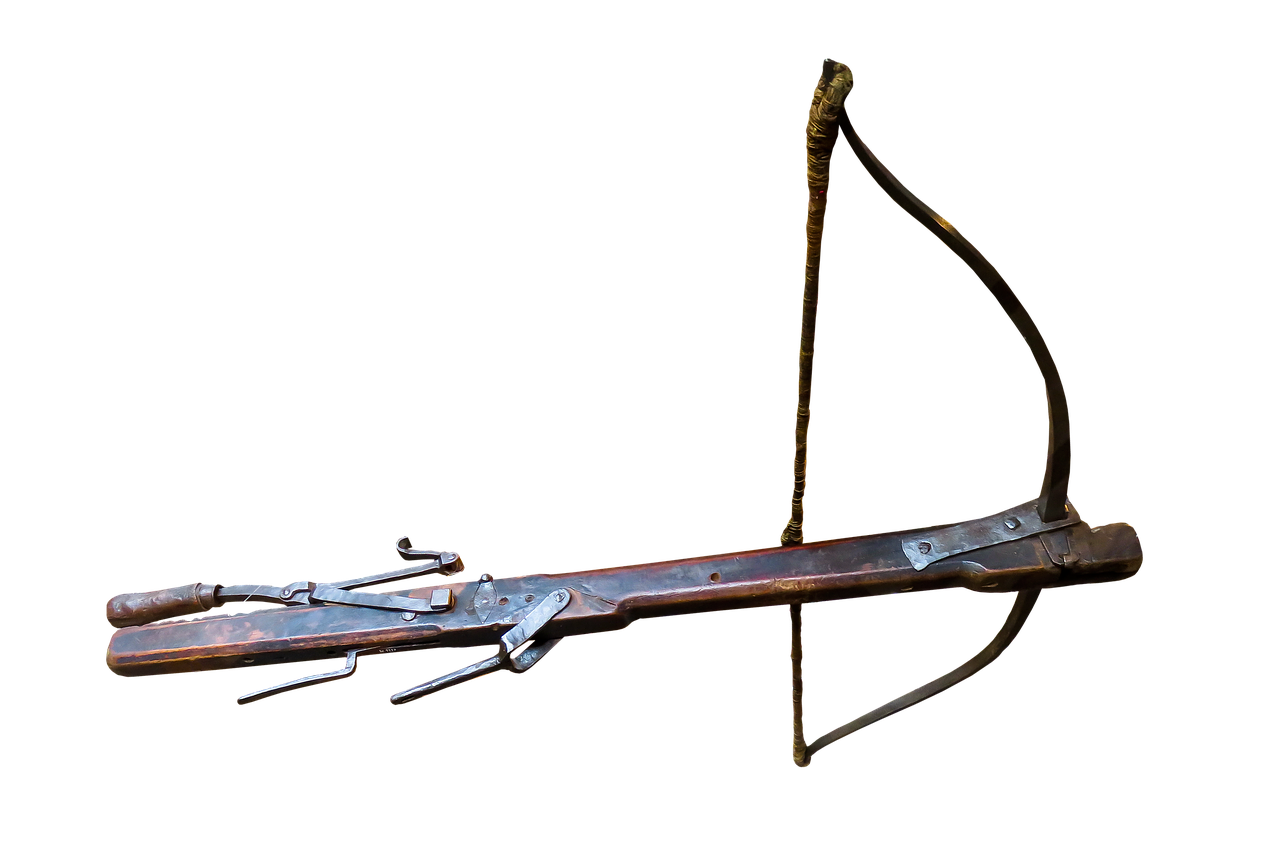 A crossbow is a leading missile weapon consisting of a bow mounted on the mainframe, made of wood. It has a groove that guides the missile and has a trigger to release the arrow or bolt.
A crossbow uses a locking mechanism to draw. It also limits the shooter's exertion by only pulling the trigger.
The crossbowman hands a heavier weight than any other bow. But with less physical strain compared to other bows, which means better precision.
You don't need to wear archery bracers when using crossbows. Position your arms far out of the bow's range of motion. Your arms shouldn't be near the bowstring either.
Wearing an archery bracer when using a crossbow is only decorative. It should be practical.
Ancient China and Greece (1,000-400 BC) used the first crossbows as upgraded weapons. But people now consider it as a sport and leisure.
What to DO during crossbow shooting:
Using crossbows for sports and recreation can be fun and easy. But you need to follow
safety measures while you use it.
Here are some safety tips you should follow before you shoot a crossbow:
– You must wear safety glasses when loading or shooting your crossbow.
– Only pull the trigger when you are ready to shoot.
– Before you climb a treestand, cock your crossbow first.
– Store your crossbow in a safe case.
– Always check your crossbow for any defects. Replace any worn-out strings or broken arrows.
– If you are a beginner, you must take lessons first to understand how crossbows work. Experienced shooters have certain routines to have proper handling and instruction.
– Seek help from a crossbow expert to help you get familiar with your crossbow.
What NOT to DO during crossbow shooting:
Here are some don'ts as well:
– Don't carry a loaded crossbow when you're walking or talking with your friends.
– Don't put your fingers or hands on the bowstring's release path when shooting.
– Don't point your loaded crossbow in any random direction when shooting. The same goes with target practice.
– Don't use your crossbows in shooting lanes if there are obstacles on the bow limbs and arrow's path.
– Don't shoot your crossbow when others are standing near or next to you. Always inform them that you will be shooting. They should be a bit further from you.
– Don't leave your crossbow cocked for a long time. Make sure that you discharge your bow every time you have a break. Crossbow limbs have a significant amount of energy, designed for short periods.
– Don't pull the trigger without a loaded arrow (or dry-firing). Doing such can cause damage to the crossbow or even hurt the shooter.
Crossbows are fun, but you should think that they are not toys. Many places consider
crossbows as deadly firearms. So, stay updated on local laws and regulations.
Why do archers wear bracers?
Bracers guard the archer's arm against injuries like a bruise or a string burn. It usually occurs when the wrist or the forearm gets in contact with the bowstring.
They also make sure that clothing doesn't get in contact with the string or arrow's feathers.
Archery is an age-old sport or hobby, but it demands mastery of fundamental skills. Archers need to develop upper-body strength, stability, proper posture, and flexibility.
While archers focus on mastering the craft, they also need to wear protective gear. A great example is bracers.
A bracer is a wrist guard used in archery and other sports like fencing. Usually made of leather, plastic, or stone, a bracer is a strap that covers the archer's arms.
Regardless if you are a top marksman or novice bowman, wearing a bracer is still recommended. Any poor release can hit the forearm. But, wearing a bracer prevents the arm from getting bruises and blisters.
According to Roger Ascham, he affirms that the bracer's purpose is protection. In his book Toxophilus, it serves as a protection on the archer's arm and clothing.
Ascham added that bracers must not contain nails, buckles, and aiguillettes (or ornaments). Excluding these avoids risking the archer and bow and string.
Bracers may also represent a team or allegiance. These can also represent a rank and develop a sense of belongingness.
Its societal purpose dates back to the European Bronze Age's strong wrist guards. Although those did not connect with archery, they were a status symbol of hunting and war prowess.
How much are archery bracers worth?
Bracers are generally affordable. The best thing to do is look at different products and choose one that fits your needs.
Archery braces cost as much as $4.79-$29.99 online. Premium arm bracers cost as much as $90.
Beginners should have extra-padded and full-length bracers.
They lessen movement. But these give newbies extra protection until their shooting becomes more accurate.
They measure around 10-12 inches.
For experienced archers, you can use standard bracers, which only cover the forearm. They measure seven to eight inches.
As you improve your skills, you can opt to reduce the size or cover of your bracer.
A better arm position means you are better at rotating your elbow during shooting. Thus, it means your arm will have less contact with the string.
Also, focus on the kind that fits thick clothing like sweaters and winter jackets.
Bracers stop any loose clothing from getting in contact with the bowstring or arrow. The arrow may fall off course due to loose clothing.
There are dozens of bracers out on the market. But the main reason for choosing the right bracer should be the archers' safety.
How do you wear an archer's bracer?
Let it lay on the front part of your arm.
Secure the strap in place and wear it. Regardless if they're Velcro or elastic, adjust until you have achieved comfort.
Place it below the front of your elbows. So it doesn't get in your way when you move.
Wearing an armguard is simple. You will know that you got it right when you feel comfortable and safe while using your crossbow.
When was the bracer invented?
Archaeologists discovered the earliest uses of bracers during the Early Bronze Age. Archaeologists found these across Europe, in Britain, dated 2,400-2,200 BC.
Evidence showed the use of stone wrist guards. But contrary to previous popular belief, they are not as functional as an archer's bracers.
The oldest known discovery of arrows comes from Sibudu Cave, South Africa. Experts discovered probable arrowheads dating from 72,000-60,000 years ago. They also contained poison.
In 2020, archaeologists found the earliest arrowheads outside of Africa. Experts found them in the Fa Hien Cave, Sri Lanka. About 48,000 years ago, the first humans used them for hunting animals.
Another proof of archery dates to the late Paleolithic period in 10,000 BC. The Egyptians and other neighboring Nubian cultures used these for hunting and war.
Researchers believed that these stone wrist guards were bracers to protect archers.
Reverend Canon Ingram first suggested that these objects were archers' bracers. His statement became the explanation that received the most widespread approval.
Smith suggested that they were statements of social position, not archers' equipment.
Evidence shows that wrist guards symbolized patriarchal authority. Ancient civilizations also used wrist guards for burial rituals.
Experts discovered a spread of compound short bows across Europe. The discovery triggered them to believe that stone wrist guards were archery equipment. But, the ones found in Britain were all single-pierce longbows.
The Amesbury Archer
In 2002, archaeologists discovered the Amesbury Archer. The man had arrowheads and "bracers" around it.
Experts said that the remains are 2,300 years old.
Archers told a Salisbury Museum Volunteer Blog writer that it would not work. The string would catch behind the near end of the stone.
An effective bracer must deflect the bowstring without snagging it. But, the simulation concluded that a two-holed bracer snags the bowstring most of the time. The four-hold bracer hit it far too often.
Experts concluded that the man was a coppersmith. But the name sticks because of the tools surrounding his grave.
The scope of the history of the bracer is more complex than you might have thought.
Rugby players and cricketers use it to protect their outer forearm. For others, care workers used it to cope with patients' bites and scratches.
Did medieval archers use armguards?
Researchers recovered a wrist guard on the Newport Medieval Ship in the 1400s. Its designs of roses, hearts and, Latin inscriptions describe its rarity.
Soldiers used the armguards for protection. The armguards also had varied Christian symbols. But two of them indicated military affiliations.
Here are some details of ancient time's use of armguards:
Another evidence is the sunken warship, Mary Rose. It had 24 bracers along with 172 longbows, 4,000 arrows, and other artillery equipment. Of the 24 bracers recovered, 16 had decorations.
A 16th-century archer and writer Gervase Markham stated that brace-makers used cow leather. That is with the exemption of two armguards – made of ivory and horn.
The 15th-century Wars of the Roses left two military armguards. One armguard is half-sleeved and dark-leathered. Experts believe its association with the siege of Stogursey Castle.
The other armguard is brown-leathered found at Boulton Hall in England. Experts believe it's associated with royalty.
Aristocratic archers in the 17-century in France used ivory for the bracers.
Victorian archer and national champion C.J. Longman donated 16 engraved bracers. It showed the martyrdom of Saint Sebastien. It is in the Pitt-Rivers Museum, Oxford.
Are archery armguards necessary?
You can practice archery without an armguard. But that will sacrifice your safety when shooting. So, you should invest in an armguard.
Bruises are the most common injury for archers. They're not deadly, but they can hurt and can knock your focus off.
Archers can prevent injuries by choosing the right bracer along with proper technique.
The World Archery Foundation permits the use of accessories like bracers. It is the governing body of the sport of archery.
As long as they do not obstruct other athletes at the shooting line or extend past the shoe, it is alright.
A general rule for sizing is to choose a size that best fits your needs. You can measure the distance of your elbow and wrist. Divide this by two. Then add another few inches for your preferred length.
Some bracers are free size, but your forearm circumference also matters. Measure it to the furthest point. For children and adults, you can shorten straps easier than make them longer.
Choosing the right armguard for you
You may either choose a traditional slab of leather.
But you may also like to have compression sleeves or full-coverage armguards – either way, it works. That's up to you.
You don't have to find the most advanced armguard in the market. There are some things that you have to consider when buying them:
– Fit: Armguards are adjustable. Some are free-size. You have to check the correct compression fit for your forearms. Find the right one, and you don't have to worry about wearing it.
– Material: Of course, you want your armguard to be a durable one. There are certain types of fabric used for armguards. You have to find the best one for you: leather, nylon, and plastic. Also, consider this if you're allergic to certain kinds of mesh.
– Look: Function is everything, but looking for the right look isn't bad at all. Archers can choose from different designs. There are brown leather, camo, suede, and assorted color varieties. There's no standard for a perfect look, but it's a plus.
Tempted, you will somehow ditch the armguard when you have become a more skilled
archer. As you get more experienced, you will be using premium bows, but everybody
makes errors.
This saying may sound cliche, but this applies to safety in the sport of archery: better safe than sorry.