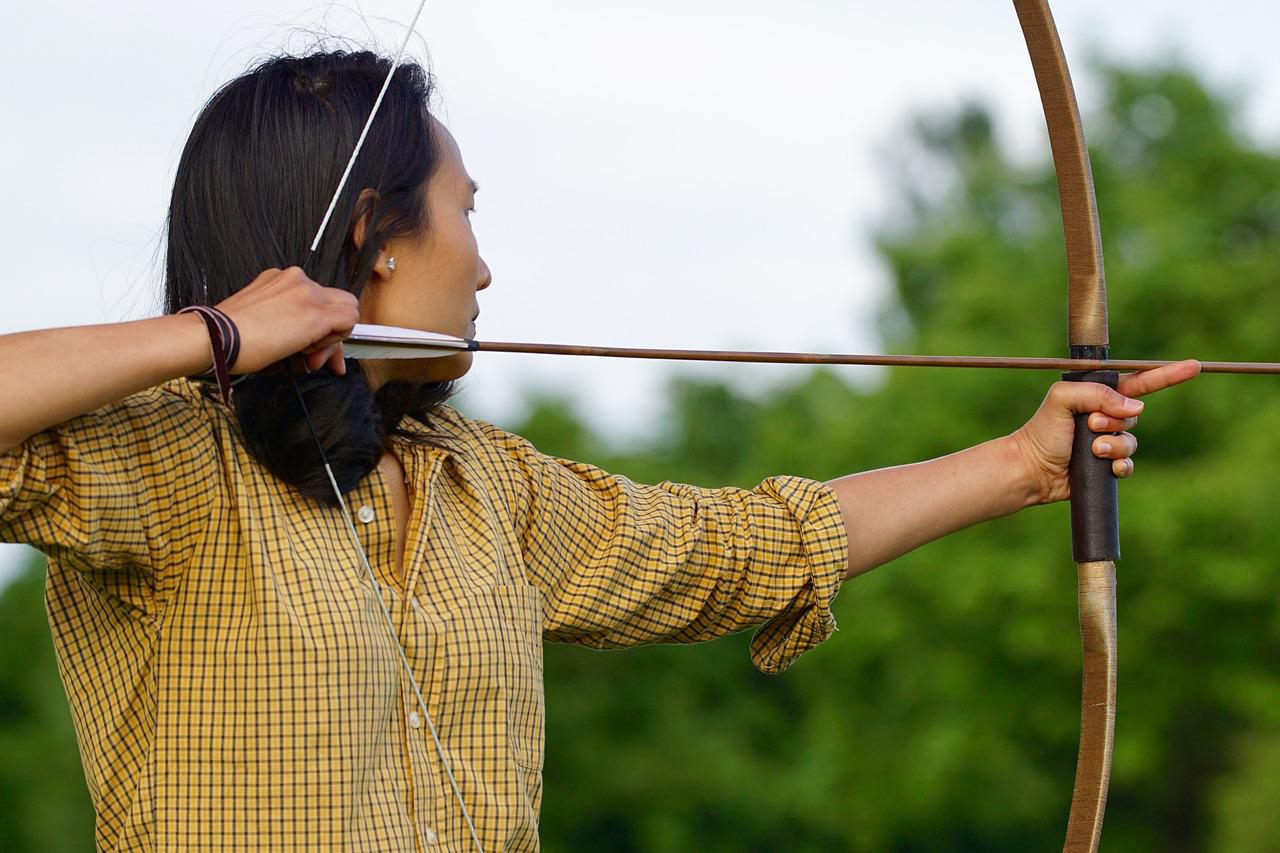 Arrows whistle in flight because a specially carved horn or wood attached to the arrow's tip makes the whistling sound like wind instruments. Sound plays a big part as a communication tool during a battle in ancient times.
Whistling arrows are often called "signal arrows," "messenger arrows," or "whistling-bulb arrows" in English. In archery, whistling arrows are also called Kabura-ya, a type of Japanese arrow. Its name translates to Japanese as "turnip." Thus, it technically means turnip-shaped arrow.
These arrows usually whistled when shot and were used in ritual archery exchanges during medieval battles. Whistling arrows have a long history that contributed to winning matches in the past and creating modern whistling arrows.
What is the point of whistling arrows?
Whistling arrows are mainly used as a communication tool during battles in ancient times. Samurais used it during the class of feudal Japan. In contrast, Chinese Xingjian used it during the end of the Warlord Era to announce the gang's approach.
Moreover, in Shinto, the arrow's whistling sound is commonly used for ritual purposes to ward off evil influences. Like evil-banishing bows, Hama Ya, Hama Yumi, and the Azusa Yumi, whistling arrows are popular in Shinto for cleansing rites of sites, parks, and shrines.
In battles, particularly during the Heian period, whistling arrows or Kabura-ya would be shot as a signal to alert the enemy before the start of a fight. Aside from that, the arrow's whistling sound was also the main instrument to chase away evil spirits and alert the holy souls to lend their support for the battle.
It was also typical for whistling arrows as an alternative messenger in the past. Messengers tied their messages in the arrows and then shot them in the fortresses or battle camps.
However, this traditional archery practice has gradually died out after the Heian period. War became less, and there were fewer rituals. Only the selling of Kabura-ya at Shino shrines as good luck charms every New remains until this day.
How do Japanese arrows whistle?
Japanese whistling arrows are called Kabura-ya. One of its components, the Kabura, a kind of weapon installed at the tip of an arrow, is why Japanese arrows whistle when in flight.
Kabura varies in shape and size and ranges from small to large, around 5 to 20 cm. Its basic shapes were a conical shape, cylindrical shape, or fusiform shape. To put Kabura in an arrow, you need to pull the van from the base to the top and fix it by placing an arrowhead on the tip.
Japanese whistling arrows are the prototype of modern whistling arrows. The arrowhead had light and easy-to-process materials such as light wood, ho, paulownia, bamboo roots, and even deer horn. It is usually hollow wrapped with a thread at a few points, fixed, and finished with a lacquer so it will not crack even on high pressure.
Who invented the whistling arrows?
The "Records of the Grand Historian," recorded and written by Suma Qian, is the first record to mention the whistling arrows. It traces back to present-day Manchuria, like the Khitan and Jurchen. They used the whistling arrows the most and came up with the widest variety of whistles for arrows on record to date.
Khitans and Jurchen'sJurchen's mastery of the whistling arrow become evident from its sophisticated designs and uses. There was a detailed record of the creation of whistling arrows during the Qing dynasty in the 18th century. Some arrows have plans perfect for hunting, rituals, sports, and battle.
During the reign of the tribal culture of the Manchus, the sophistication of arrows started. The Manchus took over the rule and had their traditional archery equipment produced by the best Chinese craftsmen in Beijing. The Manchus then ordered to improve the conventional designs of the arrows into a more modern look.
So, while the other tribes had originally innovated on archery equipment and started creating whistling arrows, the Chinese artisans in the cities developed the designs into a more detailed and modern look.
Did the Mongols use whistling arrows?
Archery is an integral part of Mongolian culture, including the use of whistling arrows. Since the Mongols lived a nomadic lifestyle, they mainly relied on their archery skills for hunting and fighting. They used whistling arrows when fighting neighboring tribes or raiding China's rich lands.
Mongols' whistling arrows were those with holes in the tips that made a whistling sound when in flight, intended to intimidate forces they were against during a battle. Aside from fighting, the whistling sound also plays a big part in hunting. It distracts the animal, making it look up in curiosity. The hunter has more time to shoot a more powerful arrow to target the stationary prey.
Each Mongol warrior carries two bows, one for long-range shooting and the other one is to fighting at close range. These arrows were from different materials, including fish glue, deer antlers, birch bark, natural silk threads, animal tendons, and bamboo. These are available in Mongolia, making it easier for Mongols to find.
The design of their arrows is dependent on their use. The longer-range bow is usually for fights at a distance while maintaining accuracy. This plan is an excellent tactic to hit their enemies accurately. At the same time, they keep themselves out of range from the enemy militia of fortress walls.
The Mongols did not use whistling arrows as their primary weapon in fights as it would help the enemies find them. Instead, they use it mainly for hunting and rituals to ward-off evils, just like the practices of the Japanese. They also manufactured quivers that carry different arrows that they usually bring on hunting expeditions or war.
Aside from whistling arrows, the most potent arrows they created were capable of piercing through thick armors. The metal tips of these arrows could measure 15 cm long and 3.5 cm wide. Mongols also designed arrows for short-range, double-tipped, and those that can light on fire.
However, after the reign of Ghengis Khan and his descendants, Mongolia returned to its usual way of living. Numerous semi-nomadic and warring tribes turned their bows on each other while bidding for power and dominance over the region.
In the seventeenth century, both Russians and Chinese began to take over Mongolia, bringing new traditions and culture. There followed a decline in archery. There was a ban on its use due to military applications that eradicated its use for hunting and war. The use of whistling arrows and arrows in general then gradually decreased.
However, the archery tradition did live on when Mongolia became independent in 1911. The use of whistling arrows regained its popularity, becoming an integral part of the Mongolian culture.
Do all arrows whistle?
Not all arrows whistle. Compared to ancient times, modern archery arrows have more varieties to choose from when buying one. It is up to you to use a whistling arrow or just the normal one. There are ways to make whistling arrows that you can attach to the regular ones.
There were specially carved horns or wood attached to the arrow's tip in the past, making the whistling sound. But these days, you can make do-it-yourself whistling arrows with simple materials such as ping-pong balls and metal whistles that you can attach to the arrow's tip.
Making a DIY whistling arrow is a fun activity. You can even enjoy making it with your kids at home, especially if you are also into archery. There are also already-made whistling arrows that you can purchase at stores if you prefer to have a professional-looking whistling arrow.
In general, all arrows do not make a whistling sound when in flight unless a whistling point is attached. However, archers noted that when you shoot a heavy arrow at a close distance, you can hear a whistling sound. Archers sometimes connect their DIY whistling points or buy a ready-made one.
What are whistling arrow points?
Whistling arrow points are "fun" accessories that archers use to produce a loud piercing whistle to their arrows while in flight. When attached to the arrow's tip, you can hear an excellent loud whistling sound even in noisy surroundings.
There are whistling arrow points made of brass and aluminum that weigh around 125 grains. These arrows are durable and do not break even when hitting the ground. There are also whistling arrows points that weigh about 230 grains and make a louder sound when in flight.
Since it is convenient to use, whistling arrow points is one of the favorites of archery lovers. The weight of whistling arrows is perfect for any casual archery game or just for fun shooting. It is best to use during clout shooting or archery golf, where a person needs to shoot over a very long distance.
Its point shank thread fits any arrow using a point insert with the standard #8-32 screw-in points. Additionally, suppose there is any debris that winds up inside the point. In that case, you can clean it easily by unscrewing the brass portion and screwing it back after washing.
For those who enjoy using wood arrows, an adapter enables you to use whistling points. It also allows you to use any standard #8-32 screw-in point on a 5/16-inch diameter wood arrow shaft. If the 5/16-inch does not fit, you can opt for a bigger or smaller size as long as it fits the tip of your arrow.
You can buy whitling arrow points on Amazon. They offer different varieties and designs that you could choose from. There are also other colors available that you can match with your arrows.
How do you make a whistling arrow?
You will need good quality ping pong balls, arrowheads, a razor knife, glue, and electrical tape to make an inexpensive whistling arrow. You can follow these simple steps to make your affordable whistling arrow.
Make the holes for the shaft, ensuring that the holes cut through the ball's axis. Mark the center of the holes in the ping pong ball and then use a field tip mounted on a six-inch shaft to make the holes. Heat the metal tip over a burner, then gently push the tip into the ball until it creates a hole.
Make the whistling holes—Mark out four equally spaced triangles 3/8 tall by ¼ wide, base down. Then heat an X-acto or razor knife and use it to melt the marks and lines for the triangles.
Slide the head of the ping pong ball about four inches beyond the arrow's point so it can hit a straw or foam mat. Glue the ping pong ball in place, then add three or four more turns of electrical tape to hold the ball in place. You can also choose a longer shaft to do a full draw, even when the ball touches your bow.
Test out the arrow to know if the sound it makes is what you want to achieve. If not, adjust the tightness of the ping pong ball with electrical tape until you are satisfied with the sound.
It is important to remember that the further you put the balls from the large blunt, the better the sound. The balls work exceptionally well with ¾ inch blunts as the sound depends on the turbulence caused by large blunts. You can always do a sample test after putting the balls in your arrow to know if the sound is loud enough. If not, then you can adjust it accordingly.