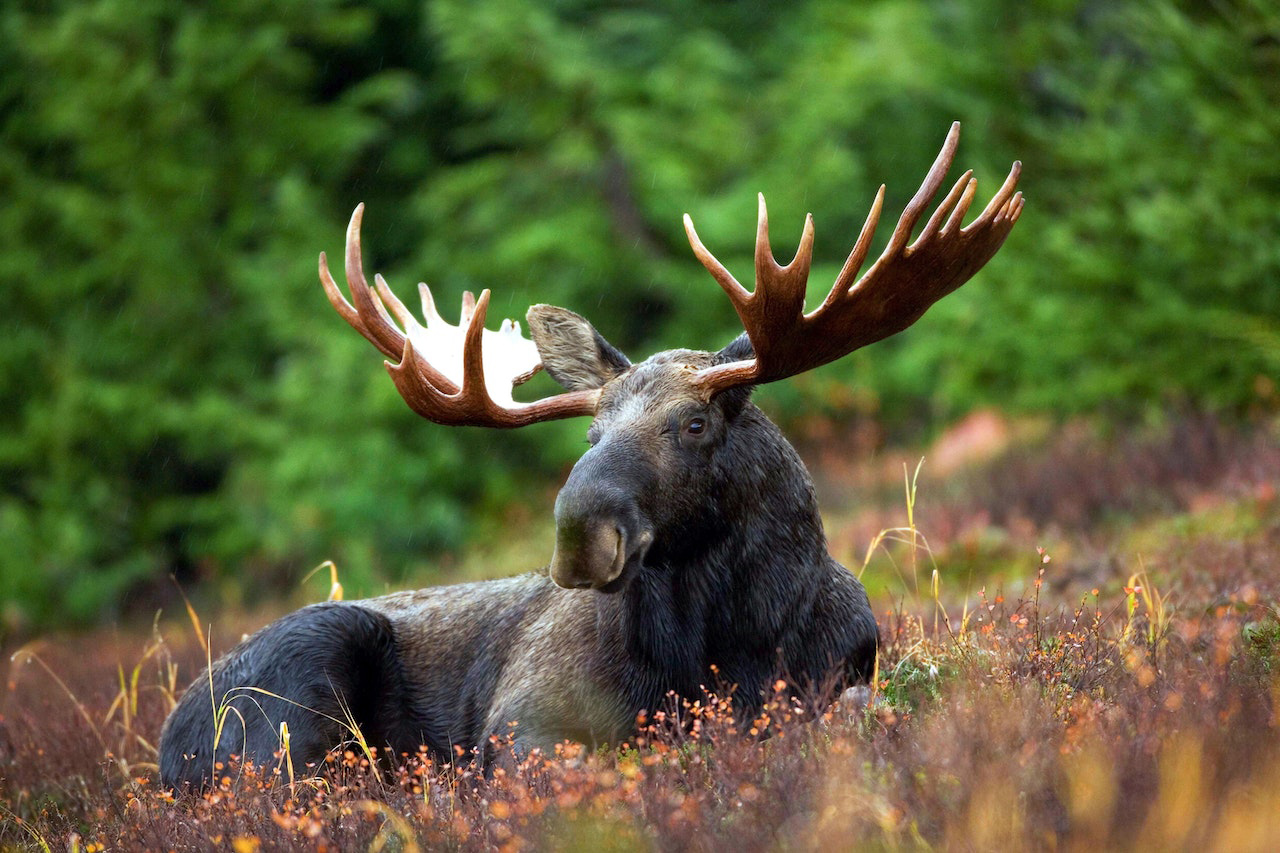 You can kill a moose with a recurve bow because they can impose lethal damage, but with the right equipment, skills, and knowledge. Thus, you must carefully check whether you have enough draw weight and the right broadhead and arrow type to aid you in moose hunting.
For hunters, big game hunting season is something they always look forward to when they want to conquer a more challenging step in their hunting hobby or career. It requires more extensive preparation and mental and physical condition to successfully kill big game animals, including moose.
If you are into bowhunting, you may be curious whether a recurve bow can kill a moose. Despite some misconceptions that hunters must always go for crossbows and compound bows for big game hunting, recurve bows are also great weapons you can use even for moose hunting.
Compared to compound and traditional bows, recurve bow's design allows it to store more energy. Due to this, your arrow will hit the target with more power after being released.
Another reason recurve bows are an excellent choice for moose hunting is that the weapon is more lightweight than other bow types. As a result, recurve bows don't make much noise and help you maintain cover away from the sharp, keen sense of animals.
However, you must know that using any recurve bow doesn't instantly guarantee you can kill the moose successfully. Always remember that moose are like steel, and it takes a lot of effort to penetrate their thick skin and muscles.
Here are the following things to consider if you plan to hunt a moose with a recurve bow:
High-quality recurve bow

The development of more advanced recurve bows has been rapid over the years, which makes it easy for hunters to find what they specifically need and prefer. Therefore, there is no reason for you not to find a high-quality recurve bow to use for moose hunting.

Remember that killing a moose is not the same as shooting a 3D target. That's why getting yourself a high-performance recurve bow is vital, whether advanced or traditional in design.

For instance, you may choose recurve bows manufactured by Bowtech or Hoyt. These bow manufacturers have long stapled their reputation, notorious for producing a robust compound and recurve bows.

Don't forget to thoroughly check the recurve bow's specifications and features and weigh which will likely work well with you.

You can also consult with your local archery shop if there are recurve bows they can recommend to you that are popular among hunters to use for shooting moose. This way, it can help narrow your search in finding the best recurve bow for you.

Broadhead

Aside from looking for the correct recurve bow to purchase, investing in a good broadhead is equally essential because of its thick ribs and tank-like bodies. Hence, getting an arrow into a moose, whether a bull or a female, can be challenging.

For moose hunting, it would be best to choose a broadhead with a cutting diameter of approximately 7/8. Moreover, fixed blade broadheads are better than mechanical ones to elevate your chances of a successful kill.

Arrow type

Arrow type is another critical thing to be mindful of when hunting a moose. It is useless to shoot an arrow that doesn't penetrate deep enough, which will only result in a wounded animal instead of a quick and ethical kill.

Furthermore, an arrow type with less penetration power will only get broken before it can even wound the animal. Therefore, many hunters suggest using carbon arrows when shooting moose because they are lightweight and flex less than other arrow types.

They can also penetrate the animal's thick skin because they hold more penetration power with less kinetic energy.

Draw weight

Draw weight differs from person to person based on their strength and physique. However, for hunting big animals, it is only understandable that it would require hunters a higher draw weight to be able to take them down.

Some would say that 40 lb draw weight would be enough. On the other hand, some think otherwise and can heavily depend on every bow hunting regulations imposed per state.

If your state doesn't have an imposed minimum draw weight for shooting a moose, you may want to go for a 40 lb. Nevertheless, it would be best to shoot with a minimum draw weight of 50 lb when shooting moose because the animal's body makes it challenging for low poundages to penetrate.

Therefore, aim to shoot at a draw weight of 50 lb and higher to achieve an ethical kill. Doing proper exercises can help you increase your draw weight.

Effective range

Compared to crossbows, shooting with a recurve bow doesn't require getting too close to the target. For example, you can shoot at a range of 60 to 100 yards when target shooting using a recurve bow.

On the other hand, the ideal effective range to take the animal down for hunting a moose is 20 to 30 yards, closer than when shooting at static targets.

Based on the aspects mentioned, you have to pay attention to choosing a good recurve bow, broadhead, and arrow type to use when moose hunting. Furthermore, you must consider achieving a 50 lb or higher draw weight and shooting at an ideal effective range to give you an edge.
Where do you aim at a moose with a bow?
It is always best to aim at a moose' heart and lungs for a fatal and humane kill. Hence, a broadside shot is the ideal shot placement for shooting a moose with a bow.
In bowhunting, you can't just randomly hit any part of an animal's body. Every hunter should remember that they should always go for an ethical kill; to do this, you must have enough knowledge of the target's anatomy.
Moose is the most prominent member of the deer family, and they have an enormous body that makes them one of the sought-after targets for big game hunting seasons. Like whitetail deers, the vital organs you have to aim at in a moose's body are its heart and lungs.
Therefore, not only do you have to keep an adequate distance between you and your prey, but you also must know what shot placement offers superior penetration to the vital organs.
Like shooting deer, broadside shot placement presents the best opportunity for hunters to ethically kill the moose since its angle shows the best chance to hit its heart and lungs.
For this shot placement:
Always use the rule of thirds by lining up the back edge of the moose's front leg and visualize its body in thirds.
Next is to aim up from the chest on a quarter to 1/3 the total chest thickness, then release your arrow when you're on the mark.
Take note that the moose's heart location is slightly lower. That's why you shouldn't heavily lean on your knowledge of deer anatomy and take the time to get familiar with a moose's body for better shot placement execution.
Aside from broadside shot placement, you can also try to shoot the moose's vital organs by trying the slightly quarter-away shot. Additionally, be constantly mindful of the angle when shooting since a slight miscalculation can lead to a wounded and suffering animal instead of a single humane kill.
How do you moose archery hunt?
When bow hunting a moose, you must be well-prepared, know how to locate, use the best hunting techniques, and ensure that you killed the animal successfully.
There is a difference between bowhunting a moose and shooting it with a firearm. That's why it is always essential to follow and know the procedures of bowhunting a moose, especially when it is your first time.
Below are the following that will guide you on how to archery hunt a moose:
Be well-prepared

Nothing beats a well-prepared and well-executed bowhunting plan, especially if you plan to take down a moose. It starts with choosing the right equipment, such as a bow that suits your needs, the right arrows, and suitable broadheads.

In addition, you also have to identify the right camping equipment and other essential hunting gear if you ever decide to camp during the hunt.

Don't also forget to choose a hunting spot beforehand by taking into consideration the following items which may help you lay out your plan clearly and precisely:
Location

Moose's body helps them withstand the cold temperatures of their natural habitats and survive in warm climates. You can mostly find them near bodies of water like swamps, bogs, ponds, streams, and lakes.

Solunar calendar

Check the solunar calendar, for it can be a possible guide to help you with any possible animal movement depending on the moon's position and fullness.

Time of the year

Mating season is an ideal time of the year to hunt for moose. Moose mating season happens from late September to mid-October.

Therefore, they will be more active during these months, wherein bull moose will also likely respond to calls, giving you an advantage if you ever want to trick them.

On the contrary, if you hunt a moose after the mating season, the search will be more complex and take you deeper into the forest.

Time of the day

Early mornings and evenings are the best times to hunt moose because they are most active in search of food and water during these times of the day.

You can also try to hunt them mid-day since some can roam around in the prime locations during this time.

Wind

Moose have a keen sense of smell, so you must be careful about getting them spooked by your scent.
Locating a moose
Now that you have prepared enough and are now onto your first challenge, which is to locate a moose. To narrow down your search area, take note of the following information below:
Temperature

Moose are not fond of warmer temperatures; therefore, they do not travel far when it gets hot. As a result, your chances of locating them during a warm climate are low.

Nevertheless, you can always look for them near areas with small bodies of water since they will most likely come there to cool off.

Barometric pressure

Changes in barometric pressure can help you make it easier to look for them. Moose activity increases as the air pressure decrease as they search for shelter and food from the oncoming front.

Weather conditions

During extreme conditions, moose will seek shelter in swamps or wooded areas that provide protection and better food resources.

By referring to the following information above, your chances of coming across a moose increase, and it won't be soon enough until you have to plan on taking a moose down.
Choose a hunting method
Locating or spotting a moose is the easiest part of the game. When it comes to your next course of action, you must first identify which hunting method you prefer and which works well for you.
There are two main hunting methods to use when bowhunting a moose:
Still hunting

The still hunting method means you prefer to sneak around while stalking your moose without getting detected. Moose may have poor eyesight, but their high sense of hearing and smell compensates for it.

Thus, you have to be aware of the direction of the wind and turn it in your favor. Using wind checkers and walking facing the wind can help you blow your scent away from your target. You can also opt for using scent masking sprays.

Either way, your chances of shooting the moose increase if it does not pick your scent while stalking it.

Stand hunting

On the other hand, the stand hunting method involves standing out on the ground blind and waiting for the moose to approach you.

However, this hunting method requires a lot of patience since all you have to do is stand still and wait. It would be best to set a trap to increase your chances of killing a moose.

You can also try calling a moose to draw it to you. Some hunters do moose calls since it has proven to attract the animal as they interpret it as a call to mate from another animal.
Double-check for any sign of life
If you think you have successfully hit the moose in its vital organs, don't forget to check for any sign of life. As you approach the animal, always keep your guard up.
Please take note that moose keep their eyes open even when dead. If its eyes are closed, there is a chance it is still alive, and you may have to re-shoot it.
Once you have confirmed it's dead, start field-dressing it immediately and cool it as quickly as possible.
Following the moose bowhunting process above will give you a better edge on quickly spotting and ethically killing the animal.
Moose hunting is not for everyone since it requires more skills and experience to hunt them successfully. Nevertheless, shooting them using a recurve bow is an excellent choice as long as you have the right equipment, knowledge, and willingness to kill such massive animals ethically.