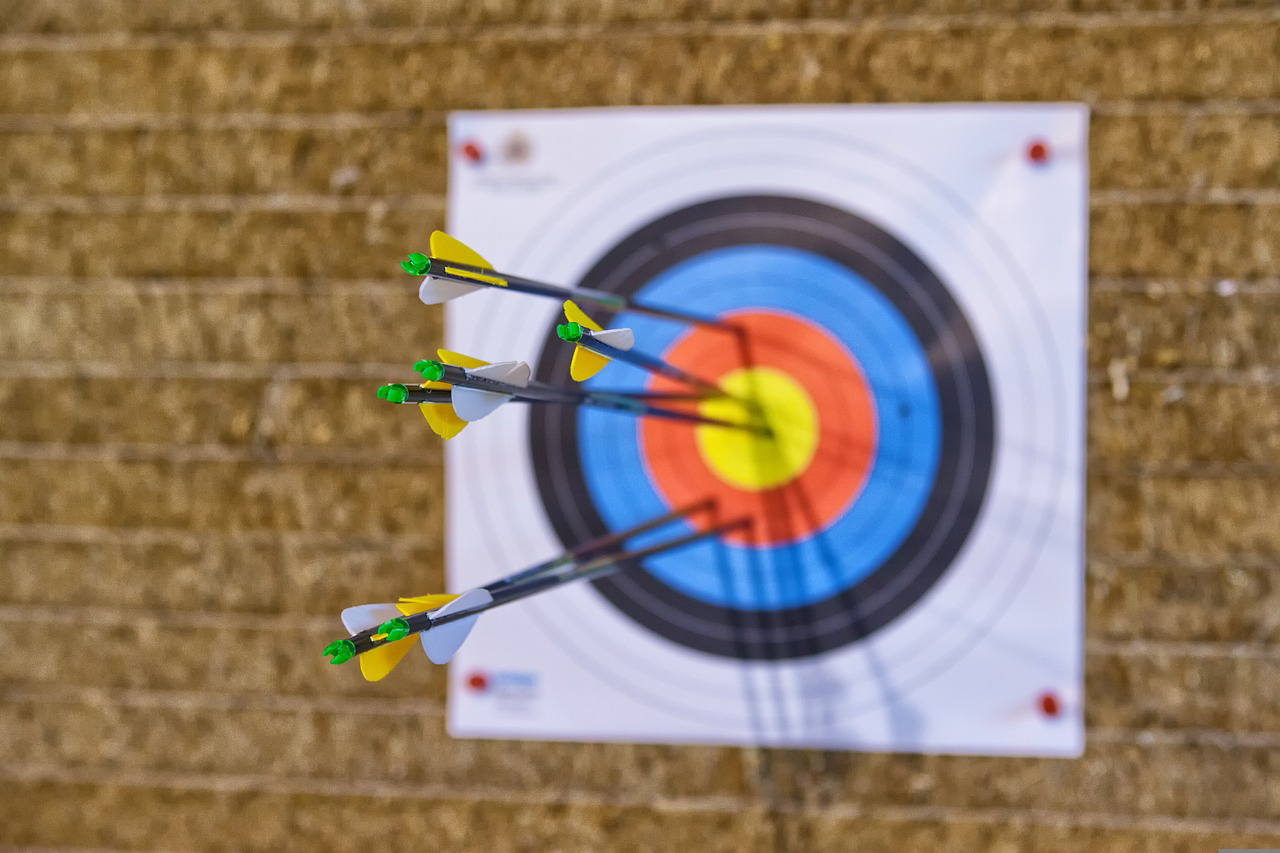 One of the most common advantages of the Blazer vanes is using them with crossbow bolts and arrows. It can penetrate a target of about two to three inches deeper before it ruins the fletching job.
Blazer vanes are those that come with a reputation of being bulletproof. These vanes can provide their users with excellent broadhead steering.
The broadhead steering is exceptionally accurate for arrows you shoot from today's compound bows.
But as of late, crossbow hunting is becoming more popular. Hundreds more options are available.
The question remains.
Is a Blazer vane suited for crossbow arrows?
The answer is yes. It is.
Crossbow users have been experiencing the same advantages as Blazer vanes for a long time.
One of these advantages is the excellent broadhead flight. Another advantage is the pinpoint downrange accuracy.
However, there is one downfall for this brand. And this disadvantage is usually for crossbow hunters.
Blazer vanes are high-profile products. Because of its higher profile, not all crossbow manufacturers are familiar with its anatomy. Not all manufacturers deeply understand the Vane enough to present a crossbow that can pair well.
As such, the bottom Vane of the arrow fletched with a Blazer vane can sometimes not work well. It sometimes tends to ride the bottom of the rails.
This downfall is only familiar with old Blazer vanes. And I say old because recently, the manufacturers have re-engineered their vanes.
The re-engineering process took away a bit from the height and a few minor issues.
However, even with a low profile, Blazer continues to deliver. Blazer consistently gives excellent flight characteristics that we always see from the beginning.
Also, there are a couple more advantages that you may not be familiar with. One of the advantages has something to do with the arrow front-of-center ratio.
The arrow front-of-center ratio has a significant role in the performance of crossbow arrows.
Crossbow arrows do not come with arrow rests. And there is also no opportunity for you to tune an arrow.
For it to perform well, it has to have an excellent front-of-center ratio. With a good front-of-center ratio, there is increased accuracy.
For you to attain this, there are two ways. You are increasing your FOC by adding weight to the front of the arrow. The other is to take away weight from the rear.
Blazer vanes are shorter than the traditional ones found in crossbow arrows.
Because of the shorter length, Blazer vanes eliminated any unwanted weight from the rear of the arrow. As a result, there is an increased weight at the front.
The other benefit to using Blazer vanes is the penetration of the target.
Blazer vanes can penetrate about two to three inches deeper. And this is a major factor these days.
In summary, Bohning Blazer vanes are great for crossbow use.
Time and experience have proven that vertical bow vanes work well for nearly a decade.
The Blazer vanes will continue this good performance.
These vanes are easy to fletch. They are also tough and provide you with excellent accuracy in your shots.
Can you shoot any bolts in a crossbow?
When shooting bolts, it is essential to use only manufacturer-recommended crossbow bolts. There is a specification in length, weight, fletching requirements, and nock type.
Bolts are shorter than your usual arrows. The bolts are also specifically-made for crossbows.
It is crucial that when shooting bolts, you use the manufacturer-recommended ones.
There are specific details that you need to follow when it comes to length, weight, and nock type. Manufacturers also specify fletching requirements.
Some call the crossbow projectile a bolt. Others call these arrows.
Both are correct.
However, when you say "bolt," you only refer to those you use with a crossbow. You never use a bolt with a regular bow.
If we are going to be technical about it, a bolt does not come with stabilizing vanes at the rear. These features are standard in arrows.
However, when somebody talks about crossbow bolts or arrows for years, most talk about the same thing.
And so, when shooting bolts, what is there to remember?
There are a few essential things to put to mind.
One is to ensure that the field points and the broadheads are of similar weight.
The weight should also be the same as that of the heads that come with the bolts.
In archery, you should never use arrow shafts and arrowheads that weigh less than the recommended weight by the manufacturer.
You can use heavier ones. That is fine. However, the lighter ones can result in you dry-firing your crossbow. It will then void your warranty.
Such would also lead to a malfunction of your crossbow. It can even be dangerous to your health.
Also, most crossbow packages you get from the shop come with bolts. These will also come with target practice field points.
When buying your crossbows, you must purchase the hunting broadheads separately.
To reiterate, you can never use arrows and heads that are lighter than the recommended weight by the manufacturer. You can use heavier ones. However, the heavier ones will have a reduced velocity.
What are the best Vanes for crossbow bolts?
Bolt Vanes and Blazer Vanes are the best for crossbow bolts. While pricey than other brands, using these items can improve performance.
The Bolt Vane is a brand made explicitly for crossbow bolts. It offers a more stabilized performance of up to 100 yards.
On the other hand, Blazer Vanes are for steering fixed-blade broadheads. It ranked as the top hunting vane of choice for more than a decade.
The Bolt Vane comes with ultra-stiff materials that prevent Vanes from fluttering. It results in a smoother bolt rotation. It is also famous for giving a smooth and quiet flight.
Bolt Vanes come in ultra-stiff material. They are durable enough to go through high velocities that are common in modern crossbows.
Bolt Vanes measure about 3.5 inches in length. Its height is 0.5 inches, and it weighs an average of 751.7 mg.
It also comes with a pre-primed base. The pre-primed base gives you optimal adhesion.
Because of its material, Bolt Vanes are perfect with instant glue or a fletching jig. Make sure that the fletching jig comes with high adhesion force. Some recommendations include Bohning's Tower Jig and the Multi-Fletcher.
On the other hand, Blazer Vanes are for steering fixed-blade broadheads. These have been at the top of the list for over a decade.
Blazer Vanes measure about 2 inches in length and about 0.57 inches in height.
It weighs about 6 grains. The True Color printed Blazers weigh about 6.3 grains.
Blazer Vanes impressed more people over the years.
It also brought to the fore more smiles than other Vanes combined. Archers got more trophies because of Blazer Vanes.
This brand is the Vane that outperforms all others in the market.
The Vane is famous for being able to work well with fixed-blade broadheads. It is also perfect for use with crossbows and 3D archery.
As soon as you use them, Blazer Vanes begin to steer and correct its flight immediately.
Its design, a combination of the steep leading edge angle and its materials, allows the air to flow over the Vane. The air flows through the Vane in a way that it can create lift.
Because of this, it leaves the tip of each Vane inside undisturbed.
This airflow type also results in each Vane's tip acting like rudders. And this is something you would notice at longer distances.
How far is a crossbow accurate?
A modern crossbow can reach as far as 80 yards for a skilled shooter. The crossbow can usually get about 30 to 35 yards or less if you are a beginner.
The crossbow can reach more than a hundred yards if you are not aiming for a target. However, if you are hunting and seeking prey, about 80 yards is possible.
The 80 yards is possible for a skilled shooter.
However, most skilled shooters would choose to shoot as far as 60 yards. The shortened distance is because of added accuracy.
For beginners, crossbows are usually accurate for about 30 to 35 yards. Sometimes, it could even be less.
The distance your arrow can travel depends mainly on its weight—the weight of the shaft or broadhead matters. Also, the configuration of your crossbow will impact how far it can go.
So, how far will it go?
The answer greatly depends on several factors.
One factor is the technique. The other is if you are hunting or target practicing.
Also, do you know what the velocity of the arrow is? Finally, how good is your scope?
If you are not aiming for a target, a solid 300+ FPS crossbow is perfect. Some examples of this are Barnett Jackal or the Buck Commander.
These brands can have an arrow for about 500 yards. And this is if you do not have a target in mind.
There is little juice left to the arrow at such a distance. Also, your aim for such a distance would no longer be as accurate.
Here are a few things to know.
Effective Hunting Range
If you use a 300+ FPS crossbow, the hunting range remains 50 yards. Sometimes, it can reach 60 yards. And yes, you can even go beyond 60 yards if you wish. You can even get 8- yards.
However, with this distance, will you be able to hit your target with perfect precision?
At such a distance, will you be able to penetrate the vital organs of your target?
I am sure that most shooters will not be able to do so consistently.
And this is the reason why most crossbow hunters only go as far as 35 yards from their target. It is not because their arrow cannot kill from a distance. Their hands can kill from a distance.
The reason for this is because of accuracy. Hunters want to be sure that the arrow will hit the target as it should. Otherwise, the hunter will just hurt the animal without killing it. And this is unethical for hunters.
Effective Target Practice Range
If you use a 300+ FPS crossbow, your arrow with a field point can hit a compressed foam target. You can hit a foam target even as far as 180 yards away.
Of course, you will not hit the bullseye all the time. However, there will be hunters and archers who will be able to shoot a two-inch arrow group with a crossbow. And this they can do from about 80 yards or more away from the target.
One crucial factor to remember is that the velocity of your arrow deteriorates the farther it goes.
Most arrows will have a trajectory slightly dropping in about 30 yards.
The trajectory will be at its strongest within 20 years. On its 30th yard, it drops about 3 to 4 inches.
By the 40th yard, it falls to about 11 inches. By 50 yards, the trajectory drops to about 21 inches.
If you look at the numbers, it only says that the longer the distance, the more pronounced the trajectory is.