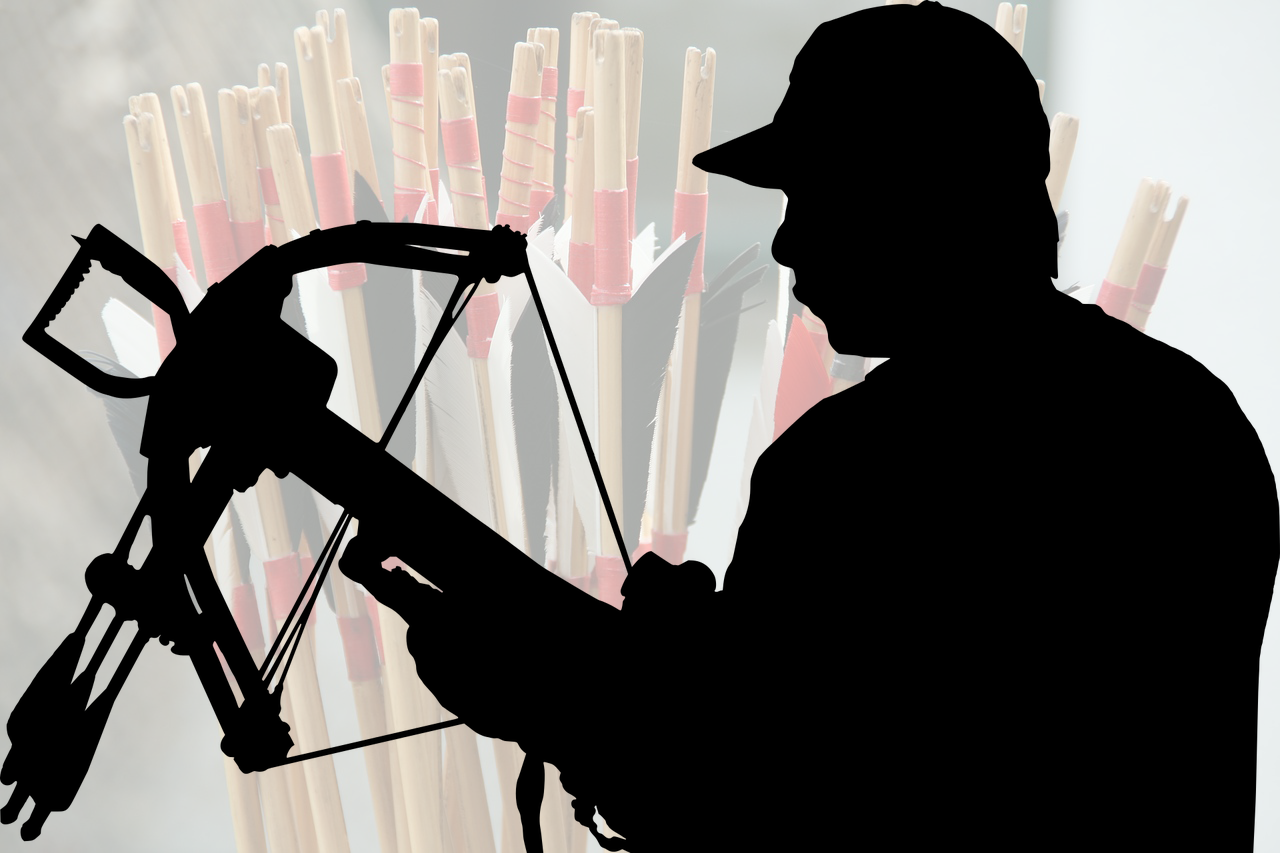 Cranking or cocking a crossbow with your hands is challenging and requires physical strength. However, cocking or cranking your crossbow becomes more manageable using either a rope cocking or a crank cocking device.
Before you can fire a crossbow, you must crank or cock it first. The act is similar to when pulling a bowstring of a vertical bow to be able to shoot arrows. However, for crossbows, we refer to this most commonly as cocking instead of cranking.
If you are familiar with crossbows, it is a given that they have a higher draw weight compared to other bow types. As a result, you may think that pulling their bowstring back would be difficult and require enormous strength.
While it is true that they offer intimidating draw weights, you will be glad to know that crossbows have various devices or techniques you can use to save yourself from exerting enormous physical strength and energy to cock it successfully.
There are three main ways to cock a crossbow: using your hands, a rope cocking device, or a cranking device. Among these three, using your hands to cock your crossbow would demand a lot of strength for you to do it.
Conversely, if you choose to use a rope cocking device, it will take off more or less 50% of the cocking weight. Meanwhile, opting to use a cranking device to cock your crossbow will take off up to 90% of the cocking weight.
Because of the newly invented devices, cocking a crossbow becomes more manageable to the following archers: younger ones, women, and those with physical disabilities.
As a result, there is no reason for people to refrain from using crossbows just because they are harder to pull. That's why there's no wonder there's diversity in the consumer market when it comes to using crossbows for target archery and hunting.
Aside from the different methods mentioned, the type of crossbow is also crucial in determining how much strength an archer needs to pull it back.
For instance, recurve crossbows are the most challenging crossbow type to cock on the market. Meanwhile, compound crossbows are in the middle and usually vary in their cocking weights and quality.
Compared to the previous two, reverse limb crossbows offer the best of both worlds since they are likely easier to cock, and combine low cocking weight with impressive velocities.
Consequently, it would be best always to consider how much weight you are willing to carry before purchasing. For example, those with back injuries must select crossbows with cranking device compatibilities over those without to prevent them from having their injury worsen.
Moreover, it would be best for them to buy crossbows with the minimum cocking weight since they won't likely be able to cock those with maximum cocking weight.
Nonetheless, if you are in good condition and possess enough strength not to worry about cocking crossbows, the type of crossbow won't be too much of a concern.
After learning what makes a crossbow difficult or easy to cock, it would also be best to take note of the things that you must prepare before you start cocking your crossbow:
Check your crossbow

Inspecting your crossbow should not be something that happens once a year or every other month. Remember to check your crossbow before and after using it like other bows.

You can do it by looking for any signs of cracking on its limbs first, then head on to check for any loose bolts by wiggling the limbs and riser and see if there's any movement.

Don't forget to check the bowstring for signs of wear, tear, or separation of the serving.

Inspect your arrows

Aside from the crossbow, inspecting your arrows before cocking the weapon is also essential. Ensure that the arrow's broadhead or field tips remain indeed attached. In addition, you must also look for any signs of the arrow's shaft splintering or bending.

When you go hunting and plan to climb into a tree stand, ensure the broadheads of the arrows are firmly in your quiver.

If any of the signs show, refrain from cocking your crossbow and have it checked with a professional first before using it again. Alternatively, you can visit your local archery shop or manufacturer if the warranty is still valid.

Therefore, cocking a crossbow can be either hard or easy, depending on your chosen method and type of crossbow.
Can I put a crank on my crossbow?
You can put a cranking device on your crossbow. Most archers recommend using a cranking device for cocking a crossbow because it is the safest and pulling the bowstring makes it more manageable for the user.
Cocking a crossbow with a cranking device is the ideal method most archers recommend, whether for target archery or hunting purposes. The cranking device is a gearbox with a handle attached where a rope extends from either side and connects to your bowstring.
It offers the most dramatic minimal cocking effort required from the crossbow user. Hence, using such a device won't need much of your physical strength to pull the crossbow's bowstring because it will only require ten pounds of muscle to cock your crossbow completely.
Here are the other listed pros and cons of cocking your crossbow with a cranking device:
Pros:
Dry-firing will be virtually impossible.
Excellent for those with disabilities and finding it challenging to cock crossbows with a high draw weight
Easy to use
Fully integrated
With cocking consistency for more accuracy
Cons:
More expensive than a rope cocking device
Some may not be fast enough
Clicking sounds
Most top premier crossbows have a cranking device included in their package, so you won't likely need to buy a new one unless you prefer other methods or another cranking device instead.
However, it would always be best to follow your manufacturer's recommended cranking device since some may not be compatible with a specific crossbow model.
Another thing to note is that cranking devices typically have an integrated removable handle that works with a cranking mechanism reducing the cocking weight to five pounds in selected cases. You can also remove it from your sight for shooting if you want to.
Here are the steps on how to cock your crossbow using a cranking device:
Aim the crossbow towards the ground, then place your foot firmly into its stirrup.
Double-check that the safety is in the "fire" position, then attach the crank to the cranking device.
To reach the string, release the spool and pull the rope with its hooks.
Secure the hooks around the string, and ensure they are at an equal distance from the flight deck.
If your cranking device has a lever or "paw," engage it before you start cocking the crossbow. You might have to flip the lever or paw and keep turning the handle until you hear two clicks which means that the string has now wholly engaged into the crossbow's trigger, safety, and anti-dry fire mechanisms.
Safety must be in the "On" position before removing the hooks from the string and releasing the lever or paw if necessary.
Below are the following cranking device models you can find on the market with their respective star ratings, where five is the highest and one is the lowest:
Before purchasing a cranking device, always double-check if it is compatible with your crossbow. Remember that cranking devices are only for use with selected crossbows.
An excellent example is the Barnett Crank Cocking Device for Crossbow, which is only compatible with selected Barnett crossbow models like Raptor FX3 MO Brush, Whitetail Pro STR, Ghost 410 Carbon, Wildcat C6 Black, and 62 more.
Nevertheless, using a crank device to cock your crossbow is the best option if safety is your utmost priority and you don't intend to face cocking weight issues that may hinder you from shooting your crossbow.
Can you cock a crossbow by hand?
Using your hands to pull a crossbow back is possible, but most archers are against this method since it is unsafe. Expect a high chance of being susceptible to generating a lot of mistakes if you choose to do this method.
Although you can cock a crossbow with your hands, it is dangerous and best to attempt it after you have exhausted other options. Furthermore, you'll have to work hard to cock your crossbow if you do that.
For instance, accidentally cocking the string unevenly into the latch can cause significant damage to your crossbow's limbs and lead to dry-firing. Below are the pros and cons if you prefer to cock your crossbow using your hands:
Pros:
A fast operating technique
You won't be spending any penny
Cons:
Higher chance of dry fire and uneven cocking
Fingers might damage the string due to their acidity.
Have difficulty pulling the bowstrings
It can be hard on the fingers
If you insist on using this technique, mark the string along the flight track with two lines, so you'll know exactly when it's in the latch when you pull the string. Remember to release only when you hear a click into the trigger bow.
Another important note to remember is never to try this with reverse draw limbs crossbows. Their particular design may put you at risk of injuring your fingers due to the crossbow's tight angle to reach its trigger box.
Since cocking a crossbow with your hands is not advisable, you may consider using a rope cocking device instead if you think crank devices are too expensive.
A rope cocking device is an inexpensive crossbow cocking aid which is a rope with a handle at both its end and two pulleys with hooks located in the middle. Although they aren't as effective and efficient as crank cocking devices, they can work well and better than opting to use your hands.
It also allows the user to use only 50% of his strength to pull back the crossbow. Suppose your crossbow has a 160 lb draw weight; since you are using a rope cocking device, you will only need 80 pounds of strength to pull back and cock the weapon.
Enumerated below are the other pros and cons of using a rope cocking device:
Pros:
Quiet and easy to use
Inexpensive, unlike cranking devices
It helps significantly to keep consistent accuracy
Minimal chances of dry fire
Cons:
If you adjust the device wrongly, cocking your crossbow may get more challenging.
You might have to replace it if its retractable system fails.
Here are the steps on how to use a rope cocking device on your crossbow:
Set the switch to "fire" after pointing your crossbow into the ground and stepping into the stirrup.
Place the rope's center around the groove or notch at the back of your crossbow before the buttstock. It's typically located just beneath the Picatinny rail.
One of the pulleys and handles must be on either side of the crossbow's stock.
Each pulley should be at an equal distance from the crossbow's rail. If you fail to do this, the string will get uneven, which means it is inaccurate and can be unsafe.
Pull the string back firmly on the handles until it reaches the length of the crossbow's stock. Keep doing so until the string gets locked into place.
Avoid yanking the string and pull it back with a constant and swift movement.
Lastly, switch the safety to the "On" position.
You can check these rope cocking devices on sale on Amazon with their respective star ratings:
Thus, a rope cocking device provides better advantages than cocking your crossbow with your bare hands, making it a better option.
Cocking a crossbow can be challenging, especially when its draw weight is higher than your supposed poundage. Nonetheless, with the invented cocking aids, cocking becomes more manageable unless you prefer to do it with your bare hands, which is not a good idea.