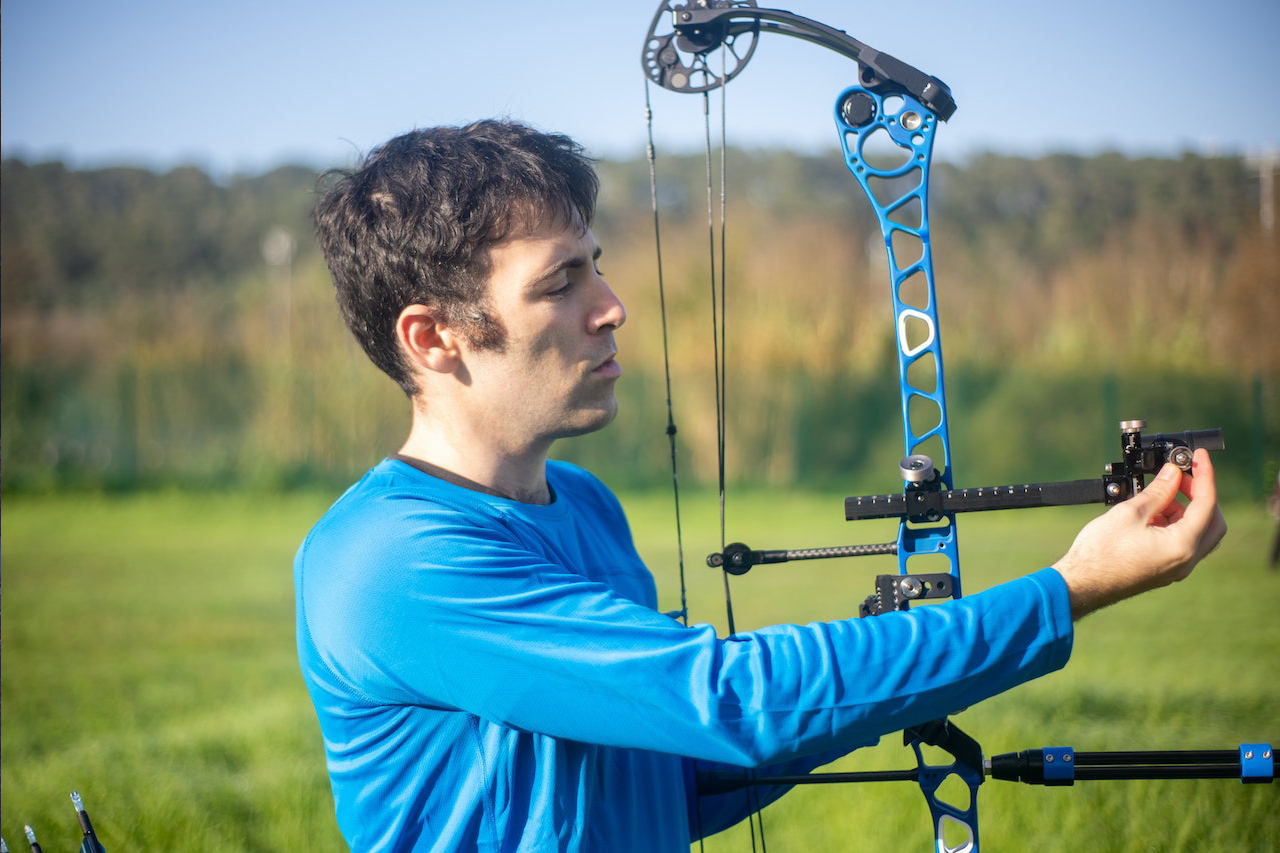 Compound bows are among the most popular hunting and recreational shooting choices. They provide a high accuracy and control level, making them especially suited for competitive archery events. The main difference between these compound bows is the number of cams in the bow.
Single Cam Compound Bows
Single Cam compound bows feature a single string attached to an eccentric wheel mounted at the end of the upper limb. When you draw the bowstring back, it rotates the wheel, storing energy in cables and pulleys in the bow limbs and handles.
This stored energy helps propel arrows forward with incredible speed and force than standard recurve bows. Single Cam compound bows are also lighter and more maneuverable than their Dual cam counterparts, making them ideal for hunting and target shooting.
Dual Cam Compound Bows
Dual Cam compound bows are similar to single cams but feature two strings attached to two eccentric wheels on either side of the riser. The wheels rotate independently, allowing each bow string to store different amounts of energy depending on how far back it's pulled.
It gives them higher draw weights and allows them to send arrows farther with more precision than single cams can offer. They are heavier than single cams, making them less suitable for hunting or fast-paced target shooting competitions where agility is essential.
Other Cam System
Hybrid Cam Bows
A hybrid cam system of a bow combines two cams on the same axle. One cam is an idler wheel, while the other is an eccentric wheel synchronized by the control cable, also known as the string and the yoke cable. The design provides a smooth, uniform draw with no let-off.
Hybrid cam systems are commonly used as they can provide shot versatility and a wide range of draw lengths to shooters. It has the easy tune of the single cam but with the speed of the dual cam bow. Hybrid cam systems are often found on newer bows, providing shooters with a customizable draw length and let-off.
By combining the two cams, hybrid cam systems provide enhanced performance and accuracy over traditional single or dual-cam setups. They offer great speed, low vibration, and excellent accuracy. This type of cam system is present in Bear Bow and Hoyt bow models.
Modified Twin Cam System
The modified twin cam is called the binary cam bow. This bow has two symmetrical cams synchronized by two same cables. The cams move in opposition, so when one goes up, the other goes down. It allows for a smoother draw cycle and a longer power stroke, which can result in increased accuracy and speed.
Some archers preferred this bow cam system because they offer lower hand shock than other bow cam systems. As an added benefit, the modified twin cam system reduces noise and vibration while shooting.
The tunability of this type of cam system is also easy to manipulate, as all the timing parameters are adjustable. It makes it easier for archers to customize their performance based on the shooting environment and personal preferences.
Comparison: Single-cam vs. Dual-Cam Compound Bows
Speed
Single-cam compound bows tend to be slower than dual-cam bows. This extra power comes from the additional leverage provided by the second cam, allowing for more incredible speed and higher arrow speeds.
Single-cam bows require more force to draw back than two-cams, making them harder to shoot at higher draw weights. The single cam vibrates more, making it less accurate and quieter than the dual cam design.
Accuracy
Accuracy is essential when choosing a compound bow, and the single-cam provides a more accurate shot than compound bows. Single-cam bows are more forgiving than dual-cams because they have fewer moving parts, resulting in a smoother draw and less time for the shooter to focus on perfect form.
The single cam also helps reduce torque when drawing back, leading to greater shooting accuracy. On the other hand, dual-cam bows provide more speed and power but can be more challenging to shoot accurately due to their increased complexity.
They require the shooter to focus on perfect form and have a slightly harsher draw than single cams, leading to greater chances of torquing the bow when drawing back.
Back Wall
The back wall in archery refers to the physical position that an archer must reach when they draw their bow to its maximum point. At this point, the archer's hand should touch the back of the bow.
It is a critical step in developing proper form and helps ensure accuracy. So, between single-cam and dual-cam bows, the latter provides a solid back wall.
Single-cam bows have less solid than dual-cam compound bows because they have fewer moving parts, resulting in a weaker structure. At the same time, dual-cam bows have two cams, which provide more support and stability. Its cam system strengthens dual-cam bows; thus, they tend to have a better back wall than single-cam bows.
Maintenance
When it comes to maintenance, you'll want to pay special attention if you use a dual-cam compound bow. This type of bow is often more complex than single-cam bows since they have two cam wheels and multiple pulleys that need regular lubrication for the archery bow to function correctly.
Single-cam compound bows are much more straightforward in maintenance. Since they only have one cam wheel and fewer pulleys, there is less to adjust or lubricate when it comes to upkeep.
Noise
Single-cam bows are more forgiving and less prone to user error, which makes them quieter than dual-cam bows. The cam shape of a single-cam bow is simple than that of a dual-cam bow, so it produces less vibration when shot. There's also less contact between the cams and strings in a single-cam bow, which reduces friction and noise.
Additionally, single-cam bows use a solid timing cable system that keeps the cams in sync with each other as opposed to dual-cam compound bows, where the cams can become out of sync over time, producing more noise when shot. All of these factors make single-cam bows quieter than their dual-cam counterparts.
| | | |
| --- | --- | --- |
|   | Single-Cam Bow | Dual-Cam Bow |
| Speed | | 🥇 |
| Accuracy | 🥇 | |
| Back wall | | 🥇 |
| Maintenance | 🥇 | |
| Noise | 🥇 | |
Single vs. Dual Cam Compound Bows: Which is better?
For Bowhunters
Bowhunters prefer single-cam compound bows because they offer a smoother draw cycle and generate less noise than dual-cam bows. The single cam also reduces the amount of string, cable wear, and maintenance needed on the bow, making it much easier to use in the field.
Single cams also allow for more weight-adjusting options for the hunter, which is especially beneficial when hunting with an untuned bow to the exact draw length of the shooter.
The single-cams generate more energy than dual-cam bows at slower speeds, making them ideal for hunters who don't shoot as fast.
All these features combined make single-cam compound bows a favorite among bowhunters, allowing them to take advantage of their advantages while maintaining a quiet and efficient draw cycle.
Additionally, the single-cam design allows easy tuning and adjustment when needed, making it even more convenient and reliable in hunting situations.
For Target shooters
Target shooters often go for dual-cam compound bows. With this type of bow, they can adjust it to a specific draw length and power, allowing for better accuracy. They are also more forgiving regarding shot placement since there is less chance of the shooter over-drawing.
Dual-cam compound bows allow the shooter to adjust their draw weight and length, allowing them to customize the bow specifically for their needs. This customization can give them an edge when shooting targets that require precise accuracy.
For Beginners
Those new to archery need a bow that is easy to draw and shoot and comfortable and stable when you aim. So, single-cam compound bows are more suitable for beginners. These bows are generally lighter and easier to draw and maintain.
Single-cam bows also provide more smoothness of the draw cycle than dual-cam bows, which can be harder on beginners who need to build up the muscle strength necessary for a dual-cam bow.
In addition, it is often simpler to adjust the draw length on a single-cam bow, allowing beginners to find the perfect fit for their shooting form.
Do single-cam bows need tuning?
Single-cam bows do need tuning. They have one main limb and a set of cams on the bottom limb that work together to draw and release the bowstring.
Single-cam bows may be challenging to tune because of the complexity of their cams. It is essential to ensure that all parts are correctly aligned and adjusted. If you need help with your single-cam bow tuning, consult a bow technician or an archery expert before making any adjustments.
Tuning a single-cam bow for improved accuracy
Tuning a single-cam bow for improved accuracy is an essential skill that all archers should learn. This process is relatively quick and straightforward, but you must follow several vital steps to ensure optimal performance from your bow.
Adjust the Nocking point.

The nocking point is where the arrow meets the string, and you need to set it at the correct height for proper arrow flight.

The nocking point should usually be 1/8th of an inch below the center of the bowstring when pulled back at full draw, though this may vary depending on your specific bow model.

You must check your manufacturer's instructions for specific details on how to set up your nocking point correctly, as this can affect accuracy significantly.

Setting Draw Weight and Draw Length

The draw length determines how far back you can pull the string before releasing it, while the draw weight dictates how much force you will need to use when drawing and firing your arrow.

You can adjust both settings using modules or cams (the latter being more common). Again, you must follow your manufacturer's instructions carefully when changing these settings, as they can significantly impact performance.

Check for the Proper Tiller and Axle Alignment

Tiller is simply the difference between limb lengths measured from where they attach at your bow's riser to where they meet at full draw distance. Axle alignment describes how centered each limb sits relative to one another when viewed from behind.

If one limb sits slightly lower than the other, this could lead to inconsistencies with arrow flight and accuracy due to torquing forces generated during release.

You will need specialized tools such as calipers or a tiller wrench to properly gauge both tiller and axle alignment before making any adjustments with either modules or cams.
Tips to Maximize the Use of your Single-cam Bow
Single-cam bows are becoming increasingly popular, but getting the most out of them can be difficult. However, with simple tips and tricks, you can better understand how to maximize your shooting performance with a single-cam bow.
Tune your bow for optimal performance correctly. It includes ensuring that the timing between the cams is spot on so you can get the most out of your bow's power. Tuning also helps remove unwanted vibration from the shot and will help ensure you get maximum accuracy and consistency from each archery shot.
Consider your arrow weight and spine selection. You must match your arrows to your draw weight and length.
 
Otherwise, their flight characteristics could be adversely affected. It could lead to less accuracy downrange or even poor accuracy altogether.
Check with an experienced archer or pro shop staff to ensure that your arrows are properly matched for your setup.
Always check the nocking point position. Correctly positioning this will help ensure consistent anchor point location at full draw, promoting consistent shot execution each time you pull back on the string.
It will also help reduce any torque applied during the draw cycle, which can cause inconsistencies in the arrow's flight path after release.
Practice good form when shooting with a single cam bow – keep your back straight and shoulders square, along with consistently aiming for a fixed point on target (or down range).
Doing so helps build muscle memory so that when it comes time for taking long shots or hunting scenarios, you can better execute them without worrying about shooting form leading to inaccurate archery shots downrange.
Can a single-cam bow be out of time?
The single-cam compound bow is less likely to go out of time. The single-cam system has only one cam or wheel, which you must adjust for proper timing. The two-cam systems have two cams on either side of the bowstring, so it can take more wear and tear to keep them in time.
Additionally, you can adjust the timing when adjusting the draw weight on a single-cam bow. It makes it easier and faster to adjust the draw weight compared to two-cam systems that require you to re-time the cams after making any changes in draw weight.
All this means that with proper maintenance and setup, single-cam bows are less prone to going out of time than two-cam bows.
Tips when maintaining a Single-cam Bow
Maintaining your single-bow cam is essential to ensuring its longevity and performance. Here are a few tips to keep it in top condition:
Keep the exterior of the cam clean and free from dirt, dust, and debris. Wipe the cam with a damp cloth and allow it to dry before storing.
Check for signs of wear or damage on the cam after each use.
Ensure all components are adequately lubricated, tightened, and functioning as intended. If you notice any excessive wear or damage, replace the part immediately, as continued use can result in further damage.
Store your bow safely, dryly, and away from direct sunlight and other heat sources. When not in use, keep the bow strung to prevent damage to the cams and string.
Ensure that all components are compatible before threading them into the cam or attaching them to the bow.
Revise the bow's setup as needed to ensure it's optimized for your intended use.
Adjust draw weight, cams, and other parts per manufacturer instructions or guidance from a qualified archery technician.

Maintaining your bow is essential to getting the most out of it. Keeping your bow in proper working condition ensures you can enjoy your time on the range and get the best performance from your equipment.

Check out these +100 single-cam and dual-cam compound bows.
.