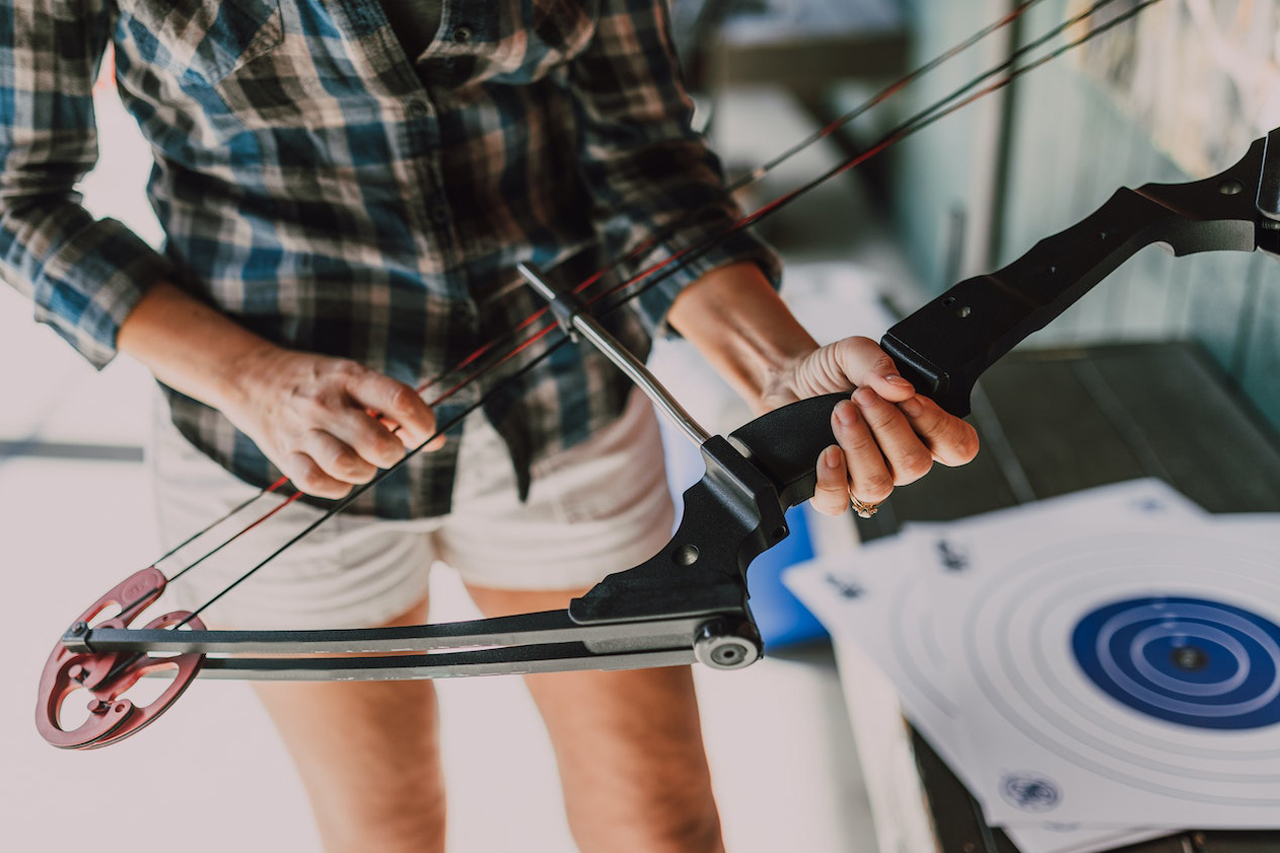 Believe it or not, bow manufacturers produce inexpensive, high-quality, top-performing compound bows. Bear Archery Resurgence, PSE EVO EVL, Bowtech Amplify, Diamond Archery Deploy SB, and Mathews Tactic are some of the best compound bows under $1000.
Every year bow manufacturers come up with new compound bow models with the most advanced technology worth thousands of dollars. Newly released compound bow models mostly surpass the previously released top-performing ones.
Therefore, you can bet that the prices of the older compound bow models decrease as time passes. Thinking that compound bows under $1000 aren't worth consideration, you may want to change your perspective.
Equipped with the all-new DHC 80% Hybrid Cam from Bear Archery
Class leading speeds up to 335 FPS and a mass weight under 4lbs.
Bow comes ready-to-hunt with a complete Trophy Ridge accessory bundle
Wide draw length range between 13 and 31 inches
Accelerates arrows to up to 310 ft/sec
Redesigned cam system for a flawlessly smooth draw
Integral stabilizer creates a perfect balance and a steadier shot
Draw weight adjustable from 5 to 70 lbs of force
Widely accommodating with a 23.5" to 30.5" draw length
A newly designed single cam system raises the let off to a class leading 80%
RTH package includes a Trophy Ridge Joker 4-pin sight, 5-Spot quiver, Whisker Biscuit V, Blitz stabilizer and wrist sling, peep sight, and D-loop
Clicking a link might earn the site a small commission.
If you look closely and research, you will find that some of the best compound bows cost under $1000, which is excellent news for those on a budget. You'll also be surprised that budget compound bows with prices under $1000 share similar features and specifications with the flagship ones.
To help you with your quest for the best budget compound bows in 2023, we've compiled a list of the recommended best compound bows under $1000 that will likely cater to your needs:
1. Bear Archery Resurgence
Bear Archery has been among the top bow manufacturers in the archery industry for over 85 years. Compared to Hoyt and Mathews, Bear Archery bows are less expensive yet boast premium quality, and Bear Archery Resurgence is the perfect example. It is a 32-inch compound bow weighing 3.9 pounds, excluding accessories.
Bear Archery Resurgence has a brace height of 6.25 inches, allowing it to reach 335 feet per second IBO speed rating. The compound bow boasts adjustable draw lengths from 25.5 to 31 inches.
For its draw weight, it is available in two options: 45 to 60 pounds and 55 to 70 pounds. As you can see, Bear Archery Resurgence has a 15-pound draw weight range which is rare in compound bows.
Both draw weights of Bear Archery Resurgence have 80% let-off. Because of its low let-off compared to other compound bows, it results in higher arrow speeds contributing to its 335 fps IBO speed rating.
It also features a KillerWave limb dampener system, a binary cam system, and a Trophy Ridge accessory package.
Pros:
Bear Archery Resurgence has a rotating module allowing you to adjust your draw length. As a result, it can cater to different users and is easy to sell.
Because of its unique 15-pound range draw weight, there is more room for growth. You can increase it to the maximum weight if you wish. For instance, if you are a beginner and still building your draw weight, you can start with a lighter pound and work your way up using the same compound bow.
Spectacular Speed for a budget compound bow
It comes with decent accessories at a mid-range price.
Binary cam system
Cons:
You will have issues at full draw since it can be unstable, considering it weighs 3.9 pounds which is too light.
Since its sight pin will wander a lot, you may have to buy a good stabilizer setup which adds to the cost.
Cam timing can be a problem; when it does, you may need a bow press to correct it.
2. PSE Archery EVO EVL
PSE Archery EVO EVL is the complete package budget-friendly compound bow weighing 4.7 pounds. It is available in four different draw weights: 60, 65, 70, and 80 pounds.
With its patent-pending Precision Buss Tuning mechanism, you can expect accurate shots whenever you draw it back. PSE Archery EVO EVL is available in 26 to 31 1/2 inches draw lengths and a brace height of 6 3/4 to 6 5/8 inches.
The axle-to-axle measurement of the PSE Archery EVO EVL compound bow is 34 inches. Compared to Bear Archery Resurgence, it has a higher let-off of 80 to 90%.
Its 345 feet per second speed will leave you in awe, which is an excellent deal for a compound bow priced under $1000.
Its PSE Quick Disconnect barrel mounts and QAD Integrate rest provides archers with a seamless connection between the bow sight and arrow rest.
Pros:
You can easily change the sight positions of the PSE Archery EVO EVL compound bow.
Perfect for hunters and target archers
It boasts high Speed.
It also has a smooth draw cycle and is stable and secure even at a distance.
Your long shots will be more straightforward because of their wide limb stance.
Cons:
It has a few draw-weight options, which can be a letdown for some bowhunters.
Right-hand orientation only
3. Bowtech Amplify
A reasonable price compound bow with tons of features defines Bowtech Amplify. Although it is a beginner's bow, it offers a speed of 335 fps with a mass weight of four pounds minus accessories. It is so adjustable that it made it to our list of best compound bows under $1000.
Bowtech Amplify has a draw length ranging from 21 to 30 inches, helping it fit various body sizes and shapes. Moreover, it provides a comfortable draw cycle due to its draw weight of eight to 70 pounds.
Regarding axle-to-axle measurement, Bowtech Amplify is quite long at 31.5 inches and has a brace height of six inches. Its design includes a new powershift technology, orbit dampener, and synchronized binary cams.
Pros:
Due to its high adjustability, the Bowtech Amplify compound bow can accommodate and fit any archer.
It is a powerful compound bow and promises high accuracy.
Bowtech Amplify is forgiving, especially for beginners but also deadly enough to use for bowhunting.
Offers arrow splitting precision and smooth drawing features
Cons:
It can be a bit on the heavy side
Only a few accessories are in the package.
You may have to allot another budget for additional accessories.
4. Diamond Archery Infinite Edge
One of our list's most inexpensive compound bows is the Diamond Archery Infinite Edge. It weighs 5.85 pounds with an IBO speed rating of 310 feet per second. You can expect to use this for years because of the brand's quality reputation.
Diamond Archery Infinite Edge's draw length ranges from 13 to 31 inches, with an adjustable draw weight of five to 70 pounds. Furthermore, it has a 31-inch axle-to-axle measurement, 80% effective let-off, and a brace height of seven inches.
Like other compound bows on our list, it employs a binary cam system with two symmetric cams. An EZ Alter Pocket in the Diamond Archery Infinite Edge compound bow allows you to adjust its poundage by simply turning its limb bolt.
Pros:
It can be a youth bow and entry-level bow for newbie bowhunters
You can easily change the draw weight because of its easy-to-read markings.
It provides excellent shooting accuracy and consistency due to its binary cam system's perfect nock tuning.
Massive range of adjustments ideal for long years of use
Cons:
Limited color choices
You need to buy silencers or dampeners if you are into bow hunting.
Its Speed is slower compared to other compound bow counterparts.
Upon arrival, you will have to assemble it yourself.
It may not be ideal for expert bowhunters.
Left-hand orientation only
5. Diamond Archery Deploy SB
Another fantastic and high-performing bow from Diamond Archery is its Deploy SB compound bow model. It is a lightweight bow at only 3.2 pounds, and draw weights are available in 50, 60, and 70 pounds.
Diamond Archery Deploy SB compound bow boasts an ambidextrous design and is available in carbon fiber and mossy oak colors. The compound bow has a draw length of 26 to 30.5 inches with 80% let-off.
On the other hand, it has 31.5 inches axle-to-axle and 6.75 inches brace height. Diamond Archery Deploy SB compound bow has binary cams enabling it to have enough force to produce a speed of 330 fps.
Pros:
Slim grip design that will help your shooting form improve and less muscle fatigue
The package includes accessories, such as an arrow rest, a bow sight, a quiver, and a 5 inches stabilizer.
Lightweight, which means it is easy to carry, especially when bowhunting
Highly durable and powerful enough
It has a 100% carbon fiber riser keeping it at a constant temperature.
Flexible hand orientation
Cons:
Best suitable for non-beginners
6. Mathews Tactic
Another top bow manufacturer that is popular with its top-performing bow models with over mid-range prices is the Mathews. Although Mathews is pricey at most compared to its competitors, Mathews also has a roster of compound bows under $1000, and Mathews Tactic represents it well.
It has a brace height of seven inches, 80% let-off, and a 30.5 inches axle-to-axle measurement. As a mid-priced compound bow, Mathews Tactic boasts an IBO speed rating of 335 fps with AVS DYAD adjustable cams operating a draw length of 23 to 30 inches.
Mathews Tactic weighs 4.24 pounds, and its draw weights are available for 50, 60, and 70 pounds.
Pros:
Attached to the compound bow is its harmonic stabilizer
Its precision cams and broad limbs give it sufficient power and downrange performance.
Comfortable to hold as apparent to its Mathew's trademark grip
Stable riser
It shoots accurately and is easy to maneuver
Cons:
Compared with other bows of its kind, it's a bit pricey.
7. Darton Cyclone RTH
Darton Cyclone RTH compound bow is famous for its efficiency and affordable price. With its 27 to 30 inches draw length and 80% adjustable let-off, you can customize it according to your needs.
It also only weighs four pounds and is made of high-quality aluminum, making it durable and long-lasting. Darton Cyclone RTH is available in 40, 50, 60, and 70 pounds draw weights with seven inches brace height and 30 inches axle-to-axle.
You can expect it to shoot at a speed of 330 to 335 feet per second.
Pros:
It has the new version of Darton Archery's DualSync cam technology.
Smooth drawing and shooting consistency
Equipped with a cam stabilizer system
You can fine-tune the let-off and draw the length by yourself.
Draw length and let-off are customizable.
Cons:
It can be short compared to other similar classes.
8. Hoyt Torrex XT
Hoyt Torrex XT is the upgraded and more advanced version of Hoyt Torrex. Although the latter is good, Hoyt Torrex XT has closer features to the newer compound bows. With a shorter brace height of only six inches, Hoyt Torrex XT shoots at an impressive speed of 336 feet per second.
In addition, it only weighs four pounds with a draw weight of 30 to 70 pounds and a draw length between 25.5 to 31 inches. Its axle-to-axle measurement is 30 inches, with a longer bombproof TEC riser.
Hoyt Torrex XT boasts the following features on Hoyt's Torrex models: Cam & 1/2 system, shock pods, x-act grip, and roller cable guard.
Pros:
Offers a more upgraded performance compared to Hoyt Torrex
It has smoother, faster, quieter, and straighter shots.
Perfect for those who prefer a rig with a longer riser
Cons:
It costs more than Hoyt Torrex, about an extra $100.
An advanced and high-performing compound bow can be more expensive. Nevertheless, some compound bows costing under $1000 offer the same features and specifications as the newer models if you know how to look for them.
What should I look for in a compound bow?
Durability, Speed, draw length, bow weight, noise, cams, draw weight, risers, accuracy, axle-to-axle measurement, and hand orientation are the things you should look for in a compound bow. Also, you must identify your eye dominance and check the bow's price if you are on a tight budget.
You don't need to spend too much to possess a high-quality compound bow that guarantees your shooting needs, whether for target shooting or hunting. Even compound bows under $1000 can compete well against flagship compound bows as long as it fits you well.
Below are the things you should look for that can help you find the right best compound bow for you under $1000:
a. Durability
A durable compound bow can last for years or even decades. If you have a trusted bow manufacturer known for their high-quality archery equipment, start with them and check out their compound bow models.
Remember to look for compound bows with synthetic limbs and a metal riser.
b. Speed
Speed is significantly essential for bowhunters compared to target archers. Faster bows are more powerful and deliver plenty of downrange energy, yet they are difficult to control.
If you are into large game hunting, you will likely need a bow with a high IBO speed rating to provide immense kinetic energy to achieve a clean shot. Therefore, check the compound bow's Speed if it's critical to your game.
c. Draw length
Before starting your compound bow shopping spree, ensure that you have already measured your draw length. Getting a compound bow with a wide adjustable draw length range is advisable to fit your body shape and size.
d. Bow weight
Identifying your preferable bow weight can be tricky. Consider how heavy or light you want your compound bow.
Heavier compound bows are easier and more stable to shoot but can be uncomfortable to carry, mainly when you hunt for hours. It can result in muscle fatigue and cramps, affecting your aim and shooting accuracy.
Contradictorily, lightweight compound bows are easy to carry and maneuver but likely produce more noise and vibrations. Thus, you need to invest in limb dampeners or string silencers.
e. noise
Compound bows, even those under $1000, include vibration-dampening technology. Bowhunters prefer such a feature on the bow to keep their shots silent so they won't startle the target.
f. Cams
There are various cams on compound bows: hybrid, twin, single, and binary. Consider compound bows with twin cams since they have higher adjustment ranges than the other types.
g. Draw weight
Ensure your compound bow has an adjustable draw weight for comfortable draw cycles. It will allow you to start light and work up to the maximum draw weight you need.
h. Risers
There are different types of risers: deflex, reflex, and straight. Deflex risers offer increased accuracy with lesser Speed. Meanwhile, reflex risers are less accurate but make the bow shoot faster.
However, if you are into more forgiving shots, consider straight risers since they provide balance.
i. Accuracy
There are bow manufacturers that highlight selected compound bow models offering shooting accuracy more than the rest. Despite the assurance bow manufacturers present to customers, it would be wise to test the compound bow before purchasing it.
j. Axle-to-axle measurement
The compound bow's axle-to-axle measurement is another essential part of the compound bow that needs to be well thought out. If you are into bowhunting, get a compound bow with a shorter axle-to-axle length for control and maneuverability.
On the contrary, a compound bow with longer axle-to-axle measurement is best for target shooting since it can increase stability.
k. Hand Orientation
Sadly, there are compound bows that are not ambidextrous. Some compound bows can only cater to right-handed shooters, while others only for left-handed ones.
Know your hand orientation and note if the compound bow is right-handed, left-handed, or ambidextrous before buying.
l. Eye dominance
Assess which is your dominant eye to determine which bow hand orientation you must choose. For instance, if you have a left-dominant eye, it is advisable to shoot with your left hand.
m. Price
Lastly, if you are on a budget, pay attention to the compound bow's price and see if you must buy any extra accessories. Select a compound bow with included accessories in the package to help you save more money and avoid overspending.
There are countless compound bows in the market, and bow manufacturers introduce more models as each year passes. Nevertheless, owning an advanced, superb compound bow is possible with prices under $1000.
When things get too confusing and overwhelming, you can always seek the help of bow technicians and professionals to guide you in finding the right compound bow for you within your budget.