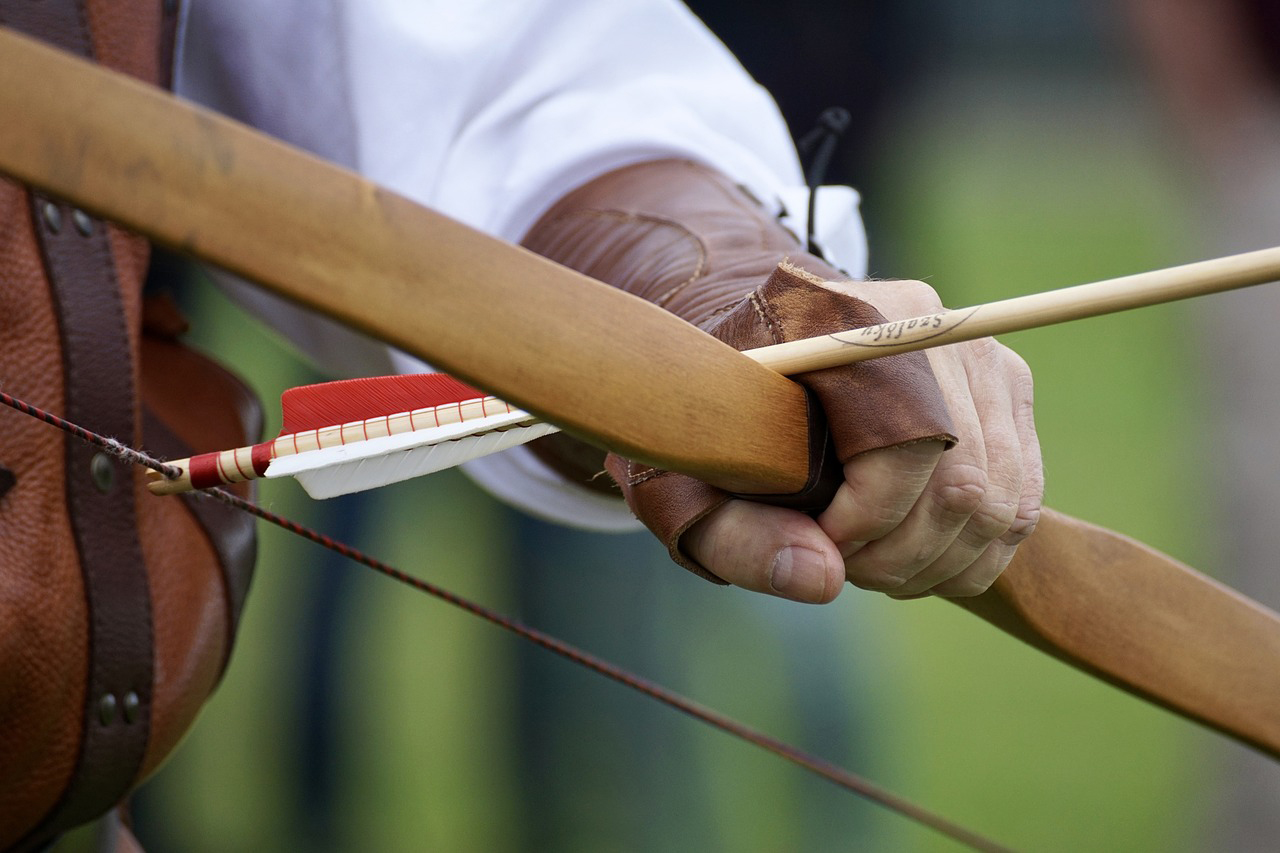 Shorter bows shoot faster than longer bows resulting from a tighter string pull. However, since the shorter bow arrow's speed is not enough to reach a distant target, it is unsuitable for far-range targets and ideal for close-range shots.
Archery bows, arrows, targets, and other accessories come in different sizes. The differences of each part can affect the speed and even the power stroke of every shoot. Archery can be pretty complex, yet you can always improvise if you want to, which suits you best.
In terms of a bow, it comes in two sizes: a longbow and a short bow. Though it may not seem like there is much difference; however, the length of the bow is one factor that affects your arrow's speed.
Longbow's length allows you to pull the bowstrings further away. The further away you can draw, the more energy pushes the arrow at longer distances but not with the same fast speed as shorter bows.
On the contrary, shorter bows don't allow you to pull as far as you can in longbows. It will be challenging to shoot at a far range because there is less energy, resulting in the arrow's speed being insufficient to reach a distant target.
Nevertheless, since the pull of the string is tighter in shorter bows, the arrows shoot out faster than in longbows. Moreover, it is noteworthy that some shorter bows have big cams that can help them produce a longer draw weight peak line or draw length gap, resulting in a faster bow.
What makes a bow shoot faster?
There are various methods to make your bow shoot faster without spending money on a new bow. Arrow weight, draw weight, cam design, and draw length all contribute to the speed with which your bow shoots.
Whether you are preparing for the hunting season or wants to increase your shooting speed, there are different methods you can try to come up with the results you want.
Another extra feet per second (FPS) makes a big difference if you aim to shoot faster than you used to. Below are the tricks to try to increase your bow speed:
Arrow weight
The most common method to increase your bow speed is to reduce your arrow weight. By reducing five grains of weight, you gain one FPS increase, which means that the lighter your arrow weight, the higher your FPS will be.
A standard rule is that a lighter arrow allows you to shoot faster in archery. If you feel like your arrows are too heavy, you can change them with new lighter arrows to help you shoot faster.
However, there are downsides to opting for lighter arrows:
They degrade the shooting efficiency
Less punch and penetration
Less stable in flight and easily blown by winds
More bow noise
These downsides do not always have to be the case. Lighter arrows are ideal for increasing speed if you don't go below the manufacturer's recommended weight.
It is best to ensure that the arrows you picked match your bow's draw weight and stay within the arrow spine limits provided by the manufacturer. Doing so will not affect your performance, and you won't lose more than you can gain.
There are a plethora of arrows to choose from with various materials on the market right now. These materials are aluminum, pultruded carbon, thin-walled aluminum, and carbon-aluminum composites.
Draw weight
Each bow has a draw-weight range. Another straightforward approach to speed up your bow is to increase the draw weight.
A gap between the limb and the rear of the pouch that holds it in place indicates that you have room to raise the weight. To keep the limbs balanced and tuned, apply the same adjustment to the top and bottom limbs.
Be mindful of your maximum draw weight when making this adjustment. You can know your maximum draw weight by trying to maintain a complete draw for over 30 seconds without shaking the bow. If you start to tremble, you should tone down your draw weight.
The correct draw weight is when you can pull the bow without the need to raise your arms above the height of your shoulder.
Cam design
Upgrading your cam design helps your shoot your bow faster. You can do it by yourself, starting by inspecting the cam tracks. You can look for any small dent that can cause huge issues.
The larger the cam installed, the faster the bow shoots. The cam system increases the energy storage and then transfers it to the bow limbs resulting in better performance and quicker projection.
Nevertheless, watch out for aggressive cam designs since it creates a harsher draw cycle, making your shooting less smooth.
Draw length
To achieve a longer draw length, you need to use a stiffer and longer arrow. The farther you pull the bowstrings, the more you store energy. With increased power, you will be able to shoot faster.
Heavier arrows can be uncomfortable; instead, you can use an arrow with an internal carbon shaft component. Even though this arrow type is lighter, it does not affect the penetration energy while increasing your draw length.
Your speed will accelerate by up to 3.5% for every additional inch of extra draw length. It is adequate to increase speed as long as you keep shooting continuously and comfortably afterward.
There are several ways to accelerate your bow speed, depending on what works.
Is a longer or shorter bow better?
The choice between a long or short bow depends on your needs. A longer bow is more accurate, forgiving, stable, and better at longer distances. Meanwhile, shorter bows are lighter, faster, have better maneuverability, and are ideal for closer target shooting.
The major differentiating factor between shorter and longer bows is their axle-to-axle length. Looking at the bow's axle-to-axle length (ATA), you can quickly tell which one is shorter or longer.
Axle-to-Axle Length (ATA) is the distance from one "axle" to another. "Axle" keeps the cam in place between the limbs and is on each side of the bow. To know the length of the bow, you must measure its axle-to-axle length.
The average ATA length is approximately 30 to 33 inches. Shorter bows are lower than the average length. Meanwhile, longer bows have more extended sizes.
Besides the axle-to-axle length of the bows, you can look at other factors to properly compare which bow works better for you:
Size
Longbow's length typically ranges from six to seven feet. Additionally, its handle has a breadth of about 33% to 75% of the bow's width. The handle is the widest part of the bow, where the wood close to the bow's limbs is slimmer compared to the one in the middle.
Meanwhile, shorter bows are lesser in length, ranging between 36 to 60 inches.
Arrows
The length of the arrow also affects the speed and range of the bow. Finding the arrow with the right size and material perfect for your bow is crucial.
It would be best to have lighter and smaller arrows for shorter bows, considering their short length. Heavier arrows won't work on a short bow. For longer bows, you need longer and heavier arrows. The wind will quickly push your arrow off course if you use the lighter ones.
Draw Length
Another factor is the draw length. The size of the bow affects the maximum draw length you can do. The longer the bow, the more you can pull the strings far back. It results in shooting a far distance without worrying if your arrow has enough energy to hit the target.
On the contrary, shorter bows have a disadvantage at draw lengths than longbows. Shorter bows mean lesser draw length. The lesser the draw length, the lesser distance you can shoot.
Speed
Shooting speed depends on various factors, including the type of bow you use.
You can pull the strings further away with longbows. By increasing your draw length and increased energy, you will be able to hit the distant target.
However, it is not the case with shorter bows. Using shorter bows is better in close-distance targets. Yet, the tight pull on its string and lighter arrows make the arrow shoot out faster than longbows.
Range
Range defines how far the bow can shoot the arrow. Longbows are ideal for far-range targets of about yards farther than shorter bows. Since you can draw at a longer length when using longbows, the arrow can shoot with enough energy and hit the target at a greater distance.
On the other hand, a shorter bow's length limits you from drawing strings at a longer length which results in not having enough energy to hit a distant target.
Despite this, pulling strings in shorter bows is tighter, resulting in a faster speed than longbows and being able to hit your target at a closer range.
Force
The draw weight determines the force of the bow. It pushes the energy to shoot out the arrow, which means big-sized bows' points are more remarkable.
Thus, a longbow has a greater draw weight than a shorter bow.
Usage
Short and longbows differ in usage as well. Archery competition-wise, longbows are preferable since they are more stable and accurate. The longbow is also ideal for archers who have a longer draw length.
At the same time, shorter bows are better for hunting or fighting in wooded areas, especially when kneeling or hiding. It is also ideal for close-range target practice.
Cost
Longbows typically cost between $100 to $400 at a nationwide outdoor retailer. In contrast, shorter bows are less costly, with prices ranging from $60 to $200. Moreover, shorter bows use fewer materials than longbows.
May it be a shorter or a longer bow; it all comes down to the usage and type of bow that suits you.
Why does a bow length matter?
It requires a longbow to reach 180 meters to a 200-yard target. Meanwhile, shorter bows won't help you hit the target at a farther distance; thus, bow length matters because it determines how far your arrow can reach the target.
Longbows can shoot accurately in a range of 180 meters to 200-yard. Shorter bows can only reach a target between 50 to 150 yards.
Therefore, the bow length significantly impacts the bow's range. If you desire to shoot a farther distance, the longbow works for you. Contrarily, if you prefer closer targets, you won't have a problem with shorter bows because they can shoot arrows faster.
For individuals new to archery and who want to purchase a bow, the bow length should be appropriate for your height and proportion to avoid unnecessary expenditure or unsatisfactory accuracy.
Disregarding the importance of determining your bow length will make it challenging to make precise shooting.
How short can a bow be?
Compared to longbows which can measure up to 6.5 feet, a short bow is any bow that ranges between 3 feet to 5 feet. It should have a length not exceeding the 5 feet mark.
Length is the main factor in distinguishing if a bow is short or long. It also affects the shoot's range, draw length, arrow size, and speed.
A shorter bow is the perfect size for people who prefer to shoot at a closer range with a faster rate. Contradictorily, longbows are for long-distance and are the ideal length for an average-size man.
To carefully identify which bow is shorter and longer, it is best to know its measurement.
Compared to longbows which are 5 feet and more and can measure up to 6.5 feet, shorter bows are lesser in length.
Short bows range between 3 feet to 5 feet or 36 inches to 60 inches. The majority of the short bows fall under the 3 feet long range. As long as the length of the bow does not exceed 5 feet or 60 inches, it remains a short bow.
In choosing the right bow, there are several factors that you ought to consider. Comparing and contrasting which bow length suits your need is essential to avoid unwanted spending and for your comfort, as well.