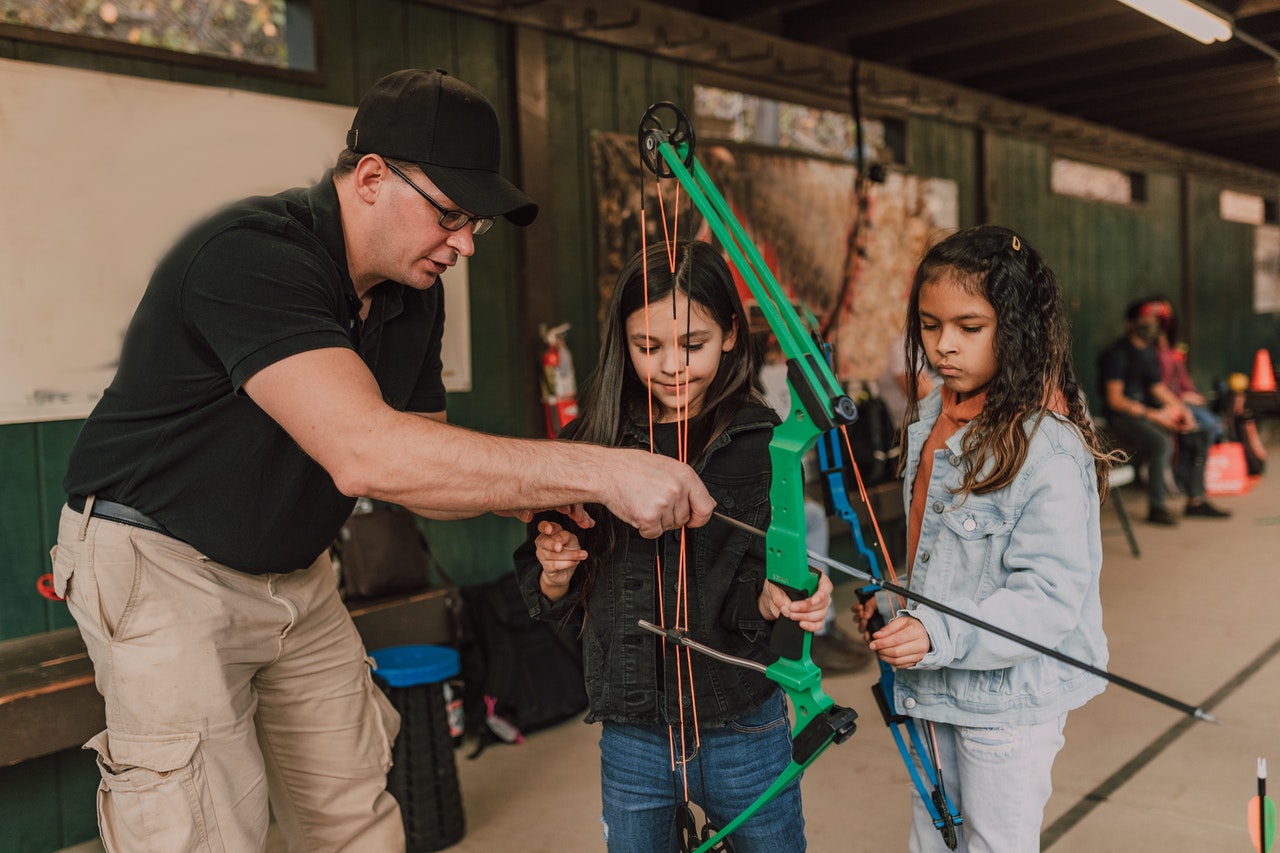 People want to do archery because the sport is a fun hobby to have. But some people, who are new to the sport, worry if it's too late to learn archery.
Unlike other sports that consider age a limiting factor, archery welcomes anyone to start at any age. Instead, archery has some factors to consider when you're looking to practice it, like strength, patience, and joint mobility.
Age-related strength
You don't have to be very strong to get into archery. But you need enough physical strength to pull back the bowstring to fire the arrow with proper form.
Therefore, you need to choose a bow that suits you. A bow comes in different sizes and draw weights but pick a lighter bow.
If you see yourself struggling with strength, you can make adjustments as you learn the sport. If you're using a recurve bow, you can choose a lighter draw weight. If you're using a compound bow, you can adjust it to the right draw weight.
Patience and attention span
Archery is an engaging sport as it needs mental toughness paired with physical strength. The sport requires you to wait as any shooting lane can have multiple archers taking turns.
You will have some good days of practice, but you'll also have down days. However, performance droughts don't end the fun because these will help you learn to be better next time.
You'll develop composure under pressure as you grow to be an improving archer. To achieve that, you have to commit to learning patience and practicing your bow.
Joint mobility and health issues
When you wish to be an archer, consider the mobility of your joints and other health issues you may have had. That applies to both old and young people because joints conditions and injuries can hit any age, like arthritis and sprains.
Archery requires you to have overall body mobility to shoot your bow. If you have problems with your joint, you may need to visit your doctor first to seek medical advice and treatment.
Experts recommend a compound bow for archers with arthritis or any related joint condition. Compound bows use mechanical parts to allow you to fire fast arrows but exert less physical strength. That means when you fully draw your compound bow, you don't have to hold back a lot of force.
What to expect when you first learn archery
If you're new to the sport, you have to learn the fundamentals first. One of the first things you need to know is archery safety. You will learn the safety rules, making sure you and other archers around are safe as you practice.
You'll learn protocols in shooting lanes, and you can't have one archer standing in front of another person.
Another safety rule is to never dry fire because shooting a bow without arrows absorbs all the kinetic energy. That will damage your bow or even injure you.
You don't have to worry about learning from certified archery instructors because they aren't going to let you fire an arrow without proper technique and knowledge.
They won't let you shoot at long distances as they will teach you to focus on learning to shoot closer first. They will teach you how to stand, hold the bow, and pull back the string.
At what age can my child start archery?
USA Archery recommends parents to child practice archery at Age 8. Eight-year-olds already have enough strength to handle a beginner's bow with safety. They are already mature enough to pay attention and follow instructions too.
The younger your child, the more your child tends to have a shorter attention span. So you have to determine where your child gained interest to establish realistic goals.
The reasons may range from getting it from a favorite movie to family members already getting into archery. But whatever it is, build the interest around enjoyment and simplicity. After all, archery is a fun sport.
You can set up a mini-range in your backyard to teach your child safety procedures. You can also build an improvised bow and arrow by using strings and sticks to help your child learn the bow parts and functions.
Invest in archery clubs and programs
Aside from teaching them at home, you can enroll your child in an archery club. They have introductory programs suited for every age group. Archery experts have a tailored youth program to boost the child's interest and ability in archery.
They help kids develop skills through formal training and games. USA Archery also has programs if the child wishes to master recreational archery or join competitive ranks like the Olympics, Paralympics, or World Championships.
Signs your child is ready for archery
Kids have different learning curves to pull back a string on a youth bow. Look in for cues to know if they are ready to take a step further in archery:
They can draw a youth bow without their arms shaking when holding a string back.
They maintain balance when drawing the bow and aiming at a target.
They can follow basic instructions and safety commands.
They can hold up a drawn bow for longer than 30 seconds.
Try a simple test by letting your child hold a bow for 30 seconds. Don't force your child if he can't draw a bow with proper footing for more than that time because it may become an unenjoyable experience.
Make sure that your kid has a suitable level of understanding that safety is always first. Your kid needs to cease fire when you tell them to stop.
If you're confident that your child has enough maturity and understanding, you can say it's time to practice archery.
Reasons to start young in archery
The first benefit is that kids get to experience the outside world away from electronic gadgets. They can enjoy fresh sunshine and air, so archery is always a healthy physical activity for kids.
Archery is a confidence builder for your child. Once kids start to improve, they gain more confidence. Young archers learn to control their emotions when they miss a shot or learn to keep calm and improve.
Kids can also improve their stamina and core strength to pull the bowstring while aiming with a proper stance.
Archery teaches kids to be social as young as they are. They get to learn how to interact in times of learning, celebrating, and losing. Archery isn't a mere individual discipline as they can celebrate, lead, and support as a team.
Children can also practice both indoors and outdoors, and they can access indoor ranges all year long. Therefore, the weather isn't a barrier to archery.
What's the best bow for beginner archers?
Choosing your first bow can be a challenge due to the variety of bows available everywhere, which can be confusing at first.
Experts recommend a recurve bow for beginners as it is a cost-effective and versatile type of bow while helping you learn the basics than buying a more expensive bow.
You can buy different limbs without purchasing a brand new bow. A recurve allows you to rely on muscle memory and hand-eye coordination to adjust on landing your shots.
A recurve bow costs less than a compound bow and shoots fast than a longbow.
Recurves are also easier to maintain than compound bows, which need more restringing and more maintenance.
You can also load and fire a recurve bow faster than a compound, and you recurve bows are takedown. That means you can disassemble a recurve and fit in a smaller case, which is handier.
What equipment does a beginner archer need?
To learn the fundamentals of archery, you also need quality equipment. The stuff you carry is as important as the person holding the equipment.
Bow – It is the essential equipment in archery. You can go to an archery store for any bow for sale. Once you're there, try to get a feel of it until you get the right one for you. As mentioned previously, recurve bows are best for beginners.
Arrows – Choosing arrows is another crucial, so you have to visit a store too. You will have to determine your draw length and wingspan because each has different specifications.
Archery bracer – You need this to protect you from string burns. When the arrow leaves your bow, the bowstring strikes your forearm as it bounces back and forth.
Quiver – This is another essential piece of equipment because it helps you carry your arrows. Depending on your comfort, quivers can be placed on your back or on your hip.
Having the right equipment is as fundamental as your safety and comfort. Although archery bracers are not a requirement, experts still suggest wearing one.
Other equipment includes a finger tab, which protects your fingers and helps you have a clean release of the bowstring. You may also need a hard bow case that protects your bow from damage when you travel or store it in your garage.
Invest in archery equipment that matches your experience and ability to avoid injuries and useless purchases. Therefore, reach out to archery experts and research product comparisons before you buy.
Is archery hard to learn?
You shoot arrows meant for fun, but there are times that you want to be better than the archer next to you.
Archery is an easy sport to learn but hard to excel in. To master archery, you need to develop a correct form and consistent technique, which takes about six weeks to master. But excelling in archery depends on the quality of practice and effort to shoot your bow.
The sport attracts people to have the desire to improve their archery skills. Your first lessons with archery are to get familiar with proper form, which your coach will teach you.
The basic technique is that you stand shoulder-width apart first. Then, gently grip your bow. You hold the string and pull it with three fingers up and release the bowstring as you reach the anchor point.
You do this with repetition to have a foundation to learn more advanced skills.
Experts recommend these three factors to make the most of your archery practice:
Anchor points
When you start archery, you need an anchor point on your face to set up an alignment for every shot you take.
Beginner archers tend to pull the string back a bit far or in front of their face. But the great way to anchor is to let your hand touch your face while you pull back the string. A good suggestion is to let your thumb touch the corner of your mouth.
Anchor points are marks that serve as the basis for a consistent shot for any archer. Anchor points vary from each archer, but they have to be repeatable, identifiable, and comfortable.
Don't be afraid to press the string tightly against your face because that won't happen.
Point of aim
If you're learning to shoot with a sight window, you can align the sight pin with the target and follow your shot process straightaway. If you're learning to shoot without a sight window, this can be a more challenging thing to do.
Beginner archers will aim the bow too high, which will end up shooting way high the target. That happens because the line of sight from your view is higher than where you are pointing.
Instead of pointing your arrow straight to the target, you have to aim a bit lower than you would at the target. The aim depends on the draw weight, arrows used, and distance. But if you have figured out your reference point, you will get a consistent point of aim.
Get every step right at the same time push yourself mentally as you progress in learning. Consider both anchor points and point of aim as the core of hitting anything in archery.
You don't have to rush when you're still developing your skills. Start aiming at short distances first, and shooting a bad shot doesn't have to discourage you.
After you release an arrow, wait until you hear and see it hit the target. If you find it hard to keep a follow-through, you can start counting to five after each shot.