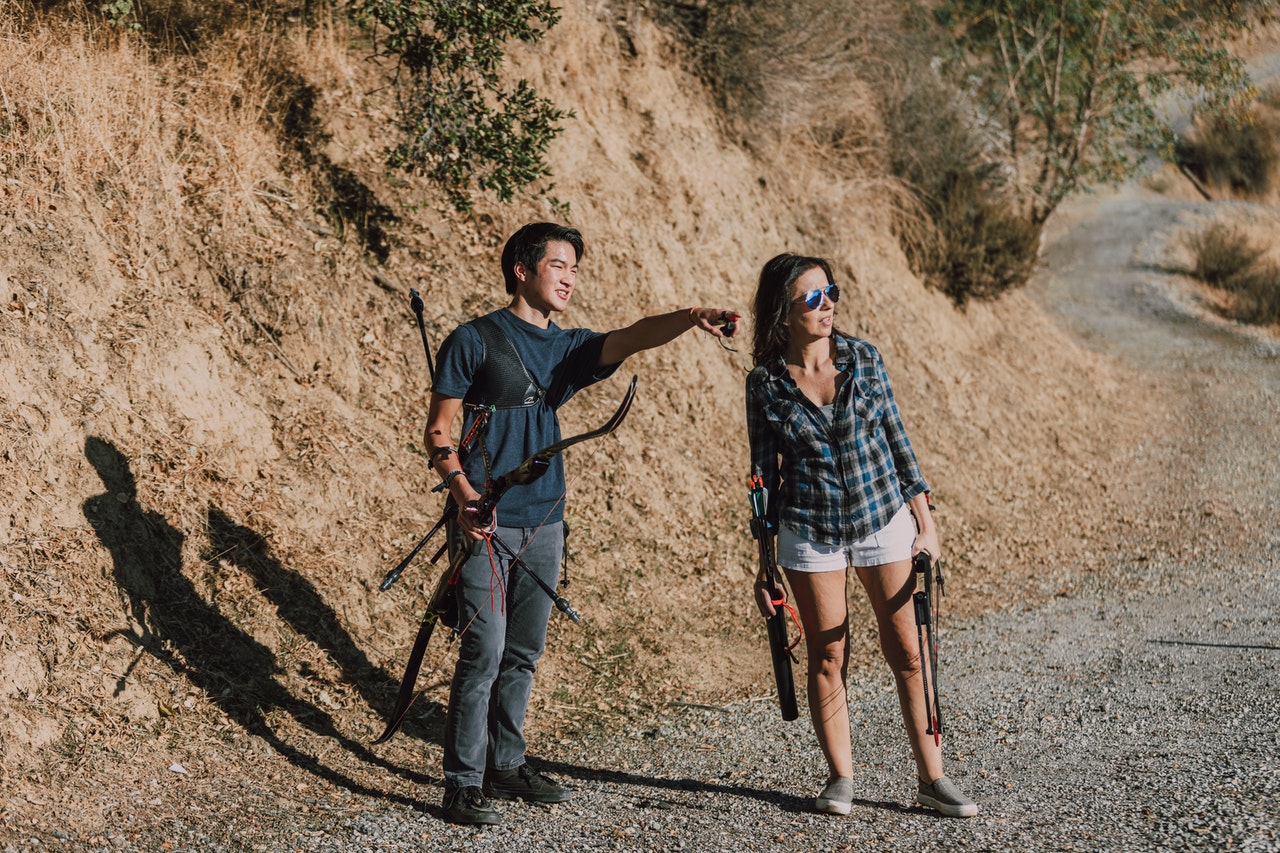 Owning a bow and arrow in Arizona is alright and legal.
You can own a bow and arrow for the love of sports, recreation, and hunting. Arizona law does not prohibit the use of archery equipment on your private property. But without the permission of a landowner, you can't bow hunt within 1/4 mile (440 yards) of an occupied property.
As long as you don't disturb your neighbors, shooting or owning a bow and arrow doesn't violate any Arizona state law.
But a bow is still a weapon. So use it not to hurt the people around you. Start practicing together with an experienced hunter.
You can also hire an archery expert to get you more familiar with your bow.
Don't scream or run when you're shooting. You have the freedom. But consider your backyard a shooting range, not a playground.
Do I need a license to own a bow in Arizona?
Arizona law doesn't need you to register your bow when you're shooting for fun at home or with your kids. You also don't need a license when you practice archery in your backyard or in a shooting range. Only bowhunters need a state-issued license to hunt in the state.
You can only bowhunt during archery and general seasons. Unlike other states, bowhunting education is only optional in Arizona.
Bowhunting is challenging. Aside from skill, have education on safety precautions too.
Arizona may have lots of animals in the wild. But you can't hunt right away there. You have to have a license to hunt. Even hunting fish needs a permit there.
Arizona has different types of hunting licenses:
Arizona Resident – the state considers anyone living in Arizona for six months as a resident. They are eligible to apply for a permanent hunting license.
Non-Resident License. Any non-resident over ten years old can get a non-resident hunting license.
Youth Hunting License. Arizona residents and non-residents, ages 10-17, have to buy a license. The AZGFD calls it a Youth Combination Hunting and Fishing license.
Boy Scouts and Girl Scouts, who have won prestigious awards, can also get a license. It is a discounted Achievement Scout License. They have to be Arizona residents.
Arizonans older than Age 70, living in the state for over 25 years, can get a free Pioneer License.
Only a resident veteran with 100% disability can get a disability hunting license.
Any military stationed in Arizona can buy a resident hunting license. An Arizona resident serving in the military can get a resident hunting license too.
You can buy an Arizona Hunting License by visiting the AZGFD website. AZGFD also has over 200 licensed dealers statewide. You can apply for a license there too.
Is a bow considered a firearm in Arizona?
Arizona doesn't consider a bow and arrow a firearm. A bow only uses elastic energy to fire an arrow. Firearm regulations don't apply to bows and arrows.
According to the United States Code, firearms are explosive weapons. Firearms are also destructive. But bows don't have those properties.
Examples of weapons are guns, grenades, bombs, rockets, and mines.
But a bow can still be a weapon, especially in hunting. Arizona laws have protocols for bowhunting.
Arizona is endemic to wild mammals, reptiles, birds, mollusks, and crustaceans too. So learn how to hunt with fairness.
You can own a bow without a firearm license. But you have to be careful when you're carrying it. Even if you're carrying your bow to archery practice or hunting, always be mindful.
A careful hunter means you are aware of what you're doing. Make sure you are still responsible when you hunt.
Don't pull the trigger if you don't make a clean kill. Know the safety rules and signs whether in practice or in the wild.
What is the legal draw weight for bow hunting in Arizona?
Unlike other states in the US, Arizona has no size and draw weight restrictions.
The draw weight is the amount of force you use when you pull the bow. The draw weight depends on your draw length.
The importance of draw weights is their influence on the speed of the bow to shoot its arrow.
Compound bows can bear over 50 pounds. Recurve and longbows have heavier draw weights. It means archers need to pull further to achieve a good fire.
Each person has a different draw weight too. Depending on physical strength and experience, some archers can pull 40 pounds. Some can do over 80 pounds too.
Archers need to determine their ideal draw weight to maximize control of their pulls. Achieving this can make them consistent and accurate with their shots.
Archers need to make a proper stance to point and hit their target. They have to do that with little movement.
Note that when you draw a bow – you need to step forward or lean back. Chances are your bow's draw weight is too heavy for you. Shooting draw weights beyond your capacity increases the risk of injuries.
So you have to start with a more natural weight. You can progress as you master it.
How far away from a house can you bow hunt in Arizona?
The Arizona Game and Fish Department allows the use of an arrow on public and private property. The hunter needs to ask permission from the owner first. But hunters can face endangerment charges for firing an arrow at private property.
Arizona allows you to hunt less than 440 yards from a private property – only if you ask permission from the owner.
If you weren't able to ask permission, be mindful of your distance from a house. You have to do this before the start of hunting season.
Arizona has 13 million acres of private land. So you have to ask permission from the owners.
The organization also reminds hunters to show courtesy to non-hunters. They have the same rights as hunters too. Cleaning their surroundings on the hunting grounds is another recommendation.
Never fire your weapon with a bow and arrow across a road or railway too. The state law doesn't suggest shooting across roads at all.
The Commission prohibits hunting during the closed season and after legal hours. Exceptions are present only when they permit it. The AZGFD prohibits shooting with artificial light.
Where can I shoot my bow in Arizona?
Arizona law allows you to shoot your bow in archery ranges or in your backyard in Arizona for fun and sports. The state also allows you to shoot to hunt if you have a hunting license.
The Arizona Game and Fish Department allows hunting in designated areas. Some lands are under certain governments and agencies. They allow hunting, but not in national parks and certain national monuments.
The AZGFD recommends hunters ask permission from private landowners. State law protects private landowners to post anti-trespassing signs along with their property.
Treating the private land as if it was your own is ideal – after all, you want to enjoy wildlife and hunting. Getting access to the property is a privilege, not right.
You can only hunt during daylight hours. So hunting animals in the wild during moonlight is illegal. That is except with raccoons and other mammals.
When asking permission, you have to specify what animals you are hunting.
Archers and gun enthusiasts can also go to shooting ranges. They are safe environments for practice.
They help them prepare for hunting seasons too. Shooting facilities provide professional training and education. Shooting ranges create a community and culture for enthusiasts.
Who regulates hunter's access to lands in Arizona?
The Arizona Game and Fish Department enforces Commission rules and regulations on hunting. They also put in place statutory requirements.
Six different government agencies also own and manage Arizona lands. Each has its own set of access rules.
The State of Arizona takes care of 13 percent of the state. They see to it that the rights and privileges of hunters and landowners are intact.
The US Forest Services takes care of 15 percent of the state's land. They allow access to hunting and fishing in season.
The Bureau of Land Management manages 16 percent of the state's land.
Indian Reservations take 28 percent of Arizona land. Tribal governments have their fishing and hunting regulations for reservations.
National Wildlife Refuges also have their own set of regulations.
Military Installations also have regulations.
The Commission allows hunting for fish in private waters. But you need to get a fishing license to fish on public lands.
Note that these specific dates are only applicable to archers. They can also hunt during the general seasons.
The Commission is also in charge of imposing poaching penalties. They take care of offenders and their consequences. Poachers may face suspension or fines. Worse, offenders can have license revocation.
They also pay for high-profile cases and investigations on wildlife and fish-related crimes. The department has a Wildlife Theft Prevention Fund to support this.
Does Arizona have a lifetime hunting license?
Arizona has a lifetime hunting license for residents only. The state considers you a resident if you have lived there for six months.
For non-residents, a hunting license is only valid for 365 days from the issue date.
The best time to get a hunting license is when you're at least ten years old and above to hunt in Arizona.
Children under ten years old can capture wildlife even out without a hunting permit. But they need to have a person over 18 to go with them.
The state prohibits two unlicensed children together with one licensed hunter. So, the ratio is 1:1.
Arizona Law allows issuing of lifetime licenses and privileges for hunting. All the permit fees go to the wildlife endowment fund.
If licensed hunters move out of the state, they are still welcome to hunt back in Arizona. They have to buy resident or non-resident big game permits required by Arizonian law.
What can I hunt in Arizona?
Arizona provides lots of hunting opportunities in North America. You can hunt bison, black bear, elk, desert bighorn sheep, and mountain lion. Other species are javelina, mule deer, turkey, and pronghorn.
Hunters can harvest waterfowl, reptiles, amphibians, doves, and pigeons too.
As long as you follow hunting rules and regulations, it is alright. There are also some hunting dates or seasons for these.
Aside from the hunting license, abide by protocols in drawing and trapping.
You can also hunt badgers, bobcats, and chukar partridges. You can also harvest coyotes, crows, cottontail rabbits, and European starlings.
Other wildlife are foxes, house sparrows, jackrabbits, pheasants, quails, ringtails, and rodents. You can also hunt skunks, sandhill cranes, and squirrels.
What is the penalty for poaching in Arizona?
Poaching is the illegal killing of wildlife. Hunting without a license is also unlawful. Killing an animal outside of hunting season is another violation.
Poachers will face legal action like any criminal faces. Suspects need to appear in a criminal justice court. Guilty poachers will face penalties such as fines and jail time. Poachers may have their licenses revoked.
As a hunter, you have a responsibility to protect wildlife heritage. Hunting helps preservation for future generations.
Be mindful of common violations in hunting. Report it yourself rather than wildlife personnel discovering it first. Here is a list of common violations:
Shooting too close to an occupied house.
You have to ask permission beforehand if you're going to shoot within 440 years of an occupied house.
Law prohibits anything edible produced for livestock to help you catch wildlife. Using scents and baits is illegal too.
Taking wildlife without a license or with a fake license
Check the expiry and validity of your license as well.
Hunt wildlife with a prohibited device or by an unlawful method.
These methods include poisoned darts or arrows, automatic firearms, and explosives. Law doesn't allow electronic night vision either.
Hunting and taking wildlife from a motor vehicle is illegal. Examples of these are watercraft or planes unless permitted by the Commission Order.
Other violations include waste of game meat, unauthorized selling of wildlife. Vandalism and destroying livestock are no good.