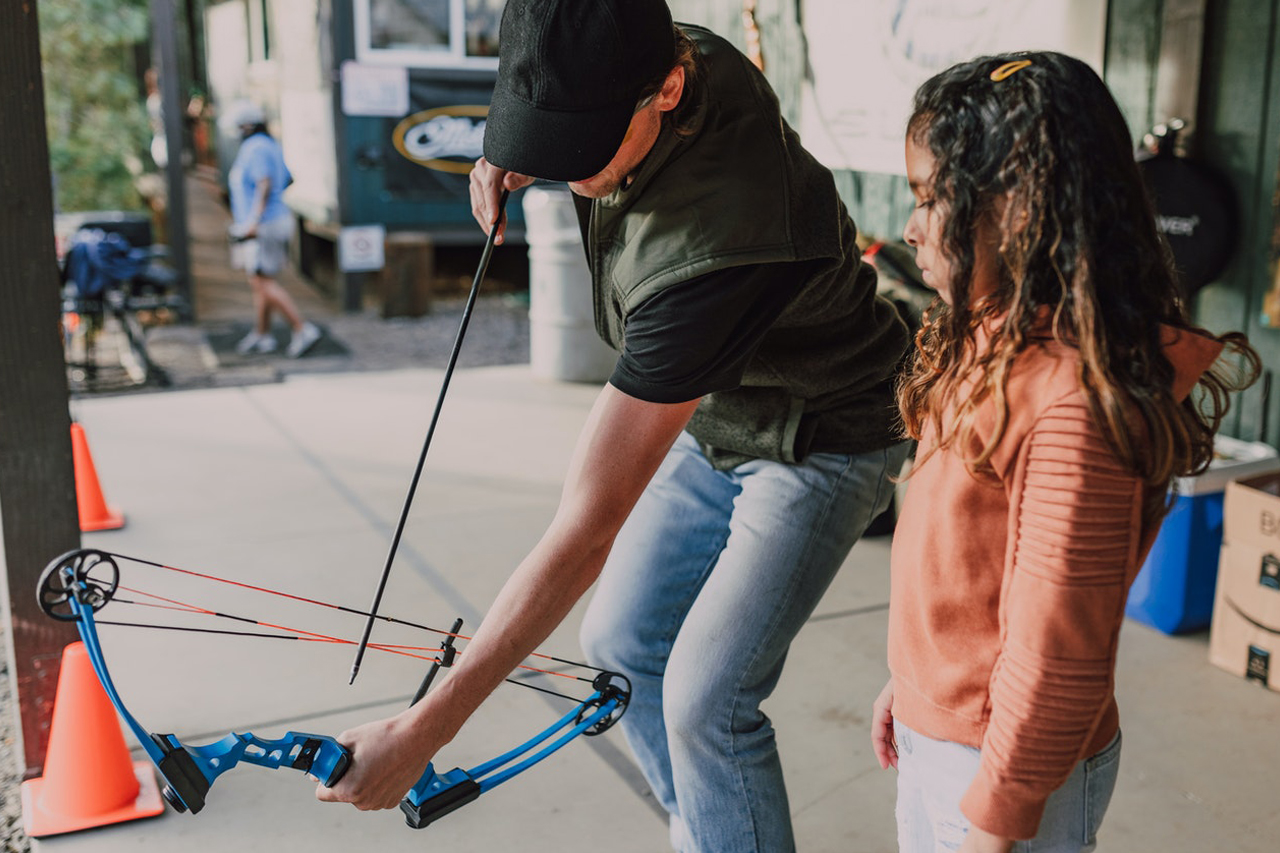 Not all compound bows have peep sights, but most professional archers highly recommend using them. The peep sight is a great additional accessory to your compound bow because it helps improve your shooting prowess.
Before purchasing a peep sight for your compound bow, it is crucial to research its use. As a newbie in archery, you may be wondering what the peep sight does and how it functions.
Like a rifle's rear sight, a peep sight on a bow is a hole in your string that ensures an appropriate line of sight between the eye, the pin, and the target.
Most professional archers recommend peep sight to help you aim your target better. If you want to improve your shooting prowess, peep sight is a great additional accessory that can help you.
Since not every compound bow has an attached peep sight, you have to buy it separately since it is an optional archery accessory.
If you plan to purchase one, you won't have difficulty finding the right peep sight for your compound bow because it is available in nearly every archery shop.
What are the pros and cons of a peep sight?
Peep sights have pros and cons, just like any other archery accessory. It will help you improve your focus, consistency, and accuracy and release stable shots. However, it can be costly, has setup issues, low-light challenges, durability problems, and encourages dependency.
It is helpful to list the pros and cons of a peep sight before purchasing it. Using peep sight is not for all, which means others may see them as applicable while others do not. Hence, knowing its pros and cons will aid you in determining if you should give it a try or not.
Pros of a peep sight
Even though peep sight looks like a simple accessory, it serves a crucial purpose that can benefit archers. Due to its numerous pros, many archers suggest others use peep sights to achieve better shooting prowess. Below are the pros of using a peep sight:
Improve your focus

In shooting, you can lose your focus due to several distractions that disrupt your focus. Significantly during competitions like the Olympics or hunting, you can get distracted by other people, influencing your direction and not being able to hit your target.

To avoid this, you can use the peep sight to help you narrow your field of view. Peep sight can help train your eyes to focus on your target, leading to a more accurate shot.

Improve consistency

Aside from limiting your field of view, peep sight will also help increase your consistency. Because each release is as consistent as before, peep sight allows you to move more fluidly with each move.

Since peep sight also improves anchoring, several archers claimed it influenced their shooting accuracy and consistency.

Improve accuracy

The main reason archers prefer to use peep sight is that it improves accuracy. Since peep sight reduces excessive sunlight, you can see your target more clearly.

Moreover, the peep sight functions similarly to a rifle's rear sight accessory. It allows you to match the back and front sights for increased accuracy.

Using peep sight guarantees improvement in one's accuracy; thus, many professional archers recommend using it.

Release stable shots

Since the peep sight provides you with a narrow field of vision, you can release stable shots because of your improved focus. Not having stability can be frustrating and tiring, and peep eliminates this concern.
Cons of peep sight
Peep sight has its pros; however, remember that it is not a cure-all tool. It also has cons that make you realize why others do not recommend its use. The following are the cons of using peep sight that you may need to consider:
Costly

It is important to note that peep sight is optional archery equipment. Therefore, it is possible to shoot accurately without the help of a peep sight.

It may only cost a few bucks compared to other archery accessories. However, replacing it now and then can strain your budget.

Setup issues

Peep sight installation instructions are simple and easy. Nonetheless, with a misaligned placement with your sights, you may not find them helpful. You must install your peep sight correctly to avoid setup issues, especially during the big game.

Low light challenges

Low light challenges are the primary concern in using a peep sight. Since peep sight reduces excessive sunlight, it won't be easy to see your target during low-light situations.

The dimmer it is, the harder to pinpoint your target while using the peep sight. Navigating in low light is a deal-breaker for some bow hunters since they need the best vision they can of the target. Therefore, some opt not to use the peep sight at all.

Durability problems

Peep sights that are not durable enough are prone to frequent breakage. You may need to recalibrate your sights if your peep sight breaks once you've dialed it in as your primary view.

Besides this concern, you need to replace it with a new one, saving a few more bucks.

Encourages dependency

If something happens to your peep sight, such as breakage, it will be hard to shoot once you are dependent on it. You will most likely struggle to shoot accurately or miss hitting your target.

The use of peep sight encourages you to depend on it, leading to poor performance without its help.

If you think peep sight's advantages outweigh its cons, you better head to the archery shop and purchase it. However, if you think otherwise, you need to start trying to improve your focus, accuracy, and consistency to hit your target without the help of peep sight.
Can you shoot a bow without a peep sight?
Shooting a bow without a peep sight is possible. However, it may take some time to achieve accurate shots. If you choose to shoot without a peep sight, you need to identify your anchor points and use the bow sight instead.
Others shoot a bow without a peep sight. It primarily applies to those who are more experienced with archery. However, newbies often have difficulty shooting accurately without help from an accessory.
As a newbie, you wonder if it is possible to shoot without the use of peep sight. While it is possible, you need to practice more often to shoot accurately without peep sight, making it more difficult for you as you are still trying to grasp the basics of archery.
Newbies do not have the right skills yet to shoot accurately and consistently. Therefore, it is advisable to use a peep sight before hitting without one. The peep sight will help you with the accuracy you can get while also knowing the ins and outs of archery.
However, if you plan to train your shooting without using peep sight, below is the process that you can follow:
Identify anchor points

Remember that the anchor points in archery refer to the end of reference when firing. The anchor point tells you how you should position yourself and where. However, you can't rely on the anchor points to keep your alignment and form since it depends on you.

In choosing your anchor points, you have to find the ones comfortably within your reach. It also must recur and are easy to spot among the rest.

Your anchor point is nearer your mouth for those using a compound bow.

The anchor points can also change from one day to another depending on factors within your control. For example, chewing gum, tilting your head, or scowling affects your anchor point.

Therefore, it is essential to identify at least two anchor points when not using a peep sight if you want to shoot accurately.

Use the bow sight instead.

Some archers prefer to use a bow sight instead of a peep sight. In the absence of peep sight, you can use a bow sight instead.

Remember that the pins in a bow sight serve as your guide. You might have to tilt your head left or right to read the bow sight.

After following this process, you can try to shoot and assess how it feels. You can expect that the first few arrows your shot were not accurate. However, it can improve once you practice more to better your accuracy.
How do I choose a peep sight for my bow?
When selecting a peep sight for your bow, you must consider the peep size, style, and slots. It is ideal to have a maximum of two peep slots, a 3/16″ peep size, and a tubeless peep style if you have a standard quality bowstring.
There are various peep sights to choose from in the market. Perhaps you are wondering how to identify the correct type of peep sight for your needs. Here are the three key factors to consider when selecting the perfect peep sight for your bow:
Peep size

Peep sight comes in different sizes ranging from 1/32″ to 1/4″. However, the three standard peep sizes used are 1/8″, 3/16″, and 1/4″. Generally, the 3/16″ peep size fits most sight styles and is the most common among the three.

Nevertheless, you can still try to look into some other sizes in extreme cases.

Smaller peep sizes are ideal for target archers since they are more accurate than the larger ones. On the other hand, larger peep sizes are suitable for bowhunters. Larger peep sizes provide more visibility and offer better low-light performance.

Peep style

There are two types of peep style: Tube peeps and tubeless peeps. Tube peep uses a small rubber hose connecting to one of the bow's cables. Meanwhile, the tubeless peep has no tubing tied free-floating to the bowstring.

Nowadays, tube peep styles are rare because of the better quality of bowstrings produced in the market. It is ideal mainly for low-quality bowstrings.

On the contrary, tubeless peep styles are the most popular ones nowadays. Since most of the bowstrings are better and more stable, the tubeless peep style is more desirable, even for a standard bowstring.

Peep slots

Aside from peep size and style, determining how many peep slots you need is essential. You can choose from two-slots and three-slots peep sights.

Most archers prefer two-slots peep sights because they are easier to install than its counterpart.

Peep sights aren't the same for every bow. Rather than deciding it all by yourself, when you are unsure, it is still better to consult with your local archery shop, which peep sight suits your bow the best.
Where do you put a peep sight?
Peep sight should be where you can instantly see it at full draw without searching for it. You can find the ideal location for your peep sight by drawing your bow, closing your eyes, and focusing on finding your perfect anchor position.
Not every peep sight location is the same for every bow and archer. Thus, it is crucial to locate which area in the bowstring should you put your peep sight.
If this is your first time determining where you should place your peep sight, you should find the area that feels the most natural. It means that when you are at full draw, you would be able to immediately see the peep sight without the need to search it.
Draw your bow as fully as possible while closing your eyes and concentrating on finding your ideal anchor position to determine your peep sight position.
Once you feel satisfied and comfortable, you can open your eyes and mark the location and proceed with installing your peep sight.
Using a peep sight is a matter of preference. Some prefer to rely on the naked eye, but it does not necessarily support absolute shooting consistency compared to using a peep sight. Therefore, deciding to use a peep sight or not is something you must not ignore in archery.