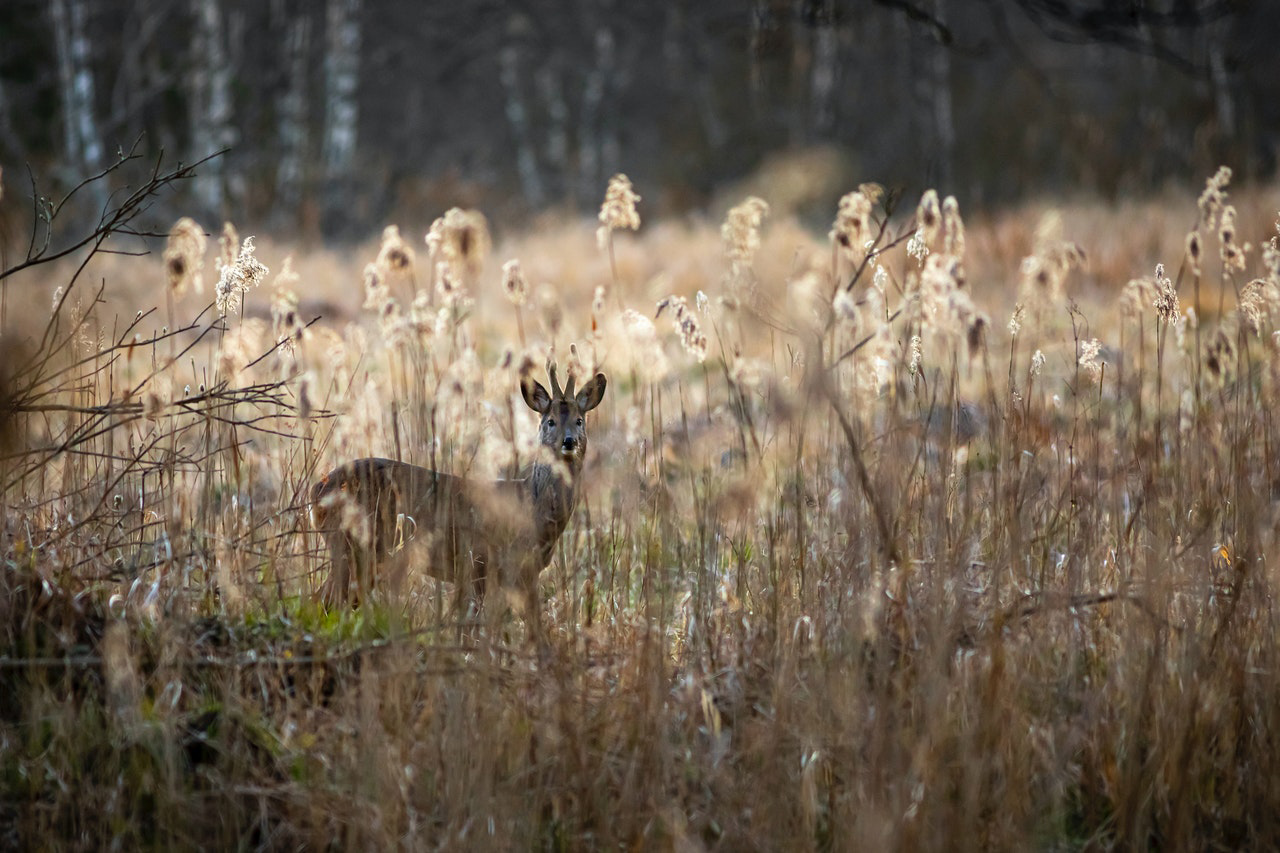 The average successful range you can kill a deer with a recurve bow is within 15 to 17 yards. In contrast, some bow hunters prefer to kill a deer from about 25 to 30 yards away, depending on their archery skills.
Deer hunting has been going on for decades, and there is no way it will slow down at any moment. It's a popular and challenging sport among hunters because it can be gratifying regardless if you choose to hunt with traditional bows, crossbows, or guns.
However, bow hunting a deer can be tricky because it is a short-range hunting game. It requires a close-range shot to get an excellent ethical kill, making it very challenging for some.
Let's say you prefer to hunt with traditional bows and choose a recurve bow as your weapon to use for the deer hunting game.
Recurve bows are powerful and famous among bow hunters because they are less complex than compound bows and crossbows and more robust and potent than longbows. Therefore, choosing a recurve bow for deer hunting is an excellent choice.
Nevertheless, in bow hunting a deer, you must be aware of the possible ranges you can expect from shooting with a recurve bow.
Depending on your draw weight, the recurve bow's maximum range is between 280 to 300 yards. It may seem pretty far. However, your shooting accuracy isn't as accurate at these distances as when you shoot at its effective range.
In target shooting, a recurve bow's effective range is around 60 to 100 yards. Meanwhile, between 20 to 40 yards is a recurve bow's effective range in hunting. The estimates above heavily depend on the bow's draw weight and the archer's skills.
When killing a deer with a recurve bow, the average successful range is within 15 to 17 yards. However, some hunters prefer to kill a deer from about 25 to 30 yards away.
You may wonder why some comfortably shoot a deer at a farther range while others prefer to shoot closer. Remember that, as mentioned, the recurve bow's draw weight and your overall archery skills, experience, and practice are significant factors that influence your range.
Therefore, it is also possible to aim at a higher range if you want to, as long as you don't exceed your effective shooting range. The practical shooting range refers to the distance an archer can consistently hit targets inside a six-inch circle.
There is no denying that as a bow hunter, it is essential to achieve the average successful range at least to kill a deer and strive to increase it continuously.
Remember that shooting at longer distances isn't the same as shooting at a closer range. At close distances, you have a higher probability of proper shot placement, which results in hitting the critical parts of the deer, such as the limbs, lungs, and heart.
However, shooting at such a close distance means your arrow won't have its full speed, and since speed is power in hunting, it is also essential to know how to shoot at greater distances since your arrow will be at its full speed when shot at a farther range.
Practicing to hit your target at a greater distance does not necessarily mean that it is always the best option when you go hunting. However, if you improve your long-range shooting skills, you may be able to score a critical hit when you are closer to the target.
Thus, you need to work hard, practice, and have a consistent shooting form to achieve close and far-shooting range to increase your chance of effectively killing a deer with a recurve bow.
What is the recurve bow draw weight for deer?
The ideal recurve bow draw weight for shooting a deer is 45 pounds. However, you should first check your state's minimum legal draw weight to hunt a deer to avoid legal trouble.
Excessive draw weight is unnecessary when shooting a deer, particularly whitetails. However, it would be best to aim for a higher draw weight as long as it still allows you to shoot comfortably and accurately.
If you plan to shoot with recurve bow, 45 pounds is an ideal draw weight to start with to hit the deer effectively. You can also go beyond 45 pounds of draw weight to increase your chances of ethically killing the deer.
Recurve bows with lighter draw weight work as well, but you won't be able to get the maximum penetration needed to kill a deer since they have very thick skin. Therefore, you need to have enough force to penetrate their vitals within a 20-yard range or less.
Another thing to consider is your state's bow regulations. Some states require bow hunters to abide by the maximum draw weight for hunting. Hence, don't forget to check your state's current bow regulations for hunting to avoid legal trouble and waste of money.
Can I hunt deer with a recurve bow?
As long as your state's law does not prohibit the use of recurve bow for hunting a deer, you can hunt them.
A lot of hunters see deer hunting as a great activity to show their hunting prowess and abilities. Hence, most hunters, using the traditional bows, crossbows, or guns to hunt, look forward to hunting seasons each year.
The most popular animal to hunt is undeniably the whitetail deer. Deers are common across the country, and you can easily find them on public or private land.
For recurve bow users interested in joining a hunting activity, you may wonder if you can hunt a deer. The answer is yes; you can. However, before doing so, don't forget to check on the current bow hunting regulations imposed.
Some states prohibit hunters from hunting certain animals on the list. Since every state imposes laws, you need to find out whether the state you are currently in does not prohibit hunting a deer with a recurve bow.
Let's say that your state does allow you to hunt a deer. However, hunting them can be very challenging. It requires in-depth knowledge, skills, and perseverance to kill them successfully.
To help you with this, below are the ways you can follow how to hunt a deer with a recurve bow:
Know your target

In-depth knowledge of your target can help you identify which critical body parts to aim, the angle to shoot, and their behavior. Remember that not all animals share similar traits, behavior, and classifications. Therefore, getting familiar with your target will give you an edge during the game.

Weeks before the hunt, take your time to learn about the deer. You can find information about them on the internet or in books or ask questions to your fellow hunters. Don't hesitate to go the extra mile, primarily if you aim for the trophy.

It is also essential to remember that recurve bows are far from the incredible power of rifles, and there is a high chance the deer's thick skin and heavy muscles can easily deflect your arrow.

For traditional bow hunters, it is essential to know to aim for the deer's heart or lung area since it contains the most concentration of blood vessels. Aiming to shoot for such sites has a high chance you will inflict a mortal wound, resulting in a clean and ethical shot.

Aside from studying and familiarizing the deer, you can also try to set up trail cameras on the hunting ground to help you observe them better. Remember not to go too often to avoid alarming them before the big game.

Planning can help you

Hunting isn't as simple as aiming wherever you want to hit your target successfully. Especially if you are shooting a moving target, you need to plan a strategy.

Planning as early as possible gives you an advantage over other hunters. For example, planning your setup can be as simple as choosing a location for your stand or blind.

Additionally, don't forget to prepare your things a week before the hunting game so you won't miss bringing the essential accessories you need.

Keep an eye on bedding-to-feeding routes

If you know what food deers love to eat, you should materialize this knowledge. Deers love to stop by at places where their preferred food is in abundance.

For instance, deers love high-sugar food, like nuts and acorns, and eat fruits and plants. They consume such food before the rutting season.

Knowing such information, you may want to set up trail cameras and ambush trails along their bedding-to-feeding routes. Doing so makes it easier for you to hunt and shoot them without wasting too much time and effort.

Follow the does

Another trick you can include up on your sleeves is following the does. Most hunters disregard the does and always go for the bucks. However, if you are smart enough, stalking the does can lead you to the bucks.

It may take time since there is no telling when the bucks will approach them. Nevertheless, it can still be worth a shot since, during such times, bucks are roaming the forest to look for does.

Therefore, there is a massive possibility that the buck is most likely nearby wherever the doe is. Such a strategy can save you time endlessly roaming around, not knowing where to find your target.

Stay silent and blend in

Staying silent is a general rule in hunting while blending in is an added strategy. No such bow is dead silent; therefore, even a recurve bow makes a noise that can blow your cover when hunting.

Deers can easily spot a careless hunter since they have become used to human activity. Their eyesight and hearing ability has now outperformed their sense of smell. Hence, it would be best to stay silent as much as possible so you won't end up startling them.

Walk slowly and carefully, avoid stepping on twigs and fallen branches, or hit the bushes with your bow. You can also invest in silencers or dampeners to minimize your recurve bow's noise when shooting.

Moreover, don't forget to tune your recurve bow and arrows since they can also be noise culprits.

To alleviate your cover, blend in with the plants, bushes, and trees. Camouflage is an excellent idea to follow so the deer won't quickly spot you with its enhanced eyesight.

Furthermore, make sure to use scent-removing products and don't use perfume because the wind will carry your scent and push the deer away.

Go for the ideal shot

There are different shooting angles you can choose from when hunting. However, always aim for the ideal shot, the quartering away shot. With this angle, your arrow will hit the deer's heart-lung area through the softer flesh and ribs behind the chest cavity.

Quartering away shot is also great when hunting from the elevated ground. Choosing a specific spot and focusing on it is also crucial, so your arrow can penetrate the deer's vital body part successfully.

These are the other shooting angles to avoid:
Broadside shot

A broadside shot can be an excellent alternative to a quartering away shot. However, you have to be patient and don't shoot until the deer's leg is in a forwarding position for easier penetration to the chest cavity.

Frontal or rear shot

Altogether avoid the frontal or rear shot because it will only result in a wounded animal which is not an ethical kill.

Leg shot while in a rearward position

If the deer's leg is in the rearward position, avoid shooting it. Doing so will lead to the arrow striking the deer's shoulder blade or leg bone, limiting the penetration. In the end, it results in a lost, wounded animal.
Track the wounded deer
Unless you saw that you completely missed shooting the deer or there is no sign of blood on your arrow, always assume you hit the deer. Remember that the deer may have fatal wounds even without any blood trail.
If you hit the deer with proper shot placement, you can recover the struck deer within 50 to 70 yards. Thus, you may have to track the wounded deer and see if you were able to give it a total kill.
Those are the deer hunting tips if you plan to join the game using a recurve bow. Following the notes enumerated, you can start maximizing your recurve bow's potential and solidifying your hunting skills weeks before the big game.
Try to achieve the draw weight and range needed to kill a deer successfully and accurately. Practice and continuous self-assessment can help you get through your goals before the hunting season arrives.
Deer hunting can be a hassle but can also be rewarding for hunters. The hunting competition can get tight, and it needs utmost preparation, practice, and knowledge to give the deer the ethical shot it deserves.