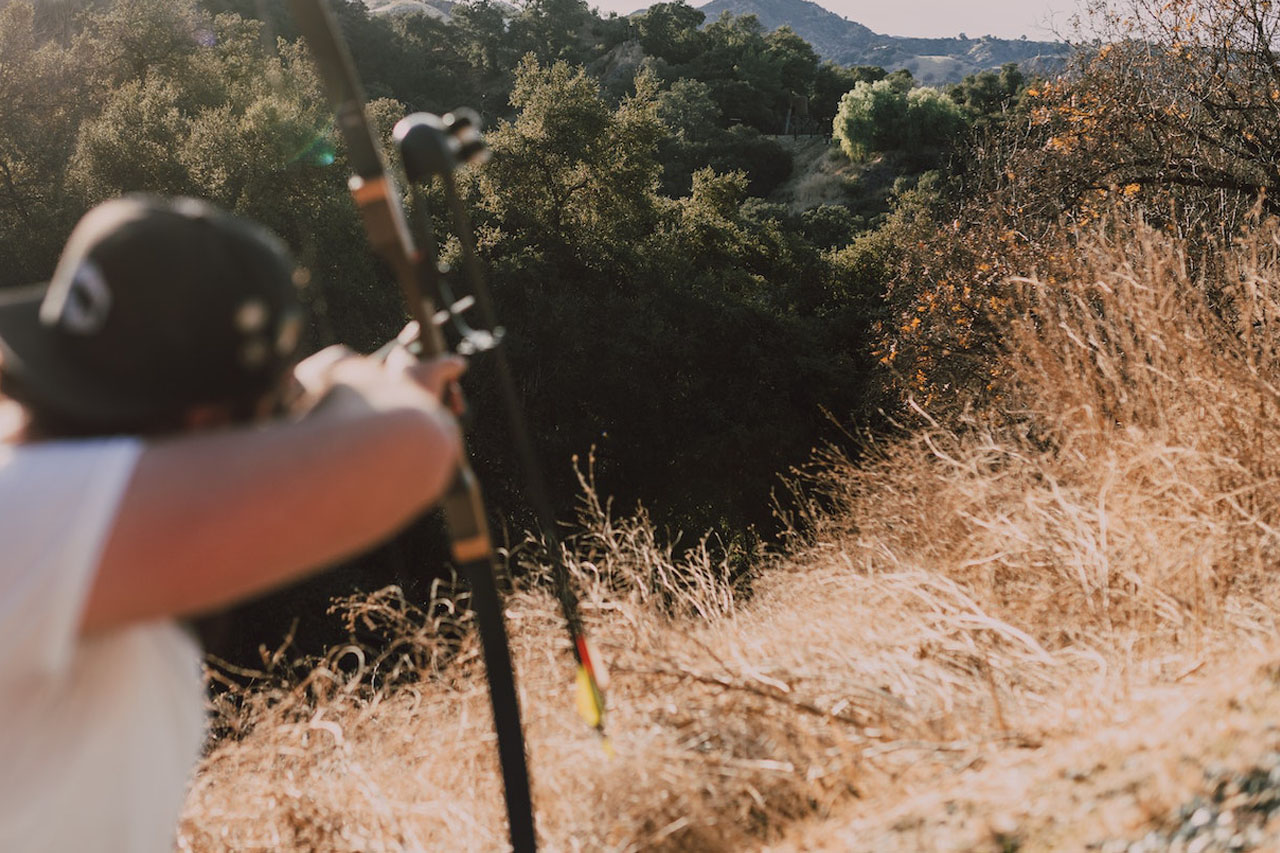 A recurve bow has curved limb tips, which typically bend away from the archer when you draw the bow. Its design increases the arrow's speed and power upon being shot compared to traditional bows.
A recurve bow can shoot at a maximum range of up to about 300 yards and reach an effective range of up to 60 yards, assuming that the archer has a solid and steady grip on the bow and can accurately aim at the target.
Many factors can influence how far a recurve bow can shoot. These include the draw weight of the bow, the arrow's grain weight and length, wind conditions, the archer's draw length, stance, and general weather conditions.
There are also recurve bows designed explicitly for long-range shooting, typically with longer limbs that allow for more incredible arrow speeds and more power upon release.
These bows can often shoot arrows at a range of up to 350 yards or more. However, these bows are typically heavier and more challenging than traditional recurve bows.
Factors Affecting the Range of Recurve bows
Bow's Draw Weight
A bow's draw weight is essential in determining its shooting range. Generally speaking, a bow with a higher draw weight will have a more extended shooting range than one with a lower draw weight.
The heavier draw of the bow puts more energy into propelling the arrow, allowing it to travel greater distances before falling to the ground.
Arrow's Grain Weigh
Arrows with heavier grain weights will have greater shooting ranges than arrows with lighter grain weights. It is because denser materials can better store and release energy, resulting in more kinetic energy and incredible velocity when you shoot an arrow from a bow.
Additionally, arrows with heavier grain weights will hit the target harder and can retain their energy throughout the target. However, archery arrows with lighter grain weights will lose their power more quickly and may not penetrate the target.
Wind Condition
Winds that blow from behind your target amplify an arrow's force as you shoot it, allowing you to shoot at longer distances. Conversely, winds blowing towards you will have a weaker effect on your shot, as they will reduce your shot's power.
Pay attention to the angle of the wind. If it blows at an angle toward you from behind your target, it will dampen your shot and reduce its power. In this case, you may want to aim slightly higher to compensate for the reduced overall force of the shot.
Alternatively, if you sense a strong wind coming toward you from behind your target, it may be ideal to wait until the gust has passed before taking your shot.
Wind conditions can vary quickly and unexpectedly, so it is always important to stay alert and be ready to adjust your aim as necessary.
The archer's draw length and stance
Both draw length and stance play essential roles in determining the shooting range of a bow. For example, a longer draw length allows for more energy to be stored in the drawn bowstring, which means that a shot launched from this bow will travel further than one fired by someone with a shorter draw length.
Additionally, a more open stance will allow the archer to maintain a more stable shooting position, contributing to greater overall accuracy.
Effective Range of a Recurve Bow
The recurve bow has an effective range of between 25 and 50 yards, depending on the archer's skill level. This range can be affected by several factors, including weather conditions, the type of arrow used for shooting, and the draw weight and length of the bow.
Recurve bows are some of the most commonly used in modern archery competitions due to their relative ease of use and accurate shot placement. To get the most out of a recurve bow, one must become familiar with its specific characteristics and how they can affect your shooting performance.
For beginners, it is vital to learn the basics of archery – such as proper form, holding the bow and arrow, and finding your dominant eye. It will help you develop a consistent technique that you can use when shooting at various distances.
Ultimately, it is up to each archer to determine their effective range based on their skills and capabilities. By regularly practicing, gaining experience, and ensuring that your equipment is in good working condition, you can improve the accuracy and distance of your shots with a recurve bow.
Knowing your Effective Range
An arrow's speed, accuracy, and power determine a bow's effective shooting range. Generally, a recurve bow can shoot an arrow with greater force and velocity than a longbow or compound bow.
Knowing your effective range is vital in bow hunting to hit the target at the desired spot. Every archer's effective shooting range varies, so you must find yours. You will know your effective range by consistently shooting until you can no longer hit the target. The maximum range you can hit the target is your effective range.
If you are a beginner, start by shooting at short distances and increase the distance gradually as you learn to control your bow better.
Additionally, ensure that the arrow isn't hitting any part of the target except its center.
It will help you develop proper technique and improve your accuracy. You should also pay attention to how your body feels as you shoot at different distances since this can affect your ability to shoot accurately over long distances.
As you gain experience in archery and become more comfortable with shooting, you can start to fine-tune your techniques based on your unique body and shooting style. It may involve adjusting your bow or the type of arrows you use and practicing different shooting styles to find what works best.
With time and practice, you can fine-tune your range and become more successful in archery.
How far can a 55lb recurve bow shoot?
A 55 lb recurve bow can typically shoot arrows up to 300 yards and reach an effective range of 30 to 35 yards depending on the strength of the archer's draw weight and the type of arrow you are using.
If you are new to archery, it's important to practice shooting your bow often to your accuracy and distance. Some tips to help improve your shooting abilities include focusing on a spot on the target, gradually increasing your draw weight as you become more comfortable with the bow, and always following through with your shots.
Investing in an archery target to practice your shooting is also a good idea, as this can help improve your aim and accuracy over time. Whether you are an experienced archer or a beginner, always practice safety when using your recurve bow.
It includes wearing any protective gear recommended by the manufacturer and following the proper handling and shooting techniques for your particular bow. With regular practice and good safety habits, you should improve your distance and accuracy with your 55 lb recurve bow over time.
Try one of these +100 50lbs Recurve Bows and test your effective shooting range.
How far can a 40 lb recurve bow shoot?
A typical 40 lb recurve bow can shoot an arrow up to around 280 yards, with an effective range of 25 to 30 yards. It is because a recurve bow has a much lower draw weight than other archery bows, such as longbows and compound bows.
A 40lbs recurve bow can be a powerful and effective tool for taking down small games if you are hunting. For example, you could use it for hunting rabbits, squirrels, or other small animals. However, if you are looking to hunt larger prey such as deer or elk, there may be better options than a 40lb recurves bow.
For beginners, a 40lb recurve bow is an excellent choice for getting started in archery. It is lightweight, easy to use, and affordable. However, as you gain more experience with the bow, consider upgrading to a higher draw weight or switching to another type of bow.
Get your first bow as you start your archery journey from this list of +400 40lbs Recurve Bows.
How far can a 30 lb recurve bow shoot?
30 lbs recurve bow may shoot an arrow up to 220 yards with an effective shooting range of 15 to 20 yards. You can determine the strength and power of a recurve bow by the draw weight, which refers to the force required to pull an arrow back against the string.
This recurve bow may not be handy for experienced archers as it has a limited shooting range of about 220 yards. However, for beginners and those just starting with archery, this bow is an excellent choice as it allows them to learn the basics of archery without requiring too much effort or strength.
Overall, the 30 lbs recurve bow is a popular choice among both experienced and beginner archers alike, as it is easy to use and versatile enough to meet the needs of a wide range of users. If you want to purchase one of these bows for yourself, many online retailers offer various options at competitive prices.
Try practicing with one of these +400 30lbs recurve bows.
What is the longest recurve bow shot?
The longest recurve bow shot was approximately 1,336 yards, made by Don Brown in 1987. However, as recorded by the Guinness Book of World Records, Matt Stutzman holds the title of the farthest shot at 310 yards on December 9, 2015, under World Archery conditions.
Shooting long-range shots with a recurve bow can be tricky but very satisfying once you get your maximum shooting range.
If you want to practice your long-range archery skills, you'll need a recurve bow that can shoot long distances accurately. These bows are typically more potent than other bows and allow you to shoot further shots more accurately.
Tips for Shooting Farther with a Recurve Bow
Recurve bows are a traditional bow commonly used in archery. Also known as reflex bows, these bows have tips that bend away from the archer when unstrung.
The recurved design increases the power and stability of the bow and improves its accuracy. In addition to being smaller and lighter than other types of bows, recurve bows are also faster.
You will determine the distance a recurve bow can shoot by the archer's skill and strength and the type of arrows used. As with all forms of archery, many factors come into play when trying to achieve maximum range. Some important factors include choosing the right equipment, proper shooting form, and using a high-quality bowstring.
Focus on your Form
If you want to increase your recurve bow range, the first step is to focus on your form and technique when shooting. The main elements of the excellent shooting form include:
Remaining relaxed and keeping your shoulders down and loose.
Pull the bowstring back to your anchor point smoothly and consistently.
Aiming correctly.
Commit fully to each shot.
Practicing these techniques will help you improve consistency in both distance and accuracy over time.
Invest in high-quality archery equipment
Investing in high-quality equipment and improving technique can also help you achieve maximum range with your recurve bow. One crucial factor to consider when choosing equipment is arrow type.
Different arrows may vary in size and weight. Heavier archery arrows tend to fly slower, while lighter arrows fly faster but are more likely to be affected by wind resistance.
In addition to using high-quality equipment, you can improve your performance by using a recurve bow specifically designed for long-range shooting. Testing it out in person when shopping for new equipment can be helpful since many buyers cannot accurately judge things like draw power and balance without actually shooting the bow themselves.
Practice, Practice, Practice
You can master archery after a while. It takes time and effort, so practice regularly to increase your accuracy, consistency, and range with a recurve bow.
For best results, try practicing from a stationary position when starting. After becoming more comfortable using the bow, you can begin experimenting with different stances and techniques for shooting at moving targets.
Practice with experienced archers or trainers to gain more tips and knowledge in the shooting. Achieve maximum range and requires unwavering focus and a willingness to work toward improvement consistently.
Be patient and keep practicing; you'll soon be shooting farther with your recurve bow than ever before.