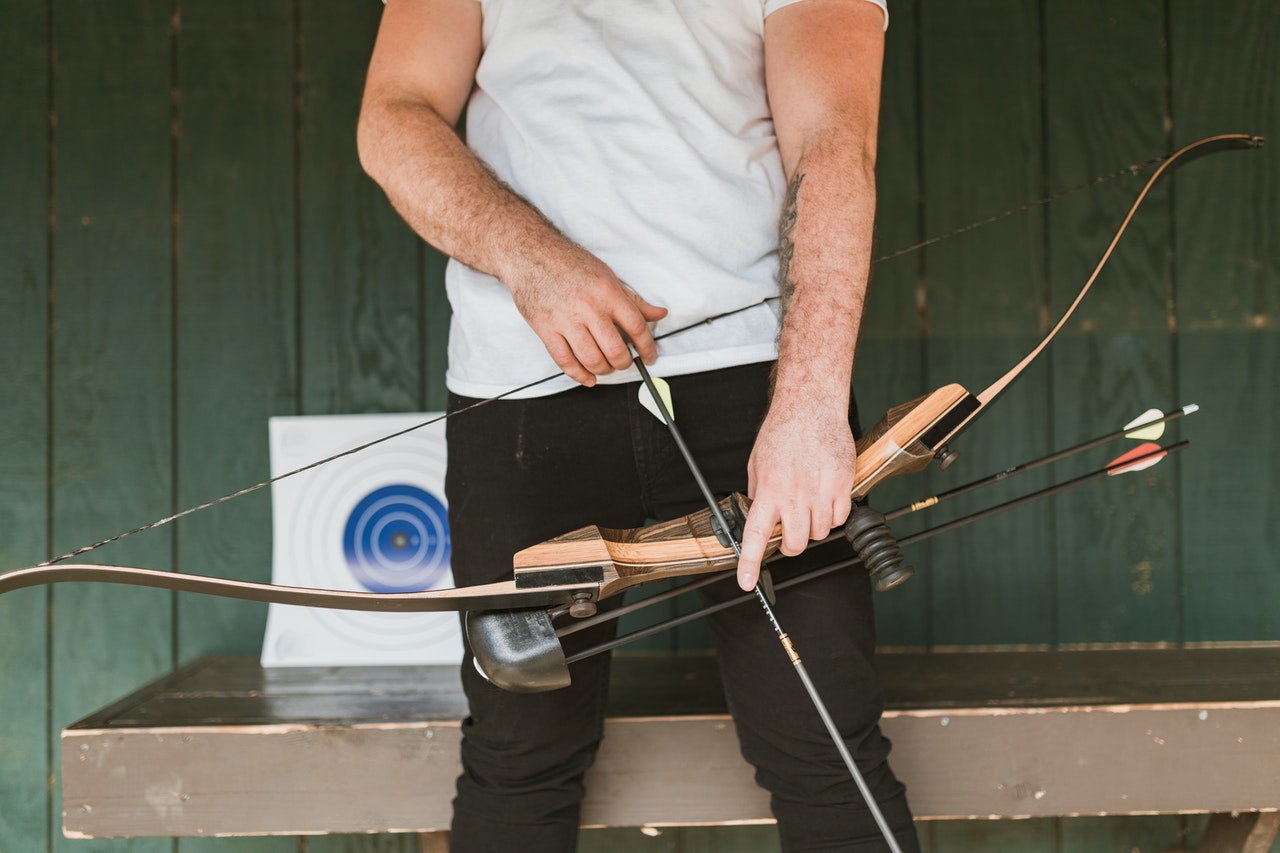 Recurve bows are suitable for beginners because this type of bow is simple, inexpensive, and easy to use.
Many recurve bow models have interchangeable parts that can replace if broken. Additionally, they are lightweight and easy to carry around, making them excellent for sporting events or hunting trips.
Recurve bows also allow for a more considerable margin of error than compound bows, making it easier to learn the basics of shooting. While self-bows are more accurate over longer ranges than recurve bows, beginner archers will not be able to shoot at such distances before they feel comfortable with the bow.
Many modern models of recurve bows are very high quality and can last years of practice or competition.
Ease of Use or Drawback
The first reason recurve bows are better for beginners is that they are easier to draw back than compound bows. Recurve bows are less complicated and easier to maintain.
Inexpensive than compound bows
Recurve bows are better for beginners because they cost less than other bows. You can purchase a decent recurve bow for $100 or less. However, spending well over $500 for a bow with high-end accessories such as sights and stabilizers is not uncommon.
Recurve bows are as powerful as compound bows.
Recurve bows are just as powerful as the more expensive compound bows because the draw weight is about the same. The big difference between recurve bows and compound bows is that the recurve bow does not have pulleys. So, they have a lesser possibility to break or malfunction.
Things to Consider When choosing a Recurve Bow for Beginners
Durability

If you are a beginner, you will most likely be practicing often and learning the basics of archery. Recurve bows are more durable than a self-bow as it has few parts that can break or malfunction. In addition, it is not as complicated as compound bows which can make them easier to maintain.

Accuracy

Recurve bow will be more accurate at close ranges. So, as a beginner, you will be practice short distance ranges first. You will need a recurve bow until you get comfortable with it, and later you could change to a more complex one.

Draw Weight

Recurve bows have the same draw weight as compound bows to maintain durability and accuracy. Therefore, it is necessary to learn how to use this bow properly before mastering its draw weight.

Ease of Use

Recurve bows are easier to use than compound bows, especially for beginners who have not developed the muscles to draw a compound bow correctly. They are also easier to maintain and more durable.

Price

Recurve bows are much cheaper than compound bows. You can find decent recurve bows for $100 or less. You do not need a high-end archery bow to practice as a beginner. It is better to invest the money you save into better arrows, targets, and other archery accessories.

What size recurve bow is best for me?

When selecting a recurve bow as a beginner, you need to consider the draw weight. You can start with the 40-pound recurve bow.

A 40-pound bow will be a good size for you because it will allow you to draw a little past your chin without too much trouble, and it won't take long to achieve this.

If you are an experienced archer, though, or if you have been practicing for years, then you might consider getting a 50-pound bow. It will be easy to operate, given that you are familiar with the weight already.

Finally, if you are highly experienced or looking forward to joining an archery club after this purchase, go for 60 pounds. A 60-pound draw is popular among elite archers and will not be a challenge for you.

Best way to choose the right Recurve bow

The first step to choosing a recurve bow is understanding your own needs. If you are unsure what type of archer you are, then take the following into account:
Do I want to use this bow for hunting?
Do I need this bow for competition shooting?
Will this be my only bow?
If you want a recurve bow purely for your use as an archer, then it does not matter as much as if you were buying this bow for competitive purposes.
Nevertheless, the following factors will still affect which size of recurve bow might be best for you:
How tall are you?
What type of archery do you plan on doing?
What draw weight should I choose?
To further complicate things, every archer is different. Many factors will cause a person to prefer one size of recurve bow over another. In the end, it comes down to what feels best for you. But here are some more specific recommendations to help you on your way.
What is a good draw weight for a recurve beginner?
Beginners should focus on form and technique first when they are starting. So, 40 pounds would be an ideal draw weight using a recurve archery bow.
Each recurve bow has a unique design that makes it function in a certain way. This is why it's essential to familiarize yourself with this type of bow and how it works before purchasing one.
The first step would be to try out as many bows as possible until you find one that feels right in your hands or arms. The one has a draw weight that is comfortable for you and shoots well. Once you've found the recurve you want, the next step will be to find out what draw weight it can handle.
It's important to know that many shooting ranges have rules about legal drawing weight for beginners.
Here are the most common ones:
20 pounds at 28 inches of draw
30 pounds at 27 inches of draw
40 pounds at 26 inches of draw
50 pounds at 25 inches of draw
60-80 pounds at 24 inches of draw
Since so many ranges have different rules, it's best to determine what archery range you'll be shooting at their required minimum draw weight. This is why a 40-pound recurve bow is the average good draw weight for a beginner because most beginners will never go above that benchmark.
Additionally, you must use a 40-pound draw weight as a starting point, not an endpoint. Some archers find that this weight is too much for them and adjust accordingly by choosing a lighter bow.
Others may draw more than 40 pounds, but it's essential to build up your muscles first not to injure yourself while in practice.
It's also possible to buy an adjustable recurve, which will allow you to change the draw weight as you get stronger. An adjustable recurve may be a good option for those who want to start at 40 pounds and eventually work their way up.
You can always upgrade later once your form is more consistent and your confidence in shooting is higher.
Different Types of Recurve Bow
40-pound recurve bow

This bow is suitable for archers who are starting with the sport. The draw weight is 40 pounds, so newbies find it very easy to use. In addition, it has a shorter length at 64 inches, so it is easier to transport and carry around. However, the bow only has 15-18 in brace height, which does not allow the archer to achieve higher speeds.

50-pound recurve bow

This bow is good for the archer looking to get into Olympic recurve. It is 62 inches long and allows 20-25 in brace height, which means higher speeds. A 50-pound bow is appropriate for experienced archers, but beginners may also use this if they find the 40-pound bow very light.

60-pound recurve bow

This is a powerful bow, which is usually used in international competitions. This type of bow has a length of 62 inches with a brace height of 24-25 inches. It gives the archer a good balance between speed and power.

70-pound recurve bow

This is a heavy recurve bow, but archers still use this type for recreational use. This is very good for experienced archers who use it to increase their speed. It has a length of 62 inches and a brace height of up to 28.5 inches, giving the archer better stability when he shoots this bow.
There are also 80 to 100-pound recurve bows found in the market. However, archers rarely use it as it could cause stress on their arms and shoulders, making it difficult to concentrate and shoot accurately.
If you plan to purchase your first bow, check out these +100 different recurve bows.
How far will a recurve bow shoot?
Generally, a recurve bow can shoot between 70 and 100 yards. However, this depends on the bow's draw weight or the amount of force to pull back. The further away you are pulling the string back, the more energy it will take to reach maximum speed.
There are factors affecting the distance a recurve bow can shoot:
The more extended the draw length, the further it can shoot.
A heavier draw weight will generally allow a bow to shoot farther.
A more flexible riser may help a bow retain its energy and shoot a bit further.
A carbon riser bow tends to have more speed and energy retention, while a steel riser bow tends to shoot and hold its speed and power better.
Each setup will be affected differently by the four factors above. If you want to maximize distance, try different setups with varying draw lengths and draw weights, risers, and limbs until you find one that works best for your situation.
If you want to maximize speed, shoot with the shortest draw length comfortable for you. Also, shoot with the heaviest weight that doesn't tire you too quickly or cause accuracy issues when repeatedly shooting in quick succession.
Use a riser made out of carbon fiber, and shoot with a split-limb rather than solid limbs. Split limbs have a bell shape at the ends, increasing limb efficiency and reducing energy loss.
Find a combination using these four factors that best suits your skills and physical abilities.
How hard is it to pull back a 50-pound recurve bow?
Pulling a 50-pound recurve bow for beginners is challenging for several reasons:
The bow is very long when strung.
Beginners are still working on their form and therefore do not draw smoothly or efficiently.
Many recurve bows come with stiffer limbs that require more strength to pull back before they are at full draw, which adds to the challenge.
A 50-pound recurve bow requires about 128 pounds to pull back. That means it takes more than three times of the archer's body weight to pull back a bow. The arrow would fall to the ground with almost any other form of propulsion behind it.
An arrow to reach its target, even at close range, requires all that human strength and more. Since the arrow is at rest concerning the bow, it has potential energy. This energy can be transferred into kinetic energy as an arrow accelerates with the recurve bow's force behind it.
To obtain a higher velocity, one can reduce the bow's draw force while maintaining the same arrow weight, but this also increases the strain on the archer since it becomes harder to pull back.
This means you need to exert nearly ten pounds of force push back on the arrow for every shot taken. Given these factors, a 50-pound draw weight bow, used for target practice at 20 yards, can deliver nearly 300-foot pounds of kinetic energy.
You can use numerous exercises to increase strength and develop a form for this task, including:
Pull-ups – Begin with assisted pull-ups from a sturdy bar. Add weight as necessary to increase difficulty.
Curls – Curl a bow to increase strength in the upper body.
Weight lifting – Hold a weight to strengthen the arms and shoulders further.
Archery form – Practice holding the bow in the ready position. Increase the distance to improve strength.
When pulling a recurve bow for beginners, it is essential to do so with caution and care because pushing too hard or careless could cause severe injury or damage to the weapon.
Also, always remember to maintain proper form when practicing exercises to avoid injury.
If a beginner is too weak to pull the bow back, it is possible to find lighter bows for them to use in practice.
Get comfortable with a 50 lbs. recurve bow, and get your own from this list of +100 recurves.