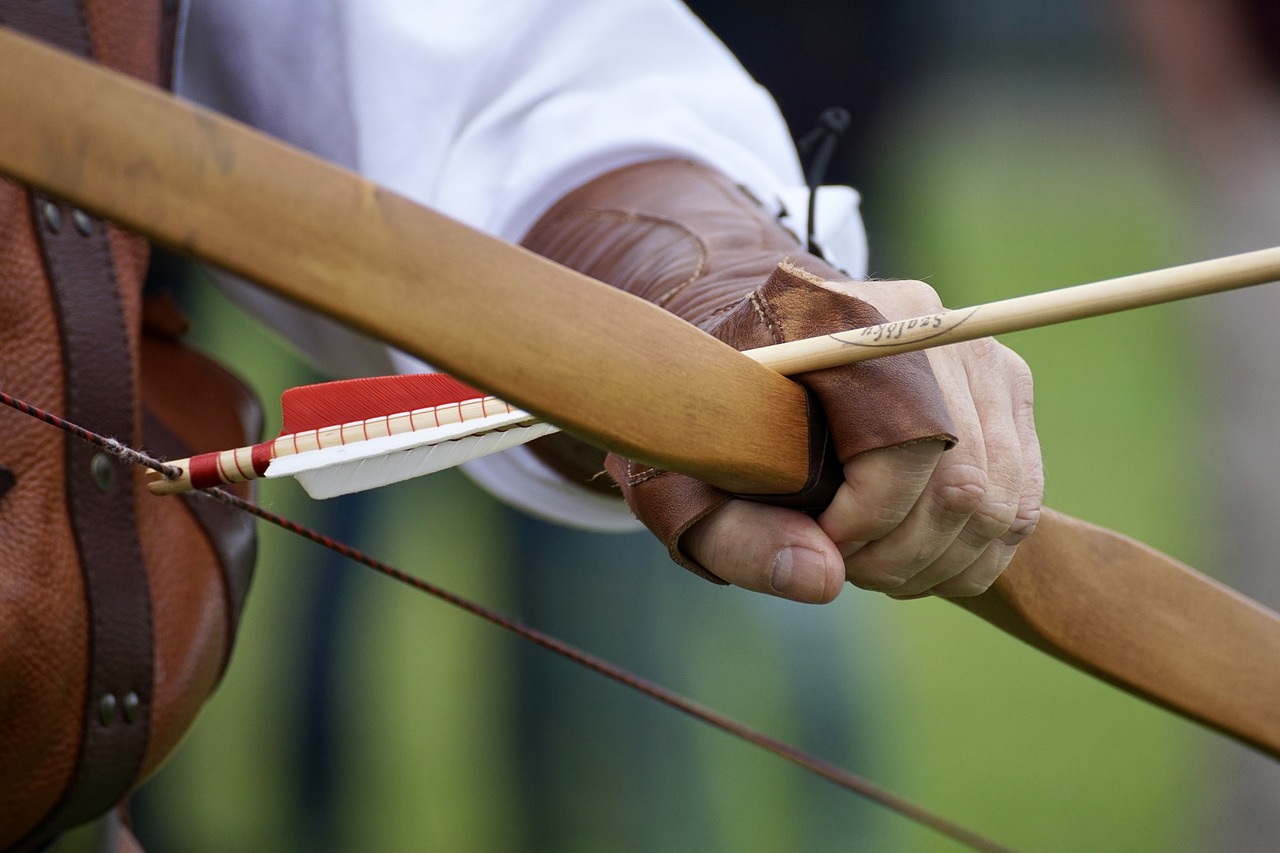 Recurve bows don't have a set of draw lengths. So, you can set the bow's draw length based on your preference.
Several recurve bows in the market do not have a draw length. This incident causes a lot of confusion in people's minds as they try to figure out whether this means that all recurve bows do not have a draw length.
There are recurve bows that have a draw length. It is a common misconception that only longbows have a draw length. There are also recurve bows with a draw length range feature for the convenience of the archer. It would allow the archer to use different brace heights depending on how close or far they want their body to be to the string at full draw.
For example, an archer with a shorter arm length would prefer using bows with higher brace heights, while an archer with longer arms would find it more comfortable to use bows with lower brace heights. Draw length range ensures that both types of archers can use one bow.
The draw weight of recurve bows with draw length will increase proportionally to the draw length. This point means that you cannot use a recurve bow of higher draw weight if it has a short draw length.
If you plan to get your first recurve bow, ensure that you get one with a brace height range to adjust the draw weight to your preferred draw length.
Two Basic Types of Recurve Bows
Recurve bow is one of the common choices for amateur archers who are just starting their adventure with archery. However, the recurve bow is also preferred by many experienced archers because it provides:
More power than other bows.
It allows increasing accuracy and velocity.
It offers better performance during the practice sessions.
The recurve bow consists of two limbs fixed to the riser with a bent or curved bowstring. The length of these limbs is usually shorter than those used in the longbow, making it difficult for beginners to draw the string over an arch.
Therefore, choosing the correct draw length is crucial for novice and experienced archers who want to get the most out of their recurve bow.
There are two basic types of recurve bows available on the market today: one-piece and two-piece.
One-piece Recurve Bow
While the one-piece recurve is more prevalent among beginners due to its simple design, it has limited adjustability, making it more challenging to choose your draw length than with a two-piece Recurve bow.
The one-piece recurves consist of a single piece of wood or fiberglass with no handle, so it is difficult for an archer to modify the curve and adjust the length. Therefore, choosing your draw length before buying this recurve bow is critical to optimizing your performance during practice sessions.
However, one of the advantages of a one-piece recurve bow is its lower price than two-piece bows. Additionally, it provides more power than other recurve bows; thus, it would increase accuracy and velocity, resulting in better performance during the practice sessions.
Two-Piece Recurve Bow
The two-piece recurve bow is advantageous because it would be easy to choose your draw length. But you should consult an expert or decide on a suitable draw length based on arm span and height if you are unsure which one to pick.
In addition, the two-piece recurve bows usually have flexible limbs made of carbon fiber or fiberglass, which has the advantage of increasing the bow's strength, weight, and ability to hold a string.
However, finding the right draw weight is another difficult task you have to face when choosing a recurve bow. So, the first thing you need is to select a draw length and correct draw weight to enjoy your practice sessions without any disappointments.
Therefore, the optimal way to choose the right Recurve bow is to consider your experience and your specific needs and then consider each model's pros and cons before deciding.
What is the draw length of a recurve bow?
Generally, the recurve bows have a draw length of 28 inches to 31 inches. However, there can be instances when the draw length of a recurve bow may exceed 31 inches.
So, it is advisable that as an archer, you should be familiar with your draw length to adjust the bow's draw length accordingly.
With archery, you should reach around 75 percent of your draw weight when you pull back. So, the bowstring should not lose any of its energy. So, if you are a beginner, it is advisable to start with 28-inch draw lengths since it performs better than 31 inches.
One of the most common problems archer's experiences is hitting targets too high or too low because they have incorrectly set the bow's draw length and are not appropriate to their draw length.
So, it is essential to note that the draw length of a recurve bow is not just about the size of the archer, but it is also dependent on how tall or short you are relative to what draw length you use for your bows.
The archer's body structures affect how far back an archer can pull his bow. For example, some people might be able to pull it about six inches, while others stretch it more than 9 inches.
How is draw length measured on a recurve?
Your recurve bow's draw length is the distance from the nocking point on your string to the grip of your archery bow. This measurement is usually taken from ear-to-ear using a measuring tape or another similar object.
In most cases, you have to measure from one ear across your face to the other ear to get the most accurate measurement.
Recurve bows typically have at least 28 inches of draw length, but this varies among models and can depend on your preferences. If you're picking out a recurve bow through an archery shop, you'll need to meet with an archery tech to help you determine which measurements correspond with your draw length.
If you're buying a recurve bow online, it's best to consult an expert before purchasing to ensure that the recurve bow of your choice has 28 inches of draw length, which is ideal for most people.
Measure your Draw Length with Measuring Arrow
For some archers, the best way to measure the draw length of a recurve bow is by using a measuring arrow.
To measure your draw length, pull out a piece of masking tape and place it on top of the bow just above where you would find an arrow rest.
When measuring with both hands later, make sure that this point is directly over one hip or pivot for accurate readings!
Draw two lines on its sides at different heights, so they meet precisely 3 1/4 inches long.
Now nock up some arrows while having someone read off their measurement from these markings.
Then, test your bows by attaching the archery arrow to your bow, pulling it back, and seeing where the bow lands. You have the correct draw length if it seems accurate when you shoot.
How do I know if my draw length is too long?
If your draw length is too long, holding the bow at full draw will be challenging. It makes the aiming and releasing difficult as well. If you can't fully pull back on a recurve bow without gripping it with the other hand, then the draw length may be too long for you.
In some cases, a person with a longer draw length may have difficulty properly aiming a bow at a target. This is because it's challenging to seek correctly when the grip of your bow is too far away from your face or chest, which can happen with long draw lengths.
The most common recurve bows have a maximum draw weight of 40 pounds that you can adjust up or down depending on personal preference. However, in some cases, it may be easier to start with a lighter draw weight to practice proper form before gradually increasing the weight of your bow as you get more comfortable shooting.
Suppose you are a beginner and intend to purchase a recurve bow. In that case, it is necessary to consult a professional at an archery shop before purchasing to ensure that the recommended draw length of your bow corresponds with your physical build.
Can you adjust the draw length on a recurve bow?
You can alter the draw length on a recurve bow by loosening or tightening the limb bolts at both ends of your bow. You'll need to tighten these bolts if your limbs are too loose or loosen them if they're too tight.
Recurve bows are designed to attach their limbs to the riser at an angle, allowing for more excellent stability and arrow speed. Unfortunately, these bows also use a single string and require the archer's arm to be extended while using them.
For this reason, it would not be easy to adjust the draw length on them. So, if you need to change the draw length of your recurve bow, better ask assistance from a bow-tech.
If the limbs are appropriately adjusted, it should be no problem for you to pull back on your bow. However, if they're too tight or too loose, it may not be easy to fully drawback on the archery bow. You should also have no problem holding the full draw if you shoot for an extended period or until you release an arrow.
If you're in-between measurements for your bow's draw length, aim for the middle size for the most comfortable draw because shorter draw lengths can be challenging for people with longer arms. On the other hand, excessively long draw lengths can make it uncomfortable to shoot an arrow.
Points to remember when setting proper draw length
Choose the length of your arrows, which you can determine by how many inches it is from the arrowhead to where the nock meets the shaft. You can often find the length information on the arrow itself or its specifications.
Determine the correct draw length for you. If your form is incorrect when you draw, it can cause unnecessary pain and poor performance. You can determine the proper draw length by age and height.

Measuring this is simple:
Archers under the age of 18 should hold the bow at their side with the string facing them and measure from their dominant hand's middle finger to where the arrow would rest on the ground.
Archers over the age of 18 should hold the bow at their side with the string facing them and measure from their dominant hand's middle finger to where the arrow would rest on their toe. This spot is also where you will place your non-dominant foot.
Draw out an additional 1/8 inch beyond your adjusted draw length. So you can ensure that the bow is drawn to a full draw and accounted for when determining proper form.
Keep in mind this will cause the arrow to fly about 1/8 inch higher than your actual draw length.
Test out your new adjusted draw length with a few test shots from 30 feet. Re-adjust as needed.
Lastly, don't forget to check for proper nocking and drawing of the bowstring.
Does draw length matter recurve bows?
Draw length matters on recurve bows as it can significantly affect the archer's accuracy, power, energy expenditure, safety, and form.
When it comes to recurve bow, draw length is one of the most critical elements, especially for those who want to do archery as a sport. The correct choice of the draw length can help you optimize your results and maximize your efforts.
Factors contributed by the appropriate draw length:
Accuracy
The recurve bow must be accurate because the arrow needs to hit the target effectively. Quality recurve bows come with an adjustable draw length so you can modify them according to your size.
Power
Power is necessary because it will determine how effective you are at hunting or shooting targets. The more energy you have in your bow, the further your arrow can go. This action allows for increased accuracy and safety due to distance from target/hunted animals.
Energy expenditure
Energy expenditure is essential because you will shoot for extended periods with less fatigue and exhaustion. So, it will be more comfortable and increase safety as you can hunt/shoot for longer without tiring out.
Safety
Safety is also a concern, so your recurve bows need a draw length. It prevents those around from being injured by the recurve bow's arrow. However, if the draw length is too short, your release can cause serious injury. Hence, all recurve bows come with adjustable draw lengths to ensure the safety of those around them.
Form and Technique
If you do not practice regularly with your bow, form/technique can suffer. In addition, if you are not practicing in your release and aim, this could result in injury or even death due to severely decreased accuracy. So, it is essential to practice with your recurve bow to be effective.
Get your first bow from this list of +400 recurve bows at amazon!