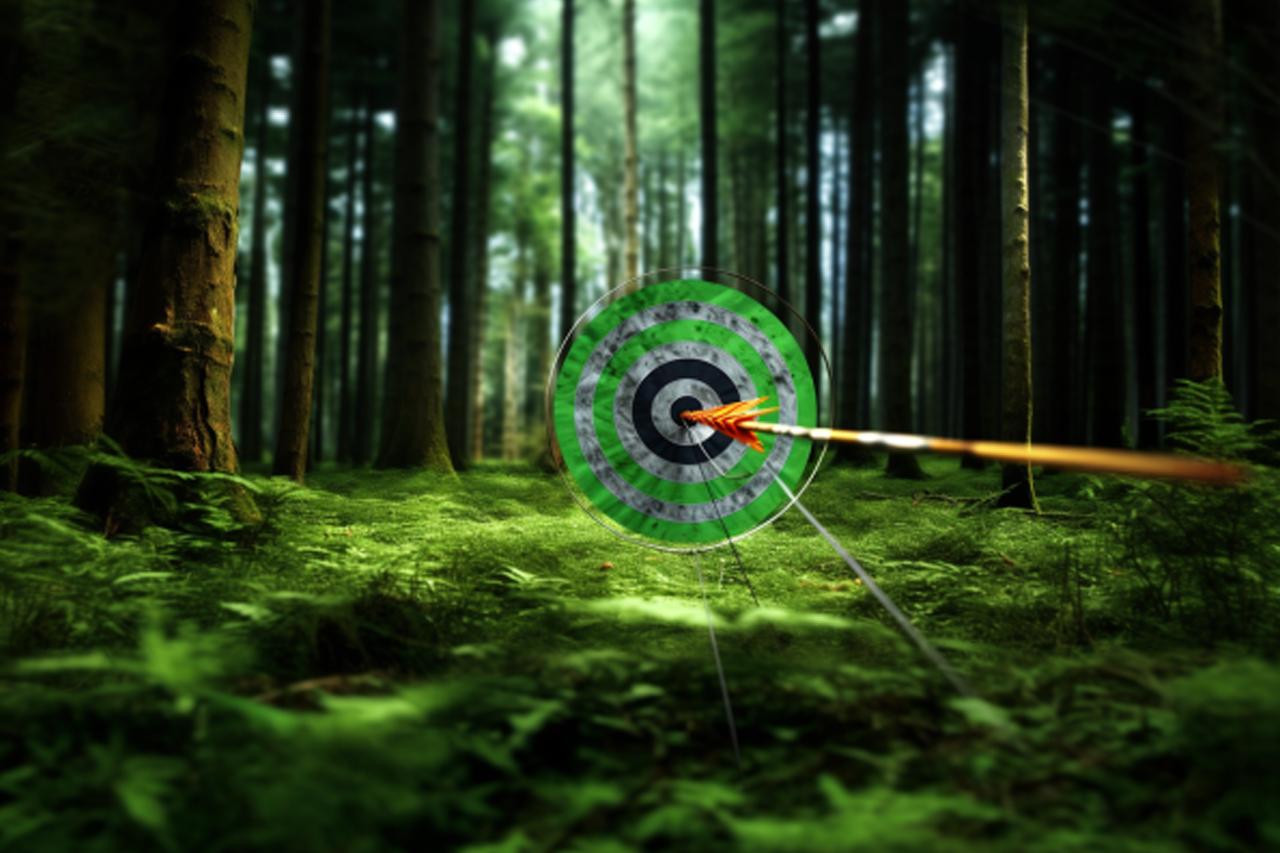 You've probably experienced fishtailing during your practice sessions if you're an archery enthusiast. Fishtailing occurs when your arrow wobbles in the air and veers off course, frustrating beginners and seasoned archers.
But what exactly causes fishtailing, and how can you prevent it? In this article, we'll take a closer look at the physics of arrow flight to help you understand what causes fishtailing. We'll also explore common causes of fishtailing and how bow setup affects its occurrence.
By the end of this article, you'll have a better understanding of why fishtailing happens and what you can do to improve your technique and prevent it from happening again in the future.
Understanding the Physics of Arrow Flight
Do you want to know how arrow flight works? Understanding the physics of arrow flight is crucial to avoid fishtailing in archery.
Three main factors affect the trajectory of an arrow: the bow's energy, the arrow's weight and length, and the wind resistance.
The bow's energy is what propels the arrow forward. When you drawback on a bowstring, it stores potential energy in its limbs. The release of this energy pushes the string and accelerates the archery arrow out of the bow.
The energy stored depends on how far back you pull the string (the draw length) and how much force you use (the draw weight). The greater these two factors are, the more kinetic energy you will transfer to your arrow.
Common Causes of Fishtailing
You might notice your arrow veering from side to side like a fish swimming in water if you grip the bow too tightly or release the archery arrow too quickly. It is fishtailing in archery, and it can be frustrating for any archer who wants to hit their target with precision.
Here are some common causes of fishtailing that you should be aware of:
Improper grip: If you grip your bow too tightly, your hand muscles will create tension that can affect the direction of the arrow.
Inconsistent release: If you release the arrow inconsistently, it can cause lateral movement due to uneven pressure on the string.
Arrow spine mismatch: An improperly matched arrow spine can cause fishtailing due to oscillation during flight.
Bow tuning issues: A poorly tuned bow can also lead to fishtailing, so adjust your equipment properly before shooting.
It's important to ensure a consistent grip and release technique, use arrows with an appropriate spine rating for your bow, and keep your equipment properly maintained and tuned. With practice and attention to these details, you can shoot arrows straight and true every time!
How Bow Setup Affects Fishtailing?
Properly setting up your bow can greatly impact whether or not your arrows veer off course. Bow setup is a leading factor contributing to fishtailing in archery.
Avoid this issue by ensuring your bow has the right draw weight, length, and arrow spine. If your archery bow is too heavy for you or the draw length is incorrect, it can cause you to torque the bow while shooting. It means you're twisting the bow sideways as you release the arrow, leading to inconsistent shots.
Similarly, if your arrows don't match your bow's specifications regarding stiffness (spine), they may flex too much and destabilize mid-flight, causing them to veer off-course.
To prevent fishtailing from occurring due to improper setup, make sure that you consult with an experienced archery technician who can help set up your equipment correctly based on your body measurements and shooting style.
With proper setup and tuning of equipment, you can minimize the chances of experiencing fishtailing and achieve more consistent and accurate shots every time you step out onto the range or field.
Adjusting Your Technique to Prevent Fishtailing
Improving your shooting technique is key to avoiding wayward arrows and hitting your target precisely. When it comes to preventing fishtailing in archery, there are a few things you can do to adjust your technique:
Relax Your Grip – A tight grip on the bow handle can cause tension in your hand and arm, leading to inconsistencies in your shot. Relaxing your grip allows for more natural movement in your hand and wrist, resulting in a smoother release.
Focus on Follow-Through – Proper follow-through is essential for maintaining good form throughout the shot and preventing fishtailing. Hold your bow arm steady after releasing the arrow, allowing the shot's energy to dissipate without any other movement.
Practice Consistently – Like any skill, archery takes practice and repetition to master. Practicing consistently with proper form and technique adjustments builds muscle memory to help prevent fishtailing from becoming a recurring issue in your shots.
By incorporating these adjustments into your shooting technique, you'll be able to prevent fishtailing from affecting your accuracy and improve overall consistency with each shot. Remember that it takes time and practice to perfect any skill – keep at it!
Troubleshooting Fishtailing Issues
Now let's look at what causes this frustrating issue and how to troubleshoot it. Fishtailing occurs when the arrow moves side to side in flight due to an imbalance of forces acting on it. It can cause by several factors, including incorrect bowstring alignment, improper tuning, or inadequate spine stiffness of the arrow.
To troubleshoot fishtailing issues, start by checking your bowstring alignment. Make sure it's centered and straight concerning the rest and nocking point.
Next, check your arrow's spine stiffness rating against your draw weight and bow type. If they are incompatible, consider switching to stiffer or softer ones as needed.
Finally, properly tune your bow for optimal performance by adjusting the rest position and nocking point if necessary.
By addressing these potential problem areas, you can reduce or eliminate fishtailing issues in your archery form and improve accuracy over time.
Tips for Improving Arrow Flight
If you want to make your arrows fly like a dream, a few simple tricks can help!
Firstly, check the spine of your arrow. It refers to the arrow's stiffness or flexibility. If it is too stiff, it won't flex enough when released from the bow, causing it to veer off course and affect its flight path.
On the other hand, if it's too flexible, it'll wobble excessively in flight leading to poor accuracy. Another tip is to ensure that your bowstring has enough tension and remains straight throughout the shot. If there's insufficient tension in the string or it's allowed to twist during release, then this will also impact the trajectory of your arrow.
Proper form and technique can help you maintain a consistent draw length and anchor point, improving your arrow flight. Following these simple tips, you can easily enhance your archery game by reducing fishtailing issues and achieving better accuracy with each shot.
Mastering Your Aim and Form
Let's examine how to perfect your aim and form to become a true archery pro!
Mastering your aim and form is crucial when hitting the bullseye consistently. Here are some tips to help you improve:
Stance: Your stance should be stable and balanced, with your feet shoulder-width apart. Ensure the weight is evenly distributed on both feet, and avoid leaning forward or backward.
Feet placement: Keep one foot slightly before the other, pointing towards the target. It will allow for better balance and stability.
Knees: Bend your knees slightly to lower your center of gravity, making it easier to maintain balance while aiming.
Grip: Your grip on the bow should be firm but not too tight. The bow should rest in the base of your thumb muscle pad, with your fingers wrapped around it loosely.
Hand position: Place the webbing between your thumb and index finger on the grip, close to the riser. It will ensure you can control the bow without gripping it too tightly.
Anchor point: Consistency is key when it comes to anchoring. Find a comfortable anchor point that works for you and stick with it whenever you shoot.
Chinrest: Resting your chin on a chinrest or string kisser can help ensure consistent anchor points shot after shot.
By focusing on these elements of aim and form, you'll be well on your way to hitting bullseyes consistently. Practice makes perfect, so remember to get out there daily!
Frequently Asked Questions
What is the history of fishtailing in archery?
When it comes to the history of fishtailing in archery, there needs to be more information available. The term 'fishtailing' is relatively new and refers to the phenomenon where an arrow wobbles side-to-side as it travels towards the target.
However, archers and engineers have studied the underlying cause of fishtailing extensively. It's generally accepted that a combination of factors, such as improper bow tuning, inconsistent release technique, or poor arrow spine selection, causes fishtailing.
As archery technology advances, these issues are becoming easier to address, which has helped reduce the prevalence of fishtailing in modern archery equipment.
Are there any physical limitations that can cause fishtailing?
If you experience fishtailing in archery, physical limitations may be causing it. For example, having weak shoulder muscles or poor posture can affect your ability to maintain a steady aim and release the arrow smoothly.
Similarly, if you have an injury or condition that affects your grip strength or hand-eye coordination, this can also contribute to fishtailing.
Working with a coach or trainer is important to help you identify any physical limitations and develop exercises and techniques to address them.
Additionally, proper warm-up and stretching before shooting can help you improve flexibility and reduce the risk of injury that might exacerbate fishtailing.
Can fishtailing damage my bow?
Fishtailing is a phenomenon that occurs in archery when the arrow wobbles from side to side during flight. While it may not directly damage your bow, it can indicate problems with your technique or equipment.
If addressed, fishtailing can lead to consistent shots and increased accuracy. To prevent fishtailing, make sure your bow is properly tuned and matched to your arrows, and focus on maintaining proper form throughout your shot sequence.
It's also important to regularly inspect your equipment for any signs of wear or damage that could contribute to fishtailing. Addressing these factors can help ensure a smooth and accurate shot whenever you pick up your bow.
How long does it take to master proper form and prevent fishtailing?
To master proper form and prevent fishtailing in archery, it typically takes several months of consistent practice. You'll need to focus on building strength in your upper body, particularly your shoulders and back, and developing good posture and alignment.
It involves using the proper stance, keeping your bow arm straight and relaxed while drawing back the string with your other hand and releasing the arrow smoothly without jerking or twisting. It's also important to focus on your breathing and mental focus during each shot.
As you continue to practice, you'll gradually develop muscle memory and improve your accuracy, which will help reduce the risk of fishtailing over time.
Are there any specific exercises or drills to help prevent fishtailing?
To prevent fishtailing in archery, you can do several exercises and drills. One of the most effective is to work on your grip strength. A weak grip can cause your bow hand to move during the release, leading to fishtailing.
Another helpful drill is to focus on your follow-through technique. If you don't maintain a steady aim after release, it can also cause fishtailing.
Practicing with a stabilizer can also help reduce this effect by minimizing any unwanted movement in your bow hand. Finally, ensure you're using proper form and technique when shooting, which will also help prevent fishtailing.
Conclusion
Congratulations, you've learned all about fishtailing in archery! By understanding the physics of arrow flight and common causes of fishtailing, you can adjust your technique and bow setup to prevent this issue.
Even small adjustments can make a big difference in your arrow's trajectory. If you're experiencing fishtailing, troubleshoot the issue by examining your form and equipment. Consider adjusting your grip or release, checking for damaged or worn arrows, and ensuring your bow is properly tuned.
You can improve your arrow flight and become a more skilled archer with practice and patience. Remember always to prioritize safety when practicing archery. Follow all safety guidelines and use proper equipment to avoid injury.
Keep learning and practicing to achieve mastery of this exciting sport!
Here are +1,000 good arrows you can choose from for your next archery practice.