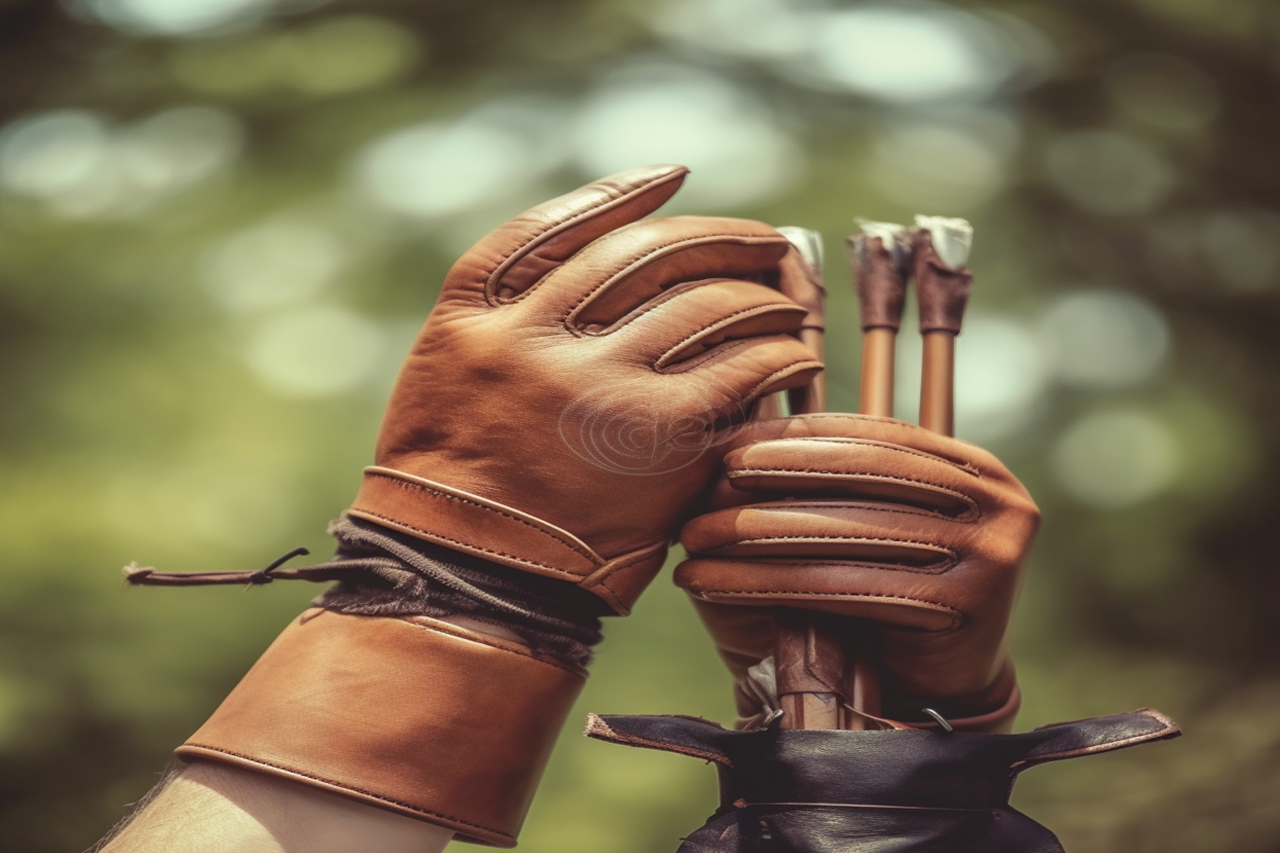 If you are a serious archer, you know precision shooting is about accuracy, consistency, and control.
You must have the right equipment to achieve these goals, including a high-quality bow, arrows, and accessories. But, the archery glove is one item that often gets overlooked but is essential for any archer looking to improve their precision shooting.
Archery gloves protect your fingers from the bowstring, improve your grip on the bow, prevent injuries and bruising, and achieve more consistent shots. Using an archery glove, you can focus on your form, technique, and aiming without worrying about the discomfort or distraction of a sore or injured hand.
This article will explore why archery gloves are essential for precision shooting, how to choose the right type of glove for your needs, and how to care for your gloves to ensure they last for many years of shooting.
Protecting Your Fingers from the Bowstring
You'll need an archery glove to prevent the bowstring from painfully cutting into your fingers like a sharp knife. It is imperative if you're shooting with a recurve bow or a longbow, which have no release mechanism to prevent the string from snapping back into your fingers after release.
An archery glove protects your fingers from painful cuts, bruises, and blisters, allowing you to shoot comfortably and confidently. An archery glove covers the three fingers holding the bowstring, protecting your skin and the string.
The glove is made from durable leather, suede, or synthetic materials and is often padded to absorb shock and reduce friction. The glove also features a reinforced tip or tab to prevent wear and tear from repeated shots.
An archery glove is essential for preventing injuries and improving accuracy and precision. When you shoot without a glove, your fingers may slip or stick to the string, causing inconsistencies in your release and affecting the trajectory of your arrow.
With an archery glove, you'll have a smooth, consistent release every time, allowing you to focus on your aim and technique. So if you want to achieve the best possible results in archery, invest in a high-quality archery glove.
Improving Your Grip on the Bow
Improving the grip on your bow is crucial for achieving accuracy and consistency in your shots. If you don't have a good grip, your bow will move around, and your shots will be off target.
Here are five tips to help you improve your grip on the bow:
Use a grip aid: There are many grip aids available on the market that can help you improve your grip. Some popular options include grip tapes, grip pads, and grip enhancers.
Relax your grip: When you hold the bow, try to keep your grip relaxed. Don't squeeze too tightly or hold on too loosely. A comfortable grip will help you control the bow while reducing fatigue.
Use the right grip: Different bows have different grips, so use the right one for your bow. If you need help deciding which grip to use, consult the manufacturer's instructions or talk to a professional archery coach.
Practice your grip: Like any other skill, improving your grip takes practice. Spend some time each day practicing your grip, and you'll soon see improved accuracy and consistency.
Get feedback: Finally, get feedback from others about your grip. Ask a coach or experienced archery friend to watch you shoot and give you feedback on your hold. It can help you identify areas for improvement and make adjustments accordingly.
By following these tips, you can improve your grip on the bow and achieve greater accuracy and consistency in your shots. Remember that archery is a skill that takes time and practice to master, so be patient and keep working at it. With dedication and hard work, you can become a skilled archer and enjoy the many benefits that this great sport has to offer.
Preventing Injuries and Bruising
Paying attention to your form and posture while holding the bow is important to avoid injuries and bruises. However, even with proper form, the repetitive motion of drawing and releasing the bowstring can cause discomfort and pain in the fingers, especially for beginners.
It is where archery gloves come in. They protect the fingers from the pressure and friction of the bowstring. Archery gloves are made of leather, neoprene, or synthetic blends, with reinforced fingertips for extra protection.
Without gloves, repeatedly rubbing the bowstring against the fingers can cause calluses, blisters, or even permanent damage. In addition to protecting your fingers, archery gloves also improve your precision shooting.
By providing a consistent and stable grip on the bowstring, gloves reduce the chance of slipping or losing control of the arrow. It is significant for competitive archers who need to hit the bullseye consistently.
In short, archery gloves are essential not only for safety reasons but also for improving your accuracy and performance.
Achieving More Consistent Shots
Achieving consistent shots in archery can be mastered with the right techniques and practice. One of the most important aspects is grip. When you grip your bowstring, the tension in your hand can cause your arrow to fly off course. An archery glove can help you create a consistent grip and shoot more accurately.
Finger placement is another factor that can affect consistency. Without a glove, fingers can slip or move around, causing the arrow to fly off course.
An archery glove provides a secure grip, keeping your fingers in place and preventing unwanted movement. It allows you to focus on your form and technique without worrying about your fingers slipping.
An archery glove can also protect your fingers from the repetitive strain of shooting. The string of your bow will rub against your fingers, causing blisters, calluses, and even nerve damage over time. Wearing an archery glove can protect your fingers from this strain and allow you to shoot more comfortably and safely.
An archery glove is essential for any archer looking to achieve consistent shots.
Choosing the Right Type of Archery Glove
When looking for the right type of glove for your hand, it's important to consider the fit and material that will provide maximum comfort and support.
A good archery glove should fit snugly without any excess material that could cause discomfort or interfere with your shot. It should also be made of a durable yet flexible material to allow for a full range of motion in your fingers.
Depending on your preferences and shooting style, there are several types of archery gloves. Some gloves are made of leather, which provides a natural grip and is ideal for traditional archery.
Other gloves are made of synthetic materials, which can offer more durability and weather resistance. Some gloves even feature extra padding or finger tabs to help prevent blisters and calluses.
Ultimately, the best type of archery glove for you depends on your needs and preferences. Experiment with different materials and styles until you find the one that feels most comfortable and allows you to shoot with the greatest precision.
With the right glove, you can achieve more consistent shots and take your archery skills to the next level.
Caring for Your Archery Gloves
Now that you've chosen the right archery glove for your shooting needs, it's important to take good care of it. Proper care will not only extend the life of your glove but also ensure its efficiency in providing the necessary grip and protection for precision shooting.
Here are some tips on how to care for your archery gloves.
Always store your glove in a dry and cool place.

Exposure to direct sunlight or high heat may damage the glove's material, causing it to lose its shape and effectiveness. Also, avoid storing your glove in a humid area, which can cause mold growth, leading to unpleasant odors and potential health hazards.
Clean your archery glove regularly to remove dirt, sweat, and oils that can accumulate on the surface over time.

Use a soft cloth or sponge and put mild soap to gently clean the glove, avoiding harmful chemicals or abrasive materials that can damage the fabric. After cleaning, allow the glove to air dry completely before storing it.
Inspect your archery glove regularly for any signs of wear and tear.

Look for loose stitching, holes, or cracks in the material that can compromise the glove's effectiveness. If you notice any damage, repair it immediately or replace the glove to ensure safety and accuracy during shooting.
Following these simple care tips, you can ensure that your archery glove remains in top condition, providing the necessary grip and protection for precision shooting. Remember, a well-maintained glove can make all the difference in achieving your target goals.
Here are +100 archery gloves you can purchase online.
Other Essential Equipment for Precision Shooting
You'll need more than just a glove to improve your aim and accuracy. You'll also require other important equipment.
Here are some other essential pieces of equipment that you should consider investing in:
Bow Sight

A bow sight is a device that attaches to your bow and helps you aim accurately. It works by providing a visual reference point that you can use to line up your shot.

Many different types of bow sights are available, ranging from simple pin sights to more advanced digital sights that use lasers or cameras to help you aim.

Check out these +600 archery bow sights.

Arrow Rest

An arrow rest is another important piece of equipment to help you shoot more accurately. It's a device that attaches to your bow and holds your arrow in place while you draw back the string.

Several types of arrow rests are available, including drop-away rests, whisker biscuit rests, and shoot-through rests.

Here is a list of +600 arrow rests online.

Stabilizer

A stabilizer is a long rod that attaches to your bow and helps balance it while you shoot. It can also help reduce vibration and noise, improving your accuracy.

Many different types of stabilizers are available, ranging from short, compact stabilizers to longer, more elaborate ones that incorporate additional weights and dampeners.

Get a stabilizer from these +600 archery stabilizers online.
Investing in these essential pieces of equipment can help take your archery game to the next level. With the right gear, you'll be able to shoot more accurately and consistently, giving you a competitive edge and helping you achieve your goals. So pay attention to your equipment, invest in the best gear you can afford, and watch your accuracy soar.
Frequently Asked Questions
Can you wear any gloves for archery, or must it be specific?
Use a specific archery glove to achieve precision shooting in archery. Regular gloves interfere with the release of the bowstring, causing inaccuracy. Archery gloves have maximum sensitivity, comfort, and protection.
How often should you replace your archery gloves?
You should replace your archery gloves when they become worn or damaged or if they no longer provide the necessary grip or protection. It varies based on the frequency of use and quality of the gloves.
Are there any alternatives to wearing archery gloves for finger protection?
If you prefer not to wear archery gloves, finger tabs or finger guards may be used as alternatives for finger protection. However, gloves provide a better grip and consistent release, improving precision shooting.
How do I know if I have chosen the right size of archery glove?
To determine if you've selected the right size archery glove, measure your hand's circumference below the knuckles. Consult the manufacturer's sizing chart to find the corresponding glove size. A properly fitted glove ensures maximum protection and comfort while shooting.
Can archery gloves improve my overall accuracy in shooting?
Archery gloves can improve your overall accuracy in shooting by providing a better grip and preventing blisters. They also protect your fingers from getting hurt by the bowstring. Choosing the right size is important for optimal performance.