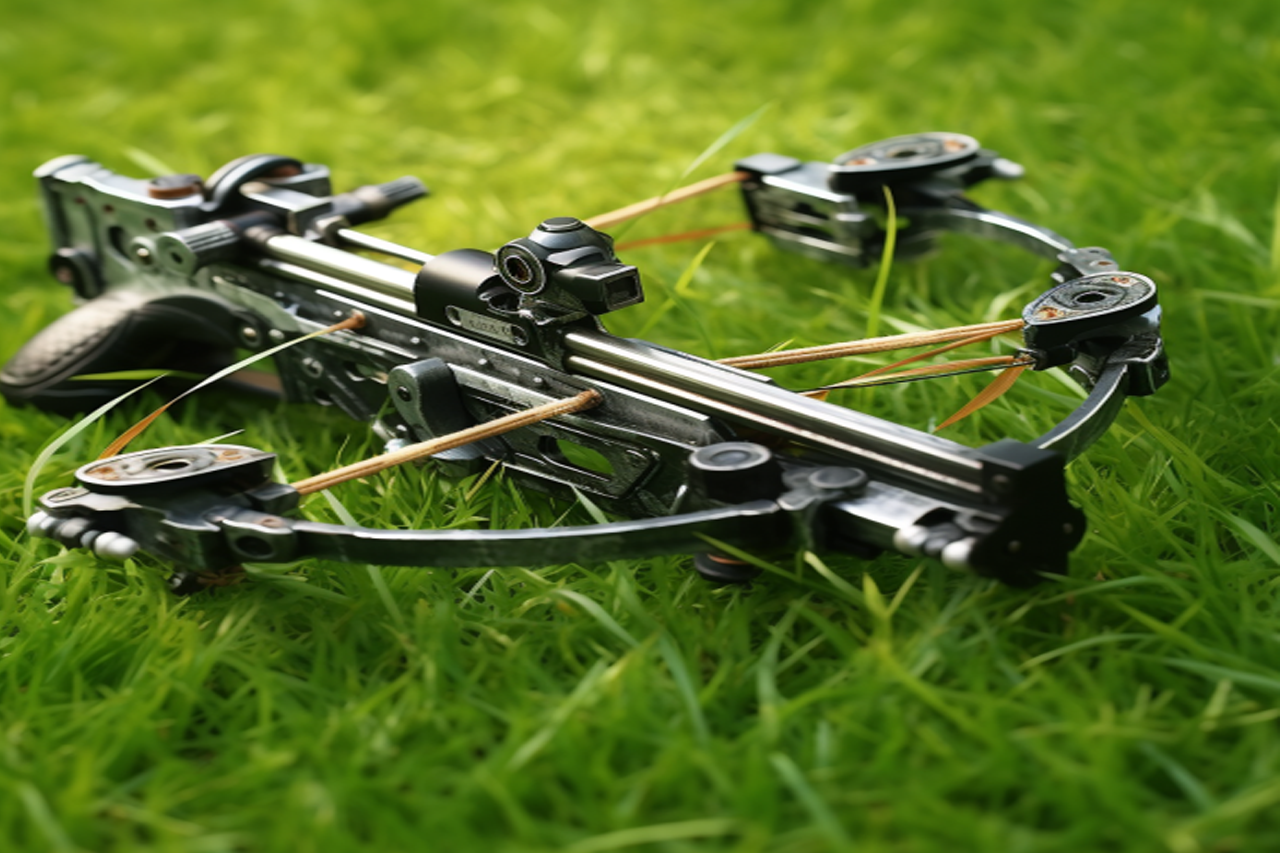 If you own a crossbow, it is crucial to understand the risks of leaving it drawn for an extended period. Drawing a crossbow means pulling the string back into position, which causes tension on the bow and bowstring.
Left in this position for too long can cause damage or breakage, leading to potential injury. Therefore, taking safety measures when handling a drawn crossbow is essential to ensure your safety and those around you.
Before using your crossbow, thoroughly inspecting it is critical. Additionally, ensure you securely tighten all parts and are in good condition before loading them with bolts.
Understanding how to store your crossbow after use properly is also crucial in preserving its longevity and preventing accidents from occurring.
This article will discuss various precautions to take when drawing your crossbow and tips for storing and handling it safely.
Understanding the Risks of Leaving a Crossbow Drawn
Leaving a crossbow drawn may seem harmless, but it can result in serious accidents and injuries.
Crossbows use great force to launch a bolt or arrow toward the target, unlike regular bows. This force is achieved by pulling the string back and locking it with the trigger mechanism. When left drawn for an extended period, this high tension can cause damage to the bow's components.
One of the main risks of leaving a crossbow drawn is that it can cause fatigue on its parts over time. The limbs, strings, cables, and trigger mechanism are all under constant strain when you keep the bow in this position.
Such prolonged stress can result in weakened or broken components that could fail during use and cause severe injury.
Another risk associated with leaving a crossbow drawn is accidental discharge. If you forget that your bow is loaded and accidentally apply pressure on the trigger while trying to move it around or adjust your grip, you might shoot yourself or someone nearby.
Therefore, always assume that your crossbow is armed whenever you're handling it.
To minimize these risks associated with leaving a crossbow drawn for too long, always unload your weapon before storing it away.
Ensure there isn't any bolt or arrow inside the barrel before releasing its tension using either the firing mechanism or manually unstring it from behind its riser.
Additionally, store your bow horizontally instead of vertically, as doing so will put less pressure on its limbs and other components.
Although modern-day crossbows are very safe weapons when used correctly and appropriately stored away after use, they pose severe threats when left unattended while still loaded.
As such, understanding how long you can leave them drawn without causing any damage and following specific safety protocols when dealing with them should be the top priority for all users alike!
Inspecting Your Crossbow Before Use
Before firing, inspect your crossbow for any potential issues or damage. This step is vital in ensuring the safety of yourself and those around you.
Begin by checking your crossbow's limbs for cracks or fractures that could cause them to break under pressure. Next, examine the string for signs of fraying or wear and tear.
In addition to checking the physical components of your crossbow, it's important to ensure that all screws and bolts are tightly secured. Loose screws can affect accuracy and potentially cause harm if they come loose during use.
Once you've completed a visual inspection, take a few practice shots to ensure everything is functioning properly before hunting or shooting competitively.
Remember, taking the time to inspect your crossbow before use not only ensures safety but also helps prolong its lifespan. By identifying potential issues early on, you can address them before they become more serious problems that require costly repairs or replacements.
To summarize, here are three key steps to keep in mind when inspecting your crossbow:
Check limbs for cracks or fractures
Examine string for wear and tear
Ensure all screws and bolts are tightly secured
By following these guidelines, you can have peace of mind knowing you're using safe and reliable equipment.
Setting a Time Limit for Drawn Position
Setting a time limit for how long you can hold your crossbow in the drawn position is crucial to prevent muscle fatigue and ensure accuracy. Drawing the crossbow for too long can cause your muscles to tire, which may result in decreased accuracy or even injury.
You only hold your crossbow in the drawn position for 30 seconds to avoid this. It will give you enough time to aim and take your shot without putting too much strain on your muscles.
If you cannot shoot within 30 seconds of drawing your crossbow, lower it down and rest briefly before trying again. It will help prevent muscle fatigue and improve overall accuracy.
It's also important to remember that safety should always come first when using a crossbow. Only point it at your intended target, keep it pointed downward when not in use, and never leave it unattended or loaded.
By following these guidelines, you can use your crossbow safely and effectively every time.
Taking Breaks and Relaxing Tension
To avoid muscle strain and improve accuracy, take breaks and relax your muscles while using the crossbow. One way to do this is to set a timer for every 10-15 minutes of continuous use, reminding yourself to let go of the drawstring and rest your arms. It will prevent fatigue from setting in, allowing you to maintain focus on your target.
During these breaks, stretching out your arms and shoulders is important. You can do simple stretching, like rolling your shoulders back or bringing your arms across your chest.
These stretches help loosen any tension that may have built up during use, preventing injury and improving overall performance.
Another way to relax tension is by focusing on breathing techniques. Deep breathing exercises can help regulate heart rate and reduce stress levels, resulting in a calmer state of mind while using the crossbow.
Overall, it's crucial to prioritize safety measures when using a crossbow. Taking breaks, stretching out muscles, and practicing breathing techniques prevent muscle strain and maintain accuracy throughout each use.
Implementing these techniques into your routine ensures that each shot fired is precise and powerful without risking injury or discomfort.
Storing Your Crossbow Properly
Ensure you store your crossbow properly to keep it in top condition and ready for use. Proper storage protects your investment and ensures that you can rely on the weapon when needed.
Here are some tips on how to store your crossbow:
Always uncock the bow before storing it. Leaving it cocked for long periods can cause damage to the limbs or string.
Store your crossbow in a dry place without extreme temperatures or moisture exposure. It will prevent rust from forming on metal parts and protect any wooden components from warping.
Keep the bow away from direct sunlight or heat sources, which can cause long-term damage.
Use a soft case or cover to protect your crossbow from scratches or dents during transportation or you store it.
Following these simple guidelines ensures that your crossbow stays in excellent condition and is always ready for use. Remember that proper maintenance goes a long way towards extending the life of your equipment and ensuring its reliability when needed most.
So take care of your investment by storing it properly and enjoying many years of successful hunting or target shooting!
Safety Precautions When Handling a Drawn Crossbow
When handling a drawn crossbow, you must always be cautious to avoid potential accidents or injuries. The first thing to remember is that you should never leave your crossbow drawn for an extended period, as it can cause damage to the limbs and string.
Generally, you should draw the bowstring for at most 30 seconds. You must know how long you have kept your crossbow drawn and release it immediately when necessary.
Another crucial safety measure when handling a drawn crossbow is ensuring the arrow is correctly loaded onto the rail and securely locked in place.
Failure to do so can lead to the arrow falling out or getting stuck halfway, resulting in severe injury or death. Always double-check that everything is aligned correctly before firing.
It's also crucial to keep your fingers away from the trigger until you can shoot. Accidentally pressing the trigger while loading or adjusting your grip can cause a misfire, leading to disastrous results. Keep your fingers away from the trigger unless you are ready to fire.
Lastly, ensure that no one is standing near or behind you when firing a draw-crossbow, as there is always a possibility of accidental shots due to misfires or equipment failure. Maintain proper distance between yourself and others while shooting, especially if you are new at it and still learning to handle your weapon.
Handling a drawn crossbow requires extreme caution, attention to detail, and adherence to safety measures such as not leaving it strung for too long, double-checking arrow alignment before firing, keeping fingers off triggers until ready to shoot, and maintaining proper distances between yourself and others while shooting.
Following these protocols, strictly every time you use your weapon ensures everyone's safety around you, including yourself!
Seeking Professional Help for Damage or Malfunction
If your crossbow is damaged or malfunctioning, it's important to seek professional assistance to ensure you repair it correctly and safely. Only attempt to fix the problem if you have the necessary experience or tools.
Bringing your crossbow to a certified technician helps you save money, time, and effort and guarantee that your weapon will function properly.
Professional help ensures that any damage does not get worse over time and reduces the chances of accidents when using the crossbow.
A technician can identify what needs fixing, replace worn-out parts, and check for other potential issues that may cause problems in the future. They know safety standards and how to follow them while making repairs.
Some manufacturers require customers to return their products for repair, while others provide authorized dealers who can do on-site service.
Check with your manufacturer about their repair policy before choosing where to go for services. If they offer an authorized dealer near you, take advantage of this option as it is convenient and often faster than shipping your product elsewhere.
Caring for a damaged or malfunctioning crossbow should always involve seeking professional help from trained technicians familiar with handling these weapons.
Attempting repairs without proper knowledge or equipment can result in further damage or even harm to yourself or others around you when using the weapon later on.
Check out these +300 Crossbows that you can choose from.
Frequently Asked Questions
How often should I inspect my crossbow for wear and tear?
Inspect your crossbow regularly for damage. It includes checking the strings, cables, limbs, and bolts for any signs of wear or deterioration.
Depending on how often you use your crossbow, you should inspect it after every use or at least once a month. Checking your crossbow can help prevent accidents and prolong its lifespan.
Be sure to follow the manufacturer's guidelines for maintenance, and always handle your crossbow carefully.
Can leave a crossbow drawn for too long cause damage to the bowstring?
Leaving a crossbow drawn for too long can indeed cause damage to the bowstring. The longer the string is under tension, the more it stretches and weakens, which can lead to fraying or snapping.
It is important always to follow the manufacturer's guidelines regarding your specific crossbow model. Still, as a general rule, you should not leave your crossbow cocked and loaded for more than half an hour at a time.
Additionally, ensure you have properly lubricated the rail and string before each use, inspecting them for any damage, such as frayed strands or nicks in the surface.
Always handle your crossbow with care and respect, ensuring that you always follow proper safety measures.
What maximum time should I leave a crossbow drawn before taking a break?
When leaving a crossbow drawn, the maximum time you should spend before taking a break depends on several factors. Firstly, the strength of your bow and the draw weight will significantly determine how long you can keep it drawn.
As a general rule of thumb, you can leave most crossbows drawn for up to 30 seconds without any issues. However, you may need to take breaks more frequently if you're using heavier draw weights or have a weaker bow.
Additionally, listening to your body and stopping if you feel any pain or discomfort when drawing the bow is crucial. Remember that safety should always come first; regular breaks are essential for preventing injuries and ensuring your equipment stays in top condition.
Are there any specific safety precautions I should take when storing my crossbow after use?
There are a few important safety precautions to take when storing your crossbow after use.
First and foremost, make sure you unload the bow before storing it. It means removing bolts or arrows from the quiver and ensuring the trigger mechanism is disengaged.
It's also a good idea to store your crossbow in a secure location where someone familiar with its proper use can supervise it. Additionally, you should avoid exposing your crossbow to extreme temperatures or moisture, as these can cause damage to the string and other components over time.
By taking these simple steps, you can help ensure that your crossbow stays in good condition for many years of safe and enjoyable use.
How can I tell if my crossbow is damaged or malfunctioning and needs professional help?
To determine whether your crossbow is damaged or malfunctioning, you can check a few things.
First, inspect the limbs for any cracks or splintering. If you notice any damage to the limbs, do not use the crossbow and take it to a professional for repair.
Next, check the string and cables for fraying or wear. If either appear worn or damaged, replace them immediately. Additionally, ensure all bolts are in good condition and not bent or warped.
Finally, test fire the crossbow to make sure it is functioning properly before using it for hunting or target shooting. Stop using the crossbow and seek professional assistance if you notice irregular noises or vibrations during firing.
Remember always to follow proper safety precautions when handling your crossbow and seek professional assistance if you need clarification on its condition.