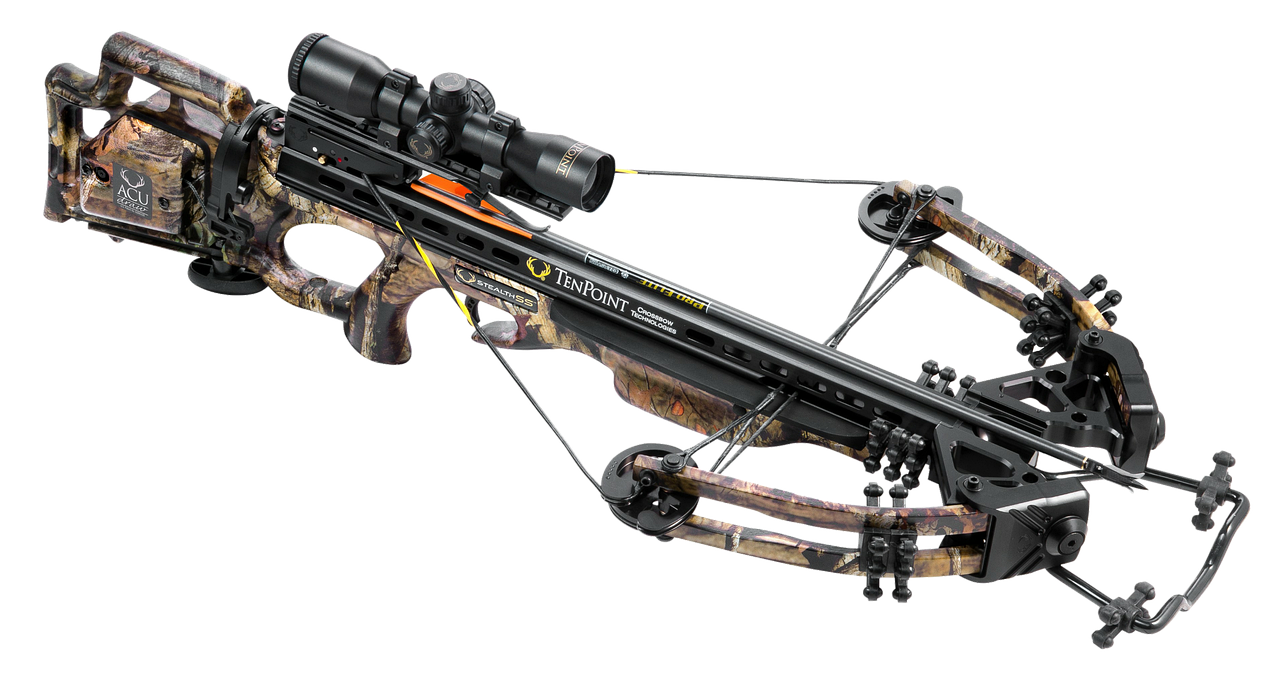 You can mount a rifle scope on a crossbow to help improve your long-range shooting. If you find it difficult to hit a target at long distances, mounting a rifle scope can help with this. A rifle scope allows you to make certain adjustments to hit your target with more accuracy.
Many hunters and archers will agree that modern crossbows are very accurate weapons. When used in the hands of a well-trained individual, a crossbow can hit a consistent bulls-eye at 40 yards. That's because it takes less effort to shoot a precise arrow with a crossbow compared to a compound bow.
But when shooting long-distance targets, a crossbow's accuracy will start to dip. Crossbows use heavy bolts, and the weight affects the arrow's kinetic energy. The farther the arrow flies, the faster it starts to drop.
So, what can you do to improve your accuracy when shooting long-range? The answer is simple; mount a rifle scope. A rifle scope enables you to judge the distance between you and your target in an easy way.
Having a scope helps you see your target as if it's right in front of you. From there, you'll get a better sense of where you want your arrow to go. It takes skill and practice to use a rifle scope, but once you get used to it, you'll never use your crossbow without one.
How do you mount a rifle scope on a crossbow?
To mount a rifle scope on a crossbow, you'll need an appropriate pair of scope rings. Scope rings are attachments that affix the rifle scope to your crossbow. These rings come in three different types, and choosing the right one will depend on the kind of rail your bow uses.
Mounting a rifle scope to your crossbow is a very straightforward process. But before you do that, you'll need to secure the following tools:
bow vise
scope rings
screwdriver
spirit level
Follow this step-by-step process of mounting your rifle scope the correct way.
Place the crossbow on a level surface

The first step is to make sure your crossbow is sitting on a level surface. Secure your crossbow onto the bow vise, and find a sturdy work area where you can tighten the vise. Place the spirit level on the bow's rail and adjust it until the crossbow is in a flat position.

Chances are your crossbow has iron sights mounted to it. You'll need to remove these sights so your crossbow can accommodate its new scope. To do this, loosen the screws and slide them off the rail.

Mount the scope rings

Once you've removed your crossbow's sights, you can now mount the scope rings. Loosen the top and bottom part of the scope rings so you can mount them onto the sight rail. From there, adjust the mounting hardware before tightening to accommodate the scope.

You can now proceed to mount the rifle scope itself. To do this, place the rifle scope into the lower half of the scope rings. Move them apart until the rifle scope fits snug.

Place the top half of the scope rings to secure the rifle scope completely. Make sure to double-check the screws and mounting hardware. The last thing you want is for your rifle scope to come loose when you're doing target shooting.

Sighting in your rifle scope

Sighting in refers to tweaking your rifle scope to hit your target at a specific range. This process is the most important part of mounting your rifle scope. If you don't sight in, you'll struggle with making accurate shots at long range.

Start by adjusting eye distance. Position the scope's eyepiece in a way that lets you see a clear image of your target. The key is to find the correct distance between your eye and the end of the scope.

Next, align the reticle on your rifle scope. The dials at the top and bottom adjust the horizontal and vertical axis of the rifle scope. When you zero in a rifle scope, you can determine the point of impact of your crossbow's arrows.

You want the crosshairs to be as parallel as possible. That way, you'll know where your arrows will land. Tweak the dials until the arrow's point of impact is in line with your rifle scope's reticle.
What's the difference between a rifle scope and a crossbow scope?
The main difference between a rifle scope and a crossbow scope is magnification. A rifle scope can magnify your vision 3x up to 9x, whereas a crossbow scope magnifies scope vision by only 1x to 4x. For long-range shooting, a rifle scope is the better choice for your crossbow.
While a rifle scope and a crossbow scope function the same way, they do have their differences. Depending on your applications, you may find a rifle scope or a crossbow scope more useful. Here's what makes them unique from one another:
Magnification

Magnification refers to a scope's ability to scale up your normal vision. With a rifle scope, you can see a clear picture of your target over 100 yards. These scopes offer up to 9x magnification which helps with your arrow placement.

Meanwhile, a crossbow scope offers a magnification power of up to 4x. When shooting targets that are within 20-50 yards, a crossbow scope is an ideal choice. It doesn't blow your target out of proportion, and you get to land more accurate shots at short range.

Lens size

Another difference between a rifle scope and a crossbow scope is lens size. The larger the scope lens, the more light it lets in. The advantages to this include low-light performance and enhanced clarity when aiming.

The thing is that with crossbow scopes, they only go as large as 40mm. Compared to rifle scopes that can fit up to 56mm lenses, you start to notice a significant difference. Of course, that doesn't mean that a rifle scope is always the better choice.

For one, rifle scopes with large lenses tend to be heavier than crossbow scopes. Second, they're also more expensive and more challenging to mount onto the weapon. Consider your applications when choosing an appropriate crossbow scope.

Scope reticles

A rifle scope used for hunting features a duplex reticle. The intersecting lines represent your point of aim, and the layout looks neat and clean. A duplex reticle gives you precise aim, making it perfect for big-game hunting.

Crossbow scopes use a different reticle called a bullet-drop reticle (BDC). A BDC reticle features descending range marks in the form of dots or circles. These range marks help the archer compensate for arrow drop and give them a precise aiming point.

There are plenty of other reticles out there. You have illuminated reticles, a dot reticle, a German reticle, and more. Such reticles cater to a wide range of shooting activities, so it's best to ask for expert help when choosing.
How do you choose the correct scope for your crossbow?
Choosing the correct crossbow scope is a matter of knowing what features you need. If you do a lot of hunting, you may need a rifle scope that comes with illumination. For target shooters, a fixed-magnification crossbow scope is better for accurate short-range shots.
The type of crossbow scope you use will have an impact on your arrow placement. You want to make sure that your crossbow scope fits with your intended applications. There are a couple of features worth noting in a crossbow scope, and these are:
Eye relief – Eye relief refers to the distance between the scope's eyepiece and your shooting eye. In general, you want at least 2 inches of eye relief to avoid hitting your eye when the crossbow recoils.
Weatherproofing – A good crossbow scope should be waterproof, dustproof, shockproof, and fog-proof. These characteristics help you make accurate shots even in inclement weather.
Lens coating – High-end crossbow scopes feature coated lenses to ensure great clarity. Lens coating helps cut light loss, giving you sharp, vivid visuals.
Illumination – If you love shooting at night, then a scope with an illuminated reticle is a great choice. Most illuminated crossbow scopes use red LEDs, but others use amber and green as well.
Lens size – As we mentioned before, the diameter of the lens influences how bright the image will be. For hunting purposes, rifle scopes with a 32-44mm lens are more than ideal.
How far can a crossbow shoot without a scope?
The effective range of a crossbow without a scope depends on a variety of factors. Things like velocity (FPS) and technique affect the arrow's distance. For example, a 300 FPS crossbow can hit a target with precision at a range of 50 yards and beyond.
Modern crossbows are capable of shooting bolts at quite significant distances. But their effective shooting range and max shooting range are very different. Let's discuss the effective hunting range and effective shooting range of a crossbow.
When it comes to hunting with a crossbow, its effective range is around 50 yards. At this range, you can feel confident knowing that you will hit your target with precision. More powerful crossbows (400 FPS) can land precise shots further than 50 yards.
Most hunters hunt within 35-50 yards because they want the arrow to land at the target's vital organs. The last thing an ethical hunter wants is to wound an animal and end up not killing it. By hunting within this range, you can land a perfect shot and kill medium/big game.
Archers have more leeway in regards to a crossbow's effective shooting range. When shooting with a 300 FPS crossbow, an archer can hit 2″ arrow groups at a range of 80 yards. Sure, you can shoot an arrow well beyond 100 yards, but at that range, your accuracy will start to fall.
What archers need to keep in mind is the drop in trajectory as the arrow flies further. A scope will come in handy in such situations, so you can account for the arrow dip as you aim at your target.
How does a rifle scope factor into a crossbow's range?
Knowing how low your arrow will drop in a given range is crucial for long-range shooting. A rifle scope with a BDC reticle is perfect for extending your crossbow's range. Pair that with a good crossbow and arrow combination, and you can land accurate shots beyond 50 yards.
Let's say you use a 400-grain arrow. When you pair that with a 300 FPS crossbow, an arrow will start to drop by 3.8 inches at 30 yards. That's quite significant, even in short-range shooting situations.
Now, imagine shooting a target at long range. At 50 yards, a similar setup like that will experience an arrow drop of 21.3 inches. Sure, you can use a lighter arrow to offset the arrow drop, but you're reducing the velocity due to less weight.
It's hard to judge all that when you rely on instincts and experience alone. With a rifle scope, you'll have a better chance of achieving long-range precision. Of course, this is something you have to experiment with to get it right.
The most important thing about picking up a rifle scope is to try it out. With so many different crossbow scopes out there, picking one that suits you can be a bit challenging. Check out which reticle best fits your needs and your style of shooting.
It takes skill and practice to use a rifle scope on a crossbow. But once you get the hang of it, you'll have plenty of good time using it. It's not uncommon to pick up two scopes for both hunting and archery as they both have unique needs.
Whether it be a rifle scope or a crossbow scope, any of these two will provide plenty of benefits. As long as you do your research and follow these tips, you'll be able to take your archery skills to new heights.