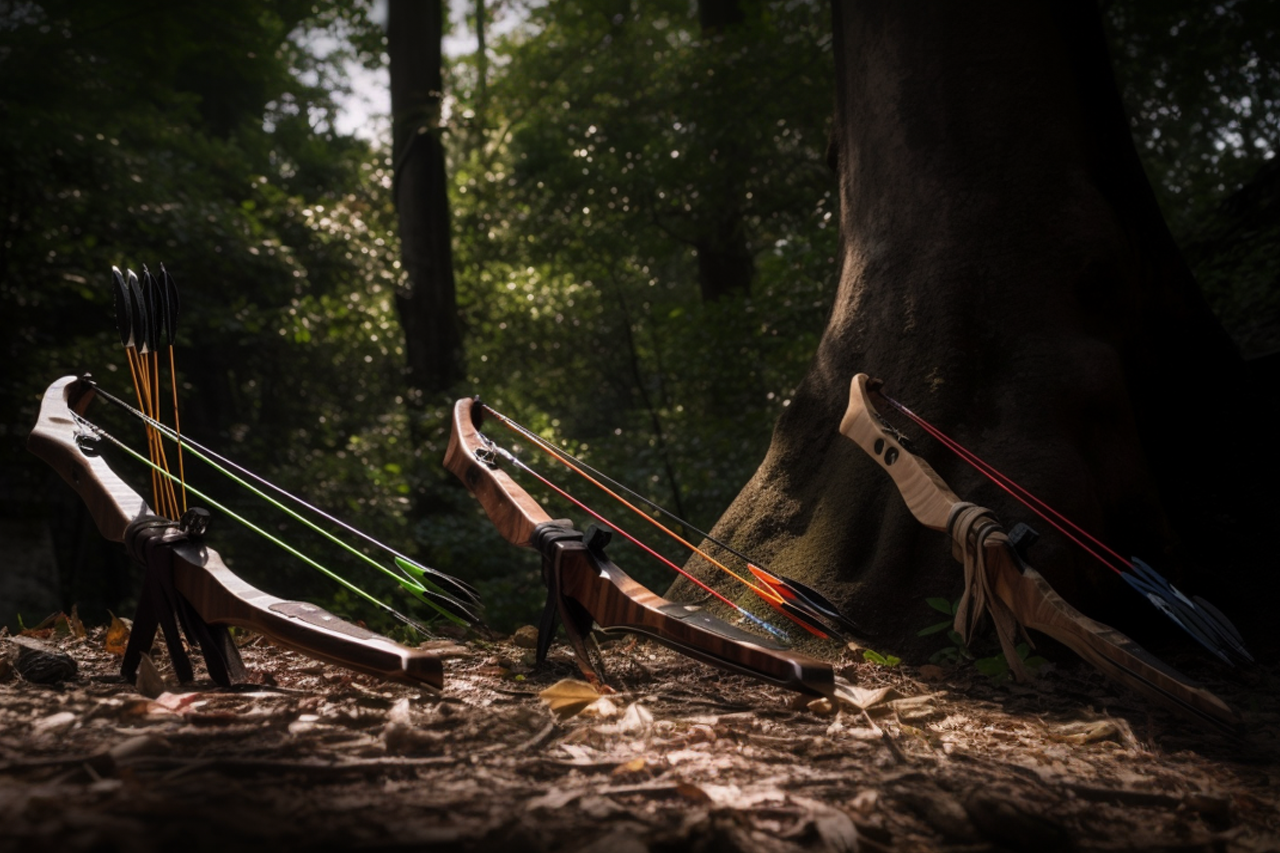 Are you interested in archery? Whether a beginner or a professional, you'll need to know the different types of bows available. From traditional longbows to modern compound bows, a bow suits every archer's needs.
In this article, we'll explore the different types of bows, so you can decide which style is best for you.
Longbow
You've likely heard of a longbow, the iconic bow of medieval times! But what is a longbow exactly? It is a large bow made of a single piece of wood, typically a yew, and its height is between five and six feet tall.
The bow's limbs are also curved, allowing for greater force when releasing an arrow. Longbows were first used in the 12th century, and archers used them in archery tournaments.
A longbow has two main components: the string and the bow itself. The string is usually made of hemp or flax and is attached to the bow by a loop in the bow's belly. It is then attached to the bow's handle via a leather loop.
The handle of a longbow is a stiff wood, such as ash. The handle also features a grip for the shooter to hold onto while aiming and shooting.
You can determine the aim and accuracy of a longbow by the bow's flexibility and the shooter's skill. For those with little experience with a longbow, starting with a not-too-flexible bow is recommended.
A flexible bow will allow for greater accuracy when shooting arrows, as it will travel farther and faster. With enough practice, shooters can learn how to adjust their shooting technique to get the best out of their bow.
Here are the +400 Longbows that you can check.
Recurve Bow
If you want a powerful and accurate bow, a Recurve Bow might be just what you need!
Recurve bow is popular among archers of all skill levels, from beginners to experts. Its design is based on the traditional archery bows used by archers of centuries past, but manufacturers have improved its construction to make it more durable and robust.
Here are some of the Recurve Bow Features:
Compact size: The design of a Recurve Bow is such that it can be made much smaller than other bows, making it easier to transport and store.
Greater draw weight: A Recurve Bow can generate more power than other bows, allowing it to shoot arrows at higher speeds and with greater accuracy.
Versatile: A Recurve Bow can be used for target shooting, hunting, and even competitive archery. Its simple and timeless design makes it an excellent option for almost any type of archery.
Recurve Bows are known for their accuracy, power, and ease of use. They are reliable and easy to use. So they are an attractive option for all archers with different skill levels. Whether you are a new archery student or a seasoned pro, a Recurve Bow is an excellent choice for a powerful and accurate bow.
Here are the +600 Recurve Bows that you can check.
Compound Bow
Compound bows are bow types that use a pulley system and cams to bend the limbs. These features help make compound bows powerful and efficient tools for archery. Compound bows also offer several benefits to the archer, such as reduced draw weight, increased accuracy, and more compact size.
Features
Compound bows are becoming known due to their ability to provide accuracy and power. When it comes to archery bows, you'll want to check the features that best fit your needs.
Here are some features of a compound bow to consider:
Its draw weight can range from 15 to 70 pounds
You can adjust the cams on the bow's limbs to increase or decrease the draw length
The cams may also allow for a let-off of up to 80% of the draw weight. So, it is easier to hold the bow at full draw.
Compound bows are great for hunters and target shooters due to their versatility and adjustability. The smooth draw cycle and the adjustable weights make it easier for a shooter to control the bow.
Plus, they're often lighter than traditional bows, making them more portable. With suitable attention to detail and knowledge of the specific features, you can find the perfect compound bow for your needs.
Benefits
Compound bows make archery more comfortable and enjoyable for all skill levels. It offers numerous advantages, from its adjustable draw weight and length to its lighter weight and smoother draw cycle. These features make it ideal for target practice, 3D archery, bow hunting, and tournament shooting.
The adjustable draw weight and draw length of a compound bow allows archers to customize the archery bow to suit their individual shooting preferences. It ensures the archery bow is comfortable and allows for a more accurate shot.
Additionally, the lighter weight of a compound bow reduces fatigue and makes it easier to carry. A compound bow's smoother draw cycle also helps reduce fatigue and improve accuracy by allowing the archer to draw the bow without jerking or straining.
Here are the +200 Compound Bows that you can check.
Horse Bow
Unleash your inner archer with the powerful Horse Bow! This traditional bow is designed to deliver maximum power and accuracy and is an excellent choice for any archer looking to make their mark on the tournament circuit.
The Horse Bow is typically made from wood and bamboo, with the limbs reinforced with a fiberglass layer for added durability. It has a string length of around 59 inches, with the draw weight ranging from 20 to 70 pounds.
The Horse Bow is known for its smooth draw and is excellent for target shooting and hunting. It is also well-suited for longer distances, as it has a steady release rate and can hold its form even when shot from a longer distance.
It also has a rigid riser that helps to minimize vibration, which is essential for accuracy. Additionally, the bow's design allows for a comfortable grip, helping to reduce fatigue during longer shooting sessions.
The Horse Bow is an excellent choice for any archer looking to improve their skills and take their game to the next level. With its power, accuracy, and comfort, it is sure to be a reliable companion. The Horse Bow will help you hit your mark from practice to tournaments.
Here are the +100 Horse Bows that you can check.
Hybrid Bow
A hybrid bow is an archery tool combining the features of a recurve bow and a compound bow. It offers archers a range of advantages, including greater accuracy, increased draw weight, and less vibration.
As a result, hybrid bows have become increasingly popular with experienced archers looking for the perfect combination of features and benefits.
Features
You'll find that bows come in all shapes and sizes, each with unique features. Hybrid bows are no exception, as they boast many of the same features as other bows. Hybrid bows offer a combination of the speed and accuracy of a compound bow and the versatility and maneuverability of a recurve bow.
The features of a hybrid bow include:
It has a sturdy and lightweight composite or light metal frame, allowing for easy transportation and a comfortable draw.
Adjustable draw weight, allowing for a range of poundage suitable for various shooters.
It offers a let-off of up to 80%, which ensures a smooth draw and easy release of the arrow.
– A wide range of accessories, such as sights, quivers, and stabilizers, to further customize the bow to fit any shooter's needs.
In short, hybrid bows offer a combination of speed and accuracy, along with the versatility and maneuverability of a recurve bow, making them an excellent choice for target shooting, hunting, and recreational shooting.
Benefits
Bows are an extremely versatile tool you can use for various activities. From hunting and fishing to target practice and archery, the bow offers a unique experience that no other agency can provide.
For those more serious about archery, a bow is an exact tool that requires proper technique. With practice, archers can become highly accurate and consistent in their shots.
The bow also offers a great workout because you can draw the bow with your arms, shoulders, and back muscles. Additionally, shooting can be a great way to relieve stress, as it's a great way to focus on something other than everyday worries.
Frequently Asked Questions
What is the best type of bow for beginners?
If you're new or just practicing archery, the best type of bow for you depends on your goals and budget. For a relatively low price, a modern compound bow is fine, which uses cams and pulleys to significantly reduce the draw weight, making it easier to draw the bow.
Recurve bows are also an excellent option for beginners, as they are more traditional and are often more affordable than compound bows. With a recurve, you will need more strength to draw the bow, but it can be an excellent option to develop archery skills.
What is the most durable type of bow?
If you're looking for a bow that will last you for years, the most durable type is the recurve bow. This type of bow has a single piece of wood or other material with two curved tips.
The curved tips of the bow make it more powerful and efficient than the other types of bows, and it is also more resistant to wear and tear. Recurve bows are also the bow type used in Olympic archery competitions.
How much does a bow typically cost?
If you're looking to purchase a bow, a wide range of prices are available. You can find recurve bows at around $50 and compound bows at $200. High-end options can cost up to $1,000 or more. The type of bow you choose and the features and accessories included will significantly impact the overall cost.
What are the different sizes of bows available?
Regarding bows, size can make a big difference in your overall experience. It comes in various sizes, from the shorter, more compact recurve bows to the longer, heavier compound bows.
They are typically shorter, measuring between 48 and 60 inches long, while compound bows range from 40 to 42 inches. Additionally, when selecting a size, you must consider the bow's draw length and weight.
Draw weight is the pressure needed to draw a bow, while draw length is the distance you pull before the arrow is released. It's essential to choose the right bow size for you, as this will determine the accuracy and power of your shot.
What are the differences between traditional and modern bows?
There are two main categories of Bows: traditional and modern. Traditional bows were used centuries ago, often made of wood or bone, and are typically strung by hand.
They are usually shorter than modern bows and require more skill and strength to use correctly. On the other hand, modern bows are made of modern materials and are usually strung with a machine.
They are generally longer than traditional bows and have greater accuracy and power.
Conclusion
You now know the basic information about the different types of bows available. Whether you are starting or an experienced archer, there is a type of bow that will suit your needs. Whether you are looking for a longbow for traditional archery or a compound bow for hunting, there is something for everyone.
Choosing the correct type of bow requires careful consideration and research, but you can find the perfect one with the proper knowledge. So, get out there and start loving the thrill of archery!