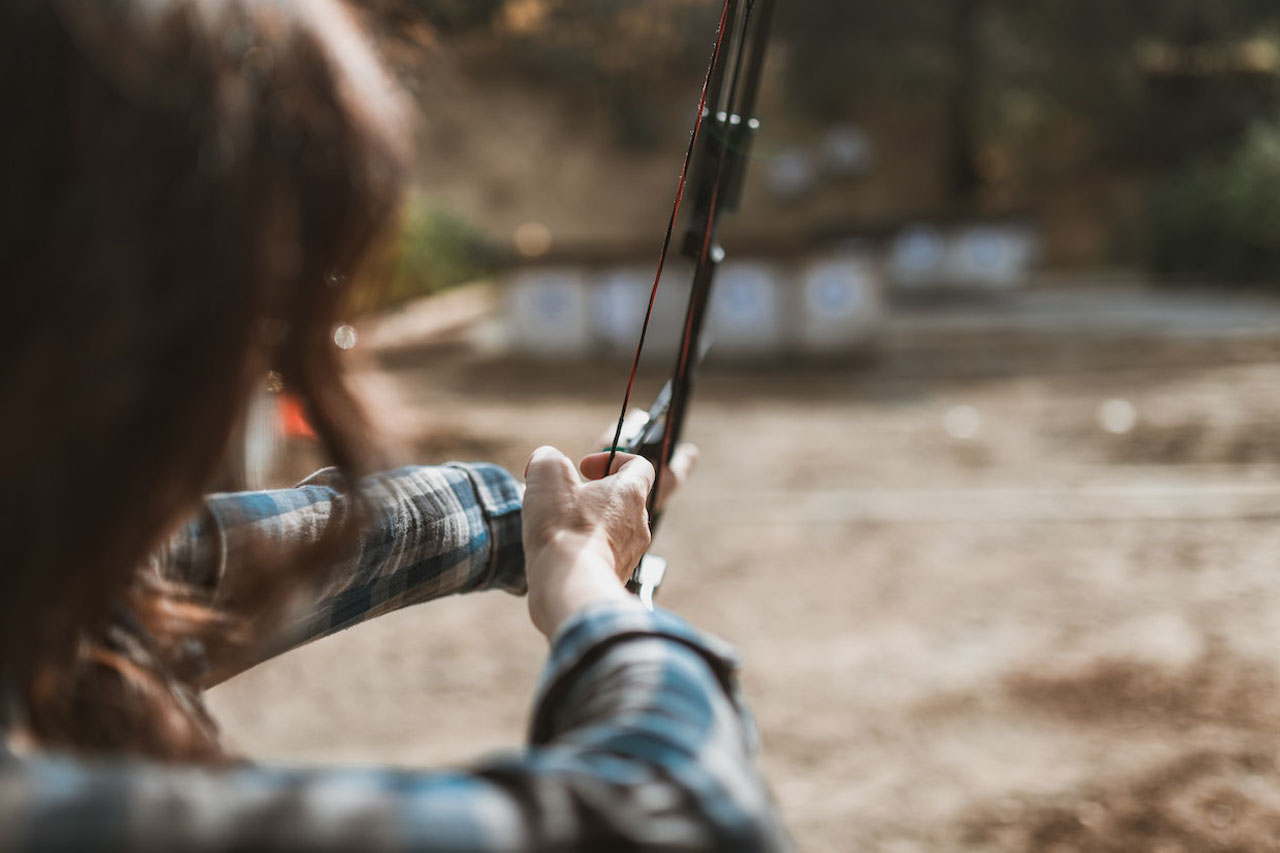 Short Recurve Hunting bows are generally between 36 to 60 inches. They have shorter limbs and use a stiffer, more stable construction. Most archers prefer to have them when hunting because they are easy to carry and lightweight.
Most modern recurve hunting bows are made of wood or synthetic materials, such as fiberglass or carbon fiber. These materials make them solid and lightweight, making them easy to maneuver in the woods when hunting small game.
Here are the top 5 Short Recurve Hunting Bows:
AF Archery Turkish Bow

The AF Archery Turkish Recurve Bow is 48 inches and is made of different materials, such as fiberglass, wood, leather, and bamboo. Each material has benefits, making the bow the best short recurve bow hunting option.

The fiberglass used in the construction of this bow is lightweight, strong, and flexible. It weighs only 400 grams, making it easy to maneuver and shoot accurately without worrying about your arrow snapping under pressure or feeling too heavy to handle.

Furthermore, the fiberglass is highly durable, meaning this bow will last for years without breaking or developing cracks.

Check AF Archery Turkish Bow on Amazon.

TOPARCHERY Archery Takedown Hunting Recurve Bow

The TOPARCHERY Archery Takedown Hunting Recurve Bow weighs 2.5 lbs, so it's a lightweight bow that is perfect for hunting. Its draw weight starts at 30 pounds, and you can adjust it up to 50 lbs, with a maximum arrow speed of 245 FPS.

With this power and speed, the TOPARCHERY Archery Takedown Hunting Recurve Bow is ideal for small to medium-sized games.

This short hunting recurve bow is made from durable, high-quality materials. It features a comfortable grip that helps reduce hand fatigue and makes it easy to keep the bow steady while aiming your shot.

Get TOPARCHERY Archery Takedown Hunting Recurve Bow here.

SinoArt Takedown Recurve Bow

SinoArt Takedown Recurve Bow is the best short bow hunting for several reasons. It is made from high-quality materials that are strong and durable, ensuring that you can use this bow for years to come. Its limbs are bamboo with fiberglass.

This short bow offers a comfortable experience with an ergonomic design, rounded edges, and a finely finished handle made of wood. It is lightweight at 2.2 pounds, so you can easily carry it around on hunting trips.

Get SinoArt Takedown Recurve Bow here.

KAINOKAI Lightweight Laminated Recurve Bow for Hunting

KAINOKAI Lightweight Laminated Recurve Bow is one of the best short bow hunting options available today. This bow offers excellent power and accuracy for quickly taking down even large game animals, making it an ideal choice for serious hunters.

The bow is lightweight, making it easier to maneuver in the field, even when tracking down a fast-moving game. It also has a laminated limb with a highly elastic bamboo core. It is also ideal if you're looking for a powerful and highly accurate short bow.

Get KAINOKAI Lightweight Laminated Recurve Bow for Hunting here.

Deerseeker Archery Recurve Bow

Deerseeker Archery Recurve Bow is lightweight and easy to use. Its limbs have a bamboo core and are laminated with string fiberglass. It is made of Dymond wood, and its riser is wrapt with leather so it will not slip when you draw the bow.

This bow is excellent for beginners and advanced users alike, with its smooth draw, good balance, and reduced vibrations to ensure you have the best hunting experience. So, whether you are hunting small game or a big game, Deerseeker Archery Recurve Bow is the perfect short bow for all your hunting needs.
Buying Guide for the Best Short Recurve Hunting Bow
When choosing the best short recurve hunting bow, it's essential to consider several things. It is to ensure you get the best deal at all times.
Height of the Archer

When shopping for a new recurve bow, it is essential to consider the archer's height. Different bow lengths can have a different fit and feel for other shooters. For example, if an archer's height is under 5'7″, they will likely be more comfortable with a bow length of 64 inches or below.

However, if an archer's height is between 5'7″ and 6'2″, it may be better to choose a shorter bow length of 66 or 68 inches. And if you are over 6'3″, the 70 inches bow will be suitable.

Weight

One of the most critical factors you must consider when buying a bow is its weight. It's essential to have a comfortable bow in your hands – not too heavy or too light, as this can make it difficult for you to draw and shoot the bow effectively.

When choosing a short recurve bow, you should look for one that is lightweight and balanced. You need to hold the bow without much effort, and at the same time, you need to be able to draw and carry it easily.

If a bow feels too heavy, it will exhaust your archery sessions and lead to arm fatigue and muscle soreness after practice. In contrast, a light bow will be easy to control, helping you improve your accuracy and aiming.

Durability

When choosing the best short recurve hunting bow, durability is one of the most critical factors. After all, you want to ensure that it will keep working for years to come and will continue providing excellent results.

Check its construction material to determine if a short recurve hunting bow is durable. For example, archery bows made with wood are durable and known to last for many years. However, archery bows with carbon have even more outstanding durability and can remain in good shape for decades.

Price

When buying the best short recurve hunting bow, it is vital to consider the price. After all, you only want to spend what you can afford on this hunting equipment. If your budget is tight, you can pick a more affordable model with good features, such as adjustable draw weight and length.

Budget-friendly options are also available if you want to spend less on this hunting equipment. However, it's best to consider the quality of these models when choosing one. See user reviews and feedback to know whether the cheaper options are worth buying.

Consider your budget and needs when deciding which short recurve hunting bow to buy. It will help you get the best model that offers excellent value for money.

Reviews and Ratings

It might seem that there is no reason to consider the reviews and ratings before buying the best short recurve hunting bow. But in reality, these two pieces of information are crucial for your success as a hunter.

The reasons for this are straightforward: people who have purchased the same type of bow in the past are familiar with the product and thus equipped to provide information relevant to choosing the best one.

Furthermore, a rating system gives you an accurate picture of how different products compare against each other, which means that it helps you make an informed decision based on your personal needs and preferences.

Manufacturer Support

When choosing the best short recurve hunting bow, it's essential to consider its support. Some manufacturers have a much better reputation than others regarding customer service and product support. The following information should help you make a more informed decision.

There are things to consider when looking for the best short recurve hunting bow. One factor is the manufacturer's support and reputation. A company that responds quickly and efficiently to customer questions and concerns will provide the same level of service regarding dealing with defective products.

Another important consideration is the company's return policy. Can you obtain a refund if your bow doesn't work correctly? Is there a restocking fee?

Does the manufacturer accept exchanges for items that are defective from the manufacturer instead of only returns for store credit or cash refunds? Knowing these details before you buy will help ensure that you're happy with your purchase.
FAQs
What is the best recurve bow for hunting deer?
The best recurve bow for hunting deer is robust, sturdy, and accurate. It should also be easy to use and hold to maintain accuracy even when tracking your target.
The accuracy of the best bow for hunting deer is crucial, as it helps you to hit your target with precision, even when moving or tracking.
A powerful bow will allow you to take down larger game animals like elk and moose, while a sturdy bow can withstand the rough conditions of a long hunting trip without breaking or bending.
A comfortable bow with good grip and handling will maintain accuracy even as you track your target.
What is the slightest recurve bow?
The slightest recurve bow is typically a very compact and lightweight model designed for target shooting and archery competitions. These bows are usually shorter than traditional recurves, but they still use the same basic design principles as more extensive recurve bows.
Several different factors can affect the overall size of a recurve bow. The length of the bow itself is one major factor, as this will determine how compact and lightweight the design can be.
In addition, different accessories, such as arrow rests, can also make a recurve bow larger or smaller.
The known most minor recurve bow brand is the Black Eagle Arrow. This compact, lightweight bow allows archers to shoot while accurately maintaining a fast and fluid shooting style.
It features an ergonomic handle with an adjustable draw weight, which you can customize to suit individual preferences or abilities. Other popular models include the Samick Sage and the Legend Ultra.
What length recurve bow do I need for hunting?
Ideally, the length of a hunting bow is between 54-60 inches. If you are new to archery and hunting, I recommend getting a bow around 54 or 55 inches in length. It will give you room for adjustment as your shooting skills improve.
The length of the recurve bow you choose will depend on your preference and the type of hunting you plan to do. Longer archery bows are more accurate and robust, while shorter bows are easier to transport and use in tight spaces.
If you plan to hunt a big game, choose a long bow that is 60 inches or longer. You can get away with a shorter bow, between 54-58 inches, for the more miniature game animals.
Is a short bow good for hunting?
There is no definitive answer to whether a short bow is good for hunting. That depends on several factors, including the type of prey you will hunt and the hunter's preferences.
For many hunters, a short bow is preferable because it's easier to maneuver in tight spaces or brushy terrain and can be more effective at harvesting smaller game animals.
However, some hunters prefer longer bows because they have a more excellent range and are better suited for taking down the target. Ultimately, what matters is the skill and experience of the individual hunter and the type of prey you will hunt.
Generally, a short bow can be a compelling choice for hunting smaller animals or when you need to get close to your target.
What Recurve Draw weight for deer?
The optimal recurve draw weight for deer hunting depends on several factors, including your bow setup, the type of arrows you use, and the size of your target.
Generally, a recurve draw weight between 30-50 pounds is ideal for taking down smaller deer like whitetails. However, heavier draw weights are recommended for larger animals like elk and moose, as these can be more difficult to bring down.
To select the best draw weight for your recurve bow, you should also consider the type of arrows you use. For example, suppose you are using heavier arrows with a broadhead tip.
For good penetration and consistent accuracy, you must typically use a relatively heavy draw weight.
Is a shorter bow better?
Shorter bows are generally better than longer ones. It is because a short bow offers several advantages over its long-bow counterpart.
One of the main benefits of a short bow is that it gives you greater control over your shots. The limbs on a short bow are much stiffer and less flexible than those on a longer bow, and you can more easily aim and accurately shoot your arrows. They are also easier to handle when you are firing your shots.
Additionally, a short bow is much easier to carry around with you. It can make it easier for you to travel with your bow and arrows since it has shorter limbs and is lighter in weight than the longer ones.