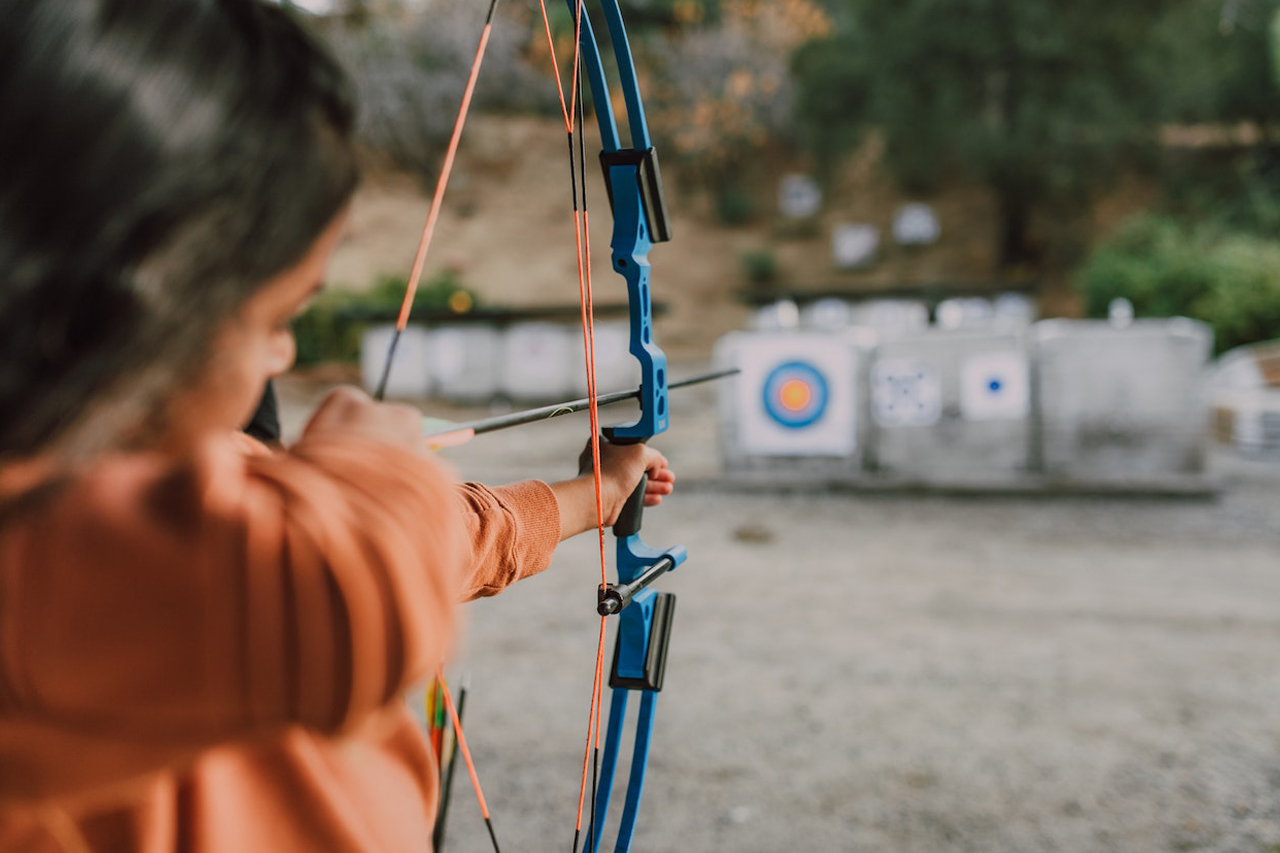 Compound bow strings typically have 18 to 30 twists, though there can be more or fewer. A bowstring with too few twists can cause the arrow to fly erratically, while too many twists can make the bow more challenging to draw.
Many archers shoot for around 20-24 twists in their strings. It provides a good mix of power and stability without making the bow too difficult to draw. Some archers prefer slightly more or less twists, depending on their individual needs and preferences.
If you want to buy a bowstring or are curious about how many twists it should have, remember that the ideal number will vary depending on your needs and preferences as an archer. Whether you prefer more power or stability, there will surely be the perfect number of twists.
There are several reasons why you may need to twist compound bow strings.
Here are a few:
Twisting your bowstrings can significantly extend their lifespan. It is essential for compound bows, which tend to be expensive and fragile compared to traditional recurve or longbows.
Twisting the bowstring makes it easier to pull back on it and hold it in place while you aim and shoot an arrow. It will be easier to keep the bow tight while drawing back on it.
Twisting a compound bow string also ensures that your arrows fly more accurately and with more power. The tighter bowstrings will transfer energy from your draw more efficiently, resulting in better shooting performance.
Twisting a compound bow string can help you customize its tension. If you feel that a particular string length is too tight or too loose for your grips and fingers, then twist it to adjust its tension according to your preferences.
Whether you're looking to prolong the lifespan of your bow or improve your shooting accuracy, twisting your strings is a great way to achieve these goals.
Benefits of having more or less twist in your compound bow string
It can affect the Overall Performance and Accuracy of the Bow.
Too many twists can cause vibration and inaccuracy, while too few twists could decrease the shooting power of your bow. Some archers recommend that you experiment with different numbers and observe how it affects your shooting performance to determine the optimal number of twists for your compound bow string.
It can help you adjust the tension on your bow
With more twists, the string will be under more tension and tighter to draw back, resulting in more shooting power. On the other hand, if you have fewer twists on your string, it will be looser to pull back and therefore provide less power when shooting.
It Can Make Your Bow Quieter to Shoot
When you have fewer twists on the string, it will be looser, producing more vibration when shooting. However, if you have more twists, it will be tighter and reduce the vibration created when shooting, which can help make your bow quieter. It can lead to a louder shot, distracting and affecting your accuracy.
It Can Help You Protect Your Bow's Strings
More twists on the string may put too much tension on the limbs, resulting in damage over time to the cams and bow limbs.
On the other hand, having fewer twists on your string could lead to excessive wear and tear because they will move more quickly.
By choosing the optimal number of twists for your bow, you can help protect its strings and increase its lifespan.
It Can Help You Save Money on Accessories
If you have fewer twists on your string, it will need to be replaced more frequently and require additional maintenance. It can cost money to replace them and purchase other accessories, such as bowstring wax and service kits for your bow.
However, if you choose an optimal number of twists for your bow's string, you can protect its strings and save money on additional accessories in the long run.
Changing the Number of Twists in your Compound Bow
When using a compound bow, it is vital to ensure that your string is adequately set up and performing well. It can often mean adjusting the number of twists, depending on how it feels when you are shooting.
Start by loosening the string on your bow and removing any accessories like nocks or sights.
Turn the tightening tool to increase the number of twists in your string. Try to pay close attention to how it feels as you do this – if you are not getting good performance from your shots, more twists may be necessary to improve the performance of your string.
Once you have reached a point where the string feels good and performs well, use your tightening tool to tighten it back up. Make sure it is nice and tight before you begin shooting again, as an improperly tightened string can lead to slippage or breakage.
Run a few tests by shooting a target to see how your string performs. Suppose you notice any issues with consistency or accuracy. Try loosening or tightening the strings in small increments until you find the optimal setting for your compound bow.
If you need help adjusting the number of twists in your string, it is best to speak with a professional archery or bowhunting expert who can help you identify any issues. They can make the necessary changes to get your string performing at its best.
How many strands are in a compound bow string?
Compound bow strings have 20 to 24 strands because the more strands you have, the more powerful it will be. But too many strands can make a bow hard to tune and pull back since each strand adds tension to the string.
Compound strings are more flexible and durable than less modern styles of bows. They can also store more energy in the limbs, allowing for higher draw weights without causing too much stress on the body.
While compound strings are very similar in design and size to recurve strings, they are only compatible with compound bows.
Importance of Bowstring Strands
When choosing a bowstring material, your bow's draw weight is the most crucial factor. The number of strands used in your bowstring will depend on your shooting ability and your preferred level of stiffness and responsiveness in your string.
A bowstring made from a single strand of material is usually sufficient for smaller bows with low draw weights. It offers good performance at lower drawing speeds and will be easier to handle for novice archers.
For more oversized bows, particularly those used for hunting or target practice, multiple strands of the same material are generally recommended to provide the necessary stiffness and responsiveness. For bows with draw weights higher than 50 pounds, you may use as many as 12-15 strands to maximize performance.
String materials with high strength and durability can also contribute to a bowstring made from multiple strands. It means such bowstrings will retain their shape, even with high draw weights or large hunting bows. Materials such as Dacron or Fast Flight are solid and stretch minimally when under tension.
For archers looking for the ultimate performance, some manufacturers now offer "pre-stretched" strings made from fragile strands of material constructed using advanced techniques.
These ultra-high performance strings allow archers to reach the highest accuracy levels and shooting speeds possible but can be challenging to work with for inexperienced archers.
Are you supposed to twist your bowstring?
You are supposed to twist your bowstring. Twisting it will increase the tension in your bow and make it more stable. When you shoot an arrow, the string will release more quickly and with more force if it is twisted.
The downside is that twisting the string also puts more wear and tear. So you'll need to decide what's more important to you – shooting arrows with more force or preserving the life of your bowstring.
Either way, keep it tightly twisted and in good condition so you can continue enjoying the sport of archery for many years to come.
Different Twist Ranges in a Compound Bow String
The compound bow has several twists you can customize to fit your needs and preferences. The twist measures how much weight is needed at full draw for the bowstring to operate correctly, so this customization allows you to set up your bow exactly how you want it.
24 – 30 inches
If you are new to archery, start with the standard twist range of 24-30 inches. It is because such bows are more forgiving regarding errors in form and technique. For example, if your shooting form isn't perfect or you release the string slightly before the full draw, these bows can continue shooting accurately.
24 inches or higher
If you are an advanced archer, you may want to customize the twist of your compound bow to match your technique and skill level. For example, if you prefer a faster draw speed to achieve more power, you may want a lower twist range of around 24 inches. Similarly, if you are very accurate in your technique, set the twist range lower than 24 inches so that the bow is more receptive to changes in form and release.
Lower than 24 inches
It can give you a more forgiving bow for different shots and shooting situations. However, it does sacrifice some drawing power and accuracy in exchange for this increased versatility, so it is only suitable for some archers. Some archers set their twist range below 24 inches, typically as low as 18 or even 12 inches.
Overall, the twist of your compound bow should be customized to match your preferences and shooting style. Whether you are just starting or an advanced archer, it is essential to choose your specific twist range carefully to get the most out of your bow.
What bowstrings are the best?
The best bowstrings should be faster, lighter, and more rigid than other strings. It makes them better at transferring energy from the bow to the arrow.
You can use many materials for bowstrings, but synthetic fibers like Dacron or Kevlar are often preferred because they are strong, lightweight, and don't stretch very much when pulled tight. These properties allow the bowstring to transfer energy from the bow to the arrow more quickly and efficiently.
Some archers prefer natural materials like traditional linen strings, but these tend to be less consistent in quality and performance than modern synthetic fibers. Linen strings also absorb moisture quickly, which can cause issues if you use them in humid or wet conditions.
Things to Remember When Choosing the Best String
Material

The material of the bowstring plays a significant role in how well it performs and how long it lasts. Modern synthetic fabrics like Dacron or Kevlar are often considered the best bowstrings. They are strong, lightweight, and don't stretch much when pulled tight.

Diameter

The string's diameter can significantly affect how quickly it transfers energy from the bow to the arrow. Larger strings tend to be slower and heavier than smaller ones, so archers may want to experiment with different sizes to find the ideal size for their specific bow.

Texture

The texture of the string can play a role in how well it transfers energy from the bow to the arrow. Smooth ones are faster and more consistent than rough, grooved strings. However, some archers may prefer less soft or grippier bowstrings that hold better against the bow.

Durability

The string's durability is essential because replacing a broken one can be costly and time-consuming. Modern synthetic materials tend to be more durable than natural materials.

However, archers should still store their strings properly and avoid putting too much pressure on them when drawing back their bow.

Price

Depending on the material and quality of the string, prices can vary greatly. Higher-quality strings may be more expensive on average, but they are often worth the extra cost because of their superior performance and durability.

For most archers, a high-quality string is one of the best investments they can make in improving their aim and accuracy.

Ultimately, the best bowstring performs well and lasts a long time. Many archers consider modern synthetic materials the best option, but they should experiment with different types of strings to find their ideal combination of performance, price, and durability.
Check out this list of +500 Compound bowstrings if you need a new one for your bow.