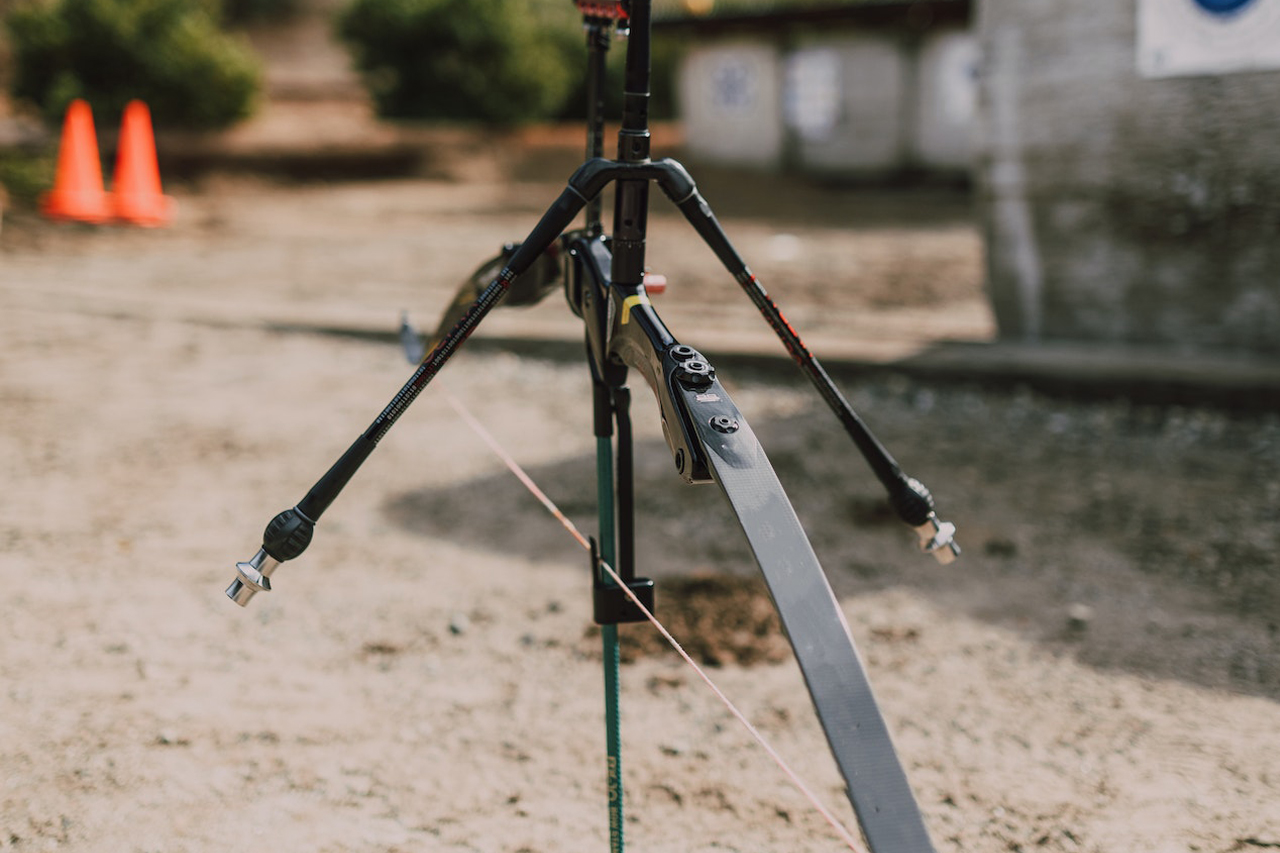 PVC bow stands are machine-made, durable and affordable equipment archery enthusiasts and beginners use to hold up their bows while practicing. These are lightweight yet sturdy holders that you can purchase in various sizes, styles, and colors to suit any player's needs.
They are also fully customizable to your specific requirements and preferences.
PVC bow stands are also an excellent option for holding up your bow safely and securely during travel or storage, as they incorporate padding surrounding the base of the stand to protect your equipment during transit.
Additionally, PVC bow stands can be easily purchased online and come with helpful installation tips to set up your bow holder quickly and easily.
Overall, if you are looking for a durable and affordable way to hold up your bow while practicing or traveling, then PVC bow stands are an excellent choice for you. Their versatility, ease of use, and affordability make them a perfect option for archery enthusiasts of all skill levels!
Materials of PVC Bows Stand
PVC stands for polyvinyl chloride, a type of plastic commonly used in various products, including pipes and tubing. The material is flexible, durable, and easy to work with, making it ideal for use in bow stand components such as the hooks that hold your bow and accessories in place.
When choosing a bow stand, it is essential to consider the materials used in its construction. Some bow stands are made only of metal or wood, which may be prone to scratches and dings if not correctly cared for. Other are constructed from PVC components, providing extra durability and making your equipment more accessible.
Pros and Cons of using PVC Bow Stand
Pros
PVC bow stands are inexpensive.
They are also readily available and easy to use.
If you need a stand for multiple bows, they make changing between different types of bows easy and convenient because they hold the bow securely until the user removes it.
You can modify PVC bow stands quickly and inexpensively to meet your needs.
You can customize a PVC bow stand to fit in with a décor, so if you want your equipment to match or look harmonious, this is an easy way to do it.
Cons:
While they are sturdy and secure, using a PVC bow stand may not offer your bow the same level of protection as a wooden or metal stand. If you are particularly concerned about damage to your equipment, this is one factor in choosing a different stand type.
Some people have reported that over time with frequent use, PVC bow stands can become more brittle and fragile. If this concerns you, consider another type of stand.
Because they are not as common as other bow stands, PVC ones can be harder to find at times and in some situations. However, if you research and know where to look, this should not be too much of an issue.
Depending on the design of your bow and how you like to store it, a PVC bow stand may not hold your bow exactly as securely as other types of bow stands. However, this should not be a problem for most people if you choose a quality model to meet your specific needs.
How do archery bow stands work?
Archery bow stands hold a fully-assembled bow upright, making it easier for archers to find and use their equipment. These stands typically consist of one or more support arms that extend from a stable base, which you can mount on the ground or a wall.
As an additional feature, a cup holder in a bow stand holds small, lightweight objects like water bottles or snacks. You can use it as a convenient storage location for items you may need while shooting arrows at the target. So, it will be an added benefit if the bow stand has a cup holder.
Benefits of PVC Bow Stand
Archery is a fun and challenging sport that requires skill, precision, and focus. Whether you're just starting or have been shooting for years, it's essential to use proper gear to ensure your equipment's safety and integrity. One piece of critical gear is an archery bow stand with a cup holder.
A bow stand with a cup holder offers several significant benefits that can make shooting more comfortable and enjoyable.
It provides a stable base for your bow when you're not shooting. It prevents the bow from accidentally discharging or shifting around as you move around, making it easier to concentrate on the target.
It holds a cup or water bottle, which can keep you hydrated and energy levels up. It is essential to ensure you have the stamina to shoot accurately throughout an entire session.
It protects your bow from getting damaged by contact with other objects. For example, a bow stand will prevent it from scratching against a wall or door frame, which can weaken its structural integrity over time.
It frees up your hands, so you can use a stabilizing device if necessary. For example, to improve your technique for shooting with one hand, a bow stand with a cup holder is ideal because it allows you to hold and position the stabilizing device in a way that won't interfere with your shot.
It's easy to install and use since it simply attaches to your archery bow using a mounting bracket. It makes it quick and convenient to set up whenever you want to use it.
Overall, choosing an archery bow with a stand that includes a cup holder is the intelligent choice for any serious shooter who wants to improve their performance, comfort, and safety.
And at the same time, the cup holder adds a touch of convenience as it could hold a refreshing drink for you. So consider investing in a bow stand with a cup holder.
Tips on Using PVC bow Stand
If you're a severe archer, you know that having a good bow stand is essential for practicing your shots. PVC bow stands are popular because they're lightweight and easy to transport.
Here are a few tips on using your PVC bow stand:
Choose a location carefully. You'll want to set up your stand in an area that's level and free of obstructions. It will help ensure that your arrows travel true and don't get caught on anything.
Take the time to set up the stand correctly. Ensure the legs are even and stabilized before shooting.
Use sandbags or weights to keep the stand from tipping over. It is vital if you are using it in windy conditions.
Inspect your arrows before each shot. Check for nicks or damaged fletching, and replace any damage before shooting.
Practice. The more you use your PVC bow stand, the better you'll become at hitting your target.
Do you need a bow stand?
You don't always need a bow stand, but having one is helpful. Many people keep their bow on a bow stand when they aren't using it so they don't accidentally break the bow or damage anything else if it falls over.
You can either buy a dedicated bow storage unit, make your own, or use an old book with some padding to hold the bow. You can also just lay it on the bed or table if you have a steady surface.
A stand will make your bow easier to store, especially if you're short of space. It's possible to buy it online or at specialty stores, which usually come in various sizes, so everyone from children to adults can find one that fits their bow.
If you're planning to buy a stand, it's essential to make sure that it's the right size for your bow and that it's sturdy enough to hold. Remember that some are for bows with shorter hair, so you might need to spend a bit more money if you have a longer bow.
Things to consider when choosing a bow stand
Type of Bow

The bow you own will affect what kind of stand you need. For example, if you have a longbow, you may opt for a tall and wide bow stand that can accommodate its size. Similarly, if you have a recurve bow or compound bow with accessories attached, like sights or stabilizers, look for a stand that can accommodate these accessories.

Weight of Your Bow

Consider the weight of your bow. If you have a heavy hunting or target bow, you will need a sturdier and heavier one that can handle its weight without tipping over.

If you have a lighter bow for target practice or recreational shooting, you might get away with a more lightweight and portable stand.

Stability of the Stand

Another important consideration when choosing a bow stand is its overall stability. If you are using your bow for hunting or target practice outdoors, you will want to ensure that it can stay firmly in place on uneven terrain and varying weather conditions. Look for a stand with a sturdy base or one that can be weighted down to increase its stability.

Portability of the Stand

When choosing a bow stand, think about its portability. If you plan to transport your bow often or travel with it, opt for a lightweight and compact that is easy to carry. Alternatively, if you only need your bow stand at home, look for a heavier and more stable one that will provide better stability and support.

In summary, when choosing the best bow stand, you should consider several factors, including the type of bow you own, its weight, overall stability, and portability.
Where should a bow stand be placed?
If you are using the archery bow stand, you should place it on a level surface so it will stand safely. The best location is on the ground, giving you good leverage and support when you aim or shoot your arrows.
However, if the surface is not level enough, another good option would be to place the bow stand on a cardboard box, which can help provide extra stability and balance. Additionally, you can position the bow stand within easy reach, so you don't have to struggle or strain to access it when needed.
To keep your bow stand clean and functioning correctly, you should follow a few simple steps when caring for it.
Make sure to always wipe down the stand after each use. It helps remove any dirt or debris that may have accumulated and can help prevent premature wear or damage.
Avoid getting the PVC parts of your bow stand wet when you clean it, as this will cause them to warp or break down over time. For example, if you wipe down the stand after each use with a damp cloth, be sure to only use the fabric on the non-PVC parts, and keep it away from the PVC parts.
If dirt or debris has built up on your bow stand over time, you can use a soft brush to remove it gently. For example, if you have mud or snow caked onto your bow stand after a long day of hunting, you can use a soft-bristled brush to scrape it off carefully.
If your bow stand gets scratched or dented over time, consider using protective tape or padding to cover the affected areas. For example, if your bow is starting to rub against the stand and cause some scratches, you can wrap a protective layer of tape over these parts to help prevent further damage.
By following these simple steps when caring for your PVC archery bow stand, you can be sure that it will continue to function correctly and last many years.
In summary, depending on your personal preferences and needs, there are both pros and cons to using PVC bow stands. If you prioritize affordability and convenience above all else, a PVC bow stand may be the right choice for your needs.
However, if you need a highly protective bow stand or prefer to use more traditional materials. Weigh the pros and cons and decide which option best meets your needs. Ultimately, a decision will be up to you.
Get your bow a stand. Choose from these +500 bow stands with a cup holder.