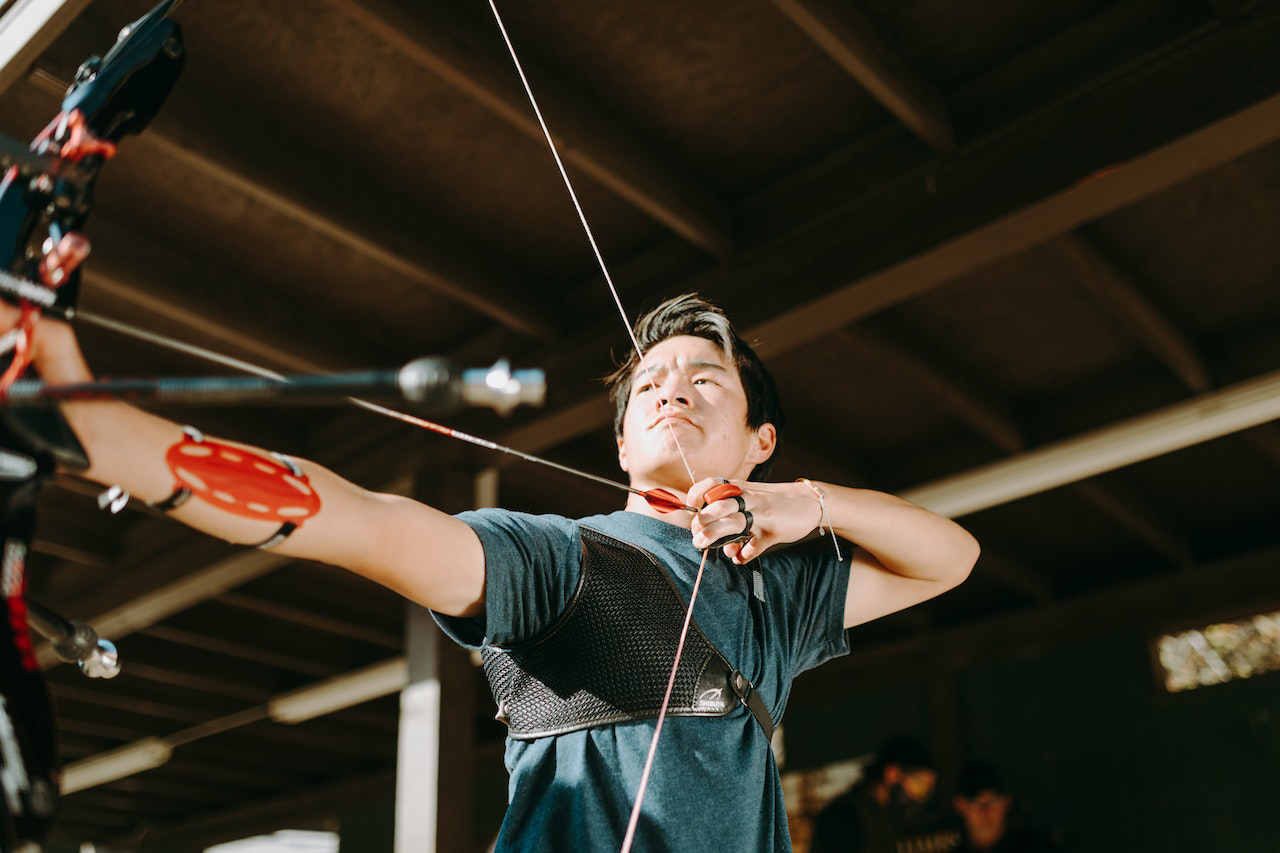 A reflex/deflex longbow is a hybrid bow type in which the limbs and bowstring do not touch. It mainly pertains to a longbow design with a combination of reflexed limbs and a deflexed riser promising improved speed and accuracy.
If you are new to archery, you may be getting familiar with the different terminologies and basic information about the field. For those who are eyeing shooting longbows, it's not surprising for you to know that there are various types of longbows, including but not limited to horse bows, English longbows, and American longbows.
Besides these more common and popular longbow types, there is a reflex/deflex longbow that piqued your interest. You may have yet to see and probably need help understanding what a reflex/deflex longbow is.
It is a hybrid longbow wherein the bowstrings do not touch the limbs. If you look closely at a reflex/deflex longbow, you'll see both ends curving away. Moreover, in particular, a reflex/deflex longbow has the following dimensions:
2×4 form
64 to 70 inches bow length
Archers debate that a reflex/deflex longbow is a recurve bow but in lesser amounts. However, the debate will continue, and a reflex/deflex longbow has unique characteristics that can even minutely separate it from other bow types.
Before anything else, it would help you to know what the reflex and deflex terms mean in archery. Understanding what each terminology means may help you achieve a better understanding of the reflex/deflex longbow:
What is reflex in a longbow?
Reflex in archery refers to a bow's limb or riser bending away from you, promoting speed because of lower brace height. A slight adjustments in brace height affect a bow's speed.
For instance, a lower brace height increases a bow's speed while a high brace height loses momentum. As a result, since a bow with a reflex design has a lower brace height, it shoots faster than it used to, making it an excellent selling point to those who are into speed.
It is also why archers with short draw lengths turn to reflex design to reach their desired speed. Moreover, if you are an accurate shooter that doesn't make mistakes too often, you will likely be able to shoot more with a reflex-designed bow.
What does Deflex do for a bow?
Deflex on a bow gives more gap from the bow's limb compared to reflex. The design is evident on the bow's limbs and risers.
Another defining characteristic of deflex-designed bows is that they are more forgiving. Although they don't promote an increase in speed, they offer more accuracy than reflex-designed bows. Therefore, if speed is not a significant concern to you, it would be best to deflex your bow.
If you have yet to learn, most bows with good entry-level risers have quite a bit of deflex. Remember that the more deflex a bow has, the more accurate and forgiving it is, which helps build up the confidence of newbie archers.
Hence, the quicker they improve, the higher the chance they will likely buy a new riser resulting in more profit for manufacturers.
Now that you know what both designs offer, try to imagine a longbow with a reflex and deflex. To get the best of both worlds out of a bow, manufacturers found out where to add reflex and deflex. The perfect equation would be reflexed limbs + deflexed riser = reflex/deflex bow.
It is also essential to know that bows follow different amounts of reflex and deflex. Therefore, one bow can have higher deflex on its riser, while some have lesser, which can also apply to reflex design regardless of brand.
For instance, some prefer to put less deflex on the riser to make their bow shoot faster. On the contrary, some put more deflex to offer more accuracy.
Thus, if you plan to build your own reflex/deflex longbow, its measurements depend on how much reflex and deflex design you want to put into it.
There are also tutorials on the internet that show how to make a reflex/deflex longbow, but they all have recommended measurements that you can follow or customize things here and there as you go through the process.
What is the difference between reflex/deflex longbows and traditional longbows?
Reflex/deflex longbows are faster, quieter, and smoother than traditional longbows. However, they aren't the ideal bows to use in competitions since their design does not follow the International Field Archery Association (IFAA) criteria.
Aside from understanding what reflex and deflex mean, particularly in archery, another excellent way to differentiate reflex/deflex longbows from others better is to compare them with traditional longbows.
At one glance, a reflex/deflex longbow looks similar to traditional longbows since there don't differ much in appearance. Yet, if you take a closer and more extended look, you can differentiate both longbow types based on their ends.
There are, however, many differences between them besides their looks, which you can learn more about below:
Reflex/Deflex Longbow Characteristics

A reflex/deflex longbow is a standard longbow with additional twists here and there by adding more reflex and deflex on limbs and risers. Its design has a slight curve off each end, similar to a recurve bow.

Compared to traditional ones, reflex/deflex longbows are more aggressive and have straighter limbs. Additionally, a reflex/deflex longbow shoots faster, quieter, and smoother than traditional longbows. Thus, it stores plenty of energy, making it a high-performing longbow.

However, it does not have an actual D-shaped bow compared to other longbow types. Furthermore, a reflex/deflex longbow doesn't meet the International Field Archery Association's parameters, making it unsuitable for target archery competitions.

Despite this, it would be best to use it for hunting games instead because of its promising capabilities.

Traditional Longbow Characteristics

Traditional longbow perfectly depicts the looks of the first ever invented bow. It has that historical look and feels that draws a lot of archers to it, other than its specifications and features. In addition, it has that classic D-shape unique to longbows.

It is also the right one for those who dream of entering target archery competitions since their design meets the International Field Archery Association's guidelines which the reflex/deflex longbows can never do.

Traditional longbows are not only ideal for target archery but can be excellent equipment to use for hunting season, may it be for big games or small games.

Sadly, it doesn't perform as great as reflex/deflex longbows because they are not as quiet, smooth, and fast as the latter. Moreover, you can feel hand shock if you shoot it, which you can't experience when using reflex/deflex longbows.

Therefore, reflex/deflex longbows are perfect for hunters who are after bows that can provide them with the high performance they need to kill the animal successfully. In contrast, target archers will find traditional longbows enough to win the archery tournaments like the Olympics.
What are the best reflex deflex longbows?
KAINOKAI 54″ Traditional Laminated Longbow and Black Hunter Takedown Longbow are among the best reflex/deflex longbows you can find in the market. Reflex/deflex longbows are cheaper than other bow types, with excellent features perfect for hunting games.
It may not seem obvious, but you can purchase many reflex/deflex longbows made by various bow manufacturers. You can buy top-tier reflex/deflex longbows for as cheap as $89. On the other hand, the most expensive ones with high quality are available at a price of at most $210.
It seems a pretty good deal, especially for those who want to shoot high-performing longbows. Below are the best reflex/deflex longbows you may want to consider:
KAINOKAI 54″ Traditional Laminated Recurve Bow/Archery American Hunting&Target Horse Bow/Longbow

The KAINOKAI 54″ earned 4.5 stars on Amazon, made of a mixture of the following materials: wood, fiberglass, and bamboo. Enumerated below are its specifications:
Limbs material: a combination of fiberglass and bamboo core
Riser material: assortment of rosewood, Sapele, and beech wood
Overall bow length: approximately 54 inches
Draw weight: 15 lb to 55 lb
Draw length: 35 inches maximum
Moreover, the KANOKAI 54″ is aesthetically pleasing, handy, and lightweight. It also shoots fast because its reinforced limb tips make it perfect for hunting and target practice.
Another excellent thing about this reflex/deflex longbow is its laminated limbs that won't move quickly due to its high-pressure bearing. Compared to other models, KANOKAI 54″ boasts more refined and rounded edges with 14-strand Dyneema string.
Also, it is perfect for right-handed and left-handed archers, regardless of skill level. Hence, kids, adults, newbies, and professionals can use KANOKAI 54″.
Remove the bowstring from the reflex/deflex longbow after every use.
Black Hunter Takedown Longbow, GLURAK 60″ Wooden Archery Bow Hunting Bow – Right Hand Bow for Beginner Training Practice, 25-60lb
Black Hunter Takedown Longbow is another reflex/deflex longbow with premium quality that makes it one of the best of its kind; it boasts the following specifications and item dimensions:
Draw length: 28 inches
Draw weight: 25 lb to 60 lb
Overall weight: 41.65 lb
Overall height: 12 inches
Overall size: 27 inches
Overall width: 34 inches
It is also a sturdy bow with an ergonomically designed high-density wooden handle, bamboo laminations, and two high-elastic fiberglass limbs. With this reflex/deflex longbow, you can shoot comfortably.
If you plan to go deer hunting, Black Hunter Takedown Longbow is the perfect choice to help you deliver an ethical kill to the animal. Nonetheless, like any other longbow, always remember to remove the bowstring when not in use to protect its limbs from twisting.
Because it is a takedown longbow, you can change the limbs to increase or decrease your draw weight as you see fit. Like the KAINOKAI 54″, it also uses a Dyneema string, giving you the best experience as you aim at the target.
You can quickly assemble and disassemble it for storage which is handy if you travel often. The brand also offers a 12-month warranty.
Black Hunter Takedown Longbow earned a higher rating than KAINOKAI 54″: a 4.6 star out of five.
Besides the two reflex/deflex longbows mentioned above, there are also others boasting the same quality that you might want to check:
There are also a few tips you must know to help you decide which reflex/deflex longbow you should buy:
Look for a reflex/deflex longbow with at least a good brand reputation. You can consult other professional archers and nearby archery stores you trust.
Identify what specifications you are looking for that can be helpful for hunting or target archery purposes.
There are reflex/deflex longbows with unique features you cannot find in others, so be as meticulous as you want.
Examine the reflex/deflex longbow model's star ratings and reviews on websites such as Amazon. It can help you see the bigger picture and make an informed decision.
Alternatively, you can build one unique to you if none of the best reflex/deflex longbows listed above suit your preferences.
Since a reflex/deflex longbow is rare, you will find it challenging to understand. If you compare it with other bow types, you can see only a few reflex/deflex longbows in the market. That's why many archers prefer to build them on their own.
Nevertheless, owning a reflex/deflex longbow guarantees increased speed and high accuracy that others cannot resist.