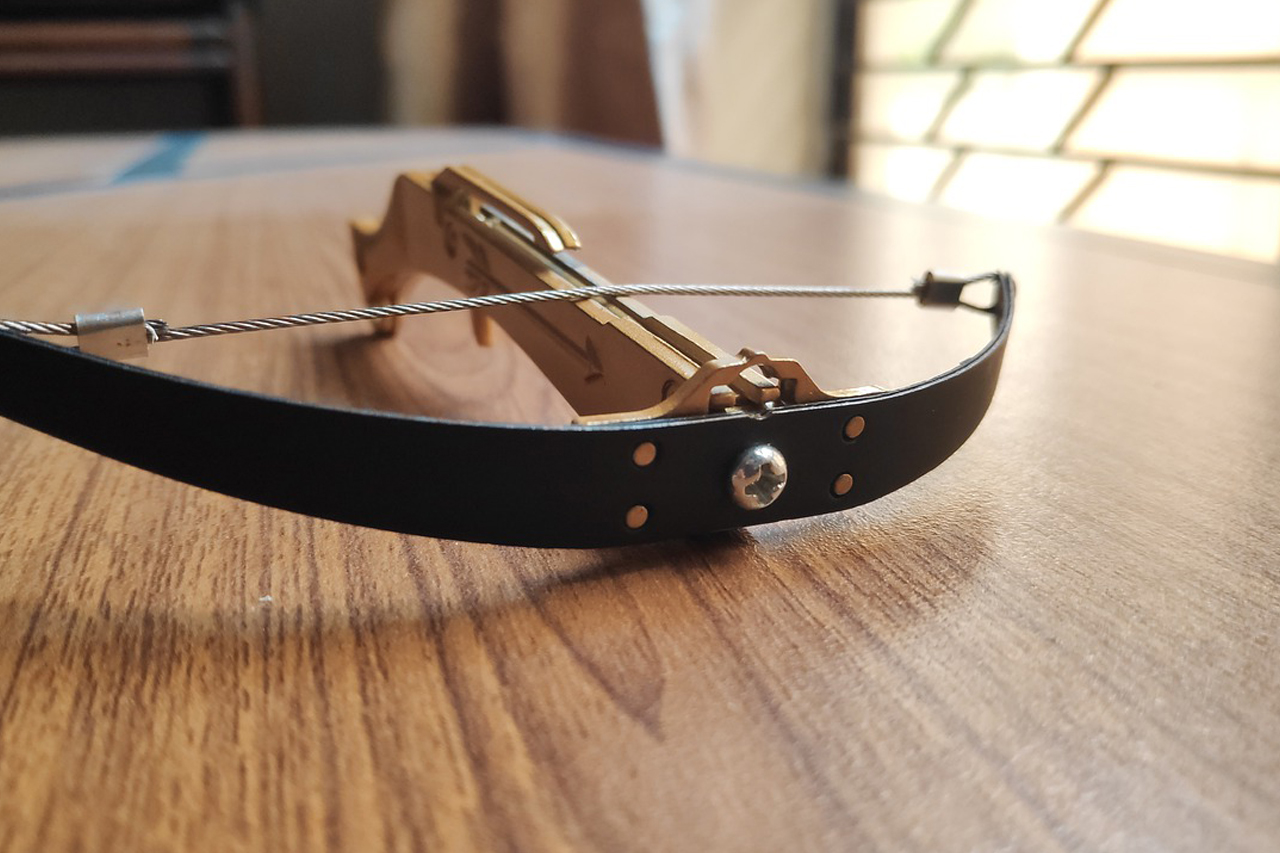 You can leave your crossbow drawn or pulled back for a hunting day at most. Leaving your weapon in that state for a more extended period can overstretch or tear apart the strings and cause danger to anyone or anything near it.
In the hunting environment, it is essential to always be on your toes so you'll be ready if there is an excellent opportunity to shoot an animal or a need to retreat due to danger. Being alert and present means that you will be spending quite a long period with your crossbows cocked.
It is common for crossbow hunters to leave their weapons pulled back for the entire hunting day. It is also not advisable to keep on cocking and uncocking your crossbows repeatedly because this can make the alignment of your shots inconsistent.
If your crossbow is durable, it will surely handle the wear and tear. However, leaving the weapon pulled back for long periods is a risk crossbow enthusiasts should avoid. Doing so for more than a day can wear out the bow, and most of the time, the damage is not easily detected.
There is a considerable risk of overstretching your bowstrings, overextending the limbs, and other damages to other parts of the bow. Your crossbow can also dry-fire, which can cause significant damage to the weapon itself and anything around it.
If you want your crossbow to last longer or want to avoid any accidents, you can ask the manufacturer or check the manual about the duration of time you can leave your weapon drawn.
Aside from checking the manual or with your manufacturer, you should also check the laws in your state to make sure you don't get in legal trouble. Some states, like Delaware, prohibit people from transporting a cocked crossbow in vehicles.
Can you dry fire a crossbow?
One rule that all crossbow enthusiasts should know is to never dry fire a crossbow. Doing so can damage your bow. Dry fires can also happen accidentally. This incident might cause you to spend more on bow repair, or worse, replace the weapon if the damage caused it to be beyond repair.
If you are not familiar with dry firing, it's when you release a cocked or drawn crossbow without an arrow. Some shop owners dry fire a crossbow to prove that the product is of good quality, while archers may also do so when testing their weapons for the first time.
Although this might be a common practice to some people, you should still avoid dry firing your crossbow to prevent damage and ensure that your weapon lasts longer.
Did you know that dry fire can still happen accidentally? This accident happens if you don't nock your arrow properly to the bowstring, your fingers slip on the string, or the arrow is too light for your bow.
If you don't nock your arrow properly or your fingers slip on the string, there is a big chance that your bow will dry fire. Hence, it is essential to always nock your arrows properly before releasing them.
Furthermore, the draw weight of your bow should match the weight of your arrow. If you use an arrow that weighs too little for your bow, the former will not absorb the energy level that the bow releases when you shoot.
This accident usually happens when your crossbow model doesn't have an anti-dry-firing mechanism. If you're buying a new crossbow, you may want to consider buying one with an anti-dry-firing instrument.
How does dry firing a crossbow cause harm?
Dry firing can cause harm not only to the bow but also to the archer and everyone nearby. The massive energy generated by the dry fire can shatter your bow. You or anyone near you can get hit by the bow pieces flying in the air when this happens.
During a standard release of an arrow, the tension caused by drawing the string will create potential energy in the bow's riser and limbs. During the release, the potential energy in the riser and limbs will become kinetic energy which causes the arrow to fly.
Typically, most of the energy built up in the riser and limbs will be transferred to the arrow when you release it. However, a little energy goes back to the riser and limbs, causing the bow to vibrate a little after your shot.
Now, when you dry fire a bow, all the built-up energy in the riser and limbs goes back to these parts. Instead of the slight vibration that the bow generates when you shoot an arrow typically, the powerful vibrations caused by the release reverberate to the entire bow, which is when things go south.
The string can lash back at your face, but you can consider a derailed string as minor damage at this point. Worst case scenario is that your bow will shatter into multiple pieces that will fly in the air and hit you and anyone near you.
If you are lucky or if your bow is durable enough, it will only have slight damage, like a crack in the limbs, and will only need minimal repairs. If your bow is less durable and it shatters, you might need to replace the whole weapon altogether.
Regardless of the extent of the damage caused by a dry fire or regardless if you can visibly see the cracks or not, do not fire the bow again. If you can't see damages on your bow after a dry fire, the damage may be internal. However, this does not lessen the risks if you continue using the bow.
If you don't have professional knowledge on how to repair bows, don't attempt to repair yours either. It is better to take your bow to a repair shop where a professional can assess the damage and mend it if needed.
For crossbows, prevention is better than repair. You can follow some preventive measures to avoid a dry fire. Inspect your weapon regularly and before you shoot, and uncock your crossbow after every use.
How do you uncock a crossbow?
It is essential to uncock your weapon to avoid damaging it. You can uncock your crossbow by shooting the arrow or using a discharge bolt or a defuser.
Uncocking your crossbow after using it helps its limbs relax and prevents accidents, such as a dry fire, which we will discuss later in this article. There are multiple ways to uncock your weapon, so you need to choose one method that's easier and more convenient for you.
The easiest way to uncock your crossbow is to shoot the arrow into a safe target. You can consider the soil a safe target. You can also use a portable discharge target. This equipment has thick material that can withstand the impact of releasing an arrow at a short distance.
A safe distance for uncocking crossbows would be within about six to ten feet away from your chosen target. Before you do shoot, however, make sure that the area is clear. Ensure that the arrow will hit no one and that no debris will fly in the air when you shoot.
Another way to uncock your crossbow is by using a discharge or unloading bolt. This equipment is heavy-duty, meaning you can fire them multiple times into the ground.
To uncock your crossbow using the discharge bolt, follow these steps:
Remove the bolt on your crossbow, and then replace it with the discharge bolt.
After placing the discharge bolt, shoot your crossbow into the ground or soft patches of soil.
Don't forget to shoot six to ten feet away from the ground.
Using a discharge bolt has its pros and cons. For the pro, the equipment is durable, and you can use it multiple times. However, if you prefer a single-use variant, you can buy the biodegradable one that's good for one use only.
Despite being durable, the discharge bolt has a couple of disadvantages. First, you need to be shot into soft ground or soil to avoid being buried deep or bouncing off the ground.
Another way to uncock your crossbow is by using a defuser. This equipment helps release the tension in the limbs safely by holding them. Before using a defuser, check with your manufacturer or your crossbow manual to know how to install the equipment into your weapon.
The standard way of using the defuser is to install it into your crossbow and then turn the defuser's knob. By doing so, the limbs of your crossbow will return to their default position.
Do you have to tune a crossbow?
Crossbows, like other weapons, need regular tune-ups to avoid further wear and tear. To tune your crossbow, you can check the strings and cables, lubricate the rail, wax the strings, tighten the nuts and screws, and inspect the other parts for any visible cracks or other damages.
Crossbows, especially those made of durable materials, don't require much maintenance compared to other bows. However, this is not an excuse not to do regular tune-ups on your weapon. Your crossbow has to perform at its best consistently.
Here are some of the tune-up measures that you can do to tune your crossbow:
Check your strings and cables. These are the most vulnerable and some of the most heavily used bow parts, so you need to check them regularly. Clean them well after every use as well.
Lubricate your rail with oil—light oil for every 75 to 100 shots, while high-performance oil for every 150-200 shots. Add a small drop to the sides of the rail and rub it around. Avoid overlubricating it because it can saturate the center serving.
Wax your string for every 75 to 100 shots. To do so, apply string wax to your bowstring, and then rub the latter quickly with your fingers.
Ensure that you tighten the screws or nuts regularly, as they can loosen over time.
Don't forget your scope (or the regular sights). Before the start of every hunt, make sure that they are still accurate and that the glass is clean.
Ensure that your trigger and the other moving parts of your bow are not stuck. Clean them with pressurized air or a dry brush, then lubricate them. Consult your manufacturer on the kind and amount of lube you should use on your weapon.
Inspect the limbs for any cracks or damages, especially after you dry fire your bow.
If you want to know the tune-up procedures specific to your crossbow, visit a professional to help you. You can also contact your manufacturer directly.
How do you ensure safety when your crossbow is pulled back?
When you pull back a crossbow, this means that you are preparing it for shooting. Therefore, to avoid injuries, make sure to follow safety measures, including not pointing your weapon at others, staying focused and alert at all times, and keeping your finger off the trigger when you are not ready to shoot.
Although no longer used for wars, crossbows are still considered dangerous weapons. If they can kill animals, they can injure humans. When you cock your crossbow, make sure that it will not fire at an inappropriate time because you can accidentally hurt yourself or anyone nearby.
Follow these safety measures when your crossbow is drawn:
Do not point your weapon at other people. When your arrow is cocked, it is ready to shoot the arrow. If you point your bow at a colleague, especially if you do it as a joke, there is a risk that it can go off accidentally, and your companion can get injured.
Put your finger off the trigger until it's safe to shoot. This safety tip helps you avoid accidentally shooting someone. If your crossbow is cocked and your finger is on the trigger, and you are startled or not focused enough, you can accidentally pull the trigger and injure someone.
Always stay focused and avoid distractions. When you are constantly aware of your surroundings, you can quickly shoot a prey as soon as it appears at a suitable target position. Your weapon can fire at any time, so you need to be alert at all times.
Don't leave your crossbow pulled back overnight. Doing so can damage your bow by overstretching your bowstring and overextending the limbs of your bow. It can also accidentally dry fire, which can cause damage to the bow and can injure you or anyone around it at the time of the explosion.