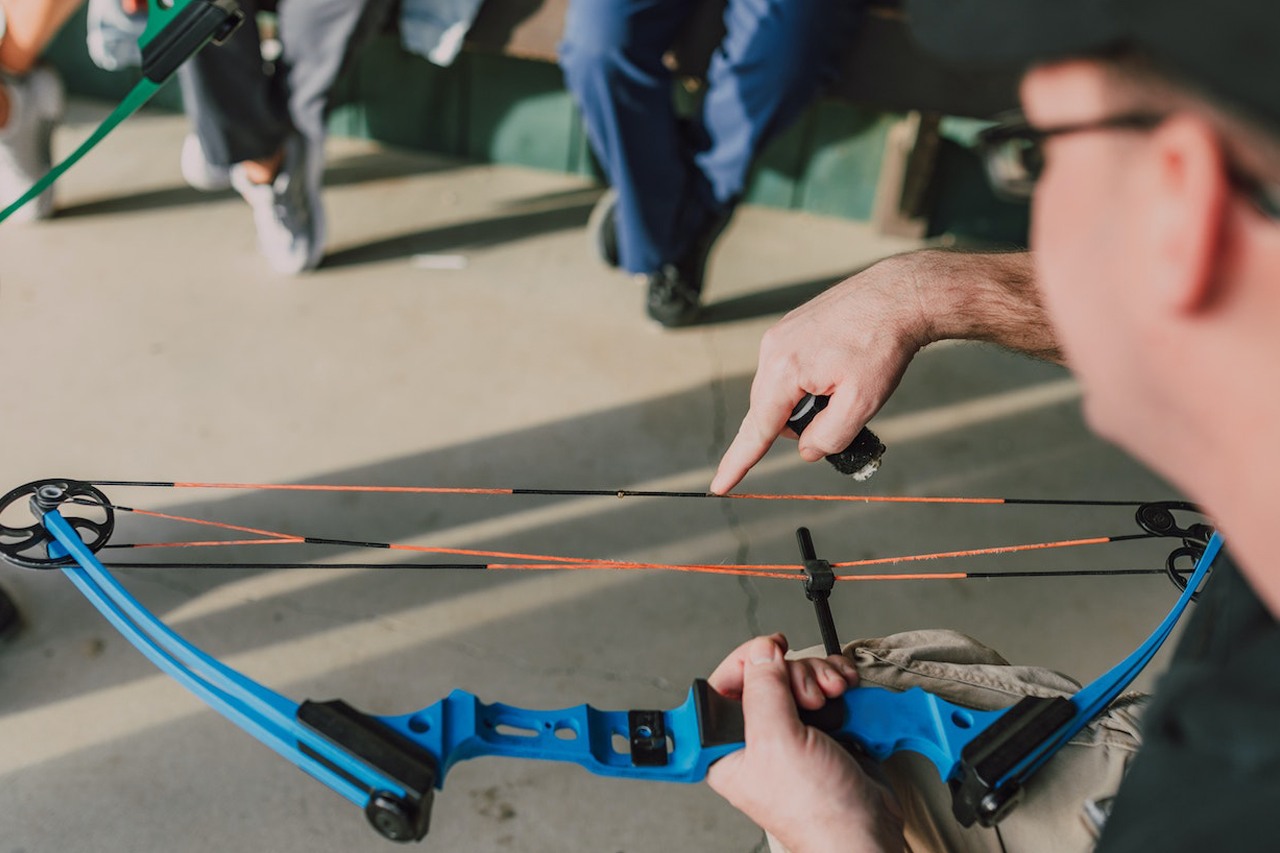 A compound bow utilizes a levering system of pulleys and cams to increase the power of the draw. Unlike traditional bows, which use longbows or recurve bows, compound bows provide greater accuracy and control, allowing users to shoot farther distances than conventional bows.
The increased force generated by the pulley and cam system also reduces the physical strength needed to draw the bow, making it easier for archers with less upper body strength to enjoy the sport.
Compound bows come in various styles and sizes, from beginner models to professional-grade equipment. Their modern design makes compound bows the preferred choice among many recreational and professional archers.
You can use the compound bows for target practice, hunting, or to enjoy some time outdoors. So whether you are an experienced archer or just starting, you will find a compound bow suitable.
If you are new to compound bows, today is the time to own one. Here are the best compound bow brands to start looking at:
1. Bear Archery
Bear Archery is the go-to brand for many bow hunters and archers. With a rich history back in 1933, Bear Archery has produced high-quality bows that recreational archers and hunting enthusiasts have used.
The company's products are well known for their accuracy, durability, and affordability.
From beginner archers to experienced hunters, there is something for everyone in the Bear Archery lineup. Whether a traditional longbow or compound bow, Bear Archery bows offer top-notch performance at an unbeatable price. You can trust your next hunt will be successful with one of their bows.
Flagship Model: EXECUTE 32
| | |
| --- | --- |
| Speed | Up to 340 fps |
| Axle-to-Axle | 32 inches |
| Physical Weight |   |
| Brace Height | 6.5 inches |
| Draw Length | 26.5 – 30.5 inches |
| Draw Weight | 45-60lbs or 55-70lbs |
| Let-off | 75%, 80%, 85%, or 90% |
The Bear Archery EXECUTE 32 is the top choice for any archer. This compound bow offers an incredibly smooth draw cycle that you can tailor to your preferences with adjustable draw weights and lengths. It also features a new riser design, which provides a rigid platform for improved accuracy and forgiveness.
The Execute 32 features a redesigned cam system that increases shooters' speed and performance. The Execute 32 offers unbeatable performance with its New Shock Management System (SMS) that helps absorb vibration and noise. So you can make a quiet shot without disturbing your target.
Check out Execute 32 and other +20 high-performing Bear Archery Compound bows.
2. Mathews Archery
Mathews Archery has become renowned for its innovation and quality construction designed to take your performance to the next level. With a vast selection of bows, accessories, and apparel, Mathews Archery has everything you need to ensure success on the range or in the field.
Their commitment to superior archery products ensures shooters everywhere can access top-of-the-line gear.
All models feature Mathews' signature technology, like their Harmonic Damper and RollerGuard, and proven designs that the best competitive archers have tested in the world. Whether you're starting or a seasoned veteran, Mathews Archery has something to offer everyone.
Flagship Model: Mathews Phase 4
| | |
| --- | --- |
| Speed | Up to 336 FPS (IBO rating) |
| Axle-to-Axle | 33 inches |
| Physical Weight | 4.68 lbs |
| Brace Height | 6.5 inches |
| Draw Length | 27-31.5 inches |
| Draw Weight | 60, 65, 70 & 75 |
| Let-off | 80% or 85% |
Mathews Phase 4 is a compound bow that sets itself apart. It is one of the most popular bows among hunters and archers for its impressive range, accuracy, and ease of use. The bow has the RESISTANCE PHASE DAMPING (RPD) Technology that stops vibration at its source and allows for a smooth, quiet, and comfortable shot.
The bow also has the NEW BRIDGE-LOCK STABILIZER integrated into the riser for a solid connection and balance. Its bridge-lock technology also helps in harmonic tuning and customization to fit the archer's strength and skills.
The SAS system allows the archers to remove or repair their cables quickly. It makes it incredibly convenient for hunters who spend more time with their bows in the field.
The bow's state-of-the-art technology will improve your archery skills with the Mathews Phase 4. Its accuracy, range, and usage make it the perfect choice for hunters and archers of all skill levels.
With its superior design and quality, you can get the best out of your bow using this compound model. Get ready to step up your archery game with Mathews Phase 4.
Check out their +10 new Matthews Archery compound bow for 2023.
3. PSE Archery
PSE Archery has been making bows since 1971 and has proved its expertise by delivering the most reliable, durable, and accurate archery bows available. They are known for their high-end technology, robust engineering, and quality materials that guarantee top performance with every shot.
Their commitment to innovation and quality has created some of the best bows sought by serious archers and hunters. With a PSE bow, one can expect smooth draw cycles, consistent performance, and accuracy in every shot.
PSE Archery has many bows, ranging from beginner models to competition-grade bows. All PSE bows are crafted with attention to detail and tested for optimal performance, ensuring you get the best out of every shot.
Flagship Model: PSE Dominador Duo 40
| | |
| --- | --- |
| Speed | Up to 340 fps |
| Axle-to-Axle | 40 inches |
| Physical Weight | 5.2 lbs. |
| Brace Height | 7 ⅝ inches |
| Draw Length | 27″ – 31″ |
| Draw Weight | 50, 60 |
| Let-off | 65-75% |
PSE Dominador Duo 40 has a blend of strength and accuracy. It features an adjustable draw weight from 50 to 60 lb, allowing you to use it with various archers. Its flexible limbs also provide good speed and power, allowing you to easily take down big game animals. It makes the PSE Dominador Duo 40 an excellent choice for the serious hunter.
This bow is lightweight, making it easier to carry. Its durable construction also ensures it will last many years of use. The bow also features vibration dampeners that reduce noise and ensure greater shooting accuracy.
The PSE Dominador Duo offers a forgiving performance with multiple options for tuning and adjustments. Its adjustable draw weight and length make it customizable for the individual shooter to get the perfect fit.
Check out these 2023-released compound bows from PSE Archery.
4. Hoyt Archery
Hoyt Archery is renowned for producing the best archery gear and equipment. They offer a wide range of bows, arrows, and accessories; each product is guaranteed top-of-the-line quality. With its advanced technology, Hoyt Archery ensures you can get the most unforgettable archery experience.
From hunters to professional archers, Hoyt Archery has something for everyone. With superior accuracy and reliability, beginners and experts trusted Hoyt Archery.
Their commitment to excellence has made the company the go-to brand for archers worldwide. Whatever skill level you are at, this bow brand has the necessary products to enhance your skills.
Flagship Model: Hoyt VTM 31
| | |
| --- | --- |
| Speed | Up to 342 fps |
| Axle-to-Axle | 31 inches |
| Physical Weight | 4.6 lbs |
| Brace Height | 6 inches |
| Draw Length | 25-30 i nches |
| Draw Weight | 30-80 lbs |
| Let-off | 80%-85% |
The Hoyt VTM is a reliable, intuitive, and mighty bow. It features the latest advanced technologies like Hoyt's In-Line System and the Holeshot string silence system that allows you to put accessories without adding vibration or noise, as well as the Pro-Fit grip that delivers optimal hand alignment for an improved shot.
With the best technology and design, the Hoyt VTM is one of the best bows available on the market and perfect for any serious archer. It packs power and accuracy into a lightweight package that makes it easy to carry yet reliable enough to ensure excellent performance every time.
The cutting-edge features and advantages ensure an incredible experience and a lasting bow for years. So if you're looking for high-performing archery bows and reliable ones, look no further than the Hoyt VTM.
Check Hoyt's compound bows from this list of +10 new releases for 2023.
5. Xpedition Archery
Xpedition Archery is the premier choice for those looking for superior quality and performance in bow selection. The bowmakers constructed every bow with precision engineering and craftsmanship, ensuring maximum durability and accuracy on the range or field.
With an extensive selection of bows from beginner to advanced, Xpedition Archery has something for everyone.
The company's dedication to delivering the highest level of performance is evident in every product they make. The archery community recognized Xpedition Archery for its innovative designs and technology and its commitment to customer service.
Whether an experienced archer or new to sports, Xpedition Archery will provide you with the best bow and accessories to fit your needs. With a wide array of quivers, release aids, and other gear, Xpedition Archery is the go-to destination for top-of-the-line archery equipment.
Flagship Model: 2023 Xlite 31 (also available Xlite 33)
| | |
| --- | --- |
| Speed | Up to 336 fps |
| Axle-to-Axle | 31 inches / 33 inches |
| Physical Weight | 3.75 lbs |
| Brace Height | 6.5 inches |
| Draw Length | 25.5-30.5 inches |
| Draw Weight | 50, 60, 65, 70 |
| Let-off | 80% |
The Xpedition Archery 2023 Xlite 31 is the ultimate archery bow for any serious enthusiast. With its lightweight design, comfortable grip, and reliable performance, this bow will take your shooting game to the next level! The smooth draw cycle ensures a consistent shot every time, while the adjustable draw weight allows you to customize it to your individual preferences.
The Xpedition Archery designed this bow model to meet the needs of professional and starter shooters. This flexibility gives you a reliable, performance-driven bow that won't break the bank. With its advanced features and easy customization, this bow will become your favorite archery equipment.
Check out Xlite's new compound bows from this list.
What is Best Selling Bow Brand?
When it comes to bow brands, there are many options out there. While many have favorites, Bear Brand is one of the most popular and best-selling brands. Founded in 1933, Bear Brand has produced bows for many decades and has built a reputation for quality products.
With their long history of excellence, it's no wonder why Bear Brand bows are the top choice of many archers. Their bows are made from the finest materials and crafted to strict specifications.
They offer different styles and sizes that can fit any archer's needs. So, if you're looking for a reliable bow that's sure to last, Bear Brand is the way to go.
Check out these +200 Bear Archery Bows.
What Bows do Professional Archers Use?
Professional archers use either recurve bows or compound bows. Recurve and compound bows are the most efficient designs for shooting accuracy and distance.
Recurve bows provide archers with a smooth draw and allow them to shoot long distances. They require more muscular strength, as the archer must hold back the total weight of the bow when drawing it and aim accurately.
Compound bows are designed to increase accuracy by leveraging pulleys and cables that reduce the force needed to draw the string.
Both types of bows provide archers with the accuracy and power they need to shoot accurately and compete in tournaments. Ultimately, the choice of the bow is a personal preference as some prefer recurves for their classic look, while others opt for compounds for greater efficiency.
Whether an archer chooses a recurve or compound bow, both have modern features that help improve shooting accuracy and maximize performance. Professional archers use specialized arrows, stabilizers, sights, and other accessories to fine-tune their bows and make them perfect for competition.
What Bows do Professional Hunters Use?
Generally, professional hunters will use compound bows. Compound bows are highly versatile and provide outstanding accuracy, speed, and power. The mechanical design provides the compound bow an advantage.
Compound bows also often provide hunters with more draw weight options than recurve bows, which allow hunters to tailor the bow's power to the type of game they are hunting. It means hunters can opt for a lighter draw weight for small games or larger draw weights when taking down larger game animals.
Additionally, most compound bows have advanced technology that reduces vibration and noise, making it a good choice for hunting so as not to scare the target away when they shoot. It also provides easier tuning and sighting, allowing hunters to customize the bow for their needs quickly.
Get your first recurve or compound bow from this list of +300 archery bows.