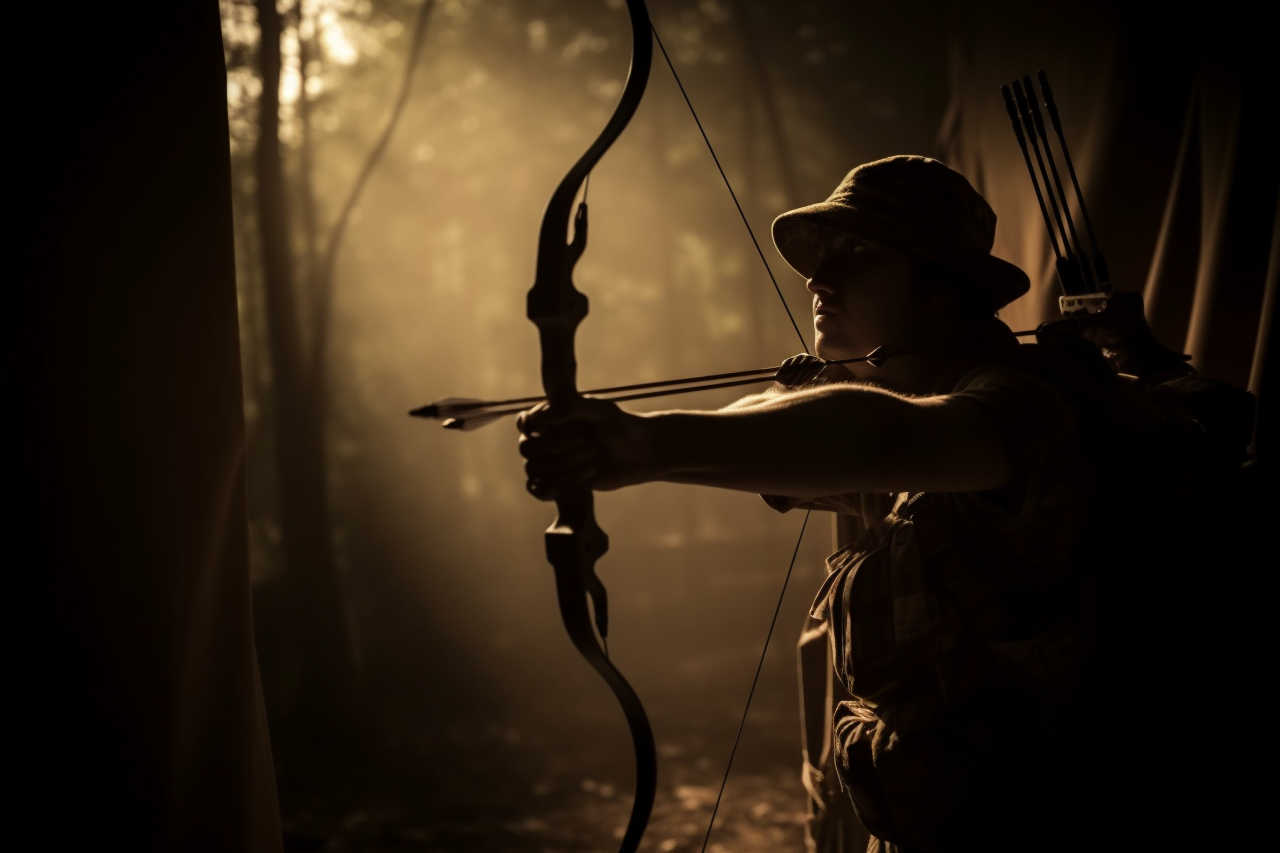 Are you an experienced archer looking to take your accuracy to the next level? Bow sights can help you get there, but you must understand when to use and properly set them up.
In this article, we'll explore the basics of bow sights, their setup, optimal conditions for use, and the benefits they can provide. We'll also discuss some considerations to consider when using bow sights. This information lets you decide when to use your bow sight and how to get the best results.
Understand the Basics of Bow Sights
Bow sights are devices used to help archers accurately aim at a target. They generally feature a pin or set of pins that you use to line up with the target, allowing the archer to hit their intended target accurately. Adjust it depending on the distance the archer is shooting from, as well as the speed of the arrow.
Bow sights come in various styles, including fixed, adjustable, and moveable pins. Learning the fundamentals of bow sights can help you make the most of your archery experience and hit your target precisely.
Fixed pin bow sights are the most basic type and are great for beginners as they provide a straightforward way to aim. Archers use them often when shooting at a range or stationary targets.
Adjustable pin bow sights are ideal for hunting, as they allow the shooter to adjust the pin for different distances quickly. Moveable pin bow sights are the most advanced type and give the shooter an even more precise way to aim.
Having the right bow sight is essential for any archer to hone their skills and hit the target precisely. Knowing the basics of bow sights can help you decide which type best suits your specific needs and shooting style.
Bow Sight Setup
When it comes to bow sight setup, choosing the right sight for your Bow is essential, ensuring you sighted it in. The type of sight depends on the shooting you plan to do and the Bow you use. When sighting in a bow, practice at a known distance to ensure accuracy and consistency before taking it out into the field.
Choosing the Right Sight
Choosing the right sight can make all the difference if you want the biggest bang for your buck. Regarding Bow Sights, consider the type of Bow you're using, the environment you're shooting in, and your style and preferences.
For instance, if you're using a recurve bow, you'll want to look for a sight designed explicitly for a recurve bow, which will give you the most accurate results. If you're shooting in a low-light environment, you'll want to look for a sight that has an illuminated dot or fiber optics, which will help give you a better target acquisition. Finally, if you prefer a more traditional look, you may opt for a sight with a pin-style design.
Regardless of what type of sight you choose, it's important to ensure it is properly calibrated and set up. Ensure that your arrows travel accurately. Additionally, if you plan on hunting, you'll want to ensure that your sight can hold up to the elements.
Many sights are designed to be weatherproof, so you won't need to worry about your Bow Sight getting damaged in inclement weather. You'll enjoy improved accuracy and performance with some research and time spent setting up your bow sight.
Sighting in the Bow
Once you've chosen the perfect sight, incorrectly sighting it can take your accuracy to the next level. Sighting in your Bow involves adjusting it so that the arrow will hit the center when you aim at a target.
You must set up a target at a known distance, such as 20 yards. You'll draw your Bow and aim through the sights with the target in place. If your aim is off, you must adjust it accordingly. Make minor adjustments and slowly move it toward the center of the target until the arrows all hit the exact center.
Taking your time when sighting in a bow is essential, as it can be tedious. However, the time spent correctly setting up the sight will pay off in the long run, as you can hit your targets consistently.
After you've finished sighting in the Bow, it's essential to check the accuracy of the sight by shooting from various distances. It will ensure that you calibrate it correctly, and you'll be able to get consistent results. With a properly sighted bow, you'll be able to hit your target with ease.
Optimal Conditions for Bow Sights
Visibility is vital when it comes to bow sights. Ensure there is plenty of light and that you set it correctly. The further your target is, the more critical it is to have a clear line.
Bow sights also work best when you have a steady hand. Ensure you have a comfortable stance and your arms are relaxed. If you are shooting off the ground, ensure you are comfortable and don't jerk the Bow when pulling the string. It's also important to practice your draw and release technique to ensure your arrow is released consistently.
Ensure you are in the ideal conditions and the lighting is good; you have a steady hand and practice your draw and release technique. With the right conditions, you can hit your target time and time again.
Benefits of Using Bow Sights
Using a bow sight can be a great way to improve your accuracy when shooting with a bow. Bow sights help you aim accurately and precisely by using a reference point. This reference point is a tiny dot you line up with your target.
Enjoy the benefits of using bow sights and watch your accuracy soar! Bow sights are also very lightweight and easy to use, so they don't add much weight to your Bow and won't interfere with your shots.
Bow sights also give you a much better chance of success when shooting at long distances. Since you can use the reference point to aim, you can be sure you are seeking the right direction. It means you don't have to worry about compensating for things like wind or gravity, as the bow sight will help you consider these factors. It can also help you ensure your arrows fly straight and true, even over long distances.
Bow sights can also help you become a more consistent shooter. You can become accurate and consistent with your shots with practice, as the reference point will always be the same. It means you can become confident in your ability to hit your target consistently and use this consistency to become an even better shooter. As you become more consistent, you can trust your skills more and become an even better archer.
Considerations for Bow Sight Usage
The type of bow sight you choose is important, as it will determine which features you can take advantage of. For instance, fixed-pin bow sights offer enhanced accuracy, while single-pin bow sights are more adjustable and versatile.
Additionally, you'll need to consider the distance you plan to shoot, as the sight needs to be adjusted accordingly. Some bow sights are better suited for short distances, while others are designed for longer shots.
The lighting conditions also need to be considered when using a bow sight. For instance, if you shoot in low light conditions, you may opt for the one with a lighted pin. It will ensure you can still get an accurate shot even in dimly lit areas. Additionally, you'll want to ensure that the pins in your sight are visible and easily seen. If the Pins are too small or faint, it may be challenging to get a precise shot.
Ensure the sight is correctly aligned when using a bow sight. It means it should be parallel to the Bow's string, and the pins should be in line. If it isn't aligned correctly, it can throw off your aim and accuracy. It's also important to check that the pins are the correct size for your Bow and securely mounted on it. Always check the sight before each shot to ensure it's adjusted correctly and ready to go.
Frequently Asked Questions
What is the difference between a single-pin and a multi-pin bow sight?
Regarding bow sights, you have two choices: single-pin and multi-pin. A single-pin bow sight is easier to use and more accurate at longer distances than a multi-pin bow sight. It only has one adjustable pin, allowing you to dial in your shot quickly and easily.
A multi-pin bow sight has more than one adjustable pin, allowing you to dial in for different distances in a single glance quickly. It's excellent for short-range shots but can be more challenging to adjust for longer distances.
Are bow sights suitable for beginners?
Bow sights can be suitable for beginners, but it's essential to consider your sight type. Single-pin sights require more skill and experience to use correctly, as you need to judge distances accurately.
Multi-pin sights can be a better choice for beginners, as they provide more accuracy when shooting at different distances. However, practicing with your bow sight before using it in the field is essential to ensure you use it properly.
How often do bow sights need to be calibrated?
Regularly calibrating your bow sight is an important step in ensuring shooting accuracy. Ensure your sight is appropriately calibrated to the distance you're shooting. The general rule is to check your bow sight every 3-4 weeks or after any major changes to your bow setup.
Consider investing in a laser rangefinder to help you determine the exact space you're shooting from. It will help make sure you're always accurately calibrated. If the distance to the target changes, you must adjust the sight accordingly.
How much does a reasonable quality bow sight cost?
A good quality bow sight can cost from $50 to $200, depending on the features and quality you are looking for. Starting with a relatively inexpensive sight with the basics, such as adjustable elevation, windage screws, and a rheostat light, is best if you are a beginner.
For more experienced bowhunters, there are a variety of more advanced and feature-rich sights available that may cost more but provide additional features such as an illuminated reticle, multiple aiming points, and more precise adjustment.
What type of bow sight is best for hunting?
The type of bow sight you use is significant in bow hunting. A good bow sight can make a huge difference when you're in the field. The best type of bow sight for hunting is a single-pin adjustable sight.
The single-pin adjustable sights provide excellent accuracy and help ensure you make the perfect shot. These sights are designed with a single movable pin that you can adjust to various distances. They also feature a lighted pin, allowing you to easily change even in low-light conditions.
You now know when bow sights work best. Setting up your bow sight correctly and using it in optimal conditions can help you become a better archer. With the right bow sight, you can shoot more accurately and consistently.
Bow sights can also help you save time since they allow you to quickly and accurately adjust for distance and wind. However, remember the importance of practice and experience when using a bow sight. With the correct setup and use, you'll be on your way to becoming a master archer.