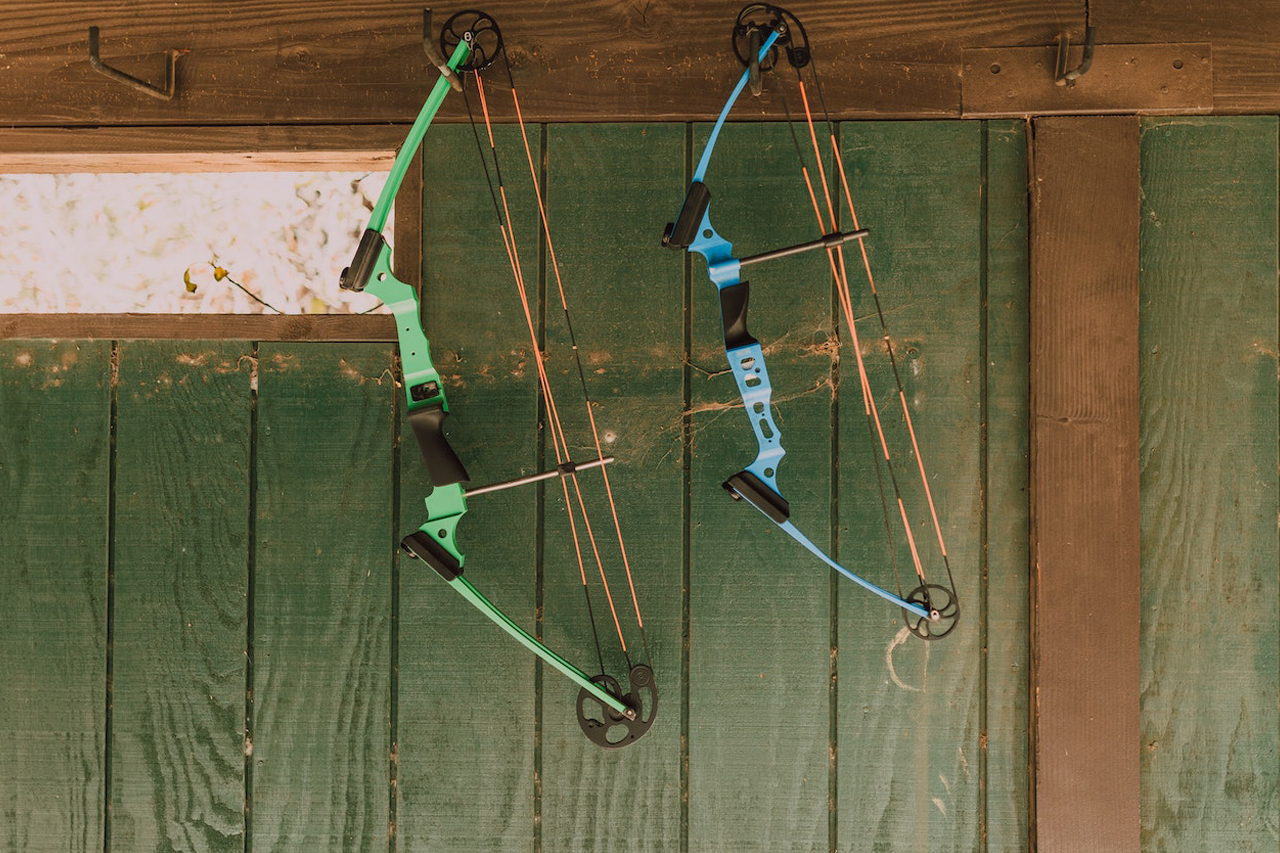 Choosing between dual-cam and single-cam compound bows may not seem too trivial, but it does make a difference in your shooting. Dual cam compound bows such as Bear Archery Cruzer G2 and PSE Brute Force are faster and have a more solid back wall. Meanwhile, Bear Archery Paradox and Mathews Switchback are single-cam compound bows that are quieter and more accurate.
Compared to other traditional vertical bows, compound bows come in different cam types, which can confuse beginners. Despite the complex compound bow cam designs, single and dual cams are the most prevalent. Deciding between dual-cam vs. single-cam compound bows is a good start.
Understanding each cam's designs and knowing the advantages and disadvantages of each can help you select which compound bow fits you well:
Dual cam Vs. Single Cam – Design, Advantages, and Disadvantages
A. Single Cam
Single-cam compound bows have only one cam located on the lowest limb, usually elliptical. On the opposite limb of a single-cam compound bow is the 'timing wheel' or 'idle wheel.' Therefore, single-cam compound bows have a much simpler design than dual-cam.
Advantages:
The arrow travels straight because there are no string strength or tiller adjustment issues.
Optimized for smoothness
More consistently accurate than dual-cam compound bows
It earned wide acceptance among archers because of its simple design, requiring less tuning and maintenance.
Quieter than other cams making it ideal for bowhunting
It has fewer moving parts and generates less tension
No synchronization issues
Easy to use
Reliable and smooth enough for beginners
Disadvantages:
It has the slowest speed among other cams.
Nock travel issues because of unequal pressure levels
Least powerful among other compound bow cams
It has a less solid back wall.
Dual Cam Vs. Single Cam – Single Cam Compound Bow Recommendations
1. Bear Archery Paradox RTH
Bear Archery Paradox RTH Compound Bow has a single-cam system offering a quieter shoot than the dual-cam bow counterparts. It has an axle-to-axle measurement of 32 inches and a 6.25 inches brace height.
Also, it is an ambidextrous bow with a True Timber Strata finish. It has a draw length range from 23.5 to 30.5 inches and a draw weight of 45 to 60 lb or 55 to 70 lb. Even though it's a single-cam compound bow, it shoots fast at 330 fps.
Bear Archery Paradox RTH requires less maintenance and tuning with no synchronization problems. It is among the best and recommended compound bows in the mid-tier category.
2. Mathews Switchback XT
Another recommended single-cam compound bow on our list is the Mathews Switchback XT. It is one of the brand's high-end bow models linked to the previous versions: Mathews Switchback and Mathews Switchback LD.
Mathews Switchback XT has a finer rig compared to the classic version. Furthermore, it is a small bow with an axle-to-axle length of only 31 inches resulting in better maneuverability, ideally for blind and tree stand hunting methods.
Its Straight-line XT Cam technology enables you to shoot up to 315 fps. With its terrific quality single cam, you'll enjoy a silky smooth draw cycle. You can also easily hold it at full draw with 65% or 80% let-off.
On the other hand, Mathews Switchback XT's eccentric system is non-adjustable. Nevertheless, it boasts low vibration and noises apparent in single-cam bows. You can also adjust its draw weight between 40 and 70 lb; meanwhile, it has a 25 to 30 inches range for draw length.
3. Mathews Z7
Besides Mathews Switchback XT, Mathews Z7 is another excellent single-cam compound bow made by the brand. When it comes to a perfect balance of finesse and speed, Mathews Z7 satisfies.
All single-cam bows made by Mathews usually offer a smooth draw cycle which you can notice on Mathews Z7. Due to its Reverse Assist Roller Guard and cam system, Mathews Z7 provides an excellent blend of smoothness and speed.
In addition, Mathews Z7 is also easy to hold at full draw and equipped with silencing systems, producing tranquil shots. Its limb design also helps to reduce hand shock, noise, and vibration.
Like Mathews Switchback XT, Mathews Z7 has a non-adjustable eccentric system which is a let-down. Nevertheless, it has an IBO speed rating of 333 fps with a wide range when it comes to:
Draw length: 24 to 30 inches
Draw weight: 40 to 70 lb
4. Bear Archery Carnage
Although Bear Archery released its Carnage model in 2011, it's still among the best single-cam compound bows worth recommending. It has the brand's popular skeleton design bow riser providing a more tuned feel.
Bear Archery Carnage is also available in the following finishes: Shadow and Realtree AP. Aside from its design and color availability, it boasts a smooth draw cycle and shoots fast, up to 345 fps which is impressive for a single-cam system bow.
A bow press is likely unnecessary to help adjust its draw length from 25.5 to 30.5 inches. Even though it's not among the most petite bow due to its 32 inches axle-to-axle measurement and a brace height of 7.25 inches, Bear Archery Carnage has a solid back wall, excellent shoot, and a comfortable let-off of 80%.
With a draw length range between 40 to 70 lb, it can also accommodate various archers. Another excellent thing about Bear Archery Carnage's single-cam system is that it boasts an almost vibration-free feature ideal for bowhunting.
5. Bear Archery Rant RTH
Bear Archery Rant RTH can be your go-to weapon if you are into RTH (Ready-to-Hunt) compound bows with a single cam system. Its package includes complete Trophy Ridge accessories from peep sight, arrow quiver, stabilizer, whisker biscuit, tube, pin sight, and D-Loop.
Its design emits a sharp look with a Veil Stoke Camouflage finish making it less striking to animals and helping bowhunters blend well in the environment. Moreover, Bear Archery Rant RTH is exceptionally versatile because you can adjust its draw length and draw weight within the following ranges:
Draw weight: 25 to 32 inches
Draw length: 50 to 70 lb
Bear Archery Rant RTH has an axle-to-axle length of 31.25 inches and shoots arrow up to 310 fps. Due to its single cam system with 80% let-off, it enhances your shooting aim, making you stay at full draw longer than usual.
B. Dual Cam
On the contrary, dual-cam compound bows have two symmetrical wheels on opposite limbs. Compared to single-cam, dual-cam compound bows store more energy because of their design. It also comes in three types: hybrid, twin, and binary.
Advantages:
It has a more aggressive draw.
Its two-wheel cam system enables it to store more energy resulting in faster arrows.
Compared to single cams, dual cams provide a more solid back wall, making shooting enjoyable and comfortable.
Offers plenty of adjustment options than single cams
Disadvantages:
Synchronization issues require you to make adjustments and inspect them regularly.
A string stretch problem happens when both limb forces are unbalanced, resulting in nock travel issues.
It can be costly since you may have to get it checked by a bow technician at least once every season.
It emits louder noise which can be off-putting, especially in bowhunting.
Dual Cam Vs. Single Cam – Dual Cam Compound Bow Recommendations
1. Bear Archery Cruzer G2
Bear Archery has been in the bow manufacturing industry for decades, and it is no wonder that one of its two dual-cam system compound bows is on our list: Bear Archery Cruzer G2. It is a high-quality compound bow that is affordable and ideal for beginners.
Besides catering to beginners, Bear Archery Cruzer G2's dual cam system is worth a closer look for bowhunters. It offers an adjustable draw weight between 15 lb to 70 lb. Moreover, its draw length can also adjust between 12 and 30 inches. Thus, there is plenty of room for adjustment.
Bear Archery Cruzer G2 only weighs 3.2 lb, making it an ultralight compound bow. Additionally, it is highly durable because of its aluminum riser and EnduraFibe limbs.
Despite its 70% limited let-off and minimalist grip design, it boasts minimized vibration and noise that can be a great deal for a compound bow with a dual cam system.
As expected from compound bows with dual cams, it shoots at 315 fps with an effective range from 15 to 40 yards. The draw cycle of Bear Archery Cruzer G2 is smooth with less hand shock.
2. Bowtech Prodigy
Bowtech is famous for its flagship bows' style, performance, and technology. If you are a Bowtech patron looking for a compound bow with a dual cam, check out Bowtech Prodigy.
It may be heavier than Bear Archery Cruzer G2, weighing 4.2 lb, but it boasts a faster speed with an IBO rating of 343 fps. It also has an adjustable draw length range of 25 to 30.5 inches and a draw weight range of 50, 60, and 70 lb.
Bowtech Prodigy compound bow model is among the brand's flagship bows. Hence, it has Bowtech's standard dual cam system exclusively for its flagship bows: Overdrive cams and Powershift technology. The latter is the cam's module featuring three different settings:
Furthermore, it provides accurate shots with an ideal brace height of seven inches. Although expensive, Bowtech Prodigy has a better let-off of 80%, is vibration-free, ambidextrous, and has zero torque.
3. PSE Brute Force
Another excellent dual-cam compound bow on the list is the PSE Brute Force. It offers a wide range of adjustability:
Draw length: between 25 to 31 inches
Draw weight: 30 lb to 70 lb
PSE Brute Force's ultimate selling point is its cam system. It has a dual cam system similar to the brand's BowMadness model aimed to cater to bowhunters.
In addition, its dual cam systems help it achieve a silky draw making it comfortable to shoot. Even though it may require regular inspection, there is no need for frequent maintenance.
Due to its solid back wall and less vibration, it is a compound bow that is a pleasure to use. PSE Brute Force also shoots at 332 fps but with a short axle-to-axle measurement of 31.25 which can be quite a disadvantage.
Nevertheless, PSE Brute Force can give you what you need if the dual cam system is a big deal and you are into 80% let-off.
4. Bear Archery Limitless
Next on our list is Bear Archery Limitless Compound Bow weighing 4.14 lb with a God's Country camouflage finish perfect for bowhunting. Compared to other dual-cam compound bows on our list, Bear Archery Limitless only has an IBO speed rating of 265 fps.
Nonetheless, it is a highly-adjustable bow with the following ranges:
Draw weight: 25 to 50 lb
Draw length: 19 to 29 inches
Bear Archery Limitless boasts impressive maneuverability due to its compact form, and it's also an accurate compound bow. Furthermore, you can hold it effortlessly at full draw with 50% let-off because its dual cam system provides a smoother draw cycle.
5. Leader Accessories Compound Bow
Leader Accessories Compound Bow has a dual cam system perfect for beginners and those with a more diminutive stature. Additionally, it has a smooth draw and is accurate. It is also a sturdy and compact bow weighing 6.9 lb.
It has plenty of adjustment options with an adjustable draw weight of 50 to 70 lb and a draw length range between 25 to 31 inches. Another great thing about this bow is that it has 75% to 80% let-off and an IBO speed rating of 310 fps.
Although the accessories included may be mid-tier, it is durable and offers excellent performance with various features.
The decision to select which cam system works well is entirely on you. Every cam system, whether dual or single, has advantages and disadvantages. Nonetheless, we hope the list above helped you decide which recommended compound bows fit your needs based on the cam system installed on it.
People Also Asked Questions
Is a dual cam better than a single cam?
A dual cam is better than a single cam bow regarding power, speed, and solid back wall. It is the best choice for those in target archery. Meanwhile, a single cam offers quieter shots and better accuracy, the best choice for bowhunting.
What is the fastest single-cam bow?
As archery technology advances as years go by, determining the fastest bow can change more frequently than ever. Nevertheless, Bear Archery Carnage may be the quickest single-cam bow with 345 fps. However, a single-cam bow produces the slowest speed than its cam system counterparts.