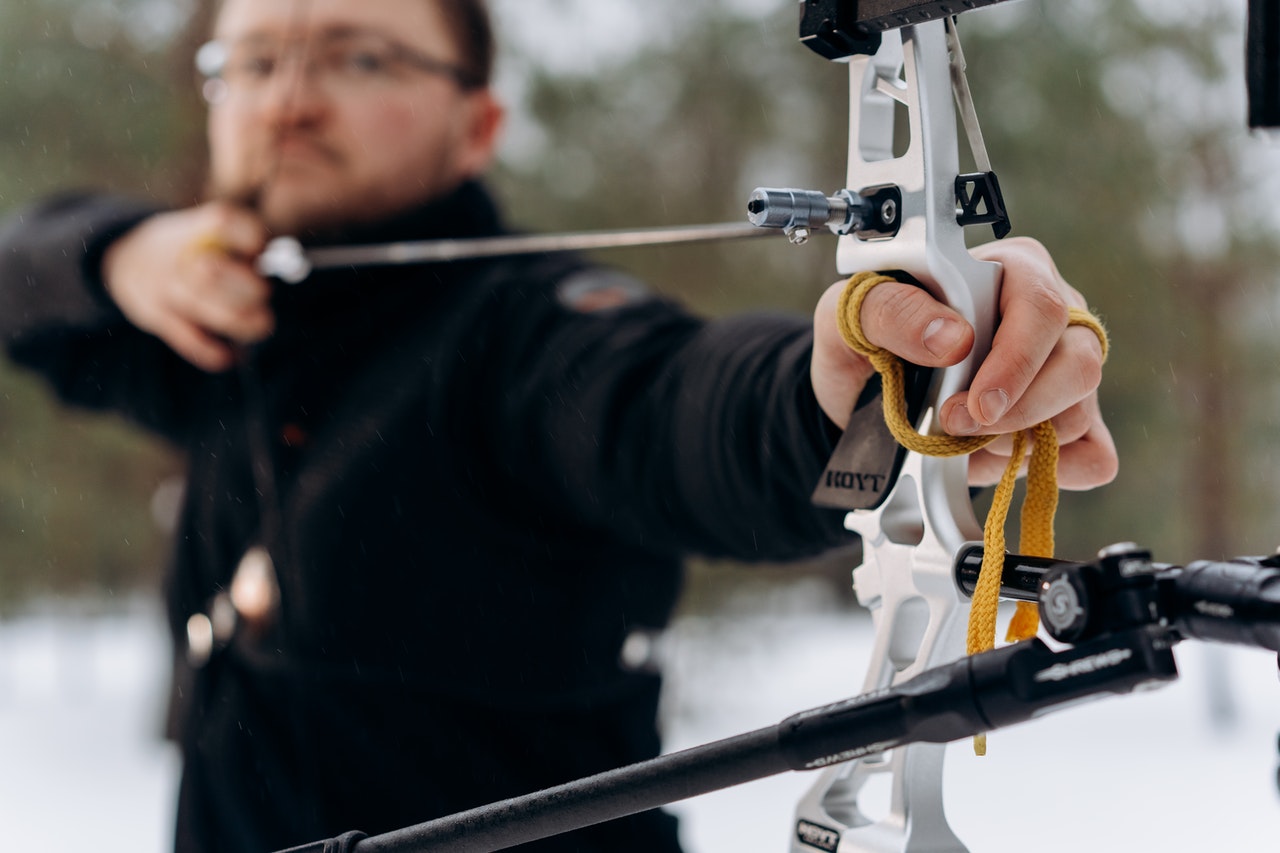 Going to an archery range can cost time and money. You're also exposing yourself to pollution outside. You can practice your shots at home.
Massachusetts law allows archers to practice their bow and arrow in the backyard or at home. As long as you're practicing safe shooting, the state never prohibits archery at home.
A bow and arrow isn't a firearm. So you never need a firearm license for your bow.
But the state law discourages archers from shooting an arrow across any highway.
The state only allows shooting within 150 feet from another house with permission. You can still use your archery equipment within your home. You only have to avoid any stray arrows flying outside your backyard.
Make sure your backyard is spacious for archery. Include a backstop for safety. It is a convenient invention to stop arrows from going past the target.
You have lots of options to invest in a backstop. You can either buy or make it yourself.
Backstops need to have materials that are tough enough to stop the arrow. But not too strong to damage them. You can use carpet cuttings, rugs, foam mats, and rugs.
You can even use polyester screens and thick plastic tarps. A rule of thumb is choosing a backstop that protects the people, including you, and your arrows.
Are bows illegal in Massachusetts?
Bows are not illegal in Massachusetts. You can own a bow without the need for a license if you use it for sports and recreation. But Massachusetts law needs archers to be responsible with their bows.
Massachusetts reminds you not to use your bow and arrow carelessly. Careful not to cause damage to livestock, property, and fellow citizens.
Owners have the right to sue violators. Penalties depend on how much damage the property or livestock has.
The state bans anyone who uses their bows or any weapon while under the influence of drugs and liquor. Never hunt, carry a firearm, or shoot in your backyard if you are having these. You never want to harm anyone or anything around you.
You can carry a bow and arrow while hunting if you meet state requirements like:
You can use recurve, long, and compound bows. But you must have a draw weight of at least 40 pounds at 28 inches at peak draw.
You may use expanding broadheads.
You can hunt deer using a bow during shotgun season. But you have to follow all requirements.
Certain disabled persons may use crossbows. But they need to have a permit.
Archery, as a recreational sport, is safe. Experts say that the sport of archery has one of the lowest injury rates. Unlike contact sports, archery is better at preventing injury.
Archery communities take pride in safety. But you also have responsibilities to keep.
Can you hunt on your land in Massachusetts?
Getting familiar with bylaws in towns is a good idea. Identify several areas that are interesting to you for hunting.
You can hunt on your land in Massachusetts. You can hunt for animals if you have a hunting license. State law also allows hunting if wildlife is damaging property or harming lives.
You can kill domesticated animals and wild birds if these are hurting you and damaging your property. But you can never use poisons or traps.
Landowners can place traps outside of the open hunt season for protection. They can only allow immediate family members to put traps outside of the open season. They can only allow permanent employees too. Otherwise, you need a trapping license for game hunting.
You need to submit a written report to law enforcement if you catch pheasants and rabbits. You also need to report wounded mammals within 24 hours from the time of catch.
State law recommends you ask permission if you hunt on another property. Some towns have bylaws to need hunters to have written permission. Coordinating or checking your town laws is the best thing to do.
But towns in the state have different bylaws. To identify where you wish to hunt. Then get familiar with the area regulations.
Here are some ways to practice etiquette when hunting on private lands:
Ask permission. Your companions have to ask permission too. Or you can tell the owner how many you are in the team.
Landowners may have special requests like what not to hunt. Respect it at all times.
Make sure the landowners know your name, address, and vehicle.
Share your harvest. You can also invite landowners to join in your gathering.
Practicing etiquette gains your trust from the landowner. You don't have to be so courteous. But good gestures never hurt.
Do I need a license to own a bow in Massachusetts?
You never need to have a license in Massachusetts when practicing archery at home or in a shooting range. The state only needs archery hunters to get a license when they are hunting.
You never become a good archer if you never practice ethics. Aside from learning safety, learn to be respectful towards archers too.
Use this guide that can be handy for you:
Only shoot in your designated lanes. Never disturb other archers while shooting.
Never touch any archer in a shooting position.
Never use other archery equipment without permission.
Never retrieve arrows if archers are still shooting.
Congratulate your opponents if you lose in a competition. If you win, enjoy and stay humble.
Busy shooting lanes can test your patience. But patience pays off if you use it. Avoid making unnecessary noise when others are target shooting too. Try not to distract other archers around you.
Friendly competition is healthy. It also steps up your game. But never boast about your scores nor compare them to others.
Also, follow equipment standards set by your coach or by any shooting range.
Can you hunt on Sundays in Massachusetts?
You can't hunt outside on Sundays in Massachusetts. Sunday hunting is unlawful under the General Law. You can only practice archery on your property or in a shooting range.
Every year, the government receives bills to change this regulation. But many residents still support this 300-year old hunting ban.
Good thing Massachusetts allows you to practice target shooting at artificial targets. You can hit targets in your backyard or supervised firing ranges.
You have six other days to hunt outside. But you can spend your Sunday mastering your archery skills.
Here are a few tips for you to take note of when practicing:
Remember that archer techniques vary from one another. For example, one archer can draw a bow at 80 pounds. But some find trouble drawing such weight.
Improve your technique if you can't control your bow that well. Never risk too much. Practice at your own pace to avoid injuries and setbacks.
Master your follow-through to get a consistent motion. Create good habits to develop over time.
Dig into basic fitness training. Also, do some research on how you can improve your physical and mental strength.
Archery can be an obsession and opportunity to some. Invest in improving your archery skills by going back to the fundamentals. Never worry about how long it took you to learn. Focus on constant improvement.
What is needed to hunt in Massachusetts?
Before you hunt in Massachusetts, you need a license to hunt mammals and game birds. If you're 15 years old or older, you have to get a hunter license. The state also needs you to get permits and stamps.
You may also need a fishing license if you fish in the inland freshwaters in Massachusetts. Temporary licenses are good from January 1 to December 31 each year.
A resident license applies to any hunter living in the state for six straight months prior.
Non-residents need to apply for a Big Game License if they hunt bears and deers. For small games, they only need a non-resident Small Game license.
Youth hunters ages 15-17 years old need a hunters license. Adults need to go with them during the hunt. They can also have a basic hunter education course anywhere in the United States.
Younger hunters (aged 12-14 years old) need company from a licensed adult. They can only share one firearm or bow. They have to abide by the single bag limit policy.
Special permits apply to those who hunt specific species. Hunters need to have permits to hunt antlerless deers, bears, and turkeys.
Bowhunters must have an archery stamp during archery deer season. Firearm hunters need to buy a primitive firearms stamp during deer season too.
Saltwater anglers need to buy a recreational saltwater fishing permit too. Anglers younger than 16 years old are exempt from this. Anglers aged 60 and above need this permit. But it is free of charge.
A federal migratory game bird stamp is a need for waterfowl hunters 16 years old and above.
Anglers need to register their motorized boats too.
All payments will go to MassWildlife and its conservation programs. They will handle it for wildlife, fish, and habitat management too.
What can I hunt in Massachusetts?
The state of Massachusetts has over 220,000 acres of huntable public land. The state allows hunting, fishing, trapping, and passive recreation there. The state also has waters for anglers to catch fish too.
You can hunt big and small game such as deers, bears, turkeys, pheasants in Massachusetts. You can also catch trout, salmon, bass, and herring. The state also allows you to hunt coyotes, raccoons, and foxes.
Be aware of the daily bag limits set by the state too. Hunters can catch two antlered and one antlerless deer by permit.
You can only catch one black bear. Bobcats, coyotes, and foxes don't have big limits.
Daily creel or basket limits and least length for fish vary by species too. Anglers can only have 1-8 creels on trout species per day. Length limit ranges from 12-20 inches, depending on the fish species.
Here is a guide to hunting to avoid violations:
Never release an arrow or discharge firearm within 150 feet of a highway. Never discharge any of these in any state of hard-surfaced roads too.
Never use electronic call devices to hunt migratory birds, deer, or wild turkeys.
Never use arrow guns, air bows, or any firearm that shoots arrows with gunpowder or compressed air. Shoot only using a release of a bowstring.
Never use more than one hook for open water fishing. Only use 1-5 hooks when ice fishing.
Never transport live fish without a permit. You are exempt if you use it for bait or personal use.
Using a motorboat within 150 feet of swimming areas is illegal. Observe a 45 mph speed limit when operating in inland waters.
Never operate in an overloaded boat. Check the weight capacity of your vessel to avoid overboard.
You can use spears and bows and arrows for white suckers and carp only.
MassWildlife has Wildlife Management Areas (WMA) that are open to hunt and fish. But you have to take part in managing wildlife too.
Never carry any alcoholic beverage without a permit. Never litter or dump cans and battles anywhere. Avoid tampering with any sign or building. Never disturb or dig for artifacts with no permit.
Hunters have to leash their dogs when entering WMAs. But dogs can be off-leash during hunting or hunting training with licensed hunters. Hunters have to clean their dog's feces if it's within 100 feet of the WMA parking area.
With or without harvest, you have to report within 48 hours after hunting. You can report it online. Or immediately complete a paper tag from the permit or license. The animal must remain with the harvest tag until authorities have made final checks.
Never destroy or disturb birds' nests. Never remove animals from tree holes or logs.
Never carry birds and mammals on motor vehicles during hunting.
If you find any violations or accidents on your way, never hesitate to inform local police. Notify the police by filing an incident report within 2-5 days.