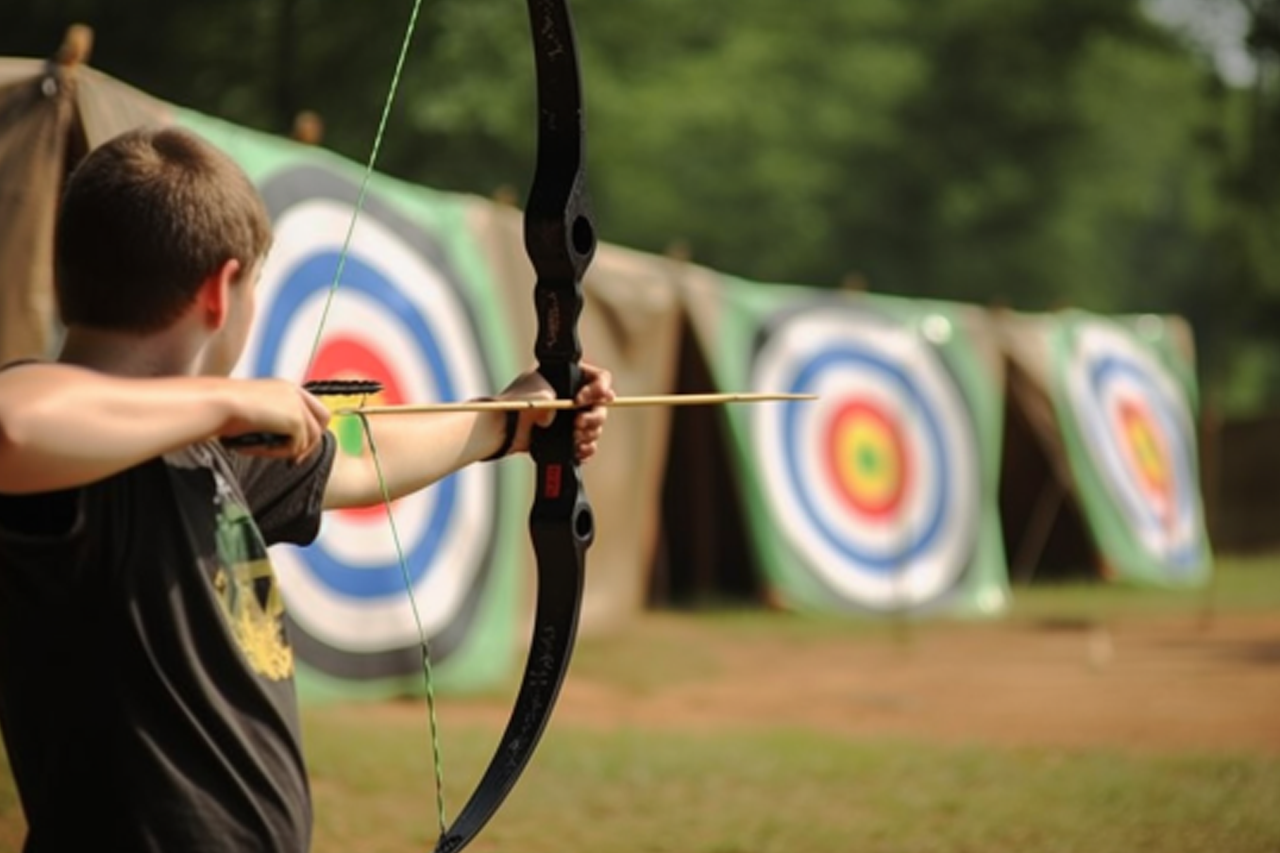 Are you intrigued by the archery world but need to know if it's the right sport for you? Well, fear not because this newbie's guide will explore the question: Is archery hard?
Archery is a challenging sport that requires dedication and practice, but anyone can become a skilled archer with the right knowledge and guidance.
In this comprehensive guide, we will delve into the history of archery, helping you gain a deeper understanding of its origins and the evolution of the sport. We will also explore the different types of bows, from traditional recurve bows to modern compound bows and help you choose the one that best suits your needs.
Mastering proper shooting techniques is crucial in archery, and we will provide detailed instructions and tips to help you improve your form and accuracy. Additionally, we will discuss the importance of mental focus and concentration in archery and provide strategies to develop these essential skills.
So, if you're ready to embark on a thrilling journey into the archery world, let's dive in and discover the challenges and rewards this sport offers.
The History of Archery
Are you ready to delve into the fascinating history of archery and discover the secrets of this ancient sport?
Archery has a rich history that dates back thousands of years. It was first used for hunting and warfare, with evidence of its existence found in ancient cave paintings and artifacts. The use of bows and arrows can be traced back to civilizations such as the Egyptians, Greeks, and Romans, who all recognized the power and skill required to master this art form.
In ancient times, archery was not just a hobby or a sport but a vital skill that could mean the difference between life and death. The ability to accurately shoot an arrow was highly valued, and archers were revered for their marksmanship. Archery techniques and equipment evolved, with advancements in materials and design leading to increased accuracy and range.
As civilizations developed, archery began to take on a more ceremonial and recreational role. It became a popular pastime among the nobility, with archery competitions and tournaments held to showcase skill and prowess. Archery also played a significant role in many mythologies and legends, with famous archers like Robin Hood and William Tell becoming iconic figures.
Today, archery continues to captivate people around the world. It is both a competitive and recreational sport, with archers of all ages and skill levels participating. The history of archery serves as a reminder of the enduring appeal of this ancient sport and the dedication and discipline required to excel in it.
So, grab a bow and arrow, and immerse yourself in the fascinating archery world.
Understanding Different Types of Bows
There's no denying the allure of the various types of bows in the archery world. Whether you're a beginner or an experienced archer, understanding the different types of bows is crucial to your success in the sport.
The most common types of bows are the recurve bow, the compound bow, and the longbow.
The recurve bow is popular among archers due to its simplicity and versatility. It's named for its distinctive curved limbs that give it a unique appearance. The recurve bow is known for its smooth draw and fast arrow speed, making it a favorite among Olympic archers. It's also relatively lightweight and easy to handle, making it a great option for beginners.
On the other hand, the compound bow is a more advanced type of bow that utilizes a system of pulleys and cables to increase the power and accuracy of the shot. The compound bow is known for its high let-off, which means that the archer can hold the bow at full draw with less effort.
It allows for more precise aiming and longer periods of time to aim. The compound bow is commonly used in hunting and target shooting due to its power and accuracy.
Lastly, the longbow is the oldest type of bow and has a rich history in archery. It's known for its simplicity and elegance, with a straight limb and no mechanical parts. The longbow requires high skill and strength to use effectively, as it needs the technological advancements of the recurve and compound bows. However, many archers appreciate the challenge and the sense of tradition that comes with using a longbow.
Understanding the different types of bows is essential for any archer. Whether you prefer the recurve bow's simplicity, the compound bow's precision, or the longbow's tradition, each type has unique advantages and challenges. As you embark on your archery journey, explore these different types of bows to find the one that best suits your style and goals.
Mastering Proper Shooting Techniques
Once you've chosen your preferred type of bow, it's time to delve into the art of mastering proper shooting techniques. To become a skilled archer, focus on your form and technique is essential.
The first thing to remember is to always maintain a relaxed stance. Stand with your feet shoulder-width apart and slightly angled toward the target. Keep your back straight, and your shoulders relaxed. You'll have better control over your shot by maintaining a relaxed stance.
Next, it's crucial to properly grip the bow. Place the bow handle in the space between your thumb and index finger, allowing your other fingers to wrap around the handle. Avoid gripping the bow too tightly, as this can lead to tension in your hand and arm, affecting your shot accuracy. Instead, maintain a loose grip, allowing the bow to rest naturally in your hand.
Let's focus on the release technique. The release is when you let go of the string, propelling the arrow toward the target. One technique that many archers find effective is the 'hook and pull' method.
Start by hooking your fingers around the string using a three-finger grip. As you draw the string back, focus on steadily pulling it back. When you reach your anchor point, the consistent position where you draw the string back to each time, maintain a steady aim, and release the string by relaxing your fingers. Avoid jerking or flinching during the release, as this can reduce your aim.
Mastering proper shooting techniques takes time and practice, but you can become a skilled archer with dedication and perseverance. Remember to maintain a relaxed stance, grip the bow correctly, and execute a smooth release. By honing these techniques, you'll be well on your way to hitting your targets consistently and enjoying the challenging yet rewarding sport of archery.
Developing Mental Focus and Concentration
You must develop unwavering mental focus and concentration to become an accomplished archer. Archery requires great mental strength, as it involves maintaining focus for extended periods while aiming and releasing the bowstring.
Here are four key aspects to consider when developing your mental focus and concentration in archery:
1. Breathing Technique
Proper breathing is crucial for maintaining focus in archery. Before you shoot, take a moment to focus on your breath. Inhale deeply, hold it for a second and then exhale slowly. It helps calm your mind and body, allowing you to concentrate better on your shot.
2. Visualization
Visualization is a powerful technique that can enhance your mental focus in archery. Before you shoot, visualize a successful shot in your mind. Imagine the arrow hitting the bullseye with perfect precision. This mental imagery helps train your brain to focus on the desired outcome and increases your chances of achieving it.
3. Block Out Distractions
Archery requires blocking out distractions to maintain concentration. When you step onto the shooting line, let go of any external distractions and focus solely on your shot. Do not let noise, movement, or other archers distract you. Keep your mind fully engaged in the present moment.
4. Positive Self-Talk
You cannot underestimate the power of positive self-talk in archery. Instead of doubting your abilities, reinforce positive thoughts in your mind. Remind yourself of your training, skills, and past successes. Believe in yourself and your ability to hit the target. Positive self-talk helps build confidence and enhances your mental focus.
Developing mental focus and concentration in archery is essential for achieving accuracy and consistency. By practicing proper breathing, visualization, blocking out distractions, and employing positive self-talk, you can strengthen your mental game in archery. Remember, a calm and focused mind is the key to becoming a skilled archer.
Overcoming Physical Challenges in Archery
When facing physical challenges in archery, it's important to focus on proper technique and conditioning your body to build strength and endurance.
Archery requires unique physical skills, including upper body strength, core stability, and good posture. To excel in this sport, you must develop the muscles in drawing the bow and holding steady while aiming.
Regular practice and exercises that target these muscle groups will help you overcome physical challenges and improve your performance.
One of the key aspects of archery is drawing the bowstring back smoothly and consistently. It requires strength and control in your shoulders, arms, and back muscles.
To build these muscles, incorporate exercises such as pull-ups, rows, and bicep curls into your training routine. Additionally, resistance bands or a bow trainer can help simulate the motion of drawing a bowstring and build the necessary muscle memory.
Another physical challenge in archery is maintaining a steady posture and holding the bow steady while aiming. It requires a strong core and good balance.
Engaging in exercises that target your abdominal muscles, such as planks and Russian twists, can help improve core stability. Additionally, practicing yoga or Pilates can enhance your balance and body awareness, which are crucial for maintaining a steady aim.
Archery requires physical strength, endurance, and stability. You can overcome these physical challenges and improve your sports performance by focusing on proper technique and conditioning your body.
Regular practice, targeted exercises, and a commitment to building your physical abilities will set you on the path to becoming a skilled archer.
So, embrace the physical demands of archery and watch yourself grow stronger and more capable with each practice session.
Choosing the Right Equipment for Your Skill Level
Finding the right equipment for your skill level is crucial to maximize your performance and progress in archery. As a newbie in the sport, navigating the sea of options can be overwhelming. However, by understanding the key factors, you can make an informed decision to aid your development as an archer.
First and foremost, it's important to choose a bow that suits your strength and skill level. A recurve bow is often recommended for beginners due to its simplicity and versatility. Recurve bows are easier to handle and balance power and accuracy well.
As you progress and become more experienced, you may consider transitioning to a compound bow, providing more advanced features and shooting accuracy.
Additionally, selecting a bow with the appropriate draw weight is essential, as a bow that's too heavy can lead to poor form and potential injuries.
Another crucial aspect to consider is the type of arrows you use. The arrows' length, weight, and material can greatly impact your shooting performance. Beginners should start with aluminum or carbon arrows, as they're more forgiving and less likely to break upon impact.
Additionally, the length of the arrows should be appropriate for your draw length. Consulting with a knowledgeable archery professional or coach can help you determine the most suitable arrow specifications for your skill level.
Lastly, investing in the right accessories can greatly enhance your archery experience. A good bow sight can improve accuracy by providing a visual reference for aiming. A stabilizer can help minimize bow movement and increase stability during the shot.
Other accessories, such as a finger tab or release aid, arm guard, and quiver, can also improve your comfort and safety while shooting. Researching and trying out different accessories is important to find what works best for you.
Choosing the right equipment for your skill level is essential in order to excel in archery. By selecting a bow that suits your strength and skill level, using appropriate arrows, and investing in the right accessories, you can maximize your performance and progress in the sport. Remember to seek guidance from experienced archers or professionals to ensure you make informed decisions that align with your goals and abilities. Happy shooting!
Tips and Tricks for Improving Your Archery Skills
Now that you've chosen the right equipment for your skill level, it's time to dive into some tips and tricks for improving your archery skills. Whether you're a beginner or have some experience under your belt, there's always room for improvement in the challenging sport of archery. By implementing these techniques, you'll be well on your way to becoming a more accurate and consistent archer.
First and foremost, one of the most important aspects of archery is having proper form. It means standing with your feet shoulder-width apart, keeping your body relaxed but engaged, and drawing the bowstring back to your anchor point consistently.
Consistency is key in archery, so regularly practicing your form will help you develop muscle memory and improve your accuracy over time.
Another helpful tip is to focus on your breathing. Just like in any other sport or activity, proper breathing can greatly affect your performance in archery. Take a deep breath before drawing back the bowstring, and slowly exhale as you release the arrow.
It not only helps to steady your aim, but it also helps to relax your body and mind, allowing for a smoother and more controlled shot.
Lastly, remember the power of visualization. Before you even step foot on the archery range, take a moment to visualize yourself hitting the bullseye. Imagine the feeling of releasing the arrow and seeing it fly true to its target. This mental preparation can greatly improve your focus and confidence, giving you an edge in your archery practice.
By focusing on proper form, mindful breathing, and the power of visualization, you'll be well on your way to improving your archery skills. Remember, archery is a challenging sport that requires dedication and practice.
Still, with these tips and tricks, you'll be able to see progress and enjoy the rewarding experience of hitting your mark. So, grab your bow, head to the range, and start honing your skills as an archer.
Check out these +700 bows for beginners.
Frequently Asked Questions
How long does it take to become proficient in archery?
It typically takes several months of consistent practice to become proficient in archery. However, the time it takes can vary depending on factors such as natural ability, frequency of practice, and quality of instruction.
Are there any age restrictions for participating in archery?
There are no age restrictions for participating in archery. It is a sport that people of all ages can enjoy. You can pick up a bow and start shooting arrows, whether young or old.
Can I practice archery indoors?
You can practice archery indoors. Many archery ranges have indoor facilities where you can shoot safely. Indoor practice allows you to work on your skills and technique regardless of the weather outside.
What are the most common injuries associated with archery?
The most common injuries in archery are tendonitis, muscle strains, and shoulder injuries. These can result from improper form, overuse, or lack of warm-up. Practicing proper technique and listening to your body to avoid these injuries is important.
How much does it cost to get started in archery?
To get started in archery, you can expect to spend around $200 to $500. It covers the cost of a beginner's bow, arrows, finger tab, and armguard. Additional expenses may include lessons and range fees.