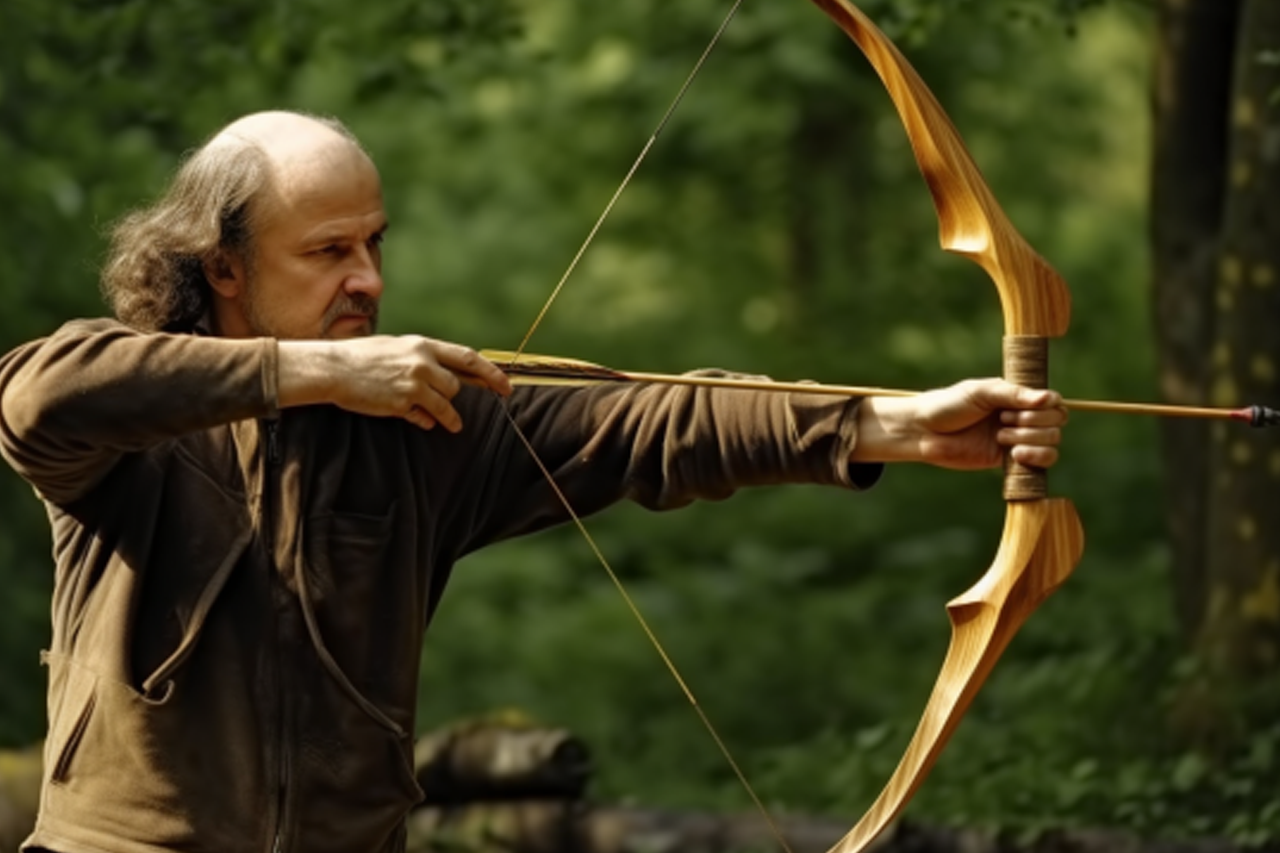 If you've ever been captivated by the grace and precision of archery, you may have wondered how to shoot an arrow like a pro. Whether you're a beginner or have some experience, this beginner's guide will provide the knowledge and techniques you need to take your archery skills to the next level.
This guide covers everything from understanding archery equipment to mastering proper shooting stances, nocking and drawing the arrow to aiming techniques for accuracy, releasing the arrow with precision, practicing proper follow-through, and tips for improving accuracy and consistency.
Archery is a sport that requires a combination of skill, focus, and technique. By diving into the details of each step in the shooting process, you'll gain a deeper understanding of the mechanics behind shooting an arrow like a pro.
With this knowledge, you'll be able to fine-tune your form, improve your aim, and ultimately increase your accuracy and consistency on the target.
So, whether you're aiming to compete in archery tournaments or simply looking for a new hobby that challenges your mind and body, this beginner's guide will equip you with the essential skills to shoot an arrow like a pro.
Get ready to confidently step onto the archery range and take aim with precision!
Understanding Archery Equipment
Understanding archery equipment is essential for becoming a pro, so let's dive into the gear you'll need.
The first piece of equipment you'll need is a bow. Different bows include recurve bows, compound bows, and traditional longbows. Recurve bows are popular for beginners because they're versatile and easy to handle.
Compound bows are more advanced and offer features like adjustable draw weight and let-off, making them great for hunters. Traditional longbows are for those who prefer a more traditional and historical experience. Whichever type you choose, ensure it's the right size and draw weight for your body and skill level.
Next, you'll need arrows. Arrows come in different materials, lengths, and spine sizes. The material of the arrow shaft can vary, with options like wood, aluminum, carbon, or a combination of these materials. Carbon arrows are popular due to their durability and consistency.
You should match the length of the arrow to your draw length, which is the distance between the bow's grip and your anchor point. Choosing the correct spine size is also crucial. The spine refers to the arrow shaft's stiffness and should be selected based on your draw weight. Using arrows with the right spine can result in consistent shots and reduced accuracy.
Lastly, you'll need a few accessories to complete your archery setup. One essential accessory is a finger tab or a release aid. A finger tab is a protective guard that goes on your fingers to protect them from the bowstring. On the other hand, a release aid is a mechanical device that allows you to release the string with your back muscles instead of your fingers.
Other important accessories include a bow sight, which helps you aim accurately, and a stabilizer, which reduces bow vibration and improves stability. Additionally, invest in an armguard to protect your forearm from the bowstring and a quiver to hold your arrows conveniently.
Understanding archery equipment is the first step towards shooting like a pro. By familiarizing yourself with the different types of bows, choosing the right arrows, and acquiring the necessary accessories, you'll be well on your way to becoming a skilled archer. Always prioritize safety and seek guidance from experienced archers or instructors when starting. With practice and dedication, you'll soon be shooting arrows like a true pro.
Mastering Proper Shooting Stance
Mastery of the correct shooting stance is essential for achieving precision and accuracy in your archery skills. A proper shooting stance provides a stable foundation, allowing you to maintain balance and control throughout the shooting process.
Stand with your feet shoulder-width apart, perpendicular to the target. Your body should be relaxed yet engaged, with your weight evenly distributed between both feet.
Next, focus on your upper body alignment. Keep your back straight, and your shoulders relaxed. Avoid hunching or leaning forward, as this can throw off your aim and decrease your shooting accuracy. Your chest should be slightly lifted, and you should engage your core muscles to provide stability and support.
Lastly, pay attention to your hand and arm placement. Extend your non-dominant arm straight out before you, pointing toward the target. Your dominant hand should grip the bow handle firmly but not tightly.
Position it so that it is in line with your forearm, forming a straight line. This alignment allows for optimal energy transfer and minimizes the risk of torquing the bow during the release.
By mastering the proper shooting stance, you're setting yourself up for success in archery. Remember to practice consistently and adjust as needed to find the most comfortable and natural stance. With time and dedication, your shooting stance will become second nature, and you'll see improvements in your accuracy and precision.
Nocking and Drawing the Arrow
To properly execute the shot, imagine yourself gracefully and confidently nocking and drawing the arrow, preparing for the release.
Nocking the arrow is the first step in the process. It involves placing the arrow on the bowstring, ensuring that it's properly aligned with the arrow rest. The index feather or vane should be facing away from the bow while the nock is securely attached to the string. It ensures a clean and accurate release when the time comes.
After nocking the arrow, it's time to draw the bowstring. This step requires proper form and technique to maximize accuracy and power. Start by gripping the bow handle with a relaxed but firm grip. Extend your bow arm fully and keep your shoulders relaxed.
As you begin to draw the bowstring, use your back muscles to pull the string towards your anchor point, which is the spot where you consistently draw the string to your face. It helps create a consistent and repeatable shot.
As you draw the bowstring, keep your elbow high and your forearm aligned with the arrow. It ensures that the arrow will be propelled straight toward your target. Your back muscles should be engaged at full draw, and your body should be stable. It is the moment when you can feel the tension in the bowstring and the potential energy stored in the bow. Take a moment to aim and find your target before releasing the arrow.
To summarize, nocking and drawing the arrow are crucial steps in shooting an arrow like a pro. Properly aligning the arrow and securely attaching it to the bowstring ensures a clean release. Drawing the bowstring with the correct form and technique maximizes accuracy and power. Following these steps, you'll become a skilled archer who can confidently and gracefully shoot arrows like a pro.
Aiming Techniques for Accuracy
Mastering the art of aiming can make all the difference in hitting your target precisely and unleashing your inner archery champion.
Understanding and practicing different aiming techniques is essential to improve your accuracy. One of the most common techniques is the point-of-aim method. It involves aligning the tip of the arrow with the target, ensuring that it points directly at the desired point of impact. By focusing on the tip of the arrow, you can maintain a consistent aim and increase your chances of hitting the bullseye.
Another effective aiming technique is the string walking method. This technique involves using different positions on the bowstring to adjust your aim. Moving your fingers up or down the string can change the arrow's trajectory, compensating for various distances. This method requires practice and experimentation to determine the correct distance positions.
String walking allows for precise adjustments and can help you hit the target even in challenging shooting conditions.
Lastly, using a sight or a scope can greatly enhance your aiming accuracy. Attach a sight or scope to your bow for a visual reference for aiming. These devices typically have a reticle or crosshairs that allow you to line up your shot accurately.
When using a sight or scope, it's important to focus on the target and align the reticle with the desired point of impact. With practice, you can develop muscle memory and consistently hit your target using this aiming technique.
Mastering the art of aiming in archery requires practice, patience, and a willingness to experiment with different techniques. Understanding and implementing these aiming techniques can improve accuracy and help you become a more skilled archer.
Remember to focus on the tip of the arrow, try string walking for precise adjustments, and consider using sight or scope for enhanced aiming. With time and dedication, you can shoot arrows like a pro and hit your target with impressive accuracy.
Releasing the Arrow with Precision
When you've honed your aiming skills, the moment of release becomes precise and fluid, as if the arrow effortlessly propels toward its target. Releasing the arrow with precision is crucial for accuracy and consistency in archery.
Here are some key techniques to help you achieve a smooth and accurate release:
1. Proper Grip
Ensure that you have a relaxed and consistent grip on the bow handle. Avoid gripping too tightly, as it can cause unnecessary tension in your hand and arm, affecting the release. Maintain a firm yet relaxed grip, allowing your fingers to wrap around the handle naturally.
2. Follow Through
A smooth and controlled follow-through motion should follow the release of the arrow. It means keeping your bow arm steady and extending it toward the target as you release the string. A proper follow-through helps maintain the alignment of your body and bow, ensuring a clean release and maximizing accuracy.
3. Back Tension
As you draw the bowstring, focus on engaging your back muscles rather than relying solely on your arm strength. It creates a more stable and controlled release. Imagine squeezing your shoulder blades together and pulling them down towards your spine, increasing tension in your back muscles. This technique not only enhances accuracy but also reduces the risk of injury.
4. Anchor Point
Consistently hitting the same anchor point on your face is essential for a consistent release. Your anchor point is where your hand and the string touch your face when fully drawn. This point is a reference for consistent positioning and helps align your eye with the sight or target. Experiment with different anchor points until you find one that feels comfortable and allows for a consistent release.
By mastering the art of accurately releasing the arrow, you can greatly improve your accuracy in archery. Remember to practice these techniques regularly to develop muscle memory and achieve consistency. With time and dedication, your release will become second nature, and you'll be shooting arrows like a pro in no time. Happy shooting!
Practicing Proper Follow-Through
Practicing proper follow-through is the key to achieving a smooth and controlled release, allowing you to maintain alignment and maximize accuracy. After releasing the arrow, continuing your motion with a deliberate follow-through is crucial.
It means keeping your bow hand steady and extending your drawing arm toward the target. By maintaining this extension, you ensure that the energy from your shot is properly transferred to the arrow, resulting in a more accurate and powerful shot.
One important aspect of practicing proper follow-through is keeping your eyes focused on the target, even after releasing the arrow. It helps maintain your concentration and lets you observe the arrow's flight. By keeping your eyes on the target, you can assess your shot and make any necessary adjustments for future shots.
Additionally, maintaining focus on the target helps train your mind to stay in the moment and avoid distractions, leading to better overall performance.
Another crucial element of proper follow-through is maintaining a relaxed and balanced stance. After releasing the arrow, it's common for beginners to become tense or lose their balance. However, you can ensure a smoother follow-through by consciously relaxing your body and maintaining a stable foundation.
This relaxed stance also helps prevent unnecessary movements affecting the arrow's trajectory. Remember to breathe deeply and evenly throughout the shot, which helps you stay calm and focused during the follow-through.
Practicing proper follow-through is essential for improving your archery skills and achieving accuracy. Extending your drawing arm towards the target, keeping your eyes focused, and maintaining a relaxed stance ensures a smooth and controlled release.
These techniques will help you develop muscle memory and improve your overall shooting technique. So, keep practicing, and soon you'll shoot arrows like a pro!
Tips for Improving Accuracy and Consistency
Try incorporating these helpful tips into your archery routine to enhance your aim and ensure consistent results.
First, ensure you have a proper grip on your bow. Your hand should be relaxed, with your fingers lightly wrapped around the bow handle. Avoid gripping too tightly, as this can cause unnecessary tension and affect your shot.
Additionally, make sure your bowstring is properly aligned with your dominant eye. It will help you aim more accurately and improve your overall consistency.
Next, focus on your stance. Stand with your feet shoulder-width apart and perpendicular to the target. Keep your weight evenly distributed between both feet and ensure your body is aligned with the target.
It will provide a stable base and help you maintain balance throughout the shot. Remember to keep your back straight and avoid leaning forward or backward. A good stance will improve accuracy, prevent injuries, and promote good form.
Lastly, pay attention to your breathing and release technique. Take a deep breath and slowly exhale as you draw the bowstring. It will help you relax and maintain focus. As you release the arrow, smoothly release your fingers from the string, avoiding sudden jerking movements. The key is to maintain a consistent and controlled release. Practice this technique repeatedly to improve your accuracy and build muscle memory.
By incorporating these tips into your archery routine, you can improve accuracy and consistency. Remember to focus on your grip, stance, and release technique. Practice regularly and be patient with yourself as you develop these skills. With time and dedication, you'll be shooting arrows like a pro.
Practice archery with one of these +600 arrows online.
Frequently Asked Questions
What are some common mistakes to avoid when shooting an arrow?
Shooting an arrow like a pro is crucial to avoid common mistakes. These include gripping the bow too tightly, flinching when releasing, not aligning your body properly, failing to follow through, and neglecting proper breathing techniques.
How can I choose the right bow and arrow for my skill level?
Consider the right bow and arrow for your skill level, such as draw weight, length, and bow type. Start with lower draw weight and work up as you improve your technique. Seek advice from experienced archers or a professional.
Are there any specific exercises or stretches that can help improve my archery form?
Focus on exercises that increase your upper body strength, stability, and flexibility to improve your archery form. Incorporate exercises like shoulder rotations, planks, and resistance band pulls to enhance your performance and accuracy on the field.
What should I do if my arrow consistently veers to one side when I shoot?
If your arrow consistently veers to one side when you shoot, there are a few possible reasons. Check your grip, make sure your bow is properly tuned, and consider adjusting your aim or form.
Are there any mental strategies or techniques to help me stay focused and calm while shooting?
You can employ several mental strategies and techniques to stay focused and calm while shooting. These include deep breathing, visualization, positive self-talk, and maintaining a consistent routine. Practice these techniques to enhance your performance and achieve better results.