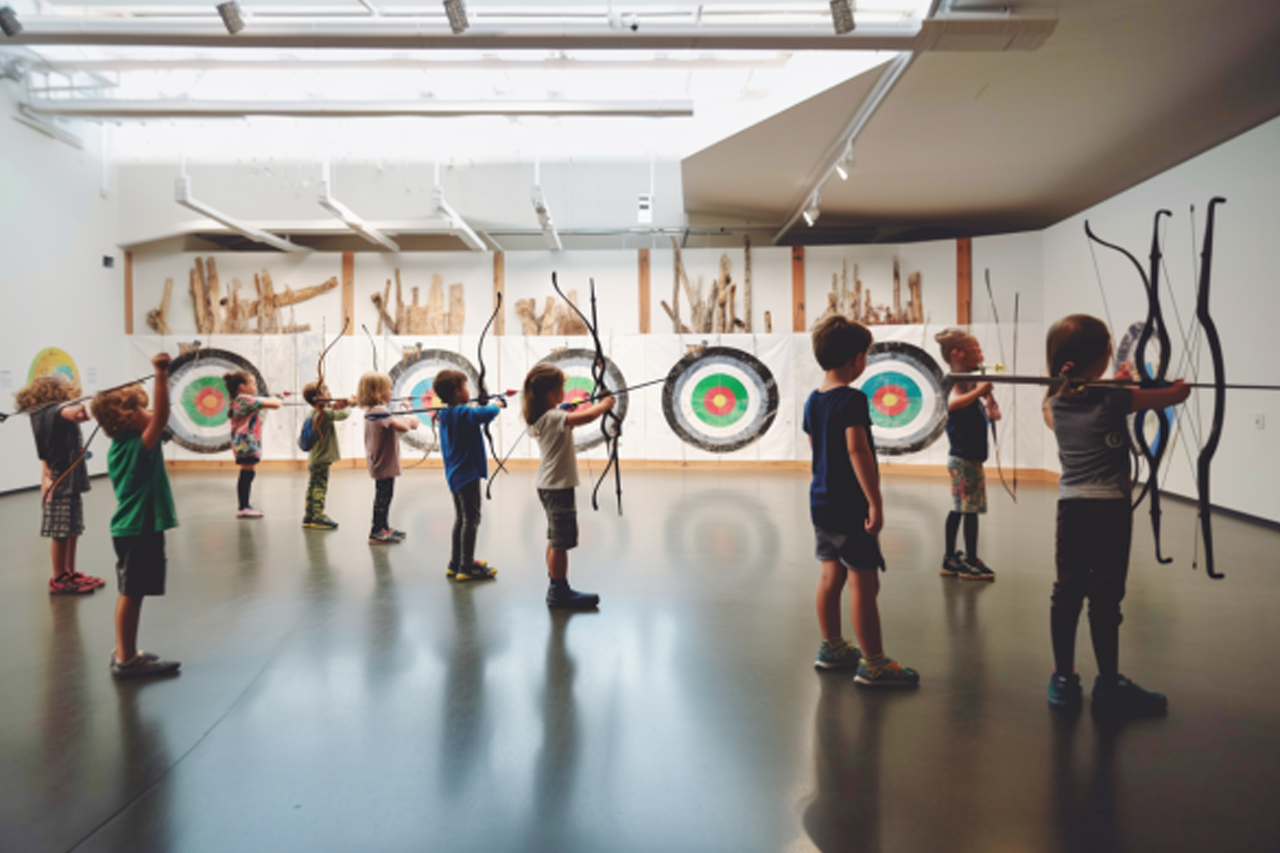 Archery classes offer a fantastic opportunity to get outside, stay in shape, and have fun. You'll learn the basics, practice techniques, and develop your skills while having a blast.
With various classes available, you can find one that suits your needs and interests. So if you're ready to try Archery, read on and learn the different lessons, safety considerations, and where to find one near you. Plus, you'll get the satisfaction of watching your progress as you improve your accuracy and control.
Miracles of Archery Classes
Learning to use and shoot with a bow and arrow can give you the satisfaction of mastering a skill and the confidence to hit your target every time. Archery classes are a great way to learn the basics of Archery, like proper form and safety practices, and to hone your shooting skills. You will quickly find that, with the appropriate instruction, you can master the art of Archery in no time.
Archery classes allow you to practice shooting with various bows, enabling you to find the right one. Different archery bows have different draw weights and lengths; you can use them for other purposes. With the expert assistance of an experienced instructor, you can select the best bow and arrows for your needs and build confidence in your shooting skills.
Archery classes will give you the guidance and support you need to become a better archer. Shooting an arrow requires focus and concentration; regular practice will help you develop these qualities.
With regular training and instruction, you'll soon be able to hit your target further and further away. You'll become more accurate and develop the ability to shoot with confidence.
Types of Archery Classes
1. Target Archery Classes
Target Archery classes are an excellent way for students to learn the proper form and technique to shoot at stationary targets from various distances.
2. Field Archery Classes
Field Archery classes will teach students to accurately shoot at different targets in a natural outdoor environment with varying distances and terrain.
3. 3D Archery Classes
3D Archery classes will focus on shooting at life-sized animal targets from different angles and heights. Traditional Archery classes will teach students how to shoot with wooden bows and arrows and conventional archery techniques and etiquette.
Target Archery
Experience the thrill of hitting the bullseye with precision and accuracy! Target archery involves shooting an arrow from a bow at a stationary target. This type is the most popular form of sport and is found in various settings, such as outdoor ranges, arenas, and even indoors. It is also the type of Archery most commonly used in competitions.
In target archery, the goal is to shoot arrows into a target at a certain distance. The archers must hit the target in the most precise and accurate way possible to achieve the highest score. Depending on the type of competition, the target can be made of paper, foam, or straw.
The archers must adjust their stance and aim according to the target's distance. You can become an expert target archer with the proper practice and skill!
Field Archery
Test your accuracy and precision with field archery – a fun and exciting way to hone and improve your skills. Field archery is an outdoor sport in a natural setting, like a forest or a park. It involves shooting arrows at targets set up in various ranges and terrains, making it a great way to test your archery skills in multiple environments.
The targets are often set at different heights and distances for a more significant challenge and may also be placed at angles to make shooting more difficult. This type of Archery requires a different technique than target archery, such as being aware of your surroundings and shooting environment.
It also requires greater accuracy and precision, as you must adjust for wind and other environmental factors. Field archery is a great way to level up your archery skill, and everyone can enjoy it– from beginners to experienced archers.
3D Archery
Enhance your accuracy and precision by exploring the world of D archery – a compelling way to hone your skills! D archery is a variation of field archery that can be practiced indoors and outdoors.
It is an exciting way to sharpen your shooting skills and can be enjoyed by both beginner and experienced archers.
It requires precision and accuracy, allowing you to improve your overall skill set.
You can enjoy it in indoor and outdoor environments.
You can practice alone or with a team.
It's a great way to test your mental and physical abilities with challenging targets.
It's an affordable and accessible sport; you only need a bow and arrows. Here are a few benefits of D archery that make it worth exploring:
3D archery is a great way to challenge yourself and improve your shooting skills. Whether you're an experienced archer or just starting, it's an entertaining and rewarding activity that can help level your skills.
Traditional Archery
You can hone your marksmanship and practice your aim with traditional Archery, an age-old activity that has been perfected over centuries. Traditional Archery is the practice of shooting a bow and arrow using ancient methods and techniques.
It is a skill that requires patience, concentration, and dedication. You will need a bow, arrows, an arm guard, and a target to participate in traditional Archery.
The main types of traditional Archery include recurving longbows and compound bows. The recurve is the most commonly used bow known for its graceful curves, providing incredible accuracy.
The longbow is the original bow, which is tall and has a straight shape. It is known for its power and range. The compound bow uses cams and pulleys to increase the power at the time of the shot.
| | |
| --- | --- |
| Bow Type | Uses |
| Recurve | Accuracy |
| Longbow | Power & Range |
| Compound | Increased Power |
Traditional Archery is a great way to develop focus and practice accuracy. It can also be a way to increase your strength and stamina, as shooting a bow requires you to keep your arms up for extended periods. Traditional Archery is an enjoyable activity perfect for anyone looking to have fun and focus on their aim.
Safety Considerations
As you practice your skills, keeping safety in mind is essential; you don't want any accidents! It's necessary to understand the range of safety considerations for traditional archers to ensure your safety. The most important safety concerns are the equipment used and the environment.
It's essential to use quality equipment that is designed specifically for Archery. It means avoiding makeshift or homemade equipment, as it can be dangerous. Additionally, inspecting the equipment before each use is essential to ensure it is working and, in good condition, safe to use.
The environment you practice in is also essential to consider. Ensure you know what is around you to avoid any potential hazards. It's also necessary to see the wind and weather conditions and adjust your practice routine accordingly. Additionally, eliminate distractions that can take your focus away from the target.
By following the safety considerations for traditional Archery, you can focus on improving your shooting skills without any worries. You can achieve your archery goals in a fun and safe environment with the proper knowledge and equipment.
Equipment Requirements
The first thing to consider is a bow. You can choose from recurve bows, longbows, and compound bows.
Recurve bows are the most traditional type, while longbows are the simplest and most basic. Compound bows are the most modern and most expensive type. All three styles come in various sizes, so finding the right size is essential.
Arrows are the next piece of equipment you'll need. Arrows come in various materials, including wood, aluminum, and carbon. Again, finding the right size and weight for your bow is essential. You'll also need a target, anything from a paper target to a hay bale. Finally, you'll need arm and finger protection, such as arm guards and finger tabs.
Start practicing and improving your skills with the right equipment and guidance! It's a good idea to get a suitable bow from a professional archer or a qualified archery instructor. They can also help you pick the correct type of arrows and targets for your needs.
Finding an Archery Class Near You
Once you've gathered the necessary equipment, it's time to find an archery class to hone your skills. The best place to start is quickly searching for archery classes in your area.
Look for courses that a certified archery instructor teaches with good reviews. You can also check with the local archery range or outdoor store to see if they offer any classes.
When researching archery classes, look at the age requirements and other limitations. Finding a course tailored to your skill level and experience is essential. Some types may require an orientation session before you can join, so be sure to plan.
Once you've found a class that fits your needs, you should read the information about the course and the instructor to ensure it's a good fit. Find out what type of instruction you can expect, the class size, and the duration.
Be sure to also ask about the safety precaution protocols that will be in place during the class. When you feel comfortable finding a suitable course, you can register and begin your journey into Archery.
Frequently Asked Questions
How long does it take to become proficient in Archery?
Becoming proficient in Archery is a process. It requires time and effort. Learning the basics, such as proper form and technique, requires dedication and patience.
As you practice more and feel comfortable with the basics of Archery, you can refine your skills by working on accuracy and distance. With regular practice, you can expect progress in your archery skills as you become more proficient.
How much does an archery class cost?
Archery classes can vary in cost depending on the type of class, the instructor, and the course length. For an introductory beginner class, you can expect to pay anywhere from $40 to $100.
More advanced courses may be more expensive, or you could pay for classes that include private lessons or specialized equipment.
What is the age limit for taking an archery class?
When deciding to take an archery class, it's essential to understand the age limit. Generally, archery classes are available for kids as young as six but may vary depending on the instructor.
The physical condition of the student usually determines the upper age limit. Before signing up for the class, ask your instructor or an expert if you have any questions or concerns about age limits.
Are there Archery classes available for people with disabilities?
Yes, there are archery classes available for people with disabilities. Archery is an inclusive sport that people of any age or ability can enjoy. It allows them to learn the fundamentals of the sport and hone their skills. Many archery clubs and ranges offer specific courses designed for people with special needs.
These classes focus on providing a safe and accessible environment for all participants and providing the necessary adaptive equipment and instruction for those with physical limitations.
Are there any competitive archery classes available?
Competitive archery classes are available. These classes focus on accuracy and precision and help you become a proficient archer or master of the sport. You'll learn the techniques, stances, and strategies that experienced archers use to become successful.
Conclusion
You now have a good understanding of archery classes and what they can offer you. Taking archery classes is a great way to get started and hone your skills.
Remember always observe safety in mind and ensure you have all the necessary equipment. Don't be afraid to ask questions; take your time when learning. With patience and practice, you'll be able to hit the bullseye in no time.
If you are planning to enroll in one of the archery classes, then get one of these +1,000 bows that you can use.