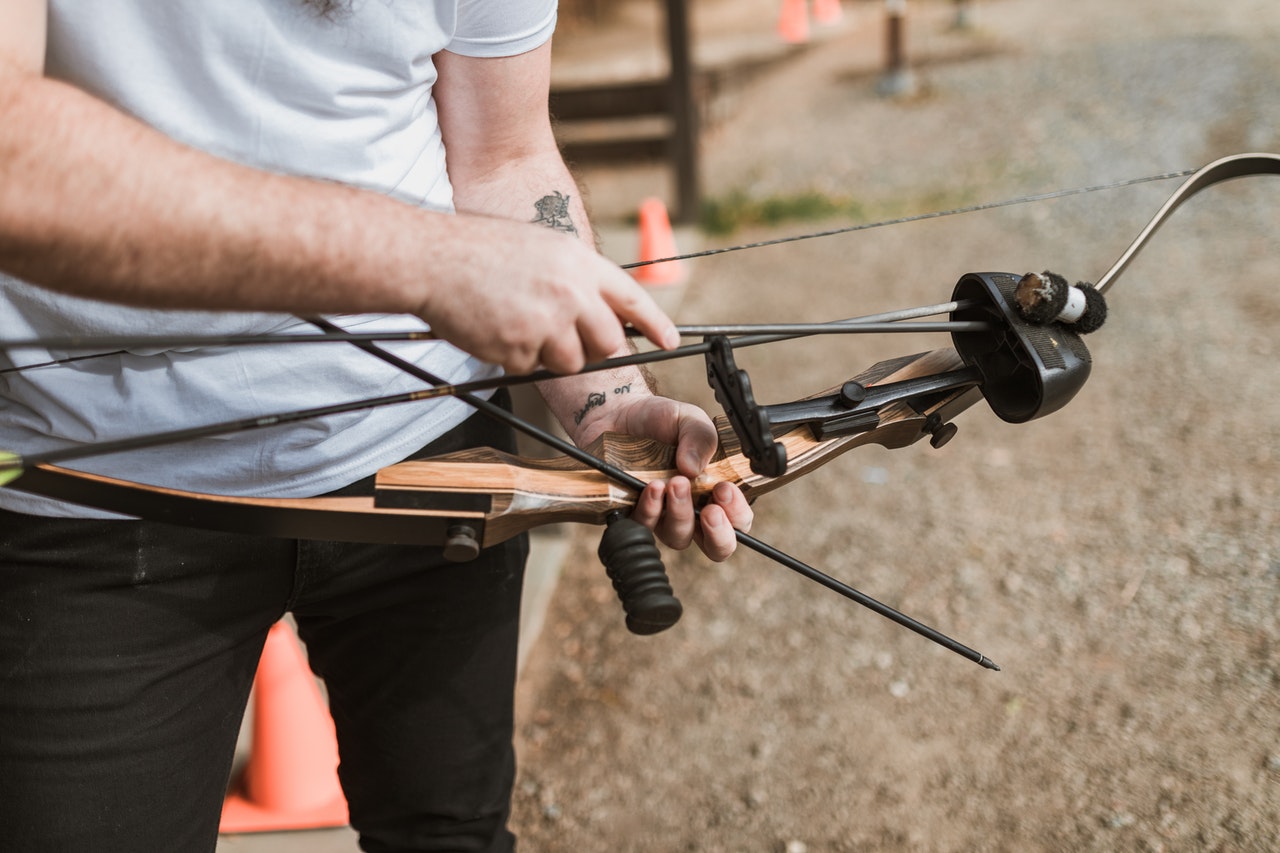 You can use a sight on a recurve bow, especially if you want a perfect aim accuracy for long-distance shots. After all, a sight's primary purpose is to help archers or hunters improve their aim. You can choose between an open ring, pin sight, or target sight.
Sight is considered one of the essential and most complex parts of a recurve bow. The most common bow sight is the mechanical ones. You can also opt for more modern ones wherein you can customize the sight's distance, windage, sight distance, aperture, and pin.
Each bow sight has pros and cons, so you should consider many factors before committing to one. These factors include experience, budget, and purpose, among others.
When you invest in a sight, ensure that you buy a quality one that will last long. Quality sights may be a bit pricier, but it will be worth it in the long run. Low-quality bow sights can be fragile, and you will replace them more often. Hence, buying low-quality bow sights can cost you more down the road.
When you buy a sight, you also need to know if you can assemble the bow sight on your own or if you need the assistance of a professional.
Is a sight necessary on a recurve bow?
A recurve bow is necessary for hunting and competition purposes. Having a sight will help you get a good aim accuracy and proper posture when shooting.
With the variety of sights and brands in the market, it may be tempting to buy a bow sight as soon as you buy your first recurve bow. After all, aren't they supposed to help perfect your aim accuracy? Won't it make sense to use it while you are still learning the basics? Well, not precisely.
We know it can be frustrating when your aim accuracy is not perfect yet, or if you are not hitting targets even at a short distance. But that is fine. Poor accuracy commonly happens to beginner archers.
However, don't take that as an immediate sign to purchase a sight.
One of the reasons why beginners are not hitting targets is because they need to refine their shooting technique or improve their stance. As a beginner, you still need to deal with the learning curve. You also need to learn and familiarize yourself with the basics of archery.
Purchasing and using sight to correct an accuracy problem caused by a poor stance or technique can bring you more harm than good. You may rely heavily on the bow sight instead of nipping the stance and technique issues in the bud.
It is essential to address the concerns mentioned above early on. When you have the correct stance or technique, you will eventually improve your aim's accuracy. You may not even need to spend more on a new sight until you are ready and comfortable to shoot arrows at a longer distance.
To know if you need a bow sight or need to work on your stance or technique, you can do a little experiment. Shoot arrows at the same short distance. Don't use a bow sight in the first round, and then use one in the second round.
If the accuracy of your aim does not improve after using the bow sight, do not fret. You need to work on improving your stance or technique with the help of an experienced archer or trainer.
What kinds of sights can you put on a recurve bow?
Generally, there are three kinds of sights that you can put on your recurve bow. You can choose between an open ring, pin sight, or target sight. When choosing the perfect bow sight for you, you should consider factors such as experience, budget, and purpose.
Open Ring Sight
The first type of sight in our list is the open ring sight. As the name implies, this sight looks like a hollow ring. With this sight, you need to line up your aim so that it appears at the center of the ring. The open ring sight is affordable and effective.
The open ring sight is suitable only when shooting at a short distance. If you try to use this kind of sight for long-distance shots, the target will appear blurry because it's too far.
Since the open ring sight works for short distances, this is the perfect sight for beginners who want to improve their aim and accuracy. This kind of sight is a good starter because it does its purpose well without breaking the bank.
Pin Sight (Single-Pin and Multi-Pin)
The next type of sight is the pin sight which is further categorized into two: single-pin and multiple-pin. The pins inside the bow sight indicate a specific distance, which helps archers or hunters to estimate the distance between them and the target, increasing the chances of hitting the target.
What are the differences between a single-pin and a multiple-pin sight? Aside from the number of pins inside the bow sight, the kind of pin sight you should use will depend on whether your target is static or moving.
Use the single-pin one if you are shooting at a target that is static or not moving. Use the multiple-pin one if your target is moving. Although using a multiple-pin sight for hunting sounds reasonable, some bowhunters use a single-pin sight for better accuracy. With this said, you should choose the kind of pin sight you are comfortable using that meets its purpose.
Another thing to consider before committing to a pin sight is that you should ensure its quality. Quality pin sights will have a user manual that will help you set the distance of the pins. However, if you set it up for the first time, you can always ask for a professional's help.
The last thing that you should consider is the kind of bow that you have. One of the notable disadvantages of pin sights is that it's hard to find one for wooden bows.
If your recurve bow has a metal riser, you can attach a pin sight on it without issues. However, if your bow is fully wooden, you might need to drill holes into it and work with inserts before you can even start to attach the sight.
Not only is the installation process time-consuming, but it may also cause more damage to your bow than anticipated.
Target Sight
The target sight is more modern, advanced, and expensive than our list's first two sights. Some people with target sights will say it's worth it.
This one-of-a-kind sight is equipped with retina technology and vertical and windage adjustments. It's sturdy, lightweight, made of aluminum, and specially designed to have high shot accuracy.
But wait, there's more! If you want an even more precise aim accuracy, you can pair target sights with other recurve bow sights. You can combine two recurve bow sights only if one of them is a target sight.
With all its marvelous features, what's the catch? Given its price and capabilities, it is recommended that an archer should have significant experience in using a target sight. You'll be able to enjoy its features more if you have already experienced the other mechanical bow sights on the list.
Do Olympic recurve archers use sights?
Olympic archery athletes can use sights on their recurve bows, as long as the bow sights don't have any optical enhancements. This specification ensures a fair match for all archers in the Olympics.
Since the Olympic Games reintroduced archery to the Olympics program in 1972, the committee decided that the archers could only use the recurve bow for the competition. They also had other rules for the athletes' equipment, including the bows' draw weight, equipment, and target specifications.
For instance, athletes can only use mechanical sights during the program. They are not allowed to use advanced bow sights, including those with optical enhancements. However, this rule is not that big of a deal because the athletes' bow sights have fine adjustments. Hence, their aim will still be precise.
The sight that archers use in the Olympics are adjustable and commonly have sight pins. Since these archers use modern recurve bows made of laminated carbon fiber or aluminum, the sight is attached to the bow's riser.
How to put a sight on a recurve bow?
To put a sight on a recurve bow, you should know where to attach the bow sight. You should also make sure that the sight is attached firmly to the riser or the bow and that it does not collide with the arrow when you shoot one.
Most bows have holes so you can attach the sight directly to the bow. The tricky part is knowing how tight you should screw your sight as it can damage the bow or the bow sight. If the screw is too loose, your bow sight will eventually fall. If it's too tight, you may end up damaging your bow.
On the other hand, modern recurve bows allow you to attach the sight to the riser easily.
When you buy a sight, it will come with a detailed instructional manual on installing it. You can either attach the bow sight to your bow on your own or seek the help of a professional. However, if you still want to do it on your own, we're here to help!
Generally, here's how you attach sights to a recurve bow:
Place the bow on its side. Ensure that the side where you attach the sight is facing up.
Align the holes of the bow sight with the holes in your riser. Ensure that your bow sight is facing the right way or to the front of the bow.
Using a screwdriver, slightly screw the sight to your riser enough, so the riser does not fall or move, but don't tighten the screws yet.
Place the string level on your bowstring to make sure that your bow is at the right level.
Remove the string level without moving your bow.
Place the level on the bow sight and adjust it until it's at the right level.
Once the level is perfect, tighten the screws on the riser. Ensure that the sight is attached well to the riser to prevent the vibrations from moving the bow sight, which may result in less accuracy.
Adjust the telescopic frame of the sight so you don't strain your eyes when you're looking through the bow sight.
Place an arrow on your bowstring, and then look through the sight. By doing this, you're ensuring that the arrow will not collide with your bow sight when you shoot the arrow.
Remember to thoroughly follow the installation instructions with the packaging of your sight to ensure it's installed properly and doesn't fall in the long run. It is also common to install bow sights while the bow is strung. When in doubt, always ask for a professional's help.