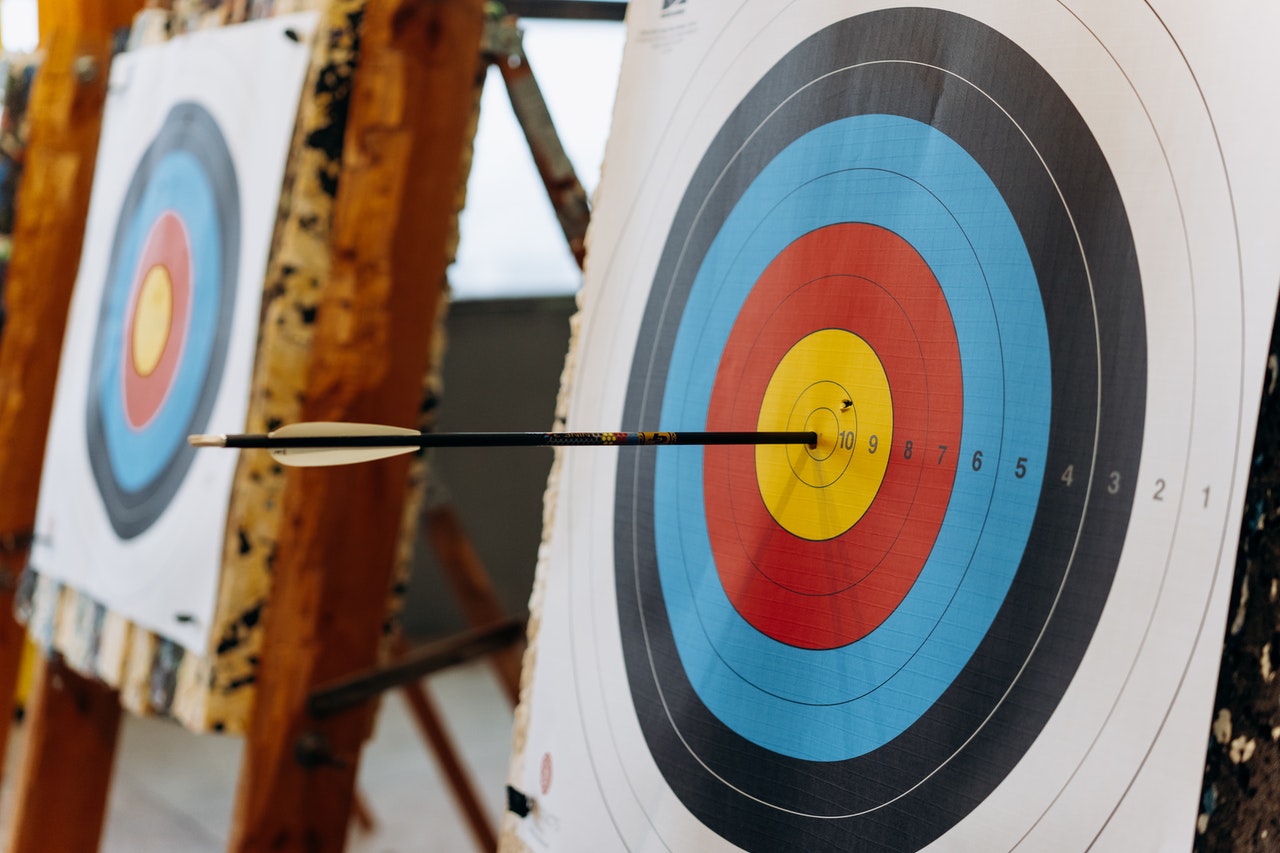 The best crossbow bolt for target shooting is the Barnett Outdoors Carbon 20-inch with field points and half-moon nocks. These crossbow bolts are the best and cheapest option for beginners in archery and those who want to practice target shooting or field practice.
Although Barnett Outdoors Carbon crossbow bolts are the cheapest option for target shooting, these bolts are well-made and are perfectly accurate when shot. These bolts have half-moon nocks that help them create a straight trajectory line that is easy to predict.
Barnett Outdoor Carbon provides maximum accuracy and penetration, perfect for superior performance during target shooting. Each bolt includes field points, and the 1-ounce bolts have strong, lightweight carbon shafts that improve wall thickness for added durability. You can use these bolts with Ghost 350, Wildcat C-5, Penetrator, Raptor FX3, and Whitetail Hunter II.
Choosing the best crossbow bolt for target shooting is not that easy. With many options available, deciding which one fits your needs is challenging. Read on below to know more about crossbow bolts and learn how to choose the best bolt for you.
What is the best weight for a crossbow bolt?
The best weight for a crossbow bolt is 400-459 grains, considered the standard weight. This weight will allow you to shoot a well-made, perfectly accurate shot that is easy to predict.
Bolt's weight can significantly affect its range. Almost all bolt manufacturers list how many grains each shaft weighs. They also list how many grains are in each inch of the shaft.
When looking for crossbow bolts, you have three options depending on the weight you need. These are the lightweight bolts, which usually weigh 350-399 grains, the standard weight having 400-459 grains, and the heavyweight bolts with above 460 grains.
The bolts' weights also consider the 100-grain broadhead or target point. So, when bolts weigh 450 grains, the fletching, nock, bolt shaft, and head or bolt points add up to 350 grains. Add the 100-grain broadhead; that makes it a total of 450 grains.
Before buying a bolt, it is essential to determine for which you will use it. It is because your crossbow will exert the same force on each of your shots. That is why you must use a lighter bolt to achieve your goal of shooting at high speed with the flattest trajectory.
A more lightweight bolt will fly quicker and give you a more extended range but might affect your desired penetration.
Meanwhile, if you want to create higher kinetic energy for a big hunting game, you can go with the heavyweight or standard bolts. You will have better downgrade power with a massive bolt with at least 400 grains. It offers better penetration but will most likely travel slower and thus drop more due to gravity during its flight.
The force you exert from the crossbow can help you move to a heavier bolt without sacrificing a good trajectory since crossbows are fast these days.
Most manufacturers will provide you with the total weight in grains, or they may only offer the grains per inch or the GPI. If thy only gave you the GPI value, you can calculate the bolt's total weight by multiplying the shaft's length in inches by its grains per inch.
For example, if the shaft has 20 grains per inch and its length is 20 inches, then you can calculate the total weight of the shaft by multiplying 20 x 20 = 400 grains.
What size crossbow bolts do I need?
The size of your bolt should not be shorter than the crossbow groove. Your bolt should be the same as the crossbow groove or up to two inches long.
There is no definite rule in bolt sizing, but pro archers highly recommend longer bolts to have certain advantages during target shooting. Generally, bolts are 15 to 22 inches long, but the standard is usually 20 inches.
The bolt size can significantly impact your shooting, depending on your crossbow type. Longer bolts allow you to have more stability. If you are target shooting, you can use lighter and mid-size bolts as they have a more extended range and better accuracy.
Meanwhile, heavier and longer bolts have shorter flights but a more substantial impact that is suitable for game hunting. If you are still unsure what bolt to buy, most crossbow makers and shops provide great instructions for choosing and properly handling the correct bolt size for every crossbow.
The bolts that the manufacturer usually recommends are the best fit for your crossbow and the ones that will help you have a safe and enjoyable shooting experience.
Can you use regular arrows in a crossbow?
You cannot use a regular arrow with a crossbow. Regular arrows are not interchangeable with bolts as they differ in size and weight. Arrows usually measure from 27 to 31 inches, while bolts measure from 16 to 22 inches.
Usually, when referring to bolts, it means the projectiles for the crossbow. During the medieval period, crossbows served as the primary weapons for soldiers during battles. It was the first ranged weapon that was simple, physically undemanding, and cheap enough for untrained soldiers to operate.
The projectiles for crossbows were typically heavier and shorter than the traditional bows and were incredibly strong. The projectile would hit so hard that it is like "a bolt out of the blue." because of its strength, it could easily pass through chainmail, which is how the term "bolt" got its name.
Crossbow bolts are generally shorter and have no stabilizing vanes near the back compared to regular arrows. Shooting lighter and shorter bolts can damage your crossbow and create a safety hazard. Bolts with a diameter smaller than the groove track in the crossbow's barrel will sit too low in the barrel's flight groove.
On the contrary, bolts with a larger diameter might sit too high and create a misalignment between the nock and bowstring. That case can start an erratic arrow flight or cause a dry fire. That is why it is essential to know what bolt you need to avoid such incidents.
Crossbow bolts are usually carbon shafts or aluminum with a flat-capped groove Omni-nock, moon, or capture nock that align with the bowstring when loaded. To efficiently use your bolts, ensure you only use the nocks specifically for your crossbow. Using the wrong nock can cause a dry fire to your crossbow.
Modern bolts have three fletchings made from plastic which is occasionally called vanes. It causes the bolt to spin around its axis during flight to increase stability.
The height of fletching varies, and there is no standard length. However, in general, the longer the arrow shaft, the longer the fletching should be, and vice versa. There is always a set of fletching glued to when you buy crossbow bolts, so there is no need to buy them separately.
Always check your crossbow's specific nock requirement and bolt size for maximum performance during target shooting. Here are other things to remember when buying your crossbow bolt:
Never use shafts and bolt heads that are lighter than the manufacturer's recommendation. While heavy ones are okay, using more lightweight shaft and bolt heads can cause dry firing to your crossbow. Not just will it damage your crossbow, but it will also void your warranty.
When buying crossbow packages, bolts are already included with target practice field points. You need to buy the bunting broadheads separately if you need them.
Ensure that both your broadheads and field points are of the same width. It means that the weight of the field points included in the crossbow package you bought should be the same when you buy your broadheads.
Using heavier arrows than recommended by the manufacturer is safe, but it will reduce the velocity of your crossbow.
Factors to consider when buying bolts for your crossbow
Carbon fiber is the best choice for crossbow bolts. It is more expensive than other bolts but also incredibly durable and flies well. Shot penetration is also better with carbon fiber.
Other than the material, here are other factors that you should consider when choosing the best bolts for your crossbow:
Size of your crossbow- Your bolt choice influences the throwing performance of your crossbow, and the perfect bolt depends on the power requirement of your crossbow. Note that two different bolts depend on your crossbow's power.
Between 50 lbs and 80 lbs, the heavier bolt will match best with the lower power crossbow; its materials are usually plastic or metal. Moreover, between 120 lbs and 180 lbs, large crossbow bolts will fit more powerful crossbows such as hunting crossbows.
In that case, the best-recommended length of the bolts is between 14 inches and 22 inches. Also, it is best to choose the carbon bolt models to maximize the bolt's speed.
The diameter of the bolt- The diameter you will need for your bolt will depend on the size and power of your crossbow. If your bolt's diameter is 6 mm, your crossbow's length should be between 90 cm and 100 cm.

This bolt's diameter allows you to pierce a target quickly. However, you should be careful if there is no balance between the power of your crossbow and the bolt because your bolt may twist or vibrate during flight.

The most versatile diameter for the bolt is 6.5 mm because it is lighter than 7 mm bolts and is more resistant to twisting than the 6 mm bolts. You can stun the target with a punch effect with this perfect diameter. Meanwhile, 7 mm is the ideal bolt diameter for a crossbow of 100 cm.
Purpose- If you are going to use your crossbow and bolts frequently, it is best to buy the ones that professionals use as they are for heavy use. However, if you are only going to use it occasionally, you can consider purchasing the more discreet crossbow and bolts available to everyone.
Reliability- The best way to know if the crossbow or bolts you buy are reliable is to look at the reviews and comments on different websites about the product. Please choose the one with more positive reviews as you can be sure it is more credible.
Another way to check the reliability of the crossbow and bolts is to consider the manufacturer's reputation. There are already known manufacturers in the market that strives for quality. Better to check reviews about the manufacturer as well before buying.
It is always best to spend five to ten minutes evaluating the crossbow or bolt you want to buy than to buy it immediately without checking it thoroughly. You may regret it later as you realize that you spent money on something that does not fit your needs or serve the purpose of what you are looking for in a crossbow bolt.