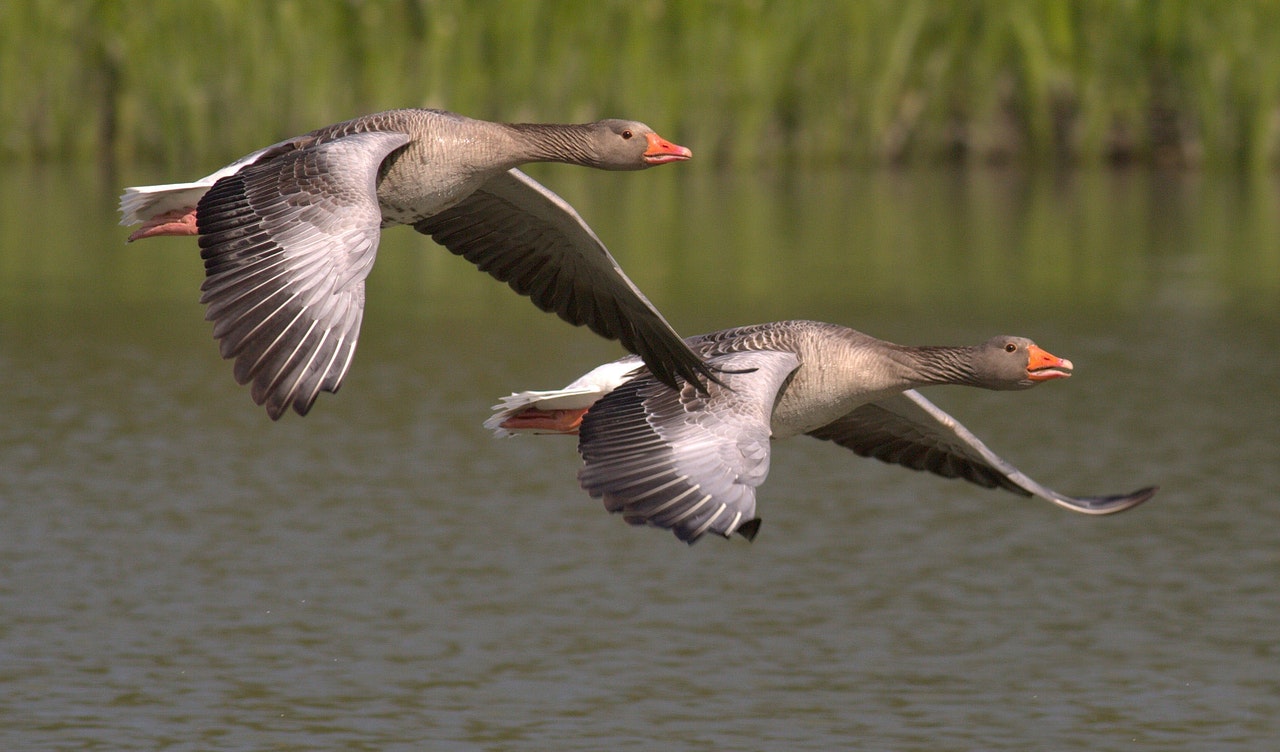 Goose migration excites every crossbow hunter. Geese are large, territorial birds. These waterfowls have webbed feet that make them walk and swim with efficiency.
Crossbows are legal weapons to hunt geese. Therefore, you can hunt geese as long as you follow licensing regulations and hunting seasons in the area. Also, check your area for any draw weight and bag limits too.
Some states consider crossbows as legal weapons during archery seasons. But some states only allow you to use your crossbow during muzzleloaders and general hunting seasons.
A hunter can take advantage of a crossbow because of its soft sound, which doesn't scare away the animals. But make sure you comply with all the necessary licenses, permits, and tags before you hunt geese.
Check your state's bag limits and trespassing laws
Each state has different bag limits in harvesting geese. In California, you can hunt as many as 30 geese per day. In Wyoming, you can kill around 4-20 geese, depending on the zone.
If the state or town you are in allows crossbow hunting, don't go over the bag limit. So knowing this information is another important thing.
Geese may settle on private land. But never forget to ask permission from the owner if you want to hunt or even scout the area for geese. Trespassing laws still apply in hunting so make sure you talk with the landowner first.
If you're crossbow hunting geese near a house, maintain a certain distance from that house unless you have permission from the owner.
For example, Pennsylvania needs crossbow hunters to maintain a 50-yard distance from an occupied building or house if they didn't ask permission.
Geese may fly or land in cities, which is a protected area for these animals. But keep in mind not to fire your crossbow in populated places. Cities, for example, don't allow any type of hunting within their boundaries.
Instead, crossbow hunters harvest geese in lakes, marshes, and rivers. These areas are common for geese hunting.
Know your state's draw weight limits
Check out draw weight regulations as these vary in each state. New Jersey has a minimum draw weight of 75 pounds. South Dakota and Nevada have a minimum of 125 pounds. Wyoming has a minimum of 90 pounds.
Why do we hunt geese?
Geese hunters help state and federal conservation programs generate revenue. By using your crossbow to hunting geese, you help these organizations sustain their development programs by purchasing licenses and waterfowl stamps.
Crossbow hunters contribute billions of dollars to wildlife programs. They are also helpful in sustaining healthy populations of geese through hunting.
They also help fund wildlife conservation programs. Wildlife programs in the United States earn $18 billion every year through licenses and wildlife taxes.
Crossbow hunters shoot geese for fun and their delicious meat. Some hunters consider geese hunting in the fields a pastime.
Hunting helps you keep in touch with your ancestors
Geese hunting helps you take part in the natural process of getting in touch with these animals. This practice is still here today and stretches back to ancient civilization.
Hunting in old age was a survival skill. Modern hunting helps us understand that skill used by our ancestors.
Geese hunting is a challenging hobby for every crossbow hunter. But with practice, you can master the skill of calling and shooting your crossbow.
Geese are big waterfowls as each goose weighs about 15 pounds with a six-foot wingspan. Crossbow hunters have a bigger chance to hit a goose when done the right way.
More reasons why you hunt for geese
Crossbow hunters take a goose for its flavorful meat. Not to mention it is also nutritious. Goose meat has high protein, vitamins, and minerals.
Geese are an excellent food choice on your table. A fresh catch means fresh meat. So the meat itself tastes better. You also save money, because you get yourself a less costly meal.
Take advantage of your crossbow through its horizontal limbs. Its limbs allow stability. So you don't have to worry about muscle fatigue. Less fatigue means you have more grip on your crossbow.
You help control the geese population by using your crossbow too. A too big geese population results in an imbalance in the ecological system.
Geese are clever creatures. So they know where to stay and get food. They can swarm in agricultural lands or farms. So use your crossbow to protect property.
Reports say that hunting doesn't reduce the geese population on a larger scale. But as long as hunters commit to conserve the ecosystem, it still helps.
How do you hunt geese?
Crossbow hunting geese may not guarantee you a catch. But keep in mind that the tiniest detail count. You need to have more skill and patience too.
Here are some tips on how to set up a good hunt for geese:
Plan out your hunt. Get ready with your crossbow equipment. Scout the area that you'll be hunting in too.
Spread your decoys to provide enough space for the geese. About 10-12 decoys are good enough to conceal you in a layout blind.
Practice more than one style of goose call, depending on the situation. Use a soft and deep goose call. Also, master a loud and sharp call for windy days.
Don't make unnecessary movements and stay quiet. An unwritten rule is that if you see a goose, it can see you better. Geese can sense movement and danger right away.
Always bring a quiver with you. A quiver is a container for holding arrows and bolts. It helps you store your arrows in place.
Geese are keen on detecting smells. Hunt in an area where you can hide your scent like bushes, leaves, and snow.
Things to keep in mind while hunting
Keep in mind that when temperatures drop below 68 degrees Fahrenheit, geese will lie down. They get comfortable with cooler grounds like in snow or wetlands. Crossbow hunters need to have decoys that are direct to the ground.
When you place decoys at the right spot, geese will land there, thinking that there are fellow geese in that area.
You may be out of your comfort zone. But you get to learn to shoot your crossbow with accuracy through geese hunting. You will get savvier with your crossbow when you shoot in different terrain too.
You help yourself adjust in hunting. You get to shoot coming out of a pit or blind. Or you get out to shoot your crossbow on windy days.
When hunting with intense pressure, stay consistent with your decoy. Even if others are using bigger spreads, use a constant number. Stand out from everyone else.
During foggy weather, avoid calling too much. You may use a flag to attract geese. You know it's effective when geese get close toward you.
Windy days are a challenge for crossbow hunters too. Wind affects arrow direction. Set up outside of the win. Choose low fields, hillsides, or tree lines. Geese also prefer to get out of the blowing wind.
What do you need for goose hunting?
Geese hunting with a crossbow is exciting. You can't afford to forget a few things during your hunt. You may have to start with your
Here's a list of the essential things you need to pack:
Your crossbow is on the tippy top of your list. Don't take your weapon if it has a defective part. Replace any frayed bowstrings and rusted arrowheads.

Decoys entice geese to get them closer to you. The closer the geese are, the cleaner your shot is. Also, moving decoys will come in handy too.

Calls are also decoys. They also trick the geese towards you. Certain calls are appropriate, depending on the weather and time of the year.

Camouflage clothing helps you remain unseen by the geese to get closer to them. Make sure that you're comfortable with your outfit amidst the weather. Choose warm clothing during hunts in the fall. Wear breathable fabrics when geese hunting during the summer.

You need a hunting license, depending on what regulations are in your area. You may also need more tags and permits for you to hunt geese with a crossbow. Know the crossbow hunting season for geese as well.

Before you hunt with your crossbow, get familiar with local laws. Contact law enforcement first. Or you can look for regulations of your wildlife department online.
If a place permits you to use artificial light when hunting, choose the best hunting light for you. Consider the color of the light too. Red, white, and green are some of the most common light colors.
Keep in mind other essential things for goose hunting
Don't forget your quivers to store your arrows or bolts. You also need a blind bag for your essential items. Make sure it's not too small or big. Use a bag that's enough to hold your license, wallet, gloves, and food.
A pocket knife can come in handy. You can use it for digging small holes for setting stakes. Or you can use it to cut down branches or make blinds. You can even use it to skin your caught geese.
Other clothes items include scent-free boots, gloves, and face masks. Check the weather report for any downpour.
Bring rain gear. Some rain gear uses materials that dampen the sound of rain landing on you. Lesser sound means a lesser chance of spooking geese.
Stock up essential hunting suppliers first. Make sure you're preparing a week or so before the actual hunt. You get more confident going out to hunt when you have everything inside your bag.
Geese are everywhere. So double-check your list before you're good to go.
What's the best time to hunt geese?
The best times to hunt geese with your crossbow are during the morning and evening. Hunt during the first few hours of the morning and the last few hours of the evening. These times you will see the most geese feeding for their morning and evening meals.
You can hunt geese any time of the day, depending on what time you're free.
Hunting in the morning
During the mornings, geese go straight to their feeding spots from their roost. These waterfowls feed on areas near their roost. Some fields are often within a few miles from their roosting spot.
Find where geese are feeding in large bodies of water. Then, narrow your search radius to find feeding spots. Aim your crossbow at the geese when they're hungry.
You can also fire arrows on ponds, lakes, and rivers. Geese are in their roosts during the night. So if you can find a body of water, set up nearby for an excellent shooting spot.
Hunting in the evening
You can have the most productive hunts in the evening too. Like mornings, geese go for their final meal out of their resting spots.
An evening hunt with your crossbow is also practical for people working on their day jobs. You can step on the fields by 6 pm or later.
But be sure to check local regulations on crossbow hunting in the dark. Some areas allow hunting during daylight only.
Hunting in the afternoon
Afternoons are also a good time to hunt birds. Consider crossbow hunting between 11 am and 3 pm. Though a few geese are flying during that time, this period is worth a shot too.
Plant your decoys on nearby fields. These may attract geese if they're still hungry.
If you have plenty of time to wait, go get your chance to shoot your crossbow.
If you don't see any geese around, spend time enjoying yourself with your family and friends. You can get comfortable sitting outside during the afternoon too.
Aside from hitting the day or evening, consider any weather patterns too.
People have different opinions on the best times to hunt geese. But hunt for a time that works for you. Regardless of the time, you have to hunt geese with enough patience.
Each time of the day has its benefits. If you aren't too worried about the day, try the mornings or afternoons. If you're too busy for work, get your crossbow out in the evening.