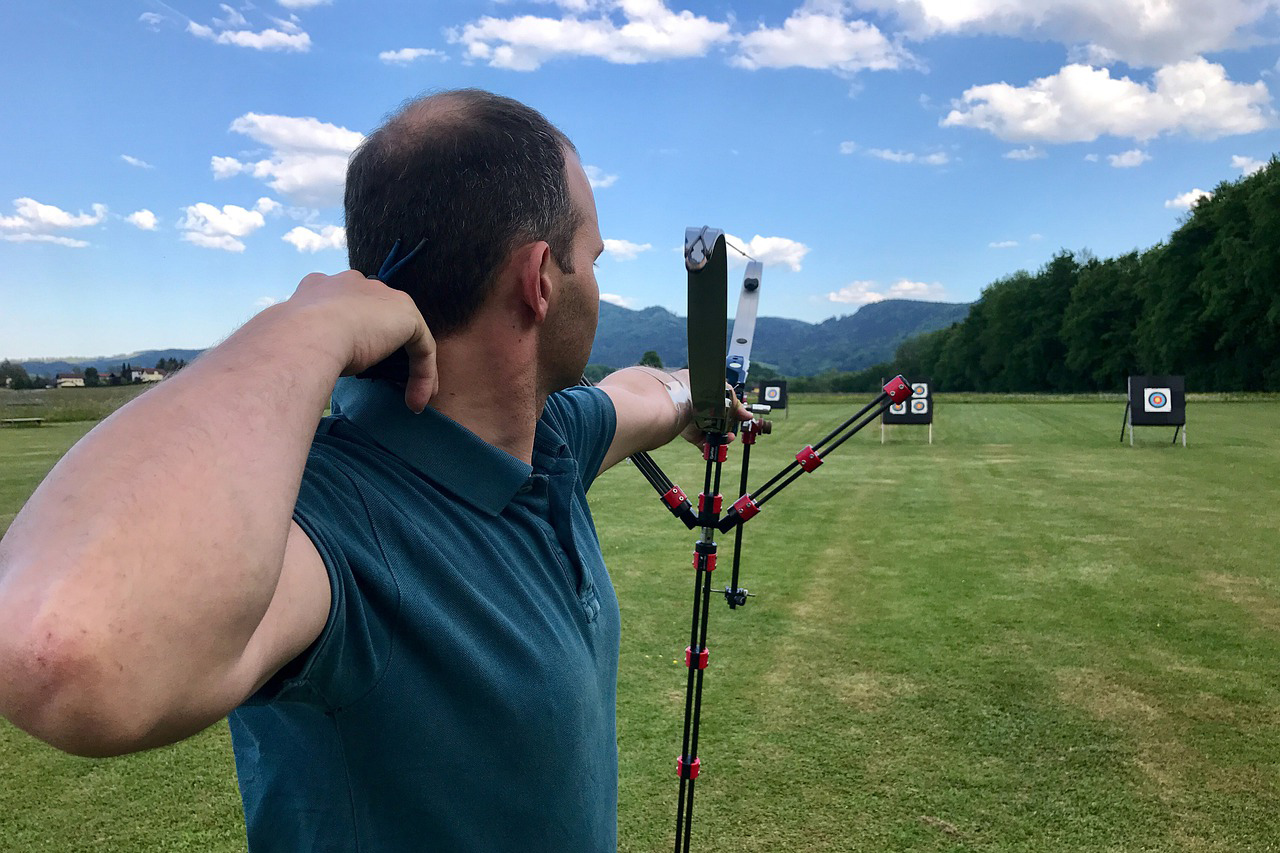 Archers keep shooting their recurve bow off to the side for many reasons. However, bow torque, improper anchoring, bow or sight out of tune, and environmental factors are the four main reasons recurve bows keep shooting left or right.
Archers sometimes encounter problems, like suddenly shooting to the left with their recurve bow. Perhaps you are wondering how to fix the problem. But before fixing it, you must determine the root cause first so you can identify it quickly the next time and fix things faster.
You may instantly think that it is all because of improper form. However, it is not always the reason for shots going off. Human error is not the only cause of bow malfunctions, which often involves the bow itself.
It is important to note that recurve bows that keep shooting off to the side, whether left or right, share similar causes. Below are the various reasons that make your bow shoot left or right:
Moving the bow arm on release
Incorrect positioning of feet
Improper form
Plucking the string
Out of tune: bow or sight
Bow torque
Environmental factors
Improper anchoring
Among the numerous causes above, four of them are the most common, which are: bow torque, improper anchoring, out of tune: bow or sight, and environmental factors, explained further below:
Bow torque

Bow torque refers to the poor positioning of the bow hand that causes arrows to drift off in the wrong direction. For instance, an improperly placed bow hand on the grip applies a twisting force that causes the bow to rotate. As a result, the arrows released drift off to the side.

If you notice that your shoots keep going to the left, it may have to do with a bent wrist positioning of your bow hand. On the other hand, it's most likely an over-extended bow hand position if your shots are drifting off to the right.

Aside from improper bow hand positioning, an out-of-tune bow also causes bow torque, but less likely to happen with Recurve bows.

If you are sure that bow torque is the main reason why your shoots go off to the left, eliminating it is pretty simple and have something to do with checking and improving your bow hand grip by doing the following steps:

Hold your index finger and thumb into an "L" shape and bend your other fingers.
Place your hand on the bow's grip and let the meaty portion of your palm rest naturally.
Feel the pressure build as you pull back the bowstring.
Try relaxing your fingers.
Ensure that your wrists sat naturally and unbent in any direction.

By following the steps above, you'll soon eliminate bow torque and correct your shooting issues whenever you shoot your bow.

Improper anchoring

Another common cause of recurve bow shooting off to the side is improper anchoring because it adds a few side motions to the arrows.

If you often overlook the importance of anchoring, then maybe it is the number one main reason why your shoots keep going left. Remember that anchoring is a basic in archery and is most often taught thoroughly to beginners.

You must know that improper anchoring will likely ruin an archer's shooting accuracy and make your shots go off to the side. Mostly it happens if your drawing hand is too far off to one side, which occurs on archers who use the side of their mouth or their chin as an anchor point.

Before concluding that improper anchoring is the root cause of your shots going off to the side, below is what you should do to help you confirm your suspicion:
Try moving your current anchor point slightly to the direction where you shot it off, either left or right. For instance, if your shots keep going left, try moving your anchor point slightly to the left and right if you keep shooting right.
Remember only to make minor adjustments to avoid affecting your shot location significantly. By checking, you are starting to find the perfect anchor suitable for you, and it helps you get used to it sooner.
Getting used to your new and proper anchor point may take a while. Nevertheless, don't forget to occasionally dissect your shot process and double-check if you are doing things correctly.
Try adjusting your anchoring at times to see better results, although you think your current anchoring is flawless.
Out of tune: bow or sight
Equipment that is out of tune needs immediate attention, even in archery. An out-of-tune bow or sight can be a reason for your arrows to fly off to the left or right.
A slight adjustment to your bow sight can cause your arrow to move. For instance, a bow sight that moves to the left causes the bow to move to the right, which results in your arrows shooting in a similar direction.
Additionally, the effect and occurrence are also similar with an untuned bow.
Thus, if you feel like your bow is out of tune, have it tuned at a trusted archery shop, or you can do it yourself if you are confident enough. The same goes with a bow sight.
Environmental factors
If you think none of the causes above is why your recurve bow keeps shooting left or right, it may have to do with environmental factors.
Look at your surroundings and see if you are shooting in a tilted terrain or if there are currently harsh winds. The spot where you are standing and the climate are the main factors that make your shots go off in the wrong direction.
Since you cannot control the wind, try to move your arrows in a different direction each time you shoot. Doing so will let you know if the wind is the main issue.
Here are the following things to do if you think environmental factors are the root cause of your shooting inaccuracy:
If harsh winds are the issue, do the following options:
Move to a closed range
Try shooting heavier arrows
Move closer to the target
Try to cant your bow, which pertains to tilting your bow to contradict the wind.
If you are shooting in terrain, you must find a better plain ground or learn bow canting.
Identifying why your recurve bow keeps shooting left can be tedious, especially if it is your first time encountering such an issue. Nonetheless, doing so means properly correcting bad habits, equipment errors, or incorrect forms that hinder your shooting accuracy.
Hence, you can never overlook anything at this point. That's why it is essential always to check your arrow direction, improve shooting skills, and do proper maintenance.
Why does my bow keep shooting low?
Bows that keep shooting low almost share similar causes with those that keep shooting off to the side. The main difference is that bows that lands low are usually due to poorly executed weak shots.
Like shots drifting off to the side, there are numerous reasons why your shots keep landing low. Similarly, downward and side shots have typical causes, which we already discussed: environmental factors, out-of-tune equipment, and shooting form issues.
However, you should know a few factors that cause low shots other than the ones mentioned.
It typically has something to do with a poorly executed weak shot. Remember that you must pull back as far as you need to for your arrow to reach the target. You can fix this by practicing drawing your bowstring frequently.
Other common errors with low shots are tilting your hips forward, dropping your bow arm during shooting, and a high bow-arm shoulder. Poor hand positioning and too much grip pressure reduce the kinetic energy transferred to the arrow.
Low shots are also due to shortened draw, which happens when you arch your back too much, move your head closer to meet the string, and not drawing the bowstring back enough.
Another reason is placing your anchor or reference point too high up your face, which results in your arrow dropping low. You can fix this by reducing the angle to the sight pin.
Moreover, putting too much pressure on your bottom finger can send the arrows down to the target.
Make sure to identify the root cause that makes your arrows fly downwards. After doing so, follow up by reshooting your arrows until fixed.
How do I improve my aim on a recurve bow?
To improve your aim on a recurve bow, you may consider using a stabilizer, aiming with both eyes open, improving your sight picture, shooting at lower poundage, avoiding straining your eyes, shooting relaxed, and avoiding target panic. These are all also applicable in shooting other bow types.
Many archers disregard the need to improve their aim. Some forget that to keep their arrows from drifting away, they must always be wary of their aim.
Improving your aim can have a dramatic impact which you should not ignore if you want to ensure your arrow hits the target bullseye and never strays. Below are the following tips that can help improve your aiming skills whether you are shooting a recurve bow, longbow, compound bow, or crossbow:
Using a stabilizer

Vibration is the number one thing that hinders archers from improving their aim. It can cause your sight pin to shake or can cause you a distraction.

You can solve this by using a stabilizer that reduces the vibration on your bow when you aim. Try using the long stabilizer to help remove all vibration in different directions, making it easier for you to wield your bow.

Both eyes open

If you didn't know yet, shooting with both eyes open is possible, and most professional archers do it. The reason is that two eyes provide better vision because they work together to produce a clearer image.

Thus, you may want to try it instead of shooting with only one eye open and see if it works for you.

Improving sight picture

Although cheap bow sight works, more expensive ones offer a better picture and more features and allow you to make finer adjustments.

Consider changing to a bow sight that provides you with a more advanced aperture, and then try to observe if it influences improving your aim.

Shooting at lower poundage

Buying a bow that is too heavy for you will never end well. You might face the consequences of not being able to aim correctly and muscle fatigue.

You will also likely shake, which messes up your aim and hurry your shot as you experience muscle fatigue that worsens rapidly the longer you draw your bow back.

Remember that not properly aiming your bow and not fully drawing it will result in an arrow trajectory heading downwards instead of directly to the target.

Therefore, choose a draw weight suitable for you, and you may need a lower poundage bow. You can also opt to train your muscles so you can have more control when aiming.

Avoiding eyestrain

Eyestrain is typically prevalent with archers shooting outdoors. For instance, bright light strains your eyes, decreasing your sight's clarity. You can prevent this by wearing sunglasses or a hat.

Eyestrain can also happen when you are shooting indoors. An excellent example is taking too much time looking at your phone screen or constantly focusing too much on a particular object.

It can also happen when you shoot continuously for a long time. Thus, it is a good idea to take a few breaks to let your eyes rest.

Shooting in a relaxed state

Muscle strain is the leading cause of your aim worsening as time passes. That's why it is essential to shoot in a relaxed state by taking breaks between shots to give your muscles time to rest.

Keep in mind that strained muscles lead to shaking, which increases inaccuracy. Some archers during competitions use their 1-minute and 30-second breaks to help their muscles recover even a little.

Avoiding target panic

Target panic happens when you focus too much on aiming at the target's center. Overanticipating the shot will cause your muscles to contract uncontrollably.

You can reduce this feeling by using a clicker for recurve bow users. Meanwhile, back tension release is a suitable remedy device for compound bow archers.

Try to also use a few mind tricks by focusing on something else, like your technique and form.

Improving your aim not only helps you perform better but can also avoid shooting your arrows in the wrong direction.

Shooting recurve bows aren't always sunshine and perfect shots. There are instances that you suddenly keep shooting off left, right, high, or low. When this happens, always find out the root cause before trying to find ways to fix it rashly.

If your aim continually improves, you have one less problem to solve, which can help you narrow your quest to find out what makes your bow shoot astray.