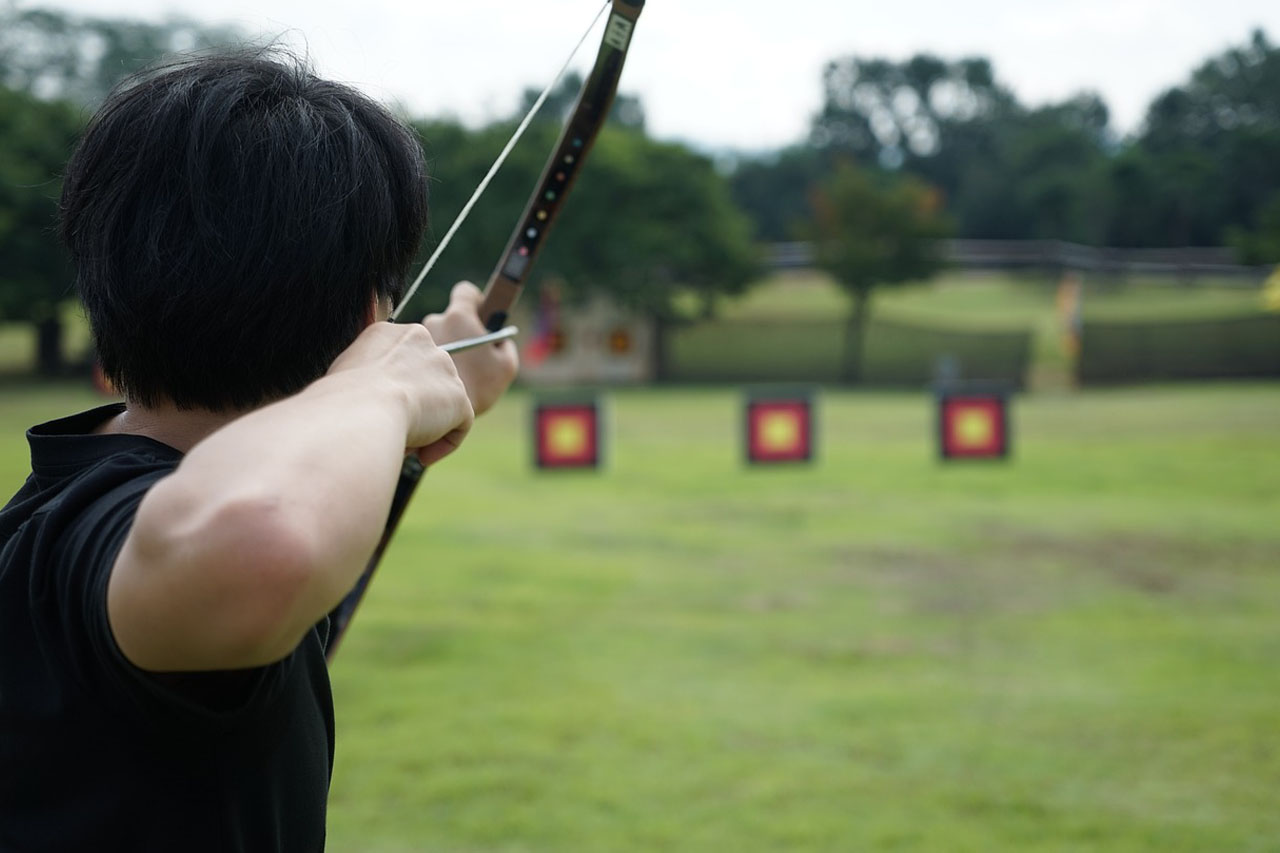 Archers would love to receive gifts that reflect their love for sports. You could gift them something that has to do with their particular interest or can be a generic archery gift.
But to make your gift more special, you should consider their favorite archery activity and how your gift can be useful in their archery journey.
Let's look at some ideas for an archery-themed gift intended for every archery expert and newbie you know!
The Must-Have Archery Accessories
1. Bow Stand
Bow stands can be handy for archers because they help them safely and securely store their bows when not in use. These stands make it easier to keep archery bows in good condition, making them safer and less likely to break or become damaged.
Additionally, many archers enjoy displaying their bows when they are not using them, and bow stands allow them to show off their valuable equipment with pride.
Several bow stands are available for purchase so that archers can choose the style and design best suits their needs. Some bow stands are simple and basic, while others feature more advanced features like storage compartments or locking mechanisms to secure the bow in place.
Take a look at these +2,000 bow stands that you can choose from.
2. Targets (Blocks, 3D)
As archers, targets are essential equipment. It helps them assess their skill as an archer and provides a way for others to judge it. Skilled archers often give targets to less experienced archers as gifts.
There are different types of targets, so ensure you get the right one. There are 3D targets, blocks, and bullseyes. For beginner archers, blocks and bullseyes are best, as they provide clear feedback on how accurate the archer's shots are.
As archers become more skilled, they may want to move onto 3D targets that look more like animals or other objects.
Here is a list of +500 different targets.
3. Optics
Optics are helpful for archers because they can see better and make precise shots.
In ancient times, optics were a valuable gift for archers as they helped them improve their accuracy and aim when shooting. Thanks to the improved vision that optics provide, archers can better understand their surroundings and take accurate shots, resulting in enhanced performance.
Hence, giving optics to archers is an efficient gift that can significantly enhance their abilities in the field.
Choose from these +6,000 Optics.
4. Rangefinder
Rangefinders are an excellent gift for archers because they make it much easier to aim and estimate distances accurately.
Many modern rangefinders use advanced technologies such as lasers, ultrasonic waves, or cameras to rapidly calculate the distance between an object and the device user.
These rangefinders can also be very precise, with some models able to calculate distances with an accuracy of a fraction of an inch.
Get one as a gift from this list of +100 rangefinders.
5. Bow cases
Bow cases protect the bows and help keep them clean and dry. Additionally, you can personalize the bow cases to give them an extra special touch. Whether you want to gift a bow case as a gesture of gratitude, it will surely make any archer happy.
There are a variety of bow cases that you can choose from, so be sure to do your research and select the one that is right for your friend or loved one.
Get one from these +300 bow cases.
6. Quiver
A quiver is an excellent gift for archers because it helps them to stay organized and prepared for the archery range. Whether they're shooting targets or competing in a tournament, having their gear neatly arranged will help them focus on their performance.
At the same time, having all of their gear within easy reach means they will save time searching for the right arrow or bowstring. And because a good quiver is made from high-quality materials and designed to be comfortable and easy to carry, it's also an essential piece of gear that helps archers stay safe on the range.
Here are some of the +600 Quivers available on Amazon.
7. Quiver Belt
A quiver Belt allows them to carry extra arrows conveniently and stylishly. With Quiver Belt, archers can easily access the archery arrows they need without having to stop and fumble through their pockets or bags for an extra handful of ammo.
Additionally, this handy accessory provides added protection for the arrows, ensuring they don't get damaged during transport. Whether you're an avid archer or just looking for a gift for the bow-and-arrow aficionado, Quiver Belt is a perfect choice!
Select from these +300 Quiver belts.
8. Bow Maintenance Kits
Bow maintenance kits are an excellent gift for archers of all skill levels. Whether you're shopping for yourself, a friend, or a family member who loves shooting targets in the backyard or hunting in the woods, bow maintenance kits make it easy to keep your gear in top condition year-round.
A good bow maintenance kit will include all the essential tools for cleaning and maintaining your bow. It typically consists of a cleaning cloth, a bowstring wax, an arrow puller, a string nock, and other minor maintenance items that can help you maintain your bow's performance over time.
Get one from this list of +100 Bow Maintenance Kits.
9. Archery Multi Tools
Archery multi-tools are one of the most fantastic gifts for an archer. These tools make it easier and more convenient for archers to use and maintain their bows, arrows, and other gear.
The archery multi-tools may include:
Lens cleaning cloths for keeping your optics clean and clear.
Small knives for cutting zip-ties.
Other materials.
It may also have screwdrivers of varying sizes for making adjustments to your bow or other equipment, LED flashlights for seeing in the dark or even during the day when you are shooting in a blind, and much more.
Select from these +200 Archery Multi Tools.
10. Gloves
Archery gloves are an excellent gift for archers because they help improve grip and protect the hands from harsh elements. Whether you're a professional archer or someone who loves to spend time outdoors, these gloves can make your experience more enjoyable and comfortable.
Gloves for archery come in various styles, so you can choose the ones that best meet your needs. Some archery gloves have extra padding on the wrist and fingers to provide additional comfort. In contrast, others have advanced materials that allow you to grip your bow without slipping.
Check out these +200 Gloves from Amazon.
11. Release Aid
Release aids make it easier to shoot with more accuracy and consistency. They help you focus on your target and release the bowstring without additional tension or jerking motions. So, they are an excellent gift for any archer, regardless of their skill level or preferred shooting style.
They make it easier to increase consistency and accuracy, which is especially helpful when preparing for competitions or hunting trips. If your archer wants to take their game to the next level, release aids are a great place to start.
Select from this list of +500 release aids.
12. Bow Scale
A bow scale is a helpful tool for archers, as it allows them to accurately measure the draw weight of their bow to get the most out of their shooting experience. It is an ideal gift for anyone who takes their archery seriously and wants to ensure they get the best performance possible from their equipment.
Additionally, many archers need help to gauge the draw weight of their bow simply by using their arm strength, which can lead to inaccurate measurements and wasted shots. A bow scale allows them to correctly measure their equipment before every archery shot and fully utilize its capabilities.
Choose from this list of +200 Bow Scale.
13. Headlamps
Headlamps allow archers to see clearly and stay safe in low-light conditions, especially when hunting. They need to see their targets clearly, and headlamps provide bright light that makes it easy to do just that.
Additionally, headlamps are helpful when archers walk through rough terrain or navigate through the woods at night. They provide a hands-free light source that helps to keep their hands free and focused on their activity, giving them superior control over their environment.
Get one from this list of +100 headlamps.
14. Hunting Shoes
Hunting shoes are an excellent gift for archers because they offer durability, comfort, and protection. Many hunting shoes are made from high-quality materials that withstand rough terrain and harsh weather conditions.
Additionally, many models feature innovative designs that provide lightweight comfort and support even when you're covering long distances. In contrast, others provide the necessary protection and grip to ensure safe footing on slippery rocks or uneven terrain.
So if you're looking for a gift, here is a list of +300 hunting shoes.
15. Portable Bow Press
Portable bow presses are an excellent gift for archers because they allow you to easily maintain and repair your equipment, even when you're out on a hunt or in the field. They help the archer to replace the string or cables, install peep sights, adjust draw length, replace wheels or cams or replace the limbs.
A bow press is a vital tool for any archer. So, if you are looking for an excellent archer gift, this tool is a perfect choice.
Select from the list of +100 Portable Bow Press.
16. Bugle Tubes
Bugle tubes are essential equipment for archery hunters. These products can amplify the sound of your call so that you can communicate with other animals in the wild. Bugle tubes make it easier for archers to attract deer, elk, and other wildlife into the range where they can be shot or photographed.
Various bugle tubes are available today, each offering unique features and benefits. Some bugle tubes are ultra-compact or lightweight, while others are more durable or made of superior materials.
Select from this list of +100 bugle tubes.
17. Broadheads for arrows
Archers are a class of athletes who rely on their equipment to hone their skills and achieve the best results. A good archer needs solid physical abilities and excellent tools, including high-quality archery bows and arrows.
Giving broadheads as a gift to an archer is a way to show that you appreciate their skills, knowledge, and dedication. These specialized arrow tips allow archers to fine-tune their shots and achieve the best results.
Wrap a gift now and select from these +700 broadheads.
18. Broad Head Storage Case
Archers need a safe and secure way to store their arrows when not using them. That's where Broad Head Storage Cases come in! These handy storage containers can hold broad-head archery arrows, which can be dangerous if not stored properly.
So a broadhead storage case will be an excellent gift for archers.
Get your gift from these +300 Broad Head Storage Cases.
19. Wind Checker
Wind Checker is an excellent gift for archers because it makes it easy to ensure that conditions are correct before you fire your arrows. Whether you're practicing or competing in an archery tournament, Wind Checker is a handy tool that helps avoid windy conditions, which can impact the trajectory of your arrows and make it harder for you to hit your targets.
With Wind Checker, you can confidently check the wind speed and direction before each shot and adjust accordingly to improve your chances of success in both practice and competition.
Choose from these +200 Wind Checkers.
20. Handwarmer
Handwarmers are an excellent help for archers, especially when it's cold outside. Archery involves a lot of standing and holding a bow, which can become uncomfortable once the temperature falls. With hand warmers, archers can comfortably take their shoot while hunting.
So, if you are looking for a gift for archery lovers, here are +1,000 hand warmers you can check.
21. Lighted Nocks for Arrows
A lighted nock is an excellent gift for archers of all skill levels. These tiny devices attach to the end of an arrow and emit a small, bright light when fired from a bow. It lets you quickly track and recover your shot, even in low-light conditions or complete darkness.
Select from these +500 lighted nocks.
22. Bowstring Wax
Bowstring wax helps to protect their bowstrings from friction and wear while they shoot. This product can prolong the life of your archer's bowstrings, so they'll be able to enjoy shooting for longer without needing to replace or repair them.
It is a must-have for archers because it keeps their bowstrings in good condition, allowing them to get the most out of their gear. It makes it an excellent gift for an archer who wants to extend the life of their equipment and get more time on the range or in the field.
Get one from this list of +100 bowstring waxes/lubricants.
23. Arm Guard
An Arm Guard is a valuable gift for any archer, as it protects them from the constant friction caused by drawing and releasing their arrows. Since using an Arm Guard reduces this friction, it helps to increase the accuracy and consistency of their shots, making them more likely to hit their targets.
Arm Guards can also help prevent blisters from forming on archers' hands and wrists, which allows them to remain comfortable and focused throughout their shooting sessions.
Any archer would be grateful for an Arm Guard as a gift!
Choose from these +300 Arm Guards.
24. Archer stool/Chair (Portable or foldable)
Archers often spend large amounts of time on the shooting range, crouching in a traditional archery stance or standing up to shoot. Because they are so focused on their aim, they may not have time to get comfortable or adjust their position while shooting.
A well-made archer's stool is perfect for helping archers maintain good posture and stay comfortable while shooting. It would also be a good tool for them to rest while waiting for another time to shoot again.
Get from these +60 foldable chairs.
25. String Silencer
A String Silencer helps archers keep their bows quiet during the draw. It is vital because many archers rely on stealth and silence when hunting, so having a tool that can help keep their bows quiet is extremely useful.
Archers must be careful about noise when hunting, as the slightest sound can give away their position or make animals spook. A String Silencer helps to keep bows quiet so that archers can remain undetected, which is essential for a successful hunt.
Get your archer friend one of these +600 String Silencers.
Apparel and Accessories for Archery Lovers
26. Archery Shirts
A person who loves archers would love to get a shirt with bows and arrows printed on it or other archery-related prints. It would be a great gift because the shirts will help them express their love and appreciation for archery.
The shirt can be everyday wear, or they can wear it during archery competitions. And, of course, a person who loves archery will appreciate such a thoughtful gift.
Show your support for their passion and get them one of these +1,000 archery shirts.
27. Archery Necklace
A necklace with a bow or arrow pendant would be a good expression of the love for archery. This type of necklace is not only a representation of their sport but can also be used as an adornment to emphasize their beauty and elegance.
Select from these +200 archery necklaces.
28. Archery Books
Learning archery is necessary to get good at it. Archery is an activity that requires skill, determination, and patience. It's also a great way to get some exercise and have fun while doing it! If you know someone who loves archery, they will love the gift of Archery Books, especially for beginners.
Get from these +1,000 archery books.
29. Archery Hoodie
Archery Hoodie is one of the most incredible gifts for archery lovers. This hoodie is made from high-quality materials and features a stylish design that makes it stand out from other similar products on the market. Whether you're looking for something special to treat yourself or a loved one, Archery Hoodie is a great choice.
Plus, it's an excellent way to support a loved one's passion for archery while staying warm and comfortable. So if you're looking for a great gift idea for archery lovers, Archery Hoodie is worth considering!
Choose from these +600 Archery Hoodies.
30. Mugs
Mugs with archery prints are great gifts for archery lovers. These mugs are functional, durable, and stylish, making them a perfect addition to any archer's kitchen or office. The designs are eye-catching and beautiful, capturing all the intricacies of archery.
And best of all, these mugs are affordable, making them a perfect gift for any occasion. If you know an archer who loves coffee or tea, consider getting them a cool one with their favorite archery design!
Pick one from these +300 mugs with archery designs.
31. Mini-Tripod
Mini-Tripod is a great gift option for archery lovers because it allows them to quickly and safely aim at their targets. This handy little tripod features three sturdy legs that can be adjusted quickly and easily, allowing you to set it up wherever you need it.
Plus, the rubber feet on the bottom of each leg help prevent the tripod from slipping, so you can rest assured that it will stay put no matter what. And because the Mini-Tripod is made of high-quality materials and has a solid design, it will last for many years.
It is a practical gift that archery lovers will appreciate.
Select from these +80 mini-tripods.
32. Backpacks
Backpacks are ideal as gifts for archers. They can use it for carrying all their archery equipment and accessories, whether in the field or out hunting. And unlike other types of backpacks, archery backpacks are designed specifically for these purposes.
They provide easy access to all your equipment without slowing you down or having to take off your backpack every time you need something. Additionally, they have padded straps that evenly distribute the weight of your gear and make them comfortable to wear for long periods.
Get one from this list of +500 backpacks.
33. Archery Lovers Pin
For archery lovers, there's nothing quite like the thrill and satisfaction of hitting a bullseye with an arrow. Archery Lovers Pin is perfect if you're looking for a gift showing your love and appreciation for someone who shares this passion!
With its gorgeous design and high-quality construction, the unique pin is the ideal way to express appreciation for someone who shares your passion for archery.
The pins will make an eye-catching addition to any outfit or accessory and will surely be a hit with all of the archery enthusiasts in your life.
So why wait? Get one as a gift from these +40 Archery Lovers Pin.
34. Key Chains
At first glance, a keychain may not seem like much of a gift – especially for an archery enthusiast. But these small, everyday items can be more than just symbols of their love for the sport – they can also provide a convenient way to remember and enjoy your archery experiences even when you're not out on the range.
With a keychain in the shape of an arrow, for example, they can take their archery skills with them wherever they go. Whether it's a quick trip to the grocery store or a multi-week vacation, they can attach their keychain to their purse or pocket and enjoy being an archer no matter where they are.
Check out these +100 Key Chains online.
35. Ornaments
Ornaments are an excellent gift for archery lovers. They allow you to express your love for the sport uniquely and stylishly. Whether you choose classic gold or elegant silver or a more modern option like stainless steel, there's an ornament that perfectly suits any archer's style and taste.
Additionally, these gifts are perfect for any occasion, from birthdays to Christmas. With so many options available, you're sure to find the perfect ornament for the archery lover in your life!