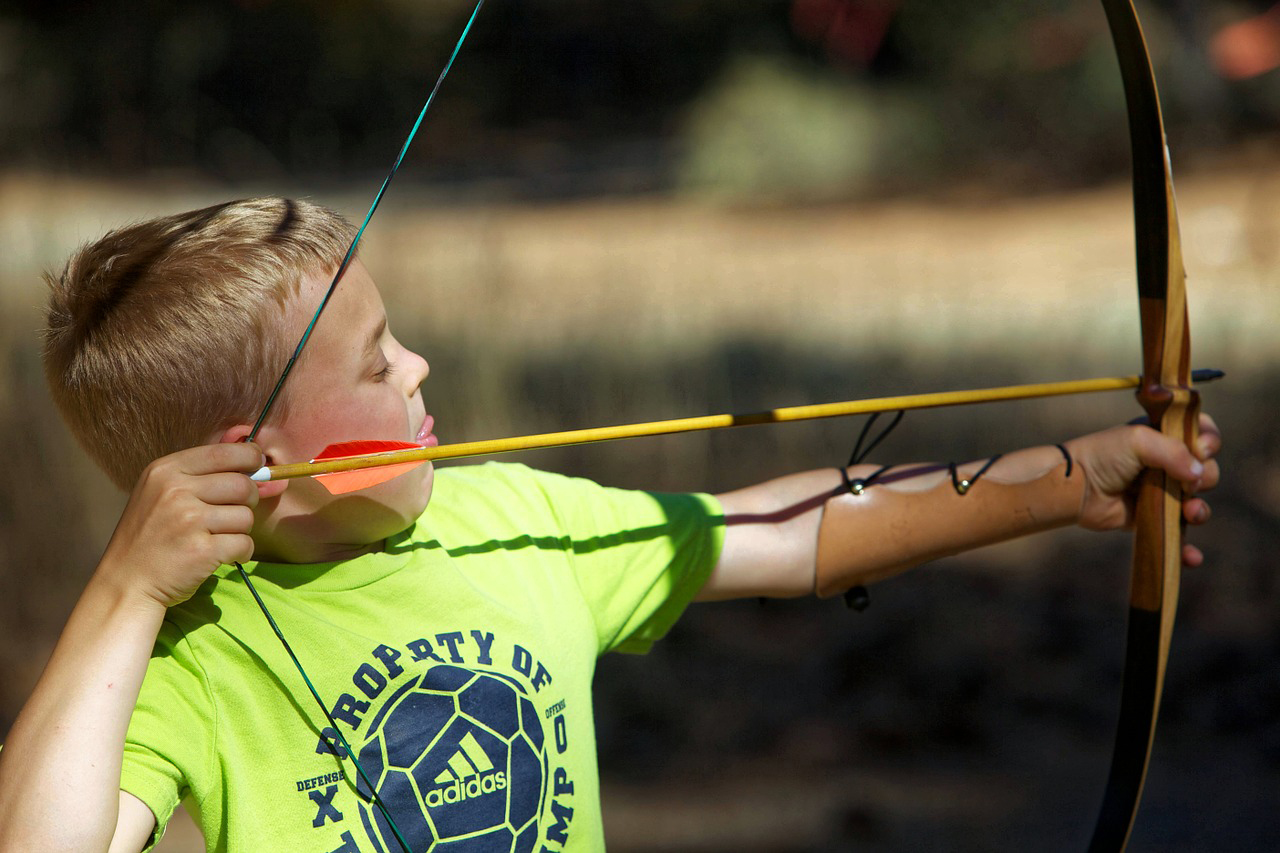 You can twist a recurve bow string if you see the need to do so. The primary reason archers twist the string is to change the recurve bow's brace height.
The procedure of setting up your recurve bow doesn't end in stringing it. To achieve a proper setup, you must check if everything is in the appropriate place and measurement. Included in the things you have to ensure that you have the right measure is the recurve bow's brace height.
Some archers see the need to adjust their recurve bow's brace height; to do this, they have to twist the bowstring. If you are wondering why archers twist their recurve bow string, changing the brace height is the most common and primary reason.
Most recurve bows have a brace height ranging from 7.5 to 9.75 inches. Hence, it is safe to conclude that not all recurve bow has similar brace height measurement.
You must first know that a bow's brace height determines the following behaviors:
How much the arrow pivots in midair
How loud your recurve bow shoots
Knowing these reasons, you can now understand why archers take the time to twist their recurve bow strings.
Nevertheless, you must check if there is a need to change your current recurve bow's brace height first. To do this, you must measure your recurve bow's brace height and compare it with the measurement indicated in the manual.
If you notice, a brace height manual comes with the recurve bow you bought. You can also see the manufacturer's recommended acceptable brace height for your recurve bow.
Remember to follow this recommendation, and if you see that the current brace height is not the right one, it is your cue to twist the bowstring.
To understand how twisting the bowstring works, here are a few pointers to take note of:
Adding more twists to your bowstring will make it more "flexed." As a result, it pulls the recurve bow's limb tips slightly away from the riser and increases the brace height.
On the other hand, if you see the need to decrease the brace height, you can do this by reducing the number of twists on the bowstring.
Remember that your objective is to twist and untwist your recurve bow string until you achieve a brace height that produces lesser vibration and noise when you shoot an arrow.
To ensure you got the correct brace height, you can ask for someone's help other than measuring it. Have someone reliable stand next to you and give feedback on when the recurve bow is less noisy when you shoot.
You may be thinking of relying solely on yourself for this step since you know your bow better than others. However, there is a tendency that the archer shooting the bow will have a hard time determining when their bow is the quietest due to proximity to the string.
Another thing to remember is always to have the same consistent brace height. Especially when joining archery competitions, losing ½" of brace height will likely make you lose points.
That's why you have to set up your recurve bow to its correct brace height and not change your brace height unless there is a need to do so.
Aside from brace height, there are other reasons why other archers twist their recurve bow string:
To achieve a more consistent and accurate shoot
Less arm injury resulting from the loose and separate untwisted bowstring
To hold the bowstring threads together.
Reduce the bowstring's length after creep has happened.
To adjust the bow's peep rotation.
Before rash actions, please note that twisting your bowstring is done for a reason. Thus, refrain from twisting it carelessly unless you have no reason to do so.
Which way do you twist a recurve string?
Twist your recurve bow string in the direction that tightens or loops the center serving. For instance, if the center serving's loop is clockwise around the string, twist it similarly.
Another question that most archers raise is where they should twist their recurve bow string. Twisting a bowstring can be confusing, especially for beginners who have yet to do such a procedure.
To know where you should twist your recurve bow string, find the direction that tightens or loops the center serving. You can do this by grasping each end of the center serving area between your forefinger and thumb, then start twisting.
If you notice that the bowstring twists clockwise, you should start twisting in a similar direction. Do this likewise if it twists counterclockwise.
You can also refer to the following steps below to guide you better on how to twist your bowstring properly:
Prepare the following materials: your bow, bow square or T-square, and bow stringer.
For those who want to twist their string to change the brace height, start measuring your bow's brace height using a bow square or T-square. If you don't know yet, it is a measuring tool used mainly by recurve bow archers, partly for measurements.
Place the horizontal end of the bow square against the recurve bow's grip and the other end touching the bowstring, then measure the distance.
After taking note, it is time to remove the bowstring from the bow by using a bow stringer.
Each side of the bow stringer has a different design. Place the one with a cup in the end to the bottom of the bow. At the same time, the one with the loop end should go on the other end of the bow.
After securing the placement of each end, step on the bow stringer, then pull the bow with one of your hands to relieve the tension from the bowstring.
Next is to slide each end of the bowstring down the limb's groove.
After doing so, you can remove the bow stringer and place it near you since you'll need it after twisting the bowstring.
To twist the bowstring, ensure that you do so in the same direction as the wrapping of the center serving.
After determining the direction, remove the bottom end of the bowstring from the limb so you can start twisting it.
If you are now satisfied with the number of twists, you have to restring the bottom end of the bowstring again with a bow stringer.
Step on the bow stringer again and pull the bow with your free hand.
Then slide the bottom end of the bowstring into the groove.
Once it is in the groove, double-check that it slid correctly before taking off the bow stringer. Remember to point the bowstring away from your face while doing it.
Lastly, it's time to test it to ensure you achieved the correct desired results.
For those who twist their bowstring to adjust the brace height, you can determine if you achieved it by doing the following tests:
Measuring the distance again using a bow square
Shoot at least ten arrows, then adjust the brace height by 1/8 of an inch up or down, depending on if you need to add or remove a few twists.
Ask someone's help in identifying if the bow got louder or quieter.
If the measurement isn't correct, or the bow gets louder when you shoot, you will likely have to do the procedure from the start again.
On the contrary, if you successfully achieved the correct brace height, don't forget to permanently mark the precise measurement in inches onto the inside of the bow's limbs.
Can you twist a bowstring too much?
Never twist your bowstring too much or too few. Too many twists will result in issues like reduced performance and bowstring stretching. At the same time, too few twists cause shooting inconsistency and arrow delivery issues.
Generally, too much and too few aren't good; this rule also applies to twisting bowstrings. Twisting your bowstring too much or too few causes issues you don't want to encounter.
As a result, it can affect your shooting performance and lead to bodily harm, such as arm injury.
The following indicators will help you determine how much and how little you twisted your bowstring to avoid such problems:
Indicators that you twisted too much
Notice if the actual end serving of the bow where it forms a "V" does not lay f. You can see two ends of the string wanting to begin to twist on the limb.
When you unstrung the bowstring, it curls up into a knot or gets tangled with each other.
A few strands of the bowstring are poking out and are no longer smooth when touched.
You notice that the brace height is higher than the recommended appropriate measurement.
You'll notice inconsistencies with your shoot. Archer's paradox will happen wherein the arrow follows a non-straight path down.
Bowstring slapping against your arm after releasing the arrow. Repeated slapping will often lead to an arm injury.
The bowstring makes an s-curve when you shoot with your fingers.
If anything above happens, you may want to consider reducing the twists on your bowstring. Remember that too many twists on your bowstring won't do you any good and can lead to bowstring stretching and poor performance affecting your shooting consistency.
It can also slow your bow slightly, which may degrade your shooting skills.
Indicators that you twisted too few
Separation among bowstring strands. Look closely and see if you can easily separate strands with your fingers; if it does, you need a few more twists.
Flattened bowstring instead of round
You notice that the bowstring is loud and rattles when you release the arrows. When a bowstring gets noisier than it usually does, there is a problem that you can associate with the number of twists.
There is an erratic movement of the bowstring after releasing the arrows.
You find the bowstring challenging to tune.
Like twisting too much, not twisting your bowstring enough causes problems too. It will also lead to arrow delivery issues wherein the string path changes and inconsistency with your shoot.
With the indications above, it will be easier to identify whether you have to lessen or add more twists to your bowstring. It can be a hassle, especially when you are still figuring things out. However, finding the right twists is essential to having a better shooting experience.
Not being able to twist your bowstring enough will generally affect your bow's calibration, vibration, grouping, and efficiency.
If you can achieve the right amount of twists needed, you will be able to eliminate and avoid issues that will pose a problem to your shooting, may it be bow damages or possible attained injuries.
If you are looking for the correct number of twists you must do to your bowstring; you must know that there is no universal number of twists you must follow.
In more straightforward terms, every bowstring and bow is unique and finding how many twists is a trial and error process that can take time to figure out.
Twisting a recurve bow string will help you achieve positive and better shooting results. Nevertheless, the number of twists is always crucial; therefore, too much or too few is never ideal.
It is normal to have difficulty figuring out how to twist your bowstring. However, achieving the right twists pays off in the end. Thus, if you are having a hard time figuring it all out, don't hesitate to ask your local archery shop or a professional archer to aid you in the process.