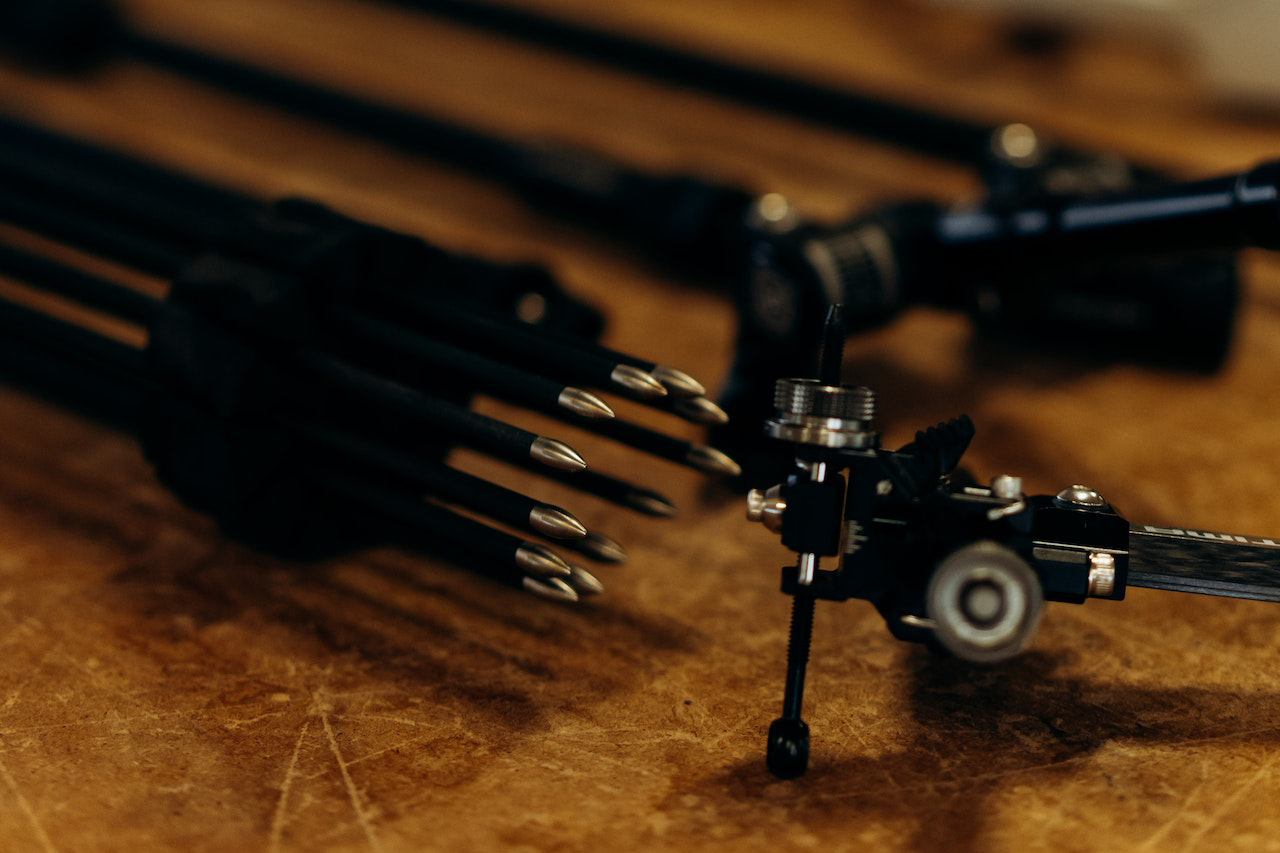 You can use regular Rage broadheads in a crossbow. However, their blades will likely open before impact, throwing the bolt off trajectory, which hurts accuracy. Therefore, it is better to use Rage broadheads designed for crossbows, especially the high-speed ones.
Rage broadheads are great manufacturers popular among target archers and hunters who prefer using mechanical broadheads. Especially in the big game hunting season, Rage broadheads are preferable because they are famous for helping compensate for the less-than-ideal hits.
Broadheads that fly straight and strike hard and ensure a swift takedown help compensate hunters for poor shot placement, which is evident in Rage broadheads.
It is safe to say you can use regular Rage broadheads in a crossbow. If you ask other archers, some use standard Rage broadheads in their crossbows and don't complain about using it. Hence, using them is generally acceptable in crossbows.
Despite this input, you have to consider that there is a reason why manufacturers sell and develop broadheads explicitly designed for crossbows. Sadly, there is a downside to using regular Rage broadheads instead of special ones.
You must know that the broadhead blades are not supposed to open in flight. The bolt is also prone to veering off course unpredictably. Although sometimes it can hit the target, the penetration power is less, and the wound damage is not vital.
Imagine the lost chance of hitting your target successfully because the broadhead's blade suddenly opened. You will likely get frustrated and start blaming the missed opportunity on the regular broadhead you decided to use.
To address this problem, manufacturers designed a broadhead specifically for crossbows. Significantly since the development of crossbows with higher speed is rapid, the risk of broadhead blades opening prematurely increases.
The higher the crossbow's fps or speed, the higher the likelihood that a regular broadhead's blade will open. It doesn't only apply to Rage broadheads but to other manufacturers' standard broadheads as well.
Therefore, it is better to use Rage crossbow broadheads instead of the regular ones. The good thing about them is that they prevent the blades from opening using advanced blade retention systems, stiffer springs, shock collars, or O rings.
However, if you still prefer using regular rage broadheads, here are the following items that will help keep its blades closed:
Rubber band

A small rubber band is enough to help fasten or secure the broadhead blades closed during the flight until impact. It should snap off easily when it penetrates the target without restricting blood trail or wound damage.

It works well with rage broadheads that have worn-out O rings.

Most hunters who attempt this tactic use tiny rubber bands for braces because it perfectly holds the broadhead blades closed and creates a tighter fit.

You can do this by sliding the small rubber band over the top of the closed broadhead blades. It should sit close to the front of the broadhead rather than to the tips of the blades.

Using this method, you can remove the O string, giving the bolt a slightly slimmer profile than it used to have.

Scotch tape

Aside from a rubber band, you can also opt to use a strip of scotch tape to secure the broadhead blades. Its width should be similar to the ferrule.

You can do this by wrapping the scotch tape around the ferrule and cutting it to size. Using scotch tape to secure the broadhead blades is preferable for target practice since it keeps them closed even after impact.

Don't forget to replace the scotch tape after each use since it won't be as effective after impact.

Thus, regular rage broadheads are acceptable to use in a crossbow, but it would be best to use rage crossbow broadheads to avoid the possibility of blades from opening during flight.
Which rage broadhead is best for crossbow?
Among the different Rage broadheads available in the market, its Rage Crossbow X is the best for crossbows. It has all the great design features known in Rage broadheads like durability, precision, improved shock collar technology, etc., making it a favorite among hunters.
Certainly, Rage broadheads have the quality that most crossbow users are looking for to help them strike their target successfully without the worry if the broadhead itself has issues with needed penetration. It is also famous for leading the evolution of mechanical broadheads.
Among its roster of broadheads released in the market, its Rage Crossbow X broadhead is the most popular and sought after, especially among hunters. Many suggest using this broadhead model because of its several excellent design features in Rage broadheads.
To help you understand what makes it the best Rage broadheads for crossbows, below are its features:
It has a rear-deploying, SlipCam design with enormous leading-edge 2-blade and razor-sharp solid .035″ thick stainless steel that can open to a massive 2 inches cutting diameter.
It is a mechanical broadhead with absolute precision.
It is also known for its durability, power, and accuracy, enough to cut through the bones.
Shock Collar Technology
Aluminum Construction Ferrule Alignment Technology.
It is available in 100-grain and 125-grain.
The main difference between Rage Crossbow X to its other broadhead counterparts is its Shock Collar Technology system which enables it to keep its rear cam deployment consistent. It ensures proper blade retention during flight and allows the blades to open upon impact.
Therefore, you won't run into trouble with the mechanical blades opening early before impact, which is a pretty good deal because it is ideal for modern and high-speed crossbows.
Besides Rage Crossbow X, you might also want to check these other Rage models:
Rage Hypodermic 2-Blade Crossbow NC Broadhead

Another model you can consider is the Rage Hypodermic 2-Blade Crossbow NC Broadhead which also has the same accuracy and legendary wound channels. It features an aerodynamic one-piece steel ferrule designed with increased penetration and bone-crushing power.

Moreover, it has razor-sharp .035″ stainless steel blades with a 2″ cutting diameter. It's almost the same as Rage Crossbow X. However, instead of the Shock Collar Technology, it has Hybrid Hypodermic Tip with Machined Stainless Steel Ferrule Technology promoting aerodynamic flight.

Rage NC X-Treme

Rage NC X-Treme is another great broadhead to use in your crossbow. Its difference from the previous X-Treme broadhead models is that it now has an exclusive No Collar (NC) blade retention system. With this, there is no need for a dental band, Shock Collar, or O-ring.

It features SlipCam technology for reliable blade deployment like the Rage Crossbow X. Unlike the previous two; it has a 2-blade design with .039″ thickness. You can expect the blades to deploy a 2.3″ upon impact instantly.

Rage NC X-Treme has a 1.425-inch long high-strength 6061-T6 aircraft grade aluminum ferrule which adds to its significant difference from the previous broadheads mentioned above.

Additionally, available in 100-grain, it offers a lethal performance that X-Treme fans love.
How to choose the best broadhead for crossbows?
These are the following factors and steps to consider in choosing the best broadhead for crossbows: state crossbow regulations, broadhead type, broadhead design, broadhead weight, price, reviews, and test shoot.
Because of the fast development in archery, broadheads are not an exclusion to this; that's why finding and choosing the best broadhead to use for your crossbow can be pretty challenging. Thus, an idea of what factors to look for in a broadhead will help narrow your search.
Below are the following factors and steps that serve as a guide to help target archers and hunters choose the best broadhead for their crossbows:
State crossbow regulations

Unfortunately, you'll have to know your state's crossbow regulations before moving to the subsequent factors and steps. You must understand that not all states follow the same crossbow regulations, and the state where you currently live may have a different law than the others.

Some states have a minimum broadhead cut diameter you must abide by, while others don't mention specific sizes.

On the other hand, some states even ban the use of mechanical broadheads, so you need to find out what sizes and prohibited broadhead types your state requires you to follow.

Therefore, knowing your state's crossbow regulation will save you from wasting money and safe from any legal troubles from simply not being aware of the laws.

Broadhead type

There are two main types of broadhead: fixed and mechanical. Some crossbow users prefer mechanical, while some prefer the fixed one. In case you don't have a personal preference yet, here are the following pros and cons of each broadhead type to help you decide:

A. Fixed broadhead

Pros:
Reliable and durable
Easy to sharpen and clean
Easy to practice with
Blades fixed in place during both flight and impact.
It gives off the feeling that there's a lesser chance that things can go wrong during the flight. For instance, because of the fixed blades, you won't have to worry about prematurely opening, causing the bolt to veer off course.
It is available in three blades if you don't like the difficulties caused by four blades.
Cons:
Smaller cut diameter
Likely susceptible to wind deflection
Four blades fixed broadhead causes a reduction in aerodynamics. As a result, it tends to veer off course or plane when shot from a crossbow.
It is not ideal for high-performance crossbows because shooting it at a faster speed worsens the inaccuracy.
To minimize the possibility of the bolt veering off course when using a fixed broadhead, you can opt to tune it to achieve a higher accuracy level. You can opt for other adjusting styles except paper tuning.
B. Mechanical broadhead
Pros:
Wider cutting diameter
The line of flight is more consistent.
More accurate at longer distances
Available in two types: rear-deploying and front-deploying.
Front-deploying has a blade retention system to hold the blades in place at launch and mid-flight: O rings, springs, or collars.
Front-deploying mechanical broadheads offer greater cutting diameter than fixed broadheads, resulting in more significant wound damage.
The rear-deploying mechanical broadhead's advantage over others is its 2-blades, making it the most aerodynamic and accurate type for all hunting crossbows.
The rear-deploying design does not require it to have springs or collars to keep the blades closed at launch and mid-flight.
The rear-deploying mechanical broadhead is the best choice for high-performance crossbows.
Cons:
Blades might open during flight.
More challenging to learn and maintain
Front-deploying ones are not ideal for high-performance crossbows due to possible accuracy issues.
If you compare the two types of mechanical broadheads, the rear-deploying ones have better pros and are the best choice for crossbows.
Broadhead design
As mentioned, not all broadheads are ideal to use in crossbows. Therefore, you might want to consider the broadheads designed for crossbows to ensure that you won't have a problem shooting fast crossbows.
Broadhead weight
Never compromise the broadhead weight. For example, using a heavy broadhead in a lightweight bolt will lead to a sooner down trajectory, leading to shooting inaccuracy.
Therefore, you must stick with the appropriate broadhead weight for your bolt. It would also help to consult with your trusted local archery shop or manufacturer to guide you better in knowing the proper broadhead weight.
Price
You may think you are better off with a cheap, no-brand broadhead. However, you have to remember that your bolt's broadhead is the part that penetrates the target and contributes significantly to bringing them down.
Thus, a broadhead that ensures excellent penetration performance with an advanced system will serve you, in the long run, every time you go hunting, especially for the big game.
Reviews
You can also read reviews and feedback from fellow archers to help you envision how good the said broadhead is before buying it. Amazon and websites from the brand you trust are excellent sources you can read for reviews about certain broadheads.
They will most likely tell you which broadheads perform well and which ones are a terrible investment.
Test shoot
Once you've received the broadhead you bought, it's time to test it at an archery range or on a DIY backyard archery range at home. Before the competition or hunting game, it is best to test shoot it first to know if you got the right broadhead for your crossbow.
Install the broadhead to the bolt and try shooting at a distance of at least 20 yards for better assessment. Shoot it several times, then check if it achieved good penetration, proper line of flight, and consistent grouping.
If you are unsure and are a newbie in selecting the right broadhead, the above factors and steps can help you identify the best broadhead for crossbows.
Rage broadheads are great ones to consider using for any bow, including crossbows. Nevertheless, it would be best to use a broadhead designed for crossbows to avoid flight and blade issues affecting your shooting accuracy and save you from further costs.